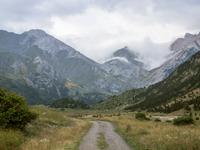 Where to stay in Aliaga?
Our Heatmaps tool will help you find the perfect place to stay in Aliaga by showing you how close hotel options are to major activities
Best rooms in Aliaga
1
9.1 Excellent (243 reviews)
Located in the Geological Park of Aliaga, Hotel La Parra features room with a view of Hoya y la Porra Mountains and terrace. Free Wi-Fi is available in all areas Each room is air conditioned and features a flat-screen TV and minibar. The private bathroom offers a bath or shower and hairdryer. The hotel restaurant offering traditional meals. There is also a shared lounge with a TV and fireplace. The zone is ideal for outdoor activities, such as hiking, biking or bird watching. Valedelinares Ski Resort is an hour's drive from the property and Teruel is 70 km away.
10.0 Excellent
Pros: The hotel is beautiful. The attention to detail of the fixtures and fittings and the gardens are perfect. Staff could not be more helpful and food very good.
Cons: It was all just lovely
9.6 Excellent
Pros: The village is in a remote part of Spain. That was what we wanted. Tourists who don't speak Spanish should come prepared with a good translation program on their smart phone, if they have one. The hotel has convenient access to parking and to the village. The staff allowed us to prepare our own breakfast at 8:00, although the cafeteria does not officially open until 9:00. Fruit and yogurt and sponge cake and bread for toasting were made available for us, as well as the facility to make our own coffee or tea. It was a simple, adequate breakfast buffet.
Cons: The supper hour of 9:00 PM is a bit late for the habits of many tourists, although perfectly normal for Spain. The breakfast hour is also rather late for people who want to get out hiking in the mountains. However, the hotel staff allowed us to serve ourselves earlier than the appointed hour, so this was no problem. There was one communication problem. Our reservation was changed from an apartment to two separate bedrooms, in an effort to satisfy our original request for rooms with twin beds. The change was good, because it gave us two bathrooms instead of one for four people. However, we weren't notified of the change, so we had made our plans expecting to have a kitchen. We did learn of the change, but only because we had rung up to double check. We really should have been notified. The only fault here was communication. The booking and the service were good in themselves.
10.0 Excellent
Pros: A wonderful experience !
7.5 Good
Pros: The room was lovely and the view. The shower was large with plenty of hot water.
Cons: We arrived after a 6 hour drive, hot, tired, hungry and thirsty.... Our Spanish is not bad but the Spanish host spoke very quickly even when we said we did not understand, she continued in the same manner, which was not helpful. The room she slowed us was lovely. With a balcony and a stunning mountain view however she proceeded to tell us we were the only guests so the chef was asleep but the restaurant opened at 9 pm. She did not offer us any drinks, there were no tea or coffee facilities in the room and the mini bar was empty, not even a bottle of water was in the fridge, which was on but empty. We had two hours until the restaurant opened so we showered, in a good spacious shower and changed for dinner. We decided to walk down to the village and get a pre dinner drink. Many places were closed, one place would only serve residents and a very popular Spanish bar did serve us nice cold draught beer but when we asked for food they refused even though there was a pizza menu and they were bringing out plates of tapas to other tables. We returned to the hotel for 9pm. The sign on the door reassured us the restaurant was due to open at 9 which confirmed our understanding of what we had been told but despite waiting the restaurant did not open, it remained in darkness. We had not eaten since breakfast so as you can imagine we were not impressed. We think that they did not open because we were the only guests and they could not be bothered? However at breakfast we saw a menu for the evening meal with the previous days date so they had intended to open. We have never felt so unwelcome, thirsty and hungry in a hotel......
9.6 Excellent
Pros: Surprised it only was a 2 star.
2
9.1 Excellent (132 reviews)
When you stay at El Horno de Aliaga in Aliaga, you'll be 12 minutes by car from Church of Our Lady of the Assumption. Featured amenities include dry cleaning/laundry services, a 24-hour front desk, and multilingual staff.
9.6 Excellent
Pros: Great place beautifull area
Cons: Nothing
7.9 Good
Pros: Once we found Google Translate and could make ourselves understood to each other, the check-in was faultless. Lovely large room, lots of nice touches and the small balcony overlooking the street was great (through the day!). Breakfast and dinner can only be served for guests, but the breakfast was fine (we didn't have dinner). It's a very small, quiet village and this is a good option if you're going there.
Cons: Not the hotel's fault, but we had to sleep with the balcony doors open because it was so hot, and there are a couple of bars across the street where the noise went on until after 3am. Probably not a big deal if you have a room at the back.
10.0 Excellent
Pros: Fantastic hosts
Cons: The road to get there
7.9 Good
Pros: Javi was very welcoming and a very pleasant hostess.
Cons: Room described as having hot tub. Very surprised no kettle or air conditioning. Very noisy at night. Would have liked healthier breakfast maybe even just some eggs on toast.
7.5 Good
Pros: Friendly
Cons: Not good for people with a hándicap