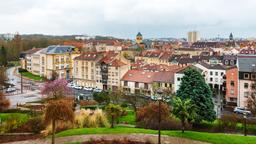 Auxon hotels
Search hundreds of travel sites at once for hotels in Auxon
Where to stay in Auxon?
Our Heatmaps tool will help you find the perfect place to stay in Auxon by showing you how close hotel options are to major activities
1
9.3 Excellent (180 reviews)
With a stay at Chambres D'hôtes Le Clos Poli in Montigny-les-Monts, you'll be 12.5 mi (20.2 km) from Cheese Museum and 12.5 mi (20.2 km) from Church of St. John the Baptist. Free self parking is available onsite.
10.0 Excellent
Pros: Everything! Comfy beds, lovely decor, secure parking, great tasty breakfast, free WiFi. Owner also kindly made a reservation for us at a nearby restaurant too which we thoroughly enjoyed. A perfect host! Amazing part of France hidden in the countryside, the drive was lovely in a part of France we wouldn't have seen had we not booked this lovely b&b.
Cons: Nothing!
10.0 Excellent
Pros: perfect, lovely host who went above and beyond. Room was spotless and a great size.
10.0 Excellent
Pros: So much to like! The spacious, clean family room, tranquil garden, delicious breakfast and most of all the warm and attentive welcome.
Cons: Nothing to dislike.
8.8 Excellent
Pros: Very lovely host who took the trouble to book us a restaurant for our late arrival. Nice and quite at night.
10.0 Excellent
Pros: Everything. Lydie is a wonderful host and very helpful. Remained in contact during our journey and was very attentive and helpful. Would greatly recommend, our only regret was booking as a stop over but will definitely arrange to stay longer should we go this way next time. Room has everything you need with one of the most comfortable beds we've slept in. Hone from hone.
Cons: Not staying for longer..
7.1 Good
Pros: The house is beautifully located and the room was very spacious and clean. Good craft beers for sale/self-service in the kitchen. The breakfast would have been nice...
Cons: ..., but it was unfortunately completely spoiled for us after we had been scolded like little kids that we had left the lights on in the common room the night before (repeat and emphasis on: the WHOLE night). As we were only staying for one night, there was no point in educating us how to do it properly so it won't happen again, but apparently it was important to let us know we were guilty. That the light in the common room is on a 5-minute timer (french: minuterie, a word I didn't know before, but now will never forget) but it can be switched to permanent on as the owner explained to me lengthily the evening before (first in French, which I didn't understand, and then in English, when I thought I understood). We felt quite uneasy during the entire stay as it was made quite clear in the 10 min introductory tour through the house and room that the kids (1.5 and 4 years old) who were happy to be out of the car and were excited to explore the new hotel room after 6 hours of driving should not run around later when the other guests are back from dinner and they shouldn't touch the mugs and shouldn't interrupt while the owner is giving important information to mommy and daddy. -The doorlock/handle of the room was somewhat loose so we had some trouble unlocking the door. -Background music for breakfast (I think it was the pan flute version of Titanic)
10.0 Excellent
Pros: Cozy hotel with fireplace and very hearty owner! Small and quiet
2
With a stay at Hôtel le Carré Long in Eaux-Puiseaux, you'll be 14.8 mi (23.9 km) from Cheese Museum and 14.8 mi (23.9 km) from Church of St. John the Baptist. Free self parking is available onsite.
8.8 Excellent
Pros: Excellent stay, super good restaurant and super kind personal.
9.2 Excellent
Cons: No air con, breakfast overpriced for what it was (not much!)
8.8 Excellent
Pros: The food is fabulous
4.2 Okay
Pros: Country location ... nice to walk ... that's about it ..!
Cons: The breakfast ... we understood it was included ... The owner... not very friendly ...
5.4 Okay
Pros: Room was clean
Cons: There was only one employer in the whole hotel; no receptionist, no waiter, only one Cook who was in a arrogant, non-interesting mood and attitude. He alone was responsible for all the work: reception, dinner, breakfast... i have never seem something like this in a hotel. I paid more than 100 euro for room, dinner and breakfast. His cooking was cheap and easy: the main plate was warmed up in the oven, simple plates, simple taste and he did not seemed to be interested in the needs and wishes of the guests. I dont understand anything of this low and arrogant level of hospitality.
4.5 Okay
Pros: Having a bath, good grounds for excercising the dog
Cons: Location: as an overnight stop too far from motorway (my fault I chose it). Whilst food was very good and an excellent there was no choice. Fortunately I'm not vegetarian
5.0 Okay
Pros: Location
Cons: On my arrival there was no one in attendance.After some considerable time I discovered keys in a box on the wall.For two nights I was the only person in the building.There was no refreshments available not even coffee making facilities.The room was next to the main entrance which has a large glass door that vibrates loudly when used!! For a new building the sound proofing could have been better between rooms also.In the five nights of my stay the room was only serviced once!!
2.9 Mediocre
Pros: Nothing.
Cons: Le Chef. Very unpleasent chef of the kitchen. Food very bad.