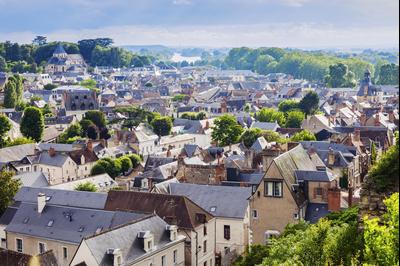 Where to stay in Fougerolles-du-Plessis?
Our Heatmaps tool will help you find the perfect place to stay in Fougerolles-du-Plessis by showing you how close hotel options are to major activities
Best Fougerolles-du-Plessis hotels
Show all
1
9.9 Excellent (169 reviews)
Surrounded by a big park with flowers and trees, Les Freuberts is located in Landivy. It provides free WiFi access and a free parking. A conservatory is at guests' disposal. Mont-Saint-Michel is a 1-hour drive from the property. Each room comes with a satellite TV including English and French channels and tea and coffee making facilities. The bathroom includes a hairdryer and free toiletries. A continental breakfast will be served in the communal dining room, which features original stone walls and exposed beams. Fougères is a 26-minute drive from the property. Saint-Malo is 92 km from this property, and Rennes Airport is 69 km away.
10.0 Excellent
Pros: We absolutely loved our stay in Les Freuberts B&B! Everything was superb. Very clean and beautiful room, decorated with taste and love in every detail. Super comfortable bed and delicious breakfasts! Barbara and Keith were very friendly and made everything to make our stay incredible. Keith gave us a lift to the nearby chateau as we left our car there and Barbara even helped me to press my dress! Hotel is in a very quiet place, so nothing disturbs you when you want to have some rest, but at the same time, the location is brilliant if you'd like to explore this part of France (it's 30 min drive to Fougeres, 1 hour to Rennes and 1 and a half hour to the seaside . We would definitely recommend Les Freuberts B&B and hope to come back again!
10.0 Excellent
Pros: Everything was perfect. I travelled a lot for more than 20 years. This stay was the best ever. I wish i could visit again. Love Benzy!!
10.0 Excellent
Pros: Owners are very friendly with great hospitality. The bed was very good in the Africa room. Breakfast is very good with fruit and homemade jam.
Cons: The weather
10.0 Excellent
Pros: Barbara and Keith are very friendly, the cottage is really nice, the breakfast was perfect, everything was great ! Perfect for family or couple looking for a peaceful place to rest after a visit.
10.0 Excellent
Pros: The entire experience was superior in every regard. The hosts offer extreme hospitality; the home is beautiful set a little out of town in a manicured garden; garden setting afforded relaxed dining. The breakfast is generous and delicious. The bed and bedroom are most comfortable and the bathroom is spacious and beautifully appointed. On our return each evening we were met and offered refreshments.
Cons: Our only regret was that we had to leave! There is nothing that has not been thought of or provided.
10.0 Excellent
Pros: Perfect stay with a lovely couple. The bed was a perfect night sleep, breakfast was fantastic but the hospitality was the best we've ever had. We felt truly looked after and Barbara and Keith were extremely helpful with anything we needed.
10.0 Excellent
Pros: Out of the 6 places we stayed in while in France, this was by far our favourite! Our only regret is that we couldn't stay longer. Barbara and Keith were amazing hosts and we were so happy to meet Benji (their cute doggo). The room was incredibly clean and comfortable, the breakfast was delicious, the grounds were gorgeous, and the company was lovely! We would definitely stay again and longer.
Cons: Absolutely nothing.
10.0 Excellent
Pros: Beautiful, great hosts , lovely and clean
Cons: Nothing not to like
10.0 Excellent
Pros: The property is situated in a very quiet and picturesque area. The hiuse itself is unique, and the owners did their very best to create a typical local home with old furniture and decorations, the atmosphere there is unforgettable. The rooms are very cosy and comfortable, there is everything you can imagine and might possibly need, there. The rooms and the bathroom are super clean, with excellent bed linens and towels. We were greeted by the owners in the big and very cosy living room downstairs, where we also had breakfast in the morning. The breakfast was delicious and very generous. The owners, Barbara and Keith, have extended to us their warmest hospitality, we had nice conversations with them. They took an excellent care of us, so our stay at their house was the most comfortable and pleasant. They also gave us good advice about must-see spots around. The property is very close to the main attractions of the region, and while driving around, you will enjoy wonderful views and landscapes. If you are looking for a unique and enjoyable experience, visiting this region of France, you can't find a better place to stay! We will definitely come back soon and recommend the property to the friends.
Cons: There is nothing to mention. Our stay was very pleasant, we enjoyed everything!
10.0 Excellent
Pros: Our welcome was fantastic, after a long journey it was delightful to sit outside in a beautiful garden and enjoy a cold beer.
2
9.3 Excellent (93 reviews)
A stay at No 6 Bed & Breakfast places you in the heart of Landivy, a 4-minute drive from Savigny Abbey and 12 minutes from Saint-Hilaire Church. Limited parking is available onsite.
8.3 Excellent
Pros: The room is and bathroom are very nice with a nice view on he garden. The breakfast is very good with a lot of choices. The hospitality from Jason and Jon is splendid.
Cons: Very quit area, It's a very simple town, only good for a walk. There's no fridge on the room with cooled water. The mirror in the bathroom is very poor and ugly and there is no light on top.
10.0 Excellent
Pros: Everything.The welcome, the spotlessly clean bedroom and bathroom, the facilities the breakfast. Plenty of coffee etc in the room. Overall a very comfortable relaxing place to stay.
Cons: Absolutely nothing
8.8 Excellent
Pros: Host was excellent, couldn't do enough for you. Bedrooms big and bright, bathroom bigger than most bedrooms, breakfast as good as you get in France. Super place to stay especially if you're coming from or going to the ferry.
Cons: Not much in the village itself so you'd have to travel to the nearest town for lunch/dinner etc.
10.0 Excellent
Pros: Second time staying at No6, on our way back to the UK after signing for our house purchase in France. The guys have been so helpful, taking time to help answer questions we had around the house buying process. Great knowledge of the local area. The room we had this time was even larger than the last one! Really comfortable beds and a great breakfast. Couldn't ask for more!!
10.0 Excellent
Pros: Only stopped for one night, but would highly recommend it, we will be back when on our way home to get the ferry! The guys where really friendly and professional. Both the bedroom and bathroom are massive and was spotlessly clean. Breakfast was terrific, with plenty of choice. The guys told us they had just finished their garden, they have done a great job, a nice place to relax with a glass of wine. Highly recommend!
Cons: Absolutely nothing!
10.0 Excellent
Pros: We have enjoyed our stay ar No6 the continental breakfast was nice there was more than plenty Jason and Jon were very warm and welcoming wonderful hosts and they were very informative in recommending places to eat and visit in the area and we were not disappointed with their choice when we asked questions nothing was too much trouble
9.5 Excellent
Pros: The hosts were extremely helpful and nice. The room was huge and it included welcome drink (bottle of wine). Everything super clean and Netflix also included :)
Cons: Nothing !!
8.8 Excellent
Pros: The B&B itself is lovely and the rooms are massive. Beds are comfortable with little noise to disturb your sleep. Justin and Jon are fantastic and nothing was too much bother for them. They are the type of lads that deserve to do well. Breakfast was excellent and as good as you'd get anywhere. We enjoyed our stay here.
Cons: There is not much in the village, meaning you probably have to drive if you want yo get something to eat.
10.0 Excellent
Pros: Our host were super friendly and kind. Gave recommendations for places to visit and places to eat. The breakfast was tasty and abundant. The room and bathroom were big, clean and comfortable and perfect for our 3 nights visiting family in the neighbourhood
Cons: We liked everything
10.0 Excellent
Pros: Home from home it had everything that we needed with a few extra touches that made it very charming
3
9.2 Excellent (20 reviews)
When you stay at Le Prestige B&B in Fougerolles-du-Plessis, you'll be 8 minutes by car from Saint Patrice Church. Free self parking is available onsite.
10.0 Excellent
Pros: Phil and Angie are great host. My satnav let me down, Phil rescued me and made me very welcome. What a great experience - not just a 'stay'!
6.8 Good
Pros: Yes the croissants were lovely and fresh...loved the shower ...super hot water.
Cons: A television either in the room or in the downstairs lounge English would be good.The kettle lead was dangerously short and often fell off the chest of drawers.
9.3 Excellent
Pros: very friendly and accommodating hosts
9.5 Excellent
Pros: Breakfast croissants/bread were outstanding as was the rest of the continental buffet. Good juice and fruit. Very good hosts who prepared a good and reasonably priced evening meal each night. Wine was included and was always good. Really useful was the availability of a place to secure motorbikes undercover each night.
Cons: We had mediocre weather and were on motorbikes. The accommodation is very rural which is both it's asset but also a disadvantage if you want to nip out for a coffee. The large shared 'living room' was heated but would feel nicer with a proper fire.
10.0 Excellent
Pros: I'm reluctant to speak to highly of our stay with Phil, Angie & Max, their German Shepherd. The reason being that I would prefer to keep this special place to myself. I will be back in the area to continue house hunting in the near future and would be disappointed if I was told "There was no room at the Inn". A truly pleasant stay for all that pass this way.
Cons: Nothing springs to mind
10.0 Excellent
Pros: Fabulous Hosts, fantastic fresh breakfast. Rooom warm and great shower !
Cons: N/A
9.3 Excellent
Pros: Angie and Phil are lovely hosts
Cons: Difficult to find, but worth it
10.0 Excellent
Pros: Our hosts are a pleasant couple offering lots of information on places to visit in the area.
Cons: Can't think of anything.
10.0 Excellent
Pros: Lovely clean spacious room, modern spotless bathroom, great breakfast and lovely friendly hosts. Phil and Angie made us feel very welcome and couldn't be more helpful. Looking forward to seeing them again.
Cons: Nothing
All hotels in Fougerolles-du-Plessis