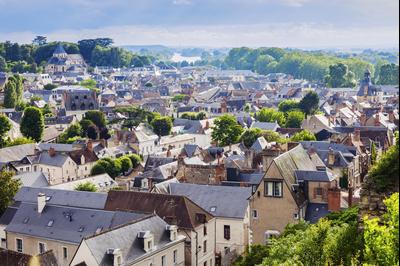 Where to stay in Loue?
Our Heatmaps tool will help you find the perfect place to stay in Loue by showing you how close hotel options are to major activities
1
9.4 Excellent (296 reviews)
Located in Chevillé, Hotel le Saint Aubin is in a rural location, within a 5-minute drive of Church of St Peter - St Paul and Claude Chappe Museum. The front desk is staffed during limited hours. Free self parking is available onsite.
9.5 Excellent
Pros: Very nice renovated Hotel in a beautiful small old French village and a friendly owner lady. Hotel looks like it has been completely renovated recently.
Cons: Nothing!
10.0 Excellent
Pros: Absolutely beautifully clean, tidy and quiet.
Cons: Nothing
10.0 Excellent
Pros: This is a great little hotel and this is my fourth stay over 5 years with no change in the excellent level of service, cleanliness and value for money. The proprietess is very nice and determined that her guests should be well looked after. Breakfast is very good. I stayed 3 nights and enjoyed cycling the Sarthe Velo routes.
Cons: Nothing
10.0 Excellent
Pros: Very quiet room, spacious and airy. Wonderful breakfast.
10.0 Excellent
Pros: When you arrive in the hamlet and park across the church you wonder what you'd expect. Once entering inside you encounter a charming host and a wow-effect when visiting the rooms. We were a party of five to stay for 1 night. We reserved one family room (in the garden house) and one 2-person bedroom (which was in the main building). Both rooms were very nicely decorated with attention to detail. More important - the mattress and pillows were very good! - this is something personal but in our experience this part often receives much lower scores at other locations. The WiFi was perfect and complementary. The buffet breakfast was gorgeous - lots of choices: coffee, tea, warm milk, cold milk, orange juice, fresh fruits, yoghurts, bread, pastries, cheese, ham.... In short - this was a very, very good stay for us and we recommend this gem to others.
Cons: We arrived on a Sunday evening - not a lot of restaurants are open in the vicinity that day. No fault of the hotel - Just you know that you may have to drive to the nearest city for a chain restaurant that opens on Sundays
9.3 Excellent
Pros: Breakfast was good and there is an excellent and very reasonably priced restaurant just next door for dinner.
Cons: Had to ask for a hair dryer
10.0 Excellent
Pros: The breakfast was wonderful, and the location good, just a short distance to join the motorway.
8.8 Excellent
Pros: Clean, charming in a tiny quaint town. We had a very good dinner next store in one of 3 business in town. A 7th century church was across the street from the hotel and the bells rang 100x early in the morning. It made me laugh.
Cons: The room was a little cramped. Breakfast was 9 euros each and was OK.
9.5 Excellent
Pros: Well designed and very functional family room. Fantastic host who runs the hotel by herself. Very clean. Exceptional value for money
Cons: Wi-Fi didn't work
10.0 Excellent
Pros: Our room was in the rear converted stable annexe. It was enormous, extremely comfortable and very well presented. Breakfast was typically French continental and was correct for variety, quantity and price. Dinner was served in the adjacent restaurant, not owned/run by the hotel. The selection was limited but perfectly acceptable and very straightforward. The food was well presented and tasted good. You are advised to make it clear that you wish to eat, otherwise it may be closed
2
9.3 Excellent (154 reviews)
With a stay at Hotel Ricordeau in Loue, you'll be within a 10-minute drive of Claude Chappe Museum and Church of St Peter - St Paul. Featured amenities include a 24-hour front desk, luggage storage, and an elevator (lift). Free self parking is available onsite.
10.0 Excellent
Pros: The owners and staff were excellent. The evening meal was superb. The room was comfortable with lovely view of the garden and swimming pool, and the linen on the bed was the finest quality without any smell of detergent! We would have liked to have stayed more than the one night but the Tunnel was booked. We had a wonderful meal in the restaurant but there is also a bistro which we didn't have time to try but fellow guests enjoyed their meal there. We have no hesitation recommending this super hotel.
Cons: Nothing we didn't like except having to leave after one night.
10.0 Excellent
Pros: The staff were so accommodating and friendly. We were travelling with a car and trailer and the hotel manager helped us find suitable parking. Rooms were very comfortable and nicely decorated. Breakfast was wonderful. Lively flaky croissants.
Cons: Everything was wonderful.
10.0 Excellent
Pros: It is one of our favourite hotels and we always enjoy staying there, particularly the comfortable beds with wonderful crisp sheets, good food in the bistro with excellent service from the staff.
10.0 Excellent
Pros: As previous stays have shown the service is excellent, the bed super comfortable and the bathroom spotless. We found we were on a midweek deal which was very good value for money, I hope we can do this again.
Cons: The only very minor point is that, as we were eating on the terrace at the back of the bistrot, they could have made a bit more effort to make it more attractive, a pot of flowers or two would cheer up the space.
10.0 Excellent
Pros: Very clean and extremely helpful staff, brought our drinks outside for us even though we were the best Bly people outside
Cons: Nothin
10.0 Excellent
Pros: The staff were so helpful, nothing was too much trouble , it has been a long time since We have stayed in a hotel with such good service, quality and surroundings.
8.8 Excellent
Pros: We spent a lovely 2 days here.Food was fabulous,we ate on the terrace with our dog who was very welcome.It has a fade glory feeling which rather nice and the staff were lovely.Le Mans is about 30 mins away-the cathedral and area around are well worth a visit.
8.3 Excellent
Pros: Staff very helpful. Lovely rooms In a charming building Pool, gardens and animals great for entertaining kids! Nice Bistrot
Cons: Only criticism is that the bed linen was hard / over starched
9.3 Excellent
Pros: A really comfortable bed - we slept like logs! The meal in the restaurant was out of this world - surpassing Michelin starred restaurants that we have visited previously.
Cons: The hotel was a little tired and in need of updating. There were some elements that could and should be dealt with as a matter of priority - for instance the large crack in the basin in the bathroom.
10.0 Excellent
Pros: we were made to feel welcome from the moment we walked in the front door. Nothing was a problem. We ate in the gourmet restaurant the evening of our stay and it was one of the best meals we have had in a long time! Could-not fault the quality of the meal and the warmth of the hosts, excellent value for money.
3
8.5 Excellent (99 reviews)
With garden views, Les Tipis du Bonheur de Vivre is set in Brûlon and has a restaurant, a shared kitchen, bar, garden and terrace. The accommodation has a sauna. An American breakfast is served each morning at the property. A bicycle rental service is available at the campsite, while cycling can be enjoyed nearby. Le Mans is 32 km from Les Tipis du Bonheur de Vivre, while Laval is 42 km away.
9.3 Excellent
Pros: It was a good experience for 1 night the children loved it. The staff where so good and helpful they where children friendly
Cons: As our French Language is minimal we missed the evening entertainment knowledge The weather didn't help as it rained
8.0 Excellent
Pros: Fun place. Not often get to stay in a Tipi. Very friendly and helpful staff. There are huskies onsite, a wolf, horses and a donkey! History and spoken word about the life of the American Indians reflecting that its partly run by them. You can try and build your own Tipi fire (training provided) and experience their way of life. You can also do your own thing if you wish.
Cons: Be aware that French is main language, the English is a bit basic, so top up on your language skills if you have a particular request. We didnt find it a problem despite our very basic French. Also check arrangements for eating onsite. Surrounding area is not well populated with bars and restuarants and there are days when nothing is open.
10.0 Excellent
Pros: Very clean site, very authentic Indian camp set up, lovely helpful staff . Make sure you get pulled along by huskys, great fun
Cons: Nothing
8.8 Excellent
Pros: Staff were excellent so even though we spoke little French they all made us feel really welcome. It was certainly not our usual overnight stop - never slept in a tipi before - but overall we had a great experience.
Cons: We tried to make our own fire in the tent. All went well thanks to staff explaining how to do it but it did mean the tent became very smokey and I mean very smokey. That said, it was all part of the fun so this is more an observation and not a complaint.
10.0 Excellent
Pros: Beautiful green and peaceful place. We enjoyed the athmosphere. Lovely smilish staff!
9.3 Excellent
Pros: We are so lucky to find this very special place with a very original concept from American Indians.
10.0 Excellent
Pros: Excellent friendly manager
Cons: Nothing at all