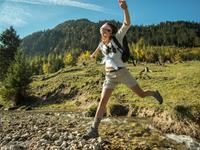 Where to stay in Rum?
Our Heatmaps tool will help you find the perfect place to stay in Rum by showing you how close hotel options are to major activities
Best Rooms in Rum
1
8.9 Excellent (984 reviews)
Located in Rum (Innsbruck-Land District), Hotel Huberhof is within a 10-minute drive of DEZ Shopping Center and Hall Mint Museum. Featured amenities include a business center, complimentary newspapers in the lobby, and dry cleaning/laundry services. Event facilities at this hotel consist of a conference center and a meeting room. A roundtrip airport shuttle is complimentary (available 24 hours).
10.0 Excellent
Pros: Excellent location, and service. views to die for and
Cons: None
9.6 Excellent
Pros: Very friendly, clean family run hotel. Well located just out if town so quiet too. Beautiful views. Staff were all lovely. Safe secure parking. Mix of traditional Austrian food & other European classic dishes. Loved the history of the place. Great old photos on the walls. We will visit again.
Cons: Noisy toilet fan that sounded like a plane taking off! Also automatic light in toilet on sensor. Not ideal for a diabetic insomniac as I need to use the toilet at least 2 or 3 times a night & having the light come on plus the fan made it really hard to get back to sleep afterwards. TBH these are more my issues than the hotels!
9.2 Excellent
Pros: Beautiful views and very quiet.
Cons: The bed was too soft for me.
9.2 Excellent
Pros: Breakfast, staff, the food, the room, the environment : Every thing was EXCELLENT ! I particularly recommend having dinner at the restaurant ! It's homemade food and large plates !
Cons: Nothing
9.2 Excellent
Pros: Location, staff, breakfast, rooms, pillows :-)
Cons: While we knew airconditioning was not included - I think Global warming may be bringing the need to Austria - unbearable heat at night !
10.0 Excellent
Pros: Beautiful hotel owned by a lovely welcoming family. They did everything possible to make our stay excellent.
10.0 Excellent
Pros: Location was perfect right in front of the mountains and very serene.
Cons: Nothing that I could think of, it was perfect.
9.6 Excellent
Pros: View from the hotel is amazing, room is clean, it was very nice to stay there
Cons: It is a little bit far from Innsbruck need to take bus or train to get there
10.0 Excellent
Pros: The Food served was of very good quality and fresh.
2
8.1 Excellent (1,402 reviews)
With a stay at Hotel Rumer Hof in Rum (Innsbruck-Land District), you'll be within a 10-minute drive of Cathedral of St. James and Golden Roof. Featured amenities include complimentary newspapers in the lobby, multilingual staff, and laundry facilities. Free self parking is available onsite.
5.0 Okay
Pros: Free parking, a parking slot was always available. Breakfasts were OK (though they were the same every day). The bed was quite comfortable.
Cons: The hotel is situated near the noisy road and the railway. Hotel area is not at all cozy and nice - from the windows you see either the noisy road or some service/ shops buildings. We had a room with the mountains view - well, yes, you can see mountains partially through the window (as you're in the Alps), but the road and those buildings ruin the impression, and I would not call it a Mountain View at all. Room service starts too early. It was not even 8 AM when a lady knocked, saying it was housekeeping. I wanted to put the Do-not-disturb sign on the door, as I knew about this issue from some of the reviews, but the sign was not in the room! I had to ask for it at the reception later. I asked housekeeping to come and make our room later. We left the room around 12 pm, but the room was not cleaned that day at all for some reason. Breakfasts are until 9:30 only. Even during the weekends! I came here during my vacation to have some rest and not to hurry anywhere, but I had to wake up each morning quite early (in order to have enough time for breakfast), as if I had to go to work. There are tons of artificial flowers in the hotel. As if it would be difficult to take care of natural flowers? They look outdated and don't look good at all, they make a feeling that everything is dirty, as they only collect dust. There is no body lotion in the bathroom. Light and ventilation in the toilette turn on automatically at the same time, as there is a motion sensor there. Thus, at night it was very disturbing. Even if you don't want it to be on, you have no choice, and will get light and noise. Ventilation turns on automatically in the bathroom as well and is too loud. You can't turn it off, even if you don't need it.
10.0 Excellent
Pros: Best hotel we had on our long trip. Very clean and beautiful inside. Food was great!
Cons: Nothing. Loved this hotel
8.3 Excellent
Pros: Breakfast was pleasant. Beds exactly as needed. The price ratio might be more reasonable but the season will still be.
6.3 Good
Cons: I arrived at 22:00. There was no bar open. Only Macdonald was possible. I was woken by the cleaning at 7:50 on the Saturday morning.... 2 hours before my planned time
9.2 Excellent
Pros: Beautiful property with luxurious rooms nicely done up. The staff was very helpful. A great breakfast in the mornings. Had a comfortable stay.
Cons: There was nothing that I didn't like.
10.0 Excellent
Pros: Everything was perfect at a very reasonable price. Innsbruck city is about 5-6 minutes by car, parking was surprisingly easy on the streets.
10.0 Excellent
Pros: Really nice hotel, very clean. Breakfast was outstanding and the hotel staff is very nice and helpfull. Lota of value for money
Cons: No complains
6.7 Good
Pros: It has highway on one side and industry on the backyard.
Cons: The hotel is not bad but the location was not according to my expectations.
7.9 Good
Pros: location for us is fine, just 10 mins drive to city town. Breakfast is delicious.