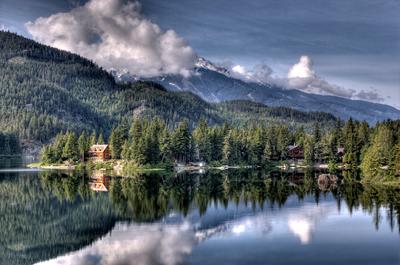 Where to stay in Sayward?
Our Heatmaps tool will help you find the perfect place to stay in Sayward by showing you how close hotel options are to major activities
1
8.5 Excellent (51 reviews)
9.5 Excellent
Pros: The hotel is located in a beautyful valley, the most silent and quite place I stayed in BC. We felt very welcome by the host and her family and got many tips what to do around Sayward. It's a family friendly space for all traveler who do like unique and individual places with goats in the garden and dogs all around. I do recommend it by heart "Karen"
Cons: -
10.0 Excellent
Pros: The lodge is in a lovely secluded and quiet area, perfect for a little get away, and the lodge itself is beautiful from the outside, overlooking a lovely big garden. Parking area is huge and feels secure too. Reception is up the stairs on the 1st floor, and as we arrived before check-in time, the owner had left us the sweetest note right at the front door, welcoming us to the lodge, giving us handy information, giving us the key with directions to the room and allowing us to check-in by ourselves as they were outside the property at that time. The note was such a lovely touch, and really made our days from the moment we walked in. The room was absolutely beautiful, and the beds are just HEAVEN! The whole room was fantastic. The living areas / dining / kitchen areas are fantastic too. We loved our stay so much, checking out was easy peasy too. The lodge is amazing value for your money, we would definitely recommend to anyone, and would definitely go back if we can. Thank you so much to the owners for making our 1 night stay the best!
5.8 Okay
Pros: N/A
Cons: Hard to find in the dark. "Unverified roads" according to the 2019 Toyota GPS. A simple map to print of the area around the Lodge would be very helpful for anyone arriving in the dark since phone gps does not work without cell signal, of which there was none. Spent just under an hour driving around in pitch black on poorly marked roads and addresses before seeing the driveway. Main entrance not clearly marked. Very quaint and clean establishment, but installing a dehumidifier would help the sheets not feel damp. After driving for 7 hours it was not a welcome feeling. Ended up wearing layer of clothes to bed. There were no towels in either the room or the bathroom for showering. There was no information in the room about towels or anything else a person might want.
7.0 Good
Pros: Lovely garden. Host makes homemade meals and freezes them for sale! Beautiful surroundings.
9.3 Excellent
Pros: very friendly and welcoming host. Loved the dog, cats and goats on the property.
Cons: the location is car dependent and there are absolutely no services or food nearby although they have a kitchen where you can store food and prepare meals...
10.0 Excellent
Pros: Home-like atmosphere, very friendly staff including two cuddly cats. Cozy room, fully equipped kitchen. More amenities available than we could use, since we were going on mountain hikes. Very good internet connection despite the remoteness of the location.
7.5 Good
Pros: A basic, comfortable place to stay.
Cons: The room wasn't made up when we arrived. A French press coffee pot in room but no way to hear water. No staff around as it as pretty much a hostel, but we had read that.
8.8 Excellent
Pros: Very clean hostel ; in nice location , near river and traials for hiking .best for fishing salmoon and good weather.
Cons: good location; if you don't use google map;and don't go from sandy Road about 5 kilometers , that google suggests . No grocery near hostel.you must buy your food before go to hostel at other cities.
8.0 Excellent
Pros: Spacious, and great facilities
Cons: It is located in a remote setting, so you cannot walk to the store or pub, etc.
9.3 Excellent
Pros: A hostel that is a convenient stopping point when exploring the north part of the island. We were there mid-week, so it was quiet and unfortunately we weren't able to stay long. Looks like it would be a nice area to explore. The owners welcomed us, gave us a tour, and then let us do our own thing. The bed was very comfortable and the facilities were very clean.
Cons: The pool table was a nice treat, but the cues need some new tips.