You're Going to Love Chicago
If you love music, food, architecture, and art, Chicago is your kind of city.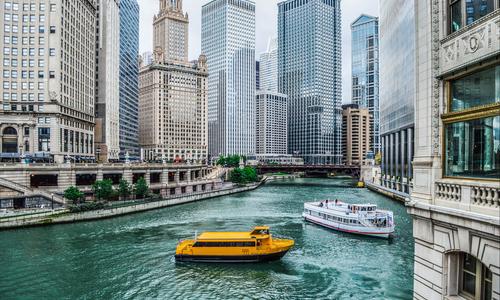 Art lovers can spend days wandering around the Art Institute of Chicago, music lovers can spend every evening listening to blues and jazz acts at historic venues like the Green Mill, while architecture fans can join guided tours of Downtown Chicago and see every Art Deco building the city has to offer.
The Windy City is also a hub for shoppers – with the craft market at Lincoln Square, the endless supply of boutiques on Michigan Avenue, and city center malls like Water Tower Place.
Everyone can find something that their taste buds will savor, whether it's the deep dish pizza at Lou Malnati's, the burgers at DMK, the Polish food at Red Apple Buffet, or the Mexican food at Taco Joint.
You'll never be bored when you visit the Mid West's capital, so start planning your trip today.
Top 5 Reasons to Visit Chicago
1. Architecture
Chicago's Downtown district is packed with incredible twentieth century architecture. There are works by famous architects like Louis Sullivan (the Wainwright Building or the Auditorium) and Frank Lloyd Wright (the Rookery), as well as towering skyscrapers like the Sears Building and the Hancock Tower.
2. Sports
Chicago is a sporting city. Watch the Cubs play baseball at Wrigley Field, see the Bulls compete in the NBA at the United Center, or catch a Bears NFL game at Soldier Field.
3. Food
Chicagoans love to eat. Try specialties like the deep dish pizza at Lou Malnati's (439 N Wells St), Polish hot dogs from Maxwell Street (601 S Sacramento Blvd) or irresistible barbecue ribs from Blackwood BBQ (305 W Lake St).
4. Museums
Chicago has a vast collection of galleries and museums to explore. The Field Museum (1400 S Lake Shore Dr) has an enormous natural history collection, the Art Institute (111 S Michigan Ave) houses great works of art by masters like Seurat and Hopper, while the Museum of Science and Industry (5700 S Lake Shore Dr) will keep everyone entertained with exhibits like a restored German U-Boat and a reconstructed coal mine.
5. Culture
Chicago is also a city of art and music. In the early 20th century, it gave birth to a distinctive Blues sound, and you can hear the heirs of major artists like Buddy Guy and BB King at venues like the House of Blues (329 N Dearborn St). Jazz is another speciality, and fans should catch a show at the Green Mill (4802 N Broadway St) which was once owned by an associate of the infamous American gangster, Al Capone.
What to do in Chicago
1. Millennium Park: Chicago 2000
Designed in celebration of the year 2000, Millennium Park is a feat of urban planning most famous for Cloud Gate, A.K.A. The Bean. In the spirit of progressive design and fueled by the advent of a new millennium, the park is still ahead of its time with its focus on sustainability and accessibility. This makes it an awesome outing for all!
2. Art Institute of Chicago: Sunday in the Gallery with Art
The Art Institute of Chicago is one of America's oldest art museums. Visitors make pilgrimages here to see the colorful pointillist work of Georges Seurat, and masterpieces by Picasso. The sheer diversity of the collection is also thanks to the Institute's role as a conservation center and art school. This means cutting edge research, constant expansion, and a focus on reaching the public at its center.
3. Magnificent Mile: The Finer Things
The Magnificent Mile is Chicago's busiest pedestrian street and a haven for upscale window-shopping beneath some of America's tallest skyscrapers. Nicknamed the "Mag Mile" and running along Michigan Avenue, it is home to the Chicago Four Seasons and other excellent fine dining options. For a bird's eye view, the 360 CHICAGO observatory is on the 94th-floor of the John Hancock Building.
4. Museum of Science and Industry: Revolutionary Industry
Chicago's Museum of Science and Industry is the most hands-on way to learn about the world's resources. They have gone above and beyond in their educational efforts: visitors can explore a full-size coal mine replica, check out a 3,500 square foot model railroad, and come face to face with the original Apollo 8 Spacecraft that bore the first humans in orbit around the moon.
5. Wrigley Field: Go Cubs
Wrigley Field, named after the all-American chewing gum of the 20th-century penny-candy era, was opened in 1914. Maintaining an air of maturity, this baseball park is one of the two oldest in the nation and home to the Chicago Cubs. With a weathered facade, a hand-operated scoreboard, and outfield walls covered in iconic ivy, Wrigley Field could not be more traditionally delightful.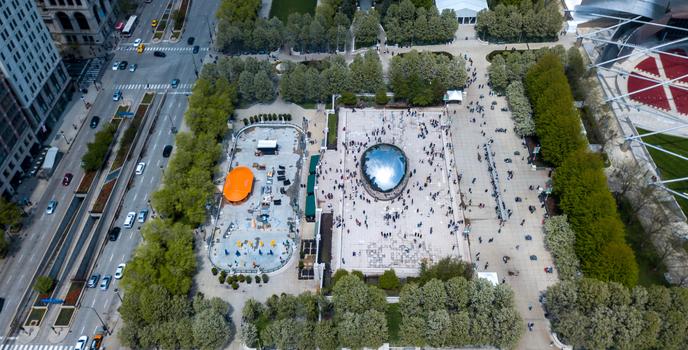 When to Visit Chicago
If you are thinking about visiting Chicago, the climate is definitely a factor in deciding when to go. Between late November and March, the city can be bitterly cold, making late spring, summer, or early fall the best times to visit. A visit in September or October makes sense. The weather is pleasant and the city hosts some of its most exciting events, such as the Chicago Jazz Festival (September 1-4) and the International Film Festival (October 13-27).
Where to Stay in Chicago
Popular Districts
Downtown – Downtown Chicago is a cultural, shopping, and entertainment center. Many people could spend their entire vacation Downtown without needing to head to the outer districts. Here you'll find great museums like the Art Institute of Chicago alongside some stunning architecture. There are Art Deco masterpieces, like the Carbide and Carbon Building, and modernist towers like the Federal Center and the Rookery, with its astonishingly beautiful interior staircases. Downtown is also home to cultural attractions like the Auditorium Theater and Chicago Symphony Orchestra, so it's the place to stay if you love opera, theater, or classical music.
The North Side – A prosperous part of Chicago that suits visiting families, the North Side has plenty of appeal. You can watch the Cubs play at Wrigley Field, catch rock bands at Metro or head to the retail market at Lincoln Square to check out the records, books and antiques. There are also plenty of ways to relax, including a night of bowling at Timber Lanes or the cutting edge comedy available at iO Theater.
Hyde Park – Located on the South Side of Chicago, Hyde Park is a predominantly African-American district with a glorious history. Once the home of Muhammad Ali and the writer Saul Bellow, Hyde Park was where U.S. President Barack Obama worked as a community organizer and it's also home to the prestigious University of Chicago. Attractions include the Drexel Fountain and the Isidore Heller House designed by Frank Lloyd Wright, but the major appeal of the area is its culture. Sample great fried chicken at Harold's Chicken Shack (1208 E 53rd St) and follow that up with a night of blues at the New Checkerboard Lounge (5201 S Harper Ct).
How to Get Around Chicago
Public Transportation
Chicago's public transit system is efficient and cheap, and is the best way to get around the city. The primary transportation methods are the trains and buses operated by the Chicago Transit Authority (CTA). To ride CTA vehicles, you'll need to purchase a Ventra card ($5) from stations or kiosks. When you have a card, each train journey on the network costs $2.25 (with an extra $0.25 every time you change lines) while bus journeys cost $2. Travelers can also purchase a weekly CTA pass ($28) or a monthly pass ($100). Be aware that Metra commuter trains do not accept Ventra cards, so travelers will need to purchase tickets separately before they board.
Taxis
Standard taxi fares are $2.25 as a basic charge, then $0.20 for each ninth of a mile after that, with an extra $1 fuel surcharge for every journey and another $1 surcharge for each extra passenger. Uber charges a basic rate of $1.70 and then $0.20 per minute or $0.90 per mile (along with a $1 safe ride fee and a $0.30 transit tax).
Car
Locals generally advise visitors not to drive around the center of Chicago if they can avoid it, and with such a good public transportation system, it's not usually necessary. Parking is expensive, at $35 per day, and traffic within 'the Loop' is almost always heavy, making catching the subway the quicker option. Navigation can be tricky as well thanks to inner city streets with multiple levels, while Chicago's drivers are famously aggressive. If you have the nerve and are a quick learner, driving is possible, but most people will prefer sticking to public transit and taxis.
The Cost of Living in Chicago
Chicago is cheaper than New York and San Francisco, but is slightly above average for American cities. Expect to pay $15-30 for a medium-range meal, $2.90 for 12 eggs and around $50 for a good pair of jeans.
Shopping Streets
Chicago's major shopping street is Michigan Avenue (also known as the 'magnificent mile'), where you'll find a wide array of boutiques like Chanel, J Crew, and Ermenegildo Zegna. For records, crafts and books, check out Lincoln Square. Book Cellar is ideal for readers, ornaments and antiques can be found at Eclecticity, and health and beauty products are available at Merz Apothecary.
Groceries and Other
Chicago has a broad range of supermarkets, with major names like Aldi, K-Mart, Walmart, Trader Joe's Whole Foods, and Jewel-Osco all represented, so finding groceries will rarely be an issue. It's also the home of Walgreen's, so drug stores are everywhere.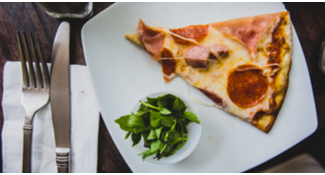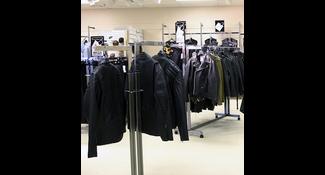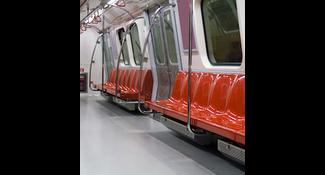 Single public transport ticket
$2.25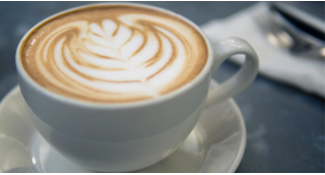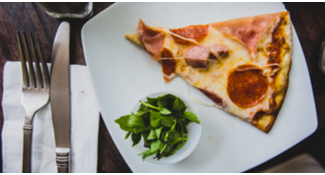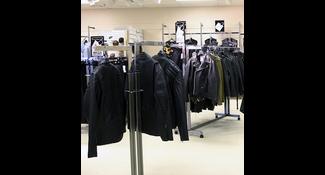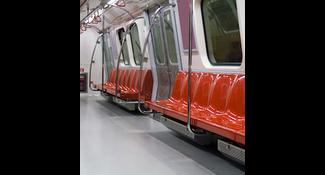 Single public transport ticket
$2.25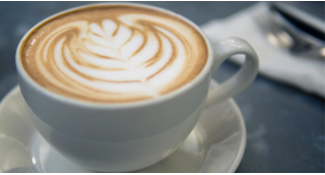 Other popular cities in Illinois
More top destinations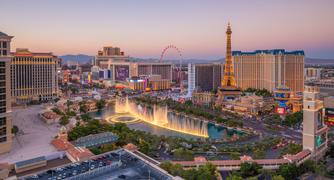 North America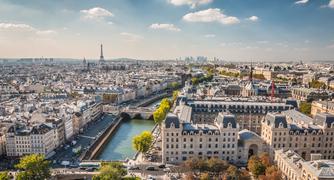 Europe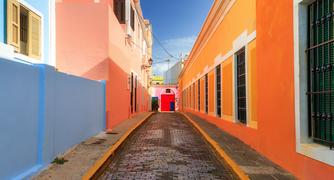 Caribbean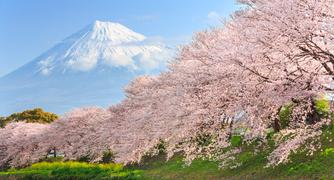 Asia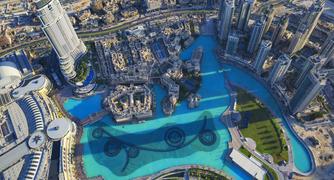 Middle East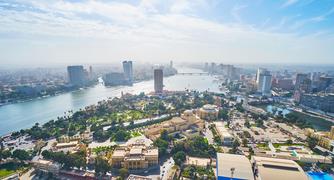 Africa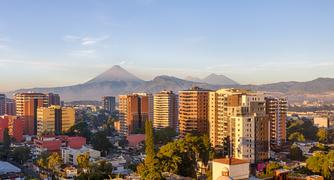 Central America
South America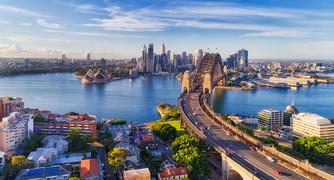 South Pacific