You're Going to Love New York
As Gene Kelly and Frank Sinatra famously sing in the classic movie "On the Town", New York is a "helluva town." The Big Apple has it all, from its awe-inspiring skyscrapers to world-class museums, shopping districts, sporting events, and historical sights.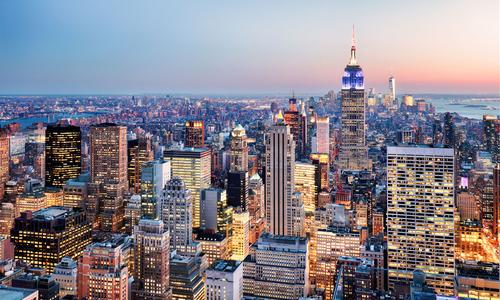 Tour the artistic masterpieces at MoMa, take the ferry out to see the Statue of Liberty (the most iconic symbol of freedom in the U.S), book Broadway theater tickets, or just wander the floor of iconic stores like Bloomingdales or Macy's. Take a walk through Central Park, ascend to the top of the Empire State Building, or stay grounded with a shopping tour of 5th Avenue.
Whether you're heading there on a summer-sight-seeing break or want to share in festive magic by ice-skating at the Rockefeller Center; New York attracts crowds in every season; so book your ticket today.
Top 5 Reasons to Visit New York
1. Culture
New York is one of the world's leading cultural centers. You can head to MoMa or the Metropolitan to see extraordinary art collections, watch shows like Cats or Hamilton at Broadway theaters, take a box at the Met (30 Lincoln Center Plaza) for an opera performance, or head to venues like the Bowery Ballroom (6 Delancey St) for live indie music.
2. A Global Dining Scene
Grab street food while you see the sights from take-out joints like Thelewala (112 Macdougal St), treat the family to burgers at the Spotted Pig (314 W 11th St), gorge on seafood at Lure (142 Mercer St), experiment with Asian and Pan-Latin cuisine at Zengo (622 3rd Ave), and finish off in decadent style with dessert at the Chocolate Room (269 Court St).
3. The Architecture
New York is packed with visually stunning buildings. Take a historical tour of skyscrapers like the Flatiron Building, the Woolworth Tower, the ornate Chrysler Building and the Empire State Building, head to Ground Zero and pay your respects at the WTC Pavilion, or see post-modern creations like Morphosis (41 Cooper Square) or the Bronx Museum of the Arts. If you love architecture, you'll never be bored in New York.
4. Shopping
Shoppers won't be disappointed by New York. In fact, they'll be in heaven. Window shop on 5th Avenue or Broadway, head to the department stores around Times Square, or visit iconic department stores like Bloomingdales (1000 Third Avenue). The kids will adore the seemingly limitless array of toys at FAO Schwartz (6th Avenue), while thanks to the film Breakfast at Tiffany's, Tiffany & Co. (727 Fifth Ave) is a site of pilgrimage for film lovers and jewelry fans alike.
5. Iconic Landmarks
New York is home to some classic American landmarks that all visitors will want to see. The most famous is probably Lady Liberty herself. Take a boat out to Liberty Island to get to know America's symbol of freedom personally. But there's also Wall Street, the Empire State Building, and Ellis Island, along with historical sporting venues like Yankee Stadium (1 E 161st St, the Bronx).
What to do in New York
1. Statue of Liberty: Lady Liberty
Standing in New York Bay is the iconically green Statue of Liberty, one of the most famous monuments in the world. For centuries she offered the first impression of "the American Dream" to immigrants arriving by boat. Today, tourists still favor seeing Lady Liberty from the water aboard classic New York ferries, before landing on Liberty Island where those with reserved tickets can climb to the crown.
2. Times Square: Center of the Universe
The point where Broadway meets 42nd Street is one of the busiest intersections in the world - Times Square - and it's worth joining the throngs beneath the dazzling lights. This is the Theatre District, which is hard to miss with faces from the Lion King, New York's top musical attraction, beaming down on visitors from Minskoff Theatre. But even without Broadway tickets, Times Square is sure to be a show.
3. Empire State Building: Iconic New York
Once the tallest building in the world, the Empire State Building is still the world's most famous skyscraper. It stands 102-stories tall in midtown Manhattan, where visitors can travel to the observation deck for panoramic views of New York until late in the night. Visible all across the city, the top three tiers are illuminated after dark in seasonal colors.
4. Financial District: Where it all Began
The Financial District bustles away at the tip of Manhattan. Just north of infamous Wall Street, the Brooklyn Bridge feeds you directly onto downtown Broadway, where Trinity Church stands as a reminder of pre-Revolutionary America. Look up: One World Trade Center glistens above, bringing you back to the present with its base one block further at the moving National 9/11 Memorial.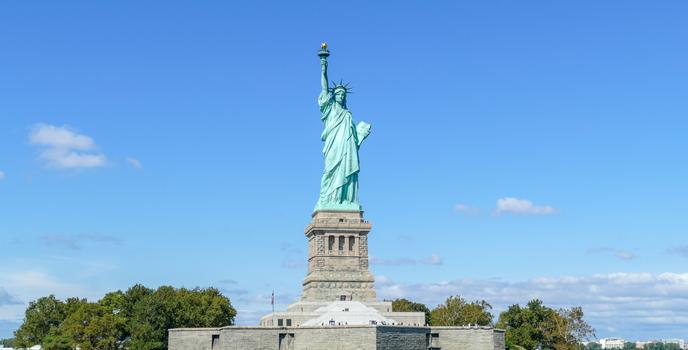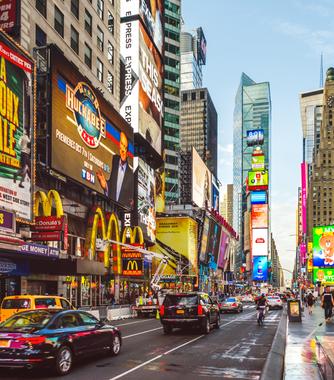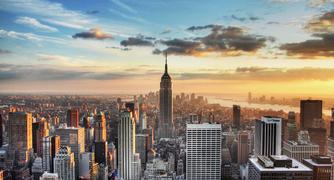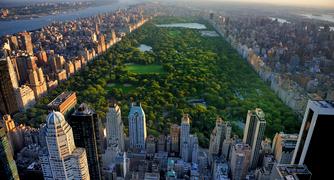 When to Visit New York
New York is a world-class destination any time of the year. At Christmas, you can tour the famous store windows, enjoy ice-skating, see the lights in Times Square and take the kids to see Santa at Macy's. Spring is the time to see Central Park in bloom, the St Patrick's Day Parade, and the Macy's Flower Show. Summer brings crowds from across the world, and it's the best time to enjoy the city's outdoor attractions like the Bronx Zoo, Liberty Island cruises and Brighton Beach. Then there's fall, when the crowds get thinner but the city hosts events like New York Fashion Week and Broadway's new theater season kicks into gear. So whenever you visit, you'll find something to do.
Where to Stay in New York
Popular Districts
Greenwich Village – One of the most famous bohemian areas in the world, Greenwich Village is known for being a haven for poets, painters, novelists, eccentrics, and folk singers. Nowadays, it is home to attractions like the Blue Note Jazz Club (131 W 3rd St), the Whitney Museum of American Art (99 Gansevoort St), and the Bitter End music, poetry, and comedy club (147 Bleecker St). It's also a great place to walk around and absorb the atmosphere.
Brooklyn – Brooklyn is where it's at for youth culture in modern New York, and it's cheaper than Manhattan as well. There are green spaces like Prospect Park to relax in and landmarks like the gorgeous Brooklyn Bridge to see, as well as rainy-day attractions like the Brooklyn Museum (200 Eastern Pkwy) and the Barclays Center (home to the Brooklyn Nets in the NBA and the New York Islanders in the NHL).
Queens – Queens is a more residential part of New York, which makes it ideal for families who want to avoid the hustle and bustle of the city center. It's also home to the New York Mets, who play at Citi Field and Flushing Meadows, the venue for the US Tennis Open, and full of fascinating locations from the World's Fairs of 1939 and 1964. Queens is also packed with wonderful Italian restaurants, and no-one should miss the pizza at places like Milkflower (34-12 31st Ave) or Gaby's Pizza (20423 Hillside Ave).
How to Get Around New York
Public Transportation
New York is a massive place, but getting around by public transportation is quite straightforward. For starters, get hold of a 7-day or 30-day unlimited ride MetroCard, which costs $31 and $116 respectively. As subway rides cost $2.75 per journey, this should save you money. Your card can be used with any buses or subways, and should be the first thing you buy when you arrive.
Taxis
Yellow taxis are a sight most tourist want to see in New York, so everyone should find time to hail at least one ride. However, you probably won't want to make every journey by cab. The base charge is $2.50, then $0.50 for every fifth of a mile, while a $0.50 surcharge applies between 8:00 p.m. and 6:00 a.m. Uber is an alternative, but it isn't much cheaper in New York. The basic charge is $2.55, then $1.75 per mile after that.
Car
Renting a car or driving your own is a great option if you intend to venture further afield than central New York, but it's not recommended for navigating the city. If you need to have a vehicle of your own, be aware that parking in New York is more expensive than any other US city, with an average daily charge of $41 in Manhattan.
The Cost of Living in New York
Shopping Streets
Shopping is one of New York's great obsessions, and there are some fantastic shopping districts to explore. 5th Avenue is probably the most famous and is home to brands like Abercrombie & Fitch (no. 720), Gucci (no. 725), Saks (no. 611), and Hugo Boss (no. 717). Broadway is another street that is full of boutiques, such as All Saints (no. 512) and Madewell (no. 486). There are also malls like the Time Warner Center, while discount shopping is on offer at the Staten Island Mall (2655 Richmond Ave). If you want to check out craft products and antiques, the Green Flea Market is the place to head on Sundays (100 W 77th St).
Groceries and Other
Shopping at supermarkets and delis is one way to keep the cost of living in New York down. Chain supermarkets are thin on the ground in Manhattan, but there are independent stores like D'Agostino in Greenwich Village (341 3rd Ave). There are a number of Whole Foods, Trader Joe's, and Fairway outlets as well as Duane Reed supermarkets on Broadway and Wall Street. Another good option for grocery shopping is to visit Chelsea Market (75 9th Ave) for fresh produce and prepared meals. Expect to pay around $2.30 for a gallon of milk or $4.30 for 12 eggs. New York isn't cheap, so budget accordingly.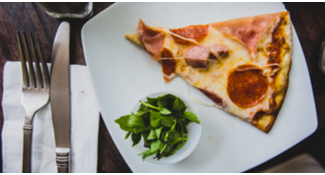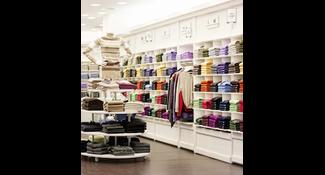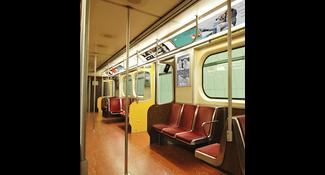 Single public transport ticket
$2.75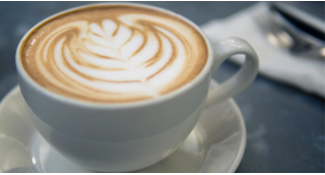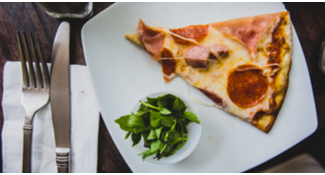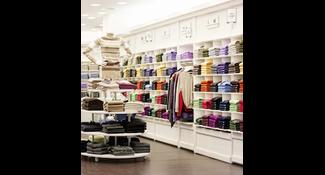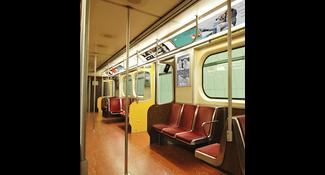 Single public transport ticket
$2.75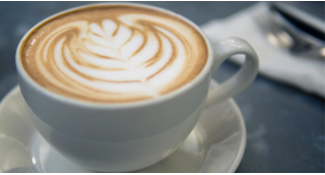 Other popular cities in New York
More top destinations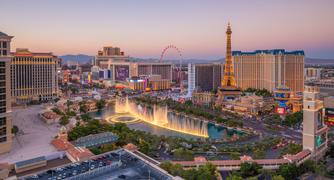 North America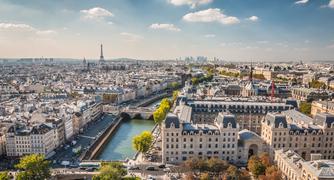 Europe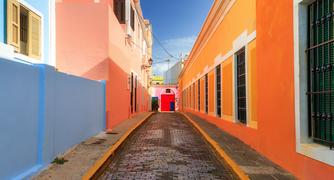 Caribbean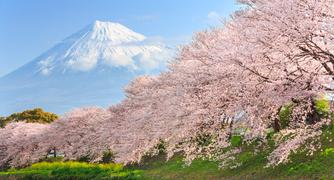 Asia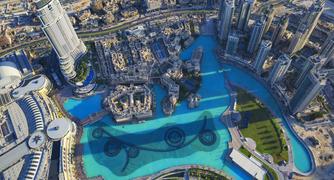 Middle East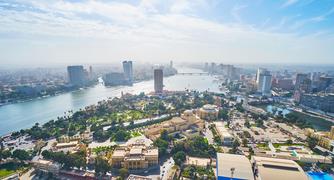 Africa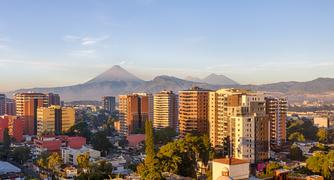 Central America
South America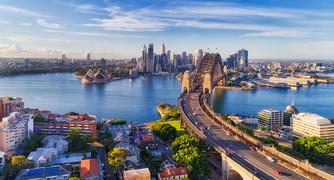 South Pacific