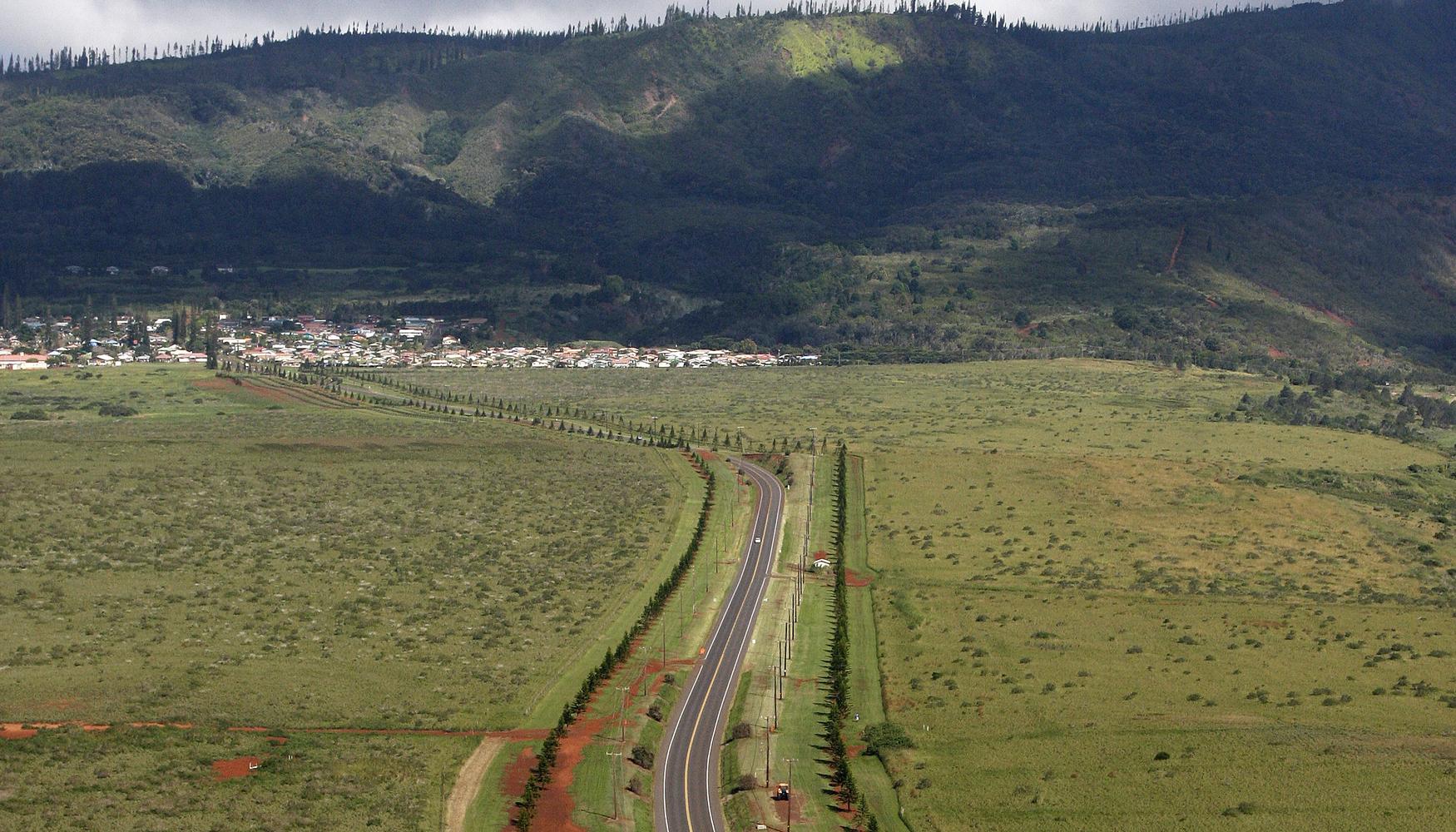 You're Going to Love Lanai City
Lanai is Hawaii's smallest inhabited island. Also known by some locals as Pineapple Island because of its history as a pineapple plantation, this 141-square-mile oasis offers a peaceful remote atmosphere.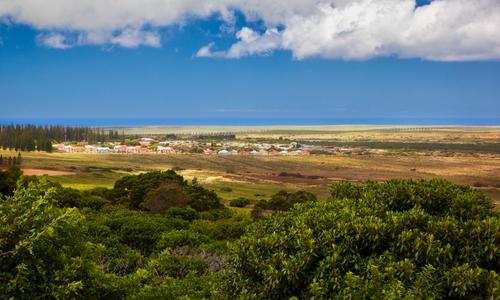 Top 5 Reasons to Visit Lanai City
1. Water Sports
Lanai is a great place to enjoy snorkeling, swimming, sailing, and scuba diving in warm, clear waters.
2. Tee Off
There are three golf courses on the island, including the Jack Nicklaus-designed Manele Golf Course.
3. Dole Park
This is where the locals go to relax. Enjoy a picnic and get used to that wonderfully slow pace of life.
4. Kaumalapau Harbor
You will find some of the best views on the island from the 1,000 foot cliffs by the harbor.
5. Keahiakawelo
This "Garden of the Gods" is an area of otherworldly rock formations, with views to the islands of Oahu and Molokai.
What to do in Lanai City
1. Home To Shark Fin Cove
Located on the southern tip of Lanai, Kaunolu Village was once King Kamehameha I's favorite fishing ground. Walk down a rocky path that leads you to Kaunolu Village, where you can explore the remaining prehistoric ruins within the village. As you wander the village, marvel at the remains of the sacred temple, Halulu Heiau. In addition, you'll encounter colorful petroglyphs. Moreover, this sacred 60-foot cliff was used by warriors to show their bravery. Shark Fin Cove will give you a panoramic view of the island and offer a good photo opportunity.
2. "Sweetheart Rock"
Take a drive to Hulopoe Beach Park and head over to Puu Pehe, the Sweetheart Rock. Along the trail, you'll come across tide pools, a sea arch, and Shark's Cove. Once you reach Puu Pehe, you'll see the breathtaking view of a burial place resting atop the peak 150 feet offshore. According to Hawaiian legend, a warrior's beloved Puu Pehe drowned inside the cave in which he placed her. The gods assisted the warrior to climb and bury his Puu Pehe on the rock. Sadly, the warrior jumped to his death.
3. Exhibits And Sells Local Art
Visit Lanai City's only multi-purpose community arts program. Take a skull decorating class and learn how to create beautiful art pieces for Halloween or Dia de Los Muertos. If you want to learn how to paint with watercolors, then sign up for Kathleen Alexander's watercolor shop. Whatever your skill, the Lanai Art Center offers many workshops open to anyone who loves art. Moreover, the gallery sells the art created by local artists, including but not limited to custom designed jewelry, hand-made ceramics, and fabrics. Make incredible art and you'll have the possibility of selling your work.
4. "Shipwreck Beach"
Take a four-wheel drive to Kaiolohia and be amazed at the many wrecked ships lying along an 8-mile stretch of beach. You'll be mesmerized by the rusted hull of a 1940's oil tanker beached on the coral reef of Kaiolohia Bay. Away from the beach you'll come across Federation Camp, an area with structures built in 1930 hovering like ghost. South of the lighthouse foundation, you'll find a trail that takes you to the petroglyphs located at the bottom of the slope of a giant rock.
5. "Garden Of The Gods"
Take a four-wheel drive to Lanai's central area where extraordinary rock formations can be seen. Round boulders are spread throughout the Polihua Road. The rocks and rock formations are the result of centuries of erosion and have the feel of a moonscape about them. You'll notice the diverse colors of the rocks, including a purple hue. According to Hawaiian folklore, two priests of Lanai and Molokai competed against each other to see who could keep the fire on the island burning and this earned the name, Garden of the Gods.
When to Visit Lanai City
Lanai enjoys a tropical climate with fairly stable temperatures all year. The ocean provides a cooling influence and the island is pleasant to visit at any time of year.
How to Get to Lanai
Plane
As an island, Lanai is only accessible by air or sea. Lanai Airport (LNY) has connections from Honolulu, Molokai, Kahului, and Kapalua. Once on the island, a courtesy bus will take you to Lanai City and the resort hotels for $10.
Ferry
There are several ferry connections every day from Lahaina on Maui. The adult fare is $30 with a child ticket costing $20. The ferry is for foot passengers only and does not transport cars.
Airlines serving Lanai City
Show more
Where to Stay in Lanai City
Do remember that accommodation on the island is limited, so you should book well ahead of your visit. The Four Seasons Resorts at Koele and Manele Bay are two of the main hotel complexes, while Blue Ginger Bed and Breakfast on Lama Street has more modest accommodation.
Popular Neighborhoods in Lanai
Dole Park - this is the central area of Lanai City, where you will find most of the restaurants and shops.
South Lanai - this is where you will find most of the luxury hotels and the beautiful Hulopoe and Manele Bays.
Kaumalapau Harbor - this is the main seaport of Lanai. It's probably the best spot on the island to watch spectacular sunsets and is a great place to see whales and dolphins.
Where to stay in popular areas of Lanai City
Most booked hotels in Lanai City
How to Get Around Lanai City
Public Transportation
There is no public transport network on the island but a shuttle bus will take you between Lanai City, the airport, the harbor, and the major resort hotels. It costs $10 for a day ticket.
Taxi
Taxi services are limited and need to be booked in advance. The meter drop fee is $3.50, and then it is around $4 per mile.
Car
Driving in Lanai is a relaxing experience with little in the way of traffic. Car rental is available but more expensive than in mainland areas. Expect to pay around $150 per day for a 4WD (which is recommended).
The Cost of Living in Lanai City
Shopping Streets
The streets around Dole Park contain almost all the stores on the island. There are no malls and instead small local stores sell local fashion and crafts.
Groceries and Other
Richard's Market on 8th Street stocks a good selection of groceries. In general, a quart of milk in Lanai costs $1.59 and loaf of bread is $4.67.
Where to Eat in Lanai City
The Lanai City Grille on Lanai Avenue specializes in local meat and seafood dishes, with mains from around $15, while Cafe 565 on 8th Street offers a more informal dining experience with salads and sandwiches from $8.
Other popular cities in Hawaii