It's New Year's Eve. You're at a bar, dressed to the nines, champagne glass in hand… but where is everyone else? Based on our data, chances are they're in Reykjavik.
This trending city topped our list of New Year's Eve destinations with a 165% increase in interest among travelers this year vs. last. Reykjavik's combination of a laid-back vibe and adherence to tradition work nicely for those looking to immerse themselves in a city's culture when they travel.
One inescapable New Year's tradition in Reykjavik is the annual New Year's Eve comedy show, Áramótaskaup. Starting at 10pm on December 31st, the country heads indoors to partake in this national pastime (which has been running since 1966). It features top comedic acts from around the country and airs until just before midnight. The show is so popular that over 90% of the country's population tunes in.
Want in on the Scandinavian satire? Try a stay at one of our top trending hotels for Reykjavik: The Hotel Centrum, Radisson Blu 1919, Hilton Reykjavik Nordica, or the Icelandair Hotel. Then, at midnight, head back outside for a hearty "Happy New Year" (or "Gleðilegt nýtt ár" to locals) and an all-night party featuring brennas (bonfires), fireworks and drinking until 5am. Skál!
If packing a parka is not really your speed, you can always plan next year's soiree in one of our other Holiday Travel Hacker's Trending New Year's Eve Destinations:
Playoff runs. Royal visits. All-Star Games. Trudeau-mania.  In 2016, celebrity news and pivotal cultural moments didn't only impact Canadians' newsfeeds but their travel plans as well. We combed through our data to find 2016's top travel trends and destinations specifically for Canadians. And let's just say, Canadians made a grand "Brentrance" this year.
In 2016, Canadians could be found:
1. Getting down with the royal crowd.
The Royal Family paid their former territory a visit this year. Canadians returned the favour by making London the #1 most popular travel spot for 2016 (stealing the crown from last year's winner, Las Vegas).
2. Using those vacation days. 
Nail-biting playoff runs with Canada's top teams may have not only sprouted extra grey hairs for Canadians, but also may have contributed to the need for a few extra vacation days.  Those north of the border took an average of 12 days in 2016 while travelers from the US only took 8 days.
3. Putting down the glitz. 
Las Vegas seems to have lost its lustre with Canadian travelers. This once top destination fell to #5 on the list of cities Canadians most wanted to visit. Perhaps in an attempt to pander to their northern neighbors, only time will tell if Sin City's move to establish a hockey team in 2017 will help them reclaim ground.
4. The real MVP. 
When we looked at individual metropolitan areas in Canada (versus an overall approach) a few interesting trends emerged. For one, Toronto topped the charts as the #1 or #2 destination for most major cities throughout Canada.
Ottawa:


Ottawa was the only Canadian city that included Halifax among its top-searched cities. The #1 spot, however, went to Vancouver as the most popular destination.

Montreal:


At this point in the year, it's no surprise that Paris was, once again, the top destination for the

Montréalais. Nine out of ten top destinations were for international locales with Vancouver being the only top-ranking domestic destination.

Halifax:


Apparently, the feeling is mutual. Halifax checked "yes" to Ottawa's "Do you like me" note. It was the only Canadian city that selected the country's capital as one of its top destinations.

Calgary:


Calgarians were California dreamin' this year. Los Angeles and San Francisco both ranked within the top 10 of most-searched destinations. However, the top spots kept it local: Toronto and Vancouver came in at #1 and #2, respectively.

Winnipeg:


With four Canadian destinations in their top 10, people from Winnipeg love to explore the sights and sounds of the country's brightest lights. This includes Toronto (#1), Vancouver (#2), Calgary (#5) and Montreal (#10).

Saskatoon:


Compared with other Canadian cities, Saskatooners were more attracted to the glitz and glamour of Vegas than their counterparts. Sin City took the #2 spot on their most-searched list.

Vancouver:


Residents in the 'Couv are spreading their wings and flying all over the globe. Popular destinations included Seoul, Tokyo and Honolulu, making travelers in Vancouver cover more miles than their sister cities.
One thing's certain about 2016, it marked a solid year for Canadian travelers. If you feel that your travel aspirations fell short this year, there's always time for redemption in 2017. Jump start your travel planning by searching hundreds of sites at once on KAYAK for flights, hotels and rental cars.
Methodology: We looked at flight searches with search dates 10/01/2015 – 11/08/2016 and travel dates 01/01/2015 – 11/08/2016 for each corresponding year.
He sees you when you're sleeping, he knows when you're awake. Now, on December 24th, turn the tables on jolly ol' Saint Nick and get live updates on his journey from the North Pole with the help of KAYAK and Amazon Alexa.
Simply start by saying to Alexa, "Alexa, ask KAYAK to track Santa." Using a combination of navigation software, algorithms and insider-elf intelligence from North Pole Central Command, Alexa uses KAYAK's Flight Tracker to pinpoint Kris Kringle's location during his holiday flight.
This year, gather the family 'round your Amazon Echo, Dot or Tap for some Yuletide cheer. Once you've enabled the KAYAK skill in your Alexa app, you can begin tracking Santa by asking any of these questions: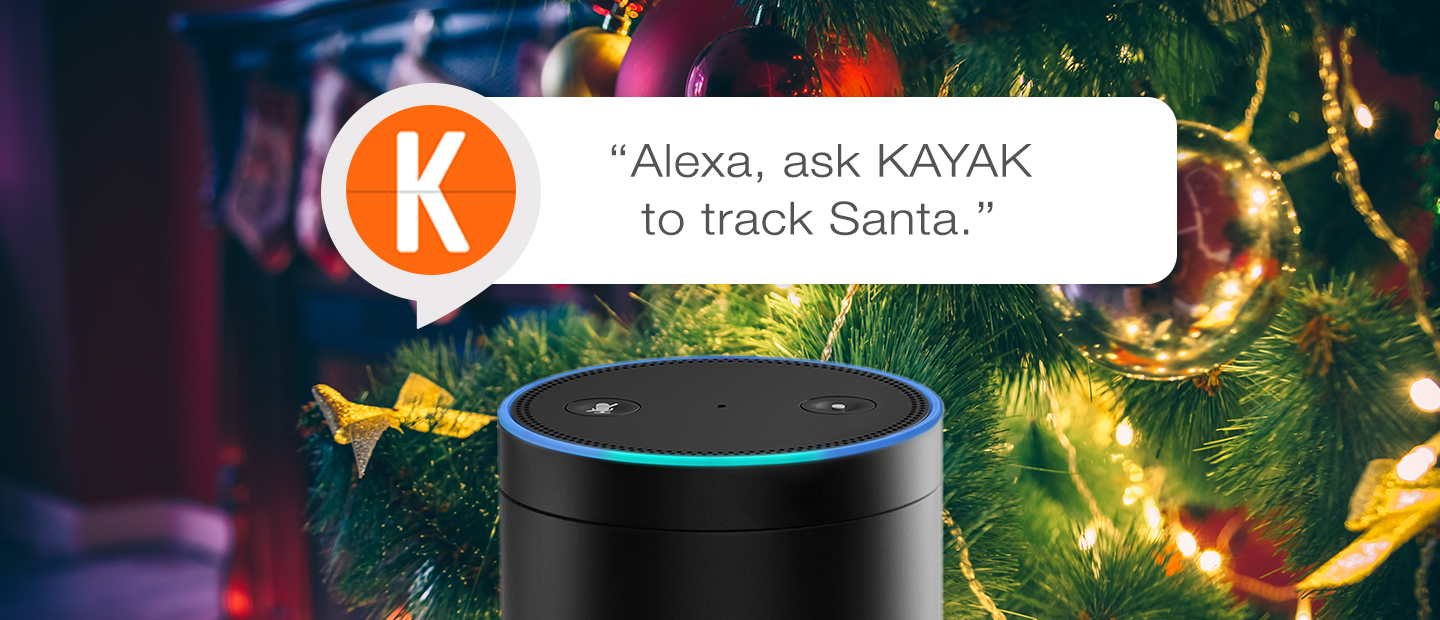 Alexa, ask KAYAK to track Santa.

Alexa, ask KAYAK, when will Santa be in Boston? (or another city of your choosing)

Alexa, ask KAYAK when Santa will be here?
Tracking Santa is just one of the many ways we're changing voice-activated travel search. For instance, we can also track flights for any airline, not just sleighs and reindeer. Find out what else you can do with the KAYAK skill for Alexa. Be sure to enable the KAYAK skill for your Alexa app to use our Santa Tracker, or search for flights, hotels, rental cars and more.
As 2016 comes to an end, the countdown is on for Canadians planning a New Year's Eve getaway. We're already seeing a 10% increase in searches for NYE travel (which is impressive considering we saw an 11% decrease last year).1
So exactly where are these travel-savvy Canucks heading?2
Where there's sun.

Canadian travelers seem to want to start their new year in the sand, Florida destinations like Fort Lauderdale, Orlando and Miami are 3 of the 10 most popular destinations.

Where they can break with tradition.

We also see plenty of Canadians looking to try something new in cities that go a bit off the beaten path. Interest to places like Dubai, Guatemala, Reykjavik, Seoul and Madrid doubled when compared with last year.

Where everybody knows your name.

That said, there's no place like home. Vancouver and Toronto are still reigning champs of NYE travel. However, Kelowna, BC also made an impressive showing with an almost 70% increase in interest.

Where they can be on-trend.

Though we identified general trends among Canadian travelers, when we drill down into major urban areas, we also find that certain cities have their own ideas for what's trending in New Year's Eve travel.
Calgary:

Aloha, 2017. Hawaii is still the destination of choice for Calgarians and interest in Honolulu alone has soared by 44% since 2015.

Edmonton:

More and more Edmontonians are taking a break from winter in sun-filled Los Angeles.

Ottawa:

No turning into pumpkins here. When the clock strikes midnight, Ottawans will be living it up in Orlando.

Winnipeg:

Residents from Canada's Gateway to the West will be singing "Auld Lang Syne" close to home. Toronto is their destination of choice.

Toronto:

While domestic destinations like Vancouver and Calgary technically top the list, more and more Torontonians are feeling the pull of international cities. Both Dubai and Reykjavik saw triple digit jumps in interest.

Vancouver:

Those party hats won't be enough to block out the sun, but those from the 'Couv are looking at San Jose, CA to celebrate.

Montreal:

Ever posh, the "

Montréalais" are jet-setting to Europe to welcome 2017. Amsterdam and Paris were among the top destination for visitors from the City of Saints.
It's clear that when the ball drops, Canadian travelers are already committed to keeping their "travel more" resolutions. To see where you should travel to for New Year's Eve, take our quiz.
1
Methodology: Search dates are from August 1, 2013 – November 27, 2016 YTD for each corresponding year with travel dates from December 26, 2013  – January 3, 2017 for each corresponding year.
2
Methodology: Search dates are September 1, 2016 – November 3, 2016 with travel dates starting December 26-31, 2016 – and ending dates January 1-4, 2017.