We already told you that flights to Europe are significantly cheaper this year versus last. Even if you weren't dreaming of a European vacay, you may be thinking, that's great but where should I go? Here are 10 European cities to add to your must-visit list, whether you're a foodie, a sports fan, a culture vulture or a history buff.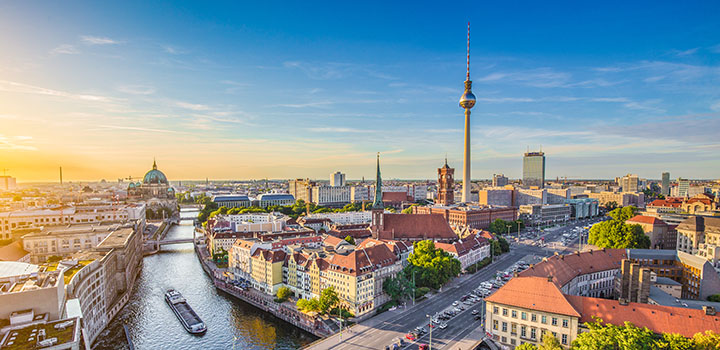 A city where the clubs never sleep: Berlin
Flights to TXL 19.6% cheaper than 2016
There are almost too many things going on in Berlin. From world-renowned clubs to an eclectic underground goth scene, from genre-defying art to a foodie smorgasbord – and we haven't even mentioned the abundance of cheap beer yet. If you haven't been yet then you are missing out. Feeling touristy? Break out the selfie stick at the famous Brandenburg Gate. Then, take a walk around as Berlin's sightseeing spots are mostly around the center of town. Looking to entertain your inner night owl? Clubs in Berlin don't shut down until the late-morning hours (sometimes, the party doesn't even start until 4am). Some spots to check out include ://about blank and OHM.
KAYAK Tip: Live a day like a true local, visit a Mauerpark on a Sunday for a bit of shopping, have a filling brunch at nearby Nalu Diner and finish it off with a beer outside one of the local Späti's (newsagents).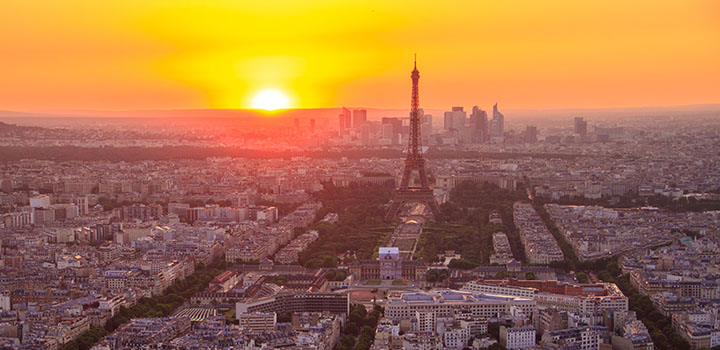 A city to fall in love with: Paris
Flights to CDG 34.9% cheaper than 2016
A thousand cheesy rom-coms can't be ignored: there's something intrinsically romantic about the City of Light. Paris has been preserved in our collective consciousness as a place to visit to have a life- (or love-) changing experience. Take the Basilica of St. Denis in Northern Paris, not only an architectural wonder but also the resting place of Marie Antoinette and King Louis XVI. Unless you go in the off-season, the Louvre and Eiffel Tower is best enjoyed late at night when it's a tad quieter, perhaps with a glass of wine from a nearby cafe.
KAYAK Tip: Have a wander around the Catacombs, underground tunnels lined with the skulls and bones of exhumed cemeteries. Not something every tourist does and a great anecdote for later.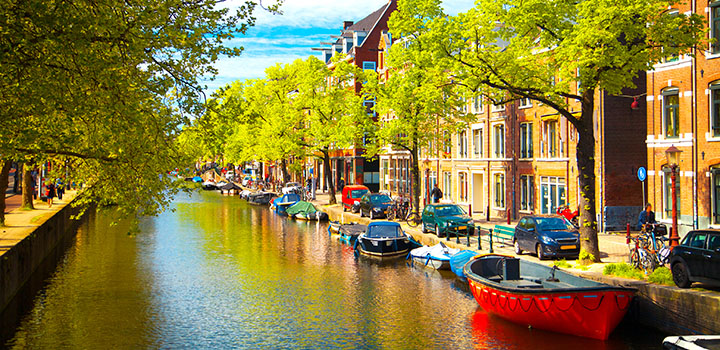 A city on the water: Amsterdam
Flights to AMS 36.3% cheaper than 2016
Amsterdam is one of those destinations that has something for everyone. If you're a cultural connoisseur, the Stedelijk Museum is a contemporary art heaven. If you're a history buff, the Ann Frank Huis is a powerful and solemn experience that you cannot miss. Foodie lovers will need to get down to Albert Cuyp on De Pijp for one of their famous markets filled with Dutch delicacies. And, well, some people might just want to get wasted and giggle in the red light district, which is a legit tourist pastime in Amsterdam – they don't judge.
KAYAK Tip: Grab a free Ferry to Noord NDSM from behind Amsterdam Central station to experience a unique part of Amsterdam. We recommend a drink at Noorderlicht – a cafe and bar in a greenhouse.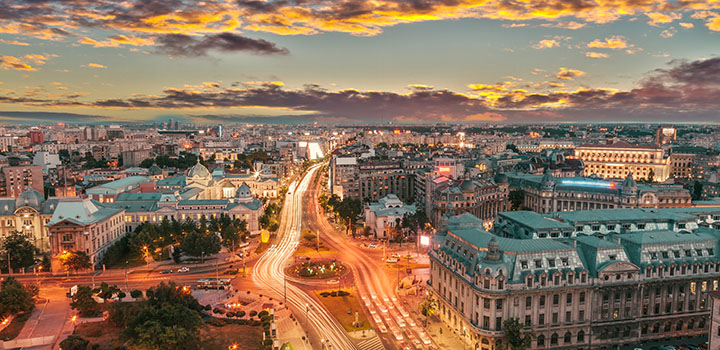 A city for the taking: Bucharest
Flights to OTP 24.1% cheaper than 2016
Despite being the capital of Romania, Bucharest is still considered a hidden gem for travellers. The architecture is simply breathtaking, the city center is a mishmash of medieval, neoclassical, and art nouveau buildings. This is, of course, is totally normal for the average citizen of Bucharest but most tourists will be walking the streets with eyes upwards. The Romanian Athenaeum, a concert hall, is a must-see and the site of many important Romanian events. After a day of cultural sightseeing retire to Club Control just north of the city center. It's the perfect place to dance until the wee hours.
KAYAK Tip: Check out Cărturești Carusel in Lipscani, a gorgeous bookstore that will inspire you to pick up a few tomes for your nightstand.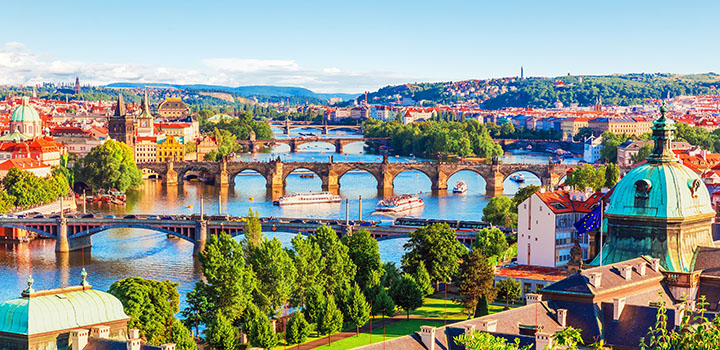 A city that's brewing: Prague
Flights to PRG 21% cheaper than 2016
With it's excellent beer, Michelin-star restaurants and huge nightlife scene, it's obvious why Prague consistently comes up as a top European destination. However, it's the relaxed vibe and friendly people that will have you coming back to Prague again and again. Downtown, you have the largest ancient castle in the world, Prague Castle, dominating the skyline. Also located in the city's center is the Prague astronomical clock, the oldest medieval clock that's still operating.
KAYAK Tip: After the veritable feast of cultural delights then it's time to gorge yourself on some good beer and some food. Pick up some crafty treats from Beer Geek Bottle Shop before heading to Ristorante Pagana for some delicious Italian fare.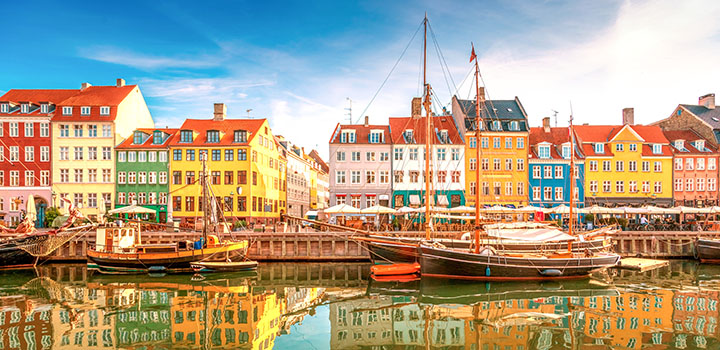 A city that feels like home: Copenhagen
Flights to CPH 22.6% cheaper than 2016
Copenhagen is Denmark's crown jewel. Just take a walk around Tivoli Gardens, one of the oldest amusement parks in the world, to experience the glory of vintage kitsch mixed with chic Danish style. Want to do something more authentic? Visit Freetown Christiana, an autonomous neighborhood within the city of Copenhagen where there's no cars, a chill vibe, and plenty of vegan food and music wherever you go.
KAYAK Tip: If you plan on traveling around and hitting up a lot of museums, then get a Copenhagen Card. It gives you free transport throughout the city and gets you into over 79 attractions without paying admission.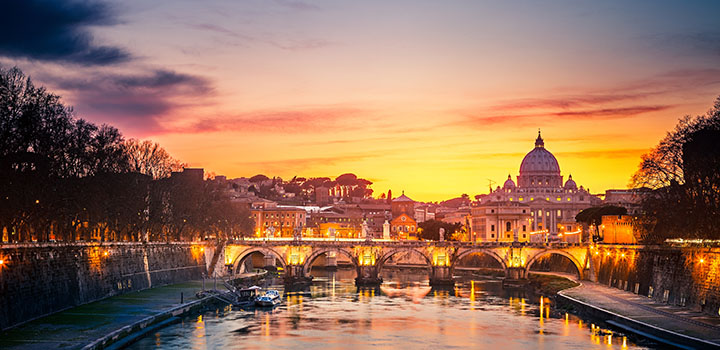 A city of stars: Rome
Flights to FCO 24.3% cheaper than 2016
In the 1950's and 60's, Rome was at the center of the Hollywood film industry (Roman Holiday anyone?). Nearly 70 years later, Rome is still the holiday destination of choice for many people for it's romantic and relaxed atmosphere. Neoclassical buildings dot crowded streets, housing some of the most beautiful works of art anywhere in the western world. Rome can get crowded in the busy season, so head to the Villa Borghese gardens for a bit of peace and quiet. This sensational green space contains a replica of Shakespeare's Globe Theatre.
KAYAK Tip: Food in the center of Rome can be expensive and targeted at tourists. Head to Pasta Chef – Street Food, a local favorite serving authentic and cheap pasta in the heart of Rome.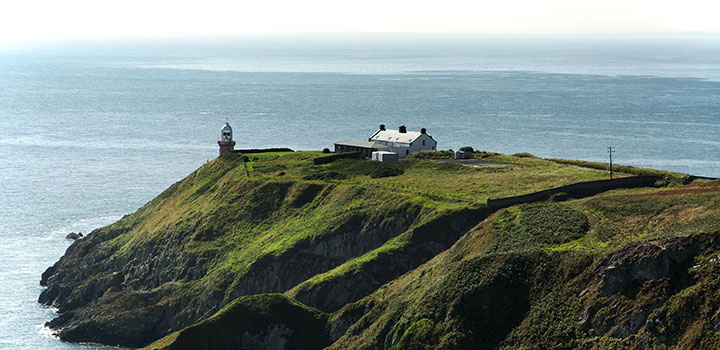 A city of renewal: Dublin
Flights to DUB 10.4% cheaper than 2016
You're in luck: Dublin has emerged as a booming cultural center for all of Europe, so why not take advantage of it. Kick off the day in stereotypical fashion and wander around Grafton Street to watch some of the buskers play modern or traditional Irish music. Lunchtime = pub-time, right? The Brazen Head is the oldest pub in Ireland, built in 1198. After you've quenched your thirst, do something cultural. Trinity College is a must-see, especially the famed Long Room in the main library. As the largest library in Ireland, it's a stunning sight.
KAYAK Tip: The city is foodie heaven. If you want traditional beef and ale pies, Dublin's got that in spades. Delve a bit deeper to find the best Indian, Chinese and French restaurants. We recommend The Little Kitchen for some contemporary European dishes.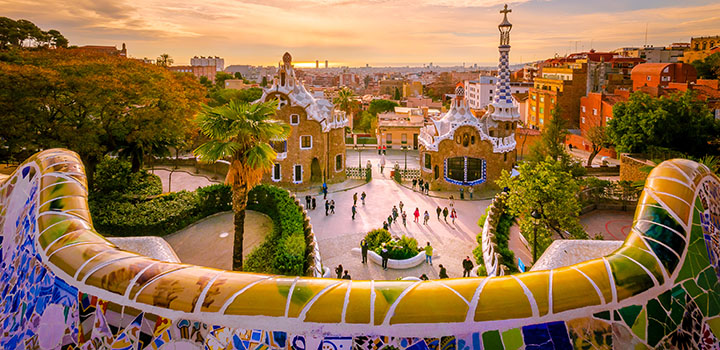 A city of siesta and sport: Barcelona
Flights to BCN 30.6% cheaper than 2016
If you asked 10 people, "what did you like about Barcelona?" chances are you'd get 10 different answers. Visit the iconic La Sagrada Família, a true bucket-list item; there is nothing that will prepare you for this Gothic masterpiece. Experience the colourful hustle and bustle of Spanish life with a walk down La Rambla, a mix of theatres, bars, shops and ever-present street musicians. If you need some peace and quiet afterwards, head to Parc del Laberint d'Horta (Labyrinth Gardens), named after the large maze within it. A great place to get lost for an afternoon.
KAYAK Tip: Barcelona is obviously a great place to eat but an influx of tourists means some places can get very busy or can be a tad overpriced. When it comes to affordable seafood, La Paradeta has a few locations that serve the freshest seafood around.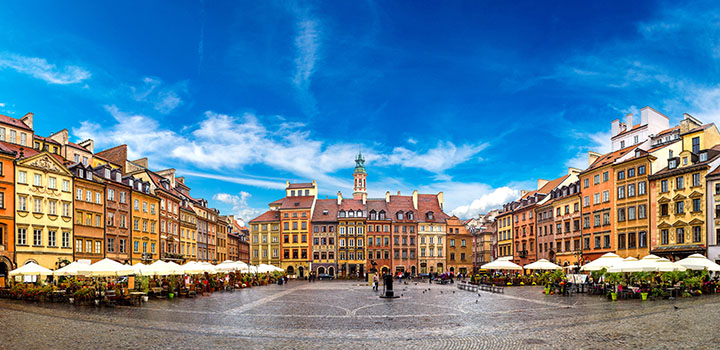 A city where history is under your feet: Warsaw
Flights to WAW 7.7% cheaper than 2016
Warsaw's varied and tumultuous history has made it into one of the most architecturally diverse and historically rich modern European cities. Oh, and of course, it has excellent, moderately-priced beer. Start at the Warsaw Rising Museum, a look into the tragic uprising against Germany in 1944 and a peek into the landscape of Warsaw today. Then, pop over to the Warsaw Barbican between Old and New Town, one of the last remaining relics of the fortification of the city. After that, visit the Palace of Culture and Science, a building with Soviet and American art-deco style. Take a ride up its elevator for a spectacular view.
KAYAK Tip: Treat yourself to a beer (or five) after a long day of seeing the sights. PiwPaw is a mecca for craft beer enthusiasts who want a wide, wide selection of brews.
Prices correct as of Thursday, July 27, 2:05 pm UTC. Flight prices are based on the cheapest round-trip ticket found within the last 72 hours by a KAYAK user originating in Canada. Hotel prices based on a double-occupancy room for check in: Thursday, July 27 until check-out: Friday, July 28, unless otherwise stated.  Prices, availability, and cancellation policies may vary.  Please check actual provider policies before making a reservation. Percentage decrease in price is based on median airfares conducted from KAYAK US and is intended to be used as a guide. Travel dates are April 1, 2017 – September 4, 2017, and search dates are February 15, 2015 – March 15, 2017.   Average difference in median prices among the top 50 most searched European cities – a 17.9% decrease in fares this year compared to last year.
Header Image Attribution: FotoDruk.pl/Shutterstock.com
Labor Day's 3-day holiday is a perfect chance to sit (preferably on a beach) and reflect on just how productive you want to be this fall. In making the most out of your Labor Day weekend, you should also try to make the most out of your Labor Day budget. And it starts with knowing when to book your trip.
When Should I Book?
If you want to save money on your Labor Day weekend trip, when should you book? According to our data, book before August 10th. We found that median domestic airfare stays around $200 if you book before that date. After August 10th, however, prices start to climb significantly.
What Days Should I Travel?
When trying to pick which days to travel, generally your best bet is to leave on Sunday, September 3rd and return on Tuesday, September 5th. The most expensive day to travel? Leaving on Thursday, August 31st could cost you over $150 more on airfare. But try it out for yourself. Use our Flexible Dates tool to see if leaving a day or two earlier/later can help you save even more on airfare.
Don't miss out on Labor Day travel deals happening now. Start your search on KAYAK.


Methodology
KAYAK looked at median flight prices based on searches for coach, roundtrip flights from the US with search dates of March 1, 2016 to September 4, 2016 and travel dates between August 31, 2016 and September 4, 2016.  Prices may vary and savings are not guaranteed.
Saying Seattle has a lot to offer is like saying Puget Sound is pretty: It's understatement-of-the-century material. After all, you don't land on our 2017 Travel Hacker list of top-10 most popular destinations without providing travelers a reason to stop.

Killer coffee, stupendous scenery and outdoor adventure all jump to mind, but Seattle can also be a haven for heavenly relaxation.
Don't believe us? Ask the locals (just make sure you don't interrupt their mani-pedi time).


Tranquility on the town
For Bailey Chauner, the blogger behind Hot Dress Hot Mess, a rooftop tipple and stroll around the city streets is just what the doctor ordered to blow off some steam.
"Nothing makes me feel more relaxed than sipping wine on a rooftop overlooking Seattle," she said. "Some of my favorite rooftop bars are Frolik Kitchen + Cocktails, Hard Rock Cafe and Scout in the Thompson hotel. I also enjoy taking leisurely walks in Madison Park or Capitol Hill to admire the architecture of 1900s design juxtaposed with modern homes."
Speaking of strolls, there's no better way to relax than with a leisurely walk around the Olympic Sculpture Park for Table Manners Aside's Temi and Mari. Nine acres of free art and beachfront? Yes, please.
Hayley Francis of Neon Doves finds herself drawn to relaxation of the liquid variety.
"To relax I like to go anywhere with water – Gas Works Park, Green Lake, West Seattle, or South Sound where my family's beach house is," she said. "Water brings me a feeling of peace."


Pampered pleasure
If you're looking to kick your relaxation up a notch, take a tip from blogger Sydney Mintle of Sydney Loves Fashion.
"I'm borderline-obsessed with the Spa at Four Seasons," she said. "It's an urban retreat and it's absolutely worth the splurge. The body scrubs are my favorite."
She's far from the only fan.
"Usually for birthdays, my boyfriend and I love to treat each other to massages and The Four Seasons has the best spa in town," said Alyson Andrews, blogger at Circa 1988. "You can even use their pool when it's open during the summer!"
You can always bathe in sound instead of water at Seattle Sound Temple, featuring "singing bowls, voice and other sound tools." Sure, it's a little off the beaten path, but its converts can't stop singing its praises.
Once you're feeling rejuvenated, it's time to head back onto the streets and take in everything the city has to offer. When you're traveling in Seattle, there's always more to see.
We're just as fired up about the championship as you are. And now that we know the that the game will be held in LA and Houston, we wondered if that would start a search frenzy for the city's hotels.
To find out, we looked at the number of searches for hotels in LA from Sunday to Thursday (10/15 to 10/19)  for travel dates October 24 through October 25. By doing this, we saw that LA hotel searches spiked by 48.3%. Meaning you better act fast if you want a room when Game One takes the mound.
We then did then did a similar analysis for hotels in Houston. We pulled the number of searches for hotels in Texas' southern city from Wednesday through Sunday (10/18 to 10/22) for travel dates October 27 through October 29. By doing this, we saw that Houston hotel searches spiked by 459.7% in this time frame. Meaning come Friday the 27th, Houston will be baseball's hotspot.
Like Christmas, your birthday and everything else that is pure and good in this world — one of the best events of the summer only comes once a year.
Shark Week is the holiday we need, not the holiday we deserve. In celebration, we've found 4 destinations perfect for shark-gazing.


Great Barrier Reef
Fly into: Brisbane, starting at $591
Stay in: Cairns, starting at $85/night, Brisbane starting at $120/night
Shark sighting: Reef Shark
The Great Barrier Reef is the largest living structure in the world. With 3,000 coral reefs and 600 islands, it's home to over 1,600 different species of fish. See some of the biggest fish in the sea (aka sharks) with tours that leave from Cairns, Port Douglas and Airlie Beach. In need of a bite (ha!)? Try Bayleaf Balinese Restaurant in Cairns for cheap, fresh eats that draw inspiration from Indonesian cuisine.


Guadalupe Island, Mexico
Fly into: San Diego, CA starting at $117
Stay in: Ensenada, Mexico starting at $23/night
Shark sighting: Great White Shark
Full disclosure: it's best to book a shark-diving tour when planning this trip. After flying into San Diego, hop a shuttle that takes you across the border to Ensenada, Mexico. From there, you'll charter a boat out to Guadalupe Island. With scuba gear ready to go, you'll be able to cage dive in waters home to the most fearsome of creatures: the Great White Shark. Need something to eat after your close encounter? Head back to Ensenada and check out Calle Primera (First Street). Ignore everyone hawking their wares and stop at La Guerrerense for fresh, quick seafood dishes.


Bimini Island, Bahamas
Fly into: Port Royal Bimini starting at $195
Stay in: Bimini starting at $196/night
Shark sighting: Bull Shark
Bimini Island is located just 50 miles from Florida's coast. Soak up the Bahamian sun and swim with the fishes in crystal blue waters. It was literary legend Ernest Hemingway's favorite fishing spot; the famed author would frequently charter his own boat across the Gulf Stream. For those not scuba-certified, there are plenty of tours that let you snorkel to see the great predators of the deep. For a bit of restoration after you've been swimming with the fishes, take a boat to the Healing Hole, a mineral-rich percolating pond in East Bimini's mangrove swamps.


Seal Island, Cape Town, South Africa
Fly into: Cape Town, starting at $763
Stay in: Cape Town, starting at $7/night
Shark sighting: Great White Shark
Seal Island is world-famous for being one of the only places in the world where you can watch Great Whites breaching (great for you, not so great for the seals). Take in this magnificent natural sight from a distance or book a cage diving tour to shake fins (but seriously, don't do that). Afterward, start a feeding frenzy of your own at Cape Town's Aubergine restaurant. Most dishes here pair nicely with local South African wines. Plus, it's lush terrace lets you enjoy your dinner under the stars.
Take a bite out of travel planning by letting KAYAK search hundreds of sites at once to find you the right flight, hotel or rental car.


Methodology: The flight prices (including taxes and fees, excluding baggage fees) are for one round-trip economy seat and were based on the lowest price found on a flight to the destination listed by a user with a US origin in the last 72 hours as of July 18, 2017. The hotel prices (not including taxes and fees) are per night per room for double occupancy for the above and were found on kayak.com on July 18, 2017, for travel on July 18-19, 2017. Prices and availability may vary.


Header Image Attribution: Byron K. Dilkes/Shutterstock.com
In case you haven't noticed, we gave our app a makeover. Why? Because we're on a constant mission to make planning travel better. The latest design to our mobile app does this by making it easier, smarter and faster for you to plan your trip while on the go.
Beyond pretty colors and a sleek design (though, those are cool too), we've added features like the Watchlist. Here, you can create Price Alerts as well as save individual travel deals to track prices. Plus, we'll send you push notifications when prices drop on the flights you want.
What else is featured on our mobile app? Select hotels are listing their mobile-only rates so that you can save even more on your stay. Our Trips tool is exactly what you need to easily organize and manage your trip itinerary. Now, if there's any disruption to your trip, not only will we send you a notification, but you can easily figure out next steps within the Trips tool itself.
So, what are you waiting for? Download the KAYAK App now: App Store, Google Play.
5 features for smarter travel
Watchlist
Save deals to your Watchlist to track prices before you book.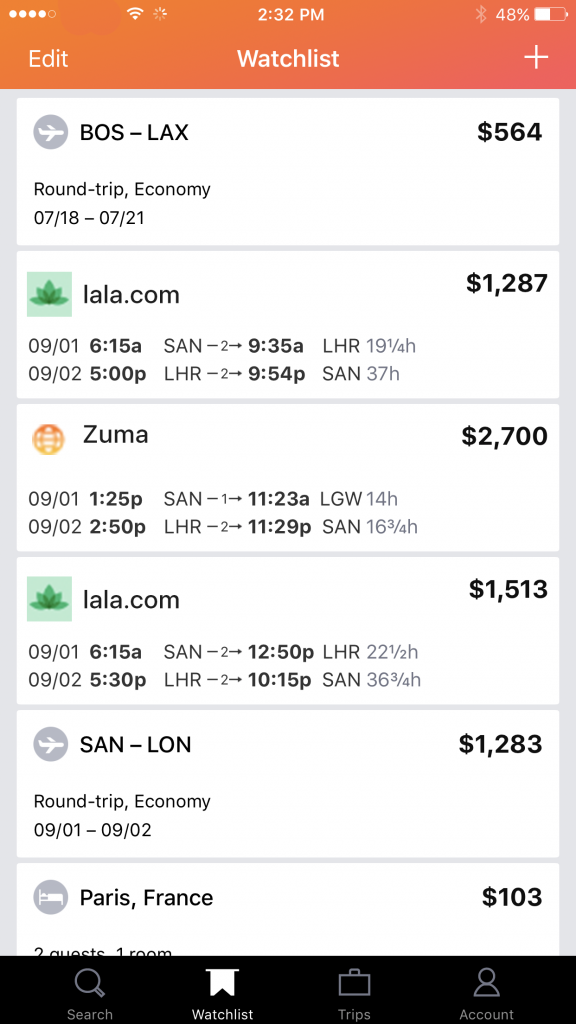 Trips
Organize all your travel plans in one place with Trips.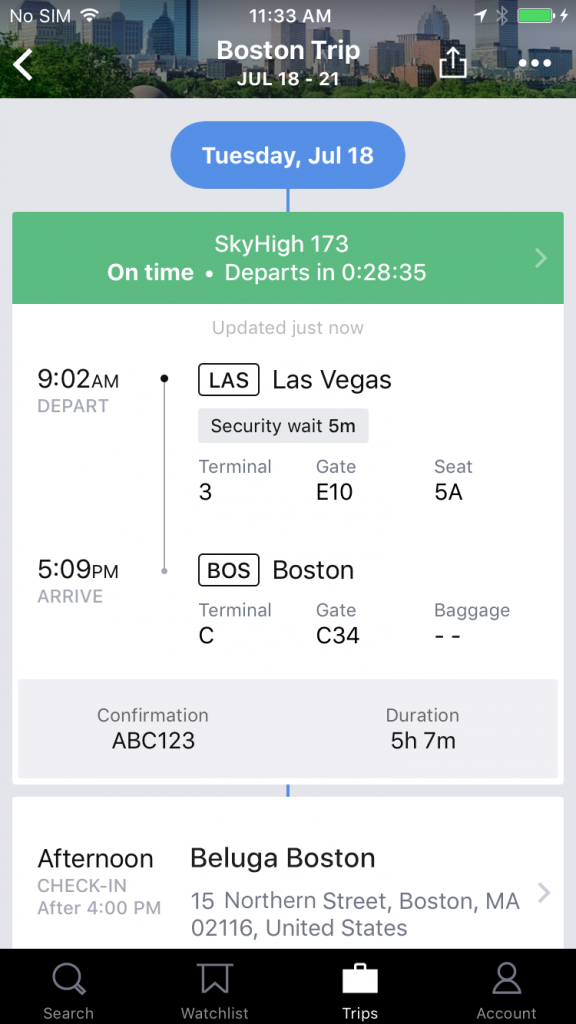 Hotel Deals
Save even more with Private Deals and mobile-only rates.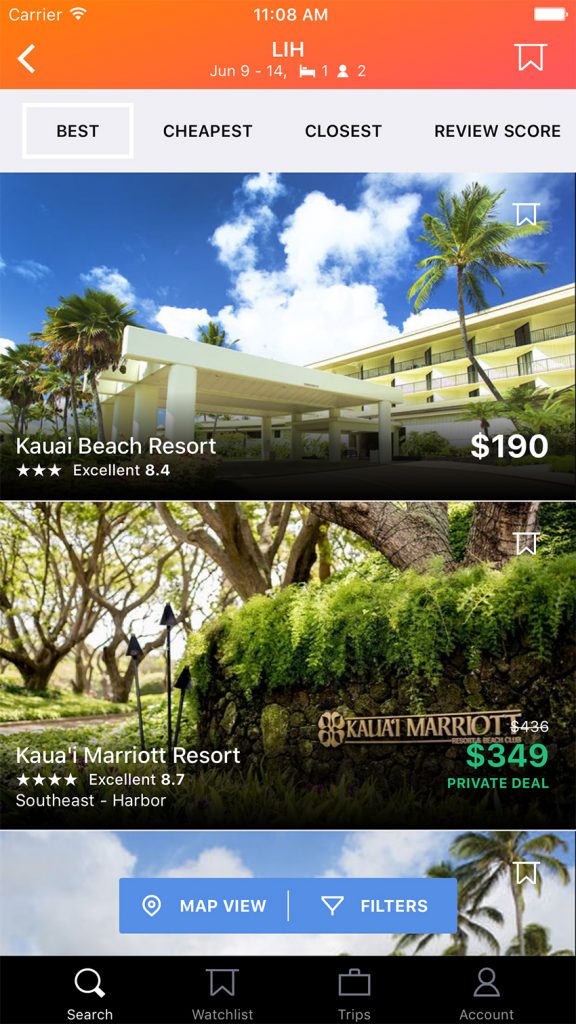 Price Alerts
Get real-time notifications when prices change.
Flight Tracker
Track flights with free real-time status alerts.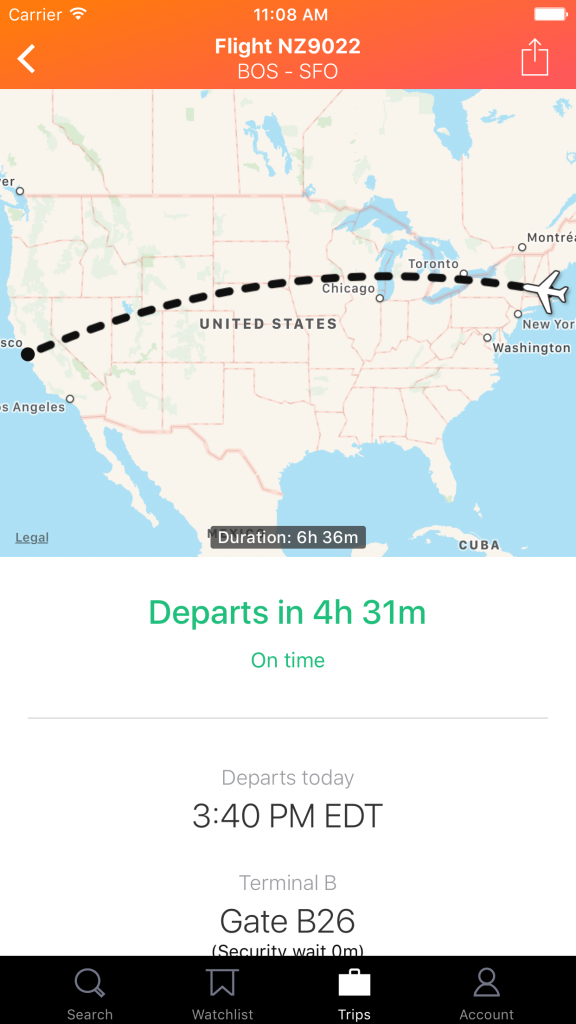 Wonder what emoji you can use to search destinations on KAYAK? Whether you voted for the latest 15 or have tested out the first 10, here's our key to the 25 character emoji and over 200 flag emoji you can use on KAYAK.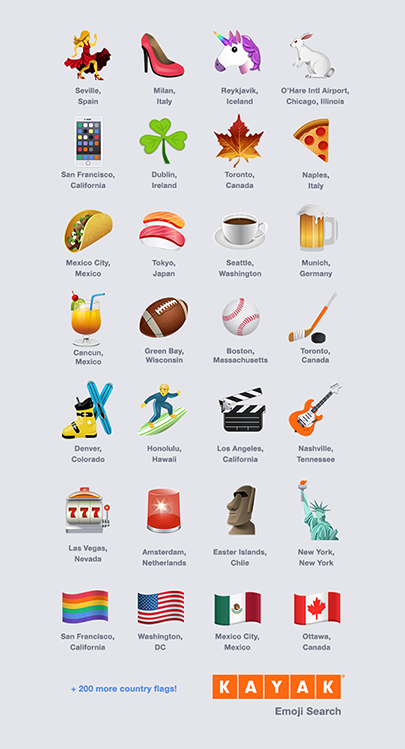 What are you waiting for? Start searching.
Seeking stunning scenery? Seattle's got your back.
Of course, visiting all those picturesque vistas can help you work up quite a thirst. Not to worry – The Emerald City has you covered there as well.
From morning cups of coffee to late-night cocktails, Seattle has plenty of ways to wet your whistle. Maybe that's why it made our 2017 Travel Hacker list of top-10 most popular destinations.
Now allow some Seattleites to point you in the direction of the best drinks in Seattle.

Cool city, hot beverages
Seattle has what you might call a "reputation" when it comes to coffee. But hey, you don't get ranked as the #1 U.S. city for coffee fanatics without earning it. The question is, where do you start among Seattle's 1,600-plus cafés and coffee shops?
If you're Alix Hernandez, the blogger behind Alix Rose, it's hard to pick just one spot.
"I'm a big fan of Broadcast Coffee Roasters; their Ravenna location has big windows, great coffee and it's the perfect place to get some work done," she said. "I also enjoy the KEXP La Marzocco café – great coffee and great music. A new, fun coffee and food favorite is the Cherry Street Public House. It's beautiful inside and opens up to the main Pioneer Square courtyard."
Not everyone in Seattle has coffee beans in their bloodstreams, however. Just ask Alyson Andrews, proprietor of blog Circa 1988.
"Even though I'm a born-and-raised Seattleite, I don't drink coffee – gasp!" she joked. "But I do love to grab some tea and work from Zoka Coffee in Green Lake since I used to live right across the street."
Brittany Streissguth, who blogs at Pumps & Plaid, is also on the tea train.
"Matcha and I are having a thing right now, and Mr. West downtown is one of my favorite places to go for it," she said. "Preserve and Gather in Greenwood also has great matcha as well as coffee, and it's a great space to hang out in."
Luxurious libations
Now that you're good and caffeinated, it's time to start thinking about how you can take the edge off during your stay in Seattle. Yes, the city's just as passionate about wine glasses as it is about coffee cups.
"If you ask my friends where I love to go to happy hour, they'd say I enjoy grabbing a Moscow mule at Black Bottle," Alyson said. "I also fancy a glass of rosé on Motif's rooftop patio when it's nice out. For beer, it's so fun to explore all the microbreweries in Ballard. Bad Jimmy's Brewing Co. in particular has some really delicious ones, and I love the atmosphere of Peddler Brewing Company."
Brittany is also a big fan of Ballard's brewing scene.
"Ballard Beer Company always has a great rotating selection," she said. "And Stoup Brewing in Ballard also has great beer, and is a great indoor-outdoor space for beautiful summer days."
If you're tired of the standard bar setup, you can always order a book along with your beverage. Seattle is pioneering the new trend of bar-slash-bookstores with locales like Ada's Technical Books, Third Place Books and Elliott Bay Book Company. Hemingway would be proud.
Now that your thirst(s) have been quenched, it's time to get some grub. Luckily for you, we know just the place.
On this World Emoji Day, we are happy to unveil the winning cities for the next 15 searchable emoji on KAYAK. When we first launched the ability to search by emoji on KAYAK, we nailed the first 10 before the debates and hometown rivalries started. So, instead of making those tough decisions ourselves, we asked you to vote for the cities you think should get the next 15 searchable emoji on KAYAK.

After 3 weeks, and with over 170,000 votes cast, the people have spoken.

And the winners are…
Start searching for your travel destinations without using words. You can also use the original 10 emoji, pictured below.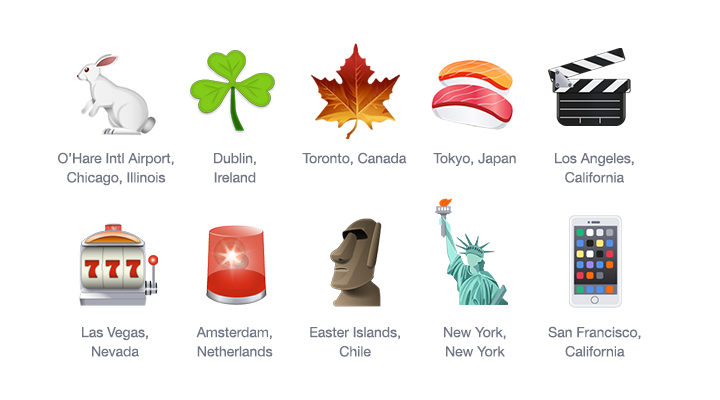 But wait, there's more. We've expanded your search-by-emoji abilities by adding over 200 searchable flag emoji. Learn more here.
Stay tuned as we continue to develop our emoji search… and may call on you again to help us choose which cities are emoji-worthy in the future.
*Wondering: where's the poop? We smell what you're stepping in. While we think every city is the $#!%… there wasn't a clear-cut winner on this one.
San Francisco is a city heard 'round the world.
While it may not boast New York City's "Capital of the World" bona fides, tens of millions of travelers from around the globe visit The City by the Bay each year. From its arts and culture to shopping and fine dining opportunities, it's easy to see why.
That said, everyone deserves a chance to escape the hustle and bustle of San Francisco's city streets now and then, including visitors. While it may be the crown jewel of California's Bay Area, the regions surrounding San Francisco have plenty to offer those seeking a relaxing respite.
Don't believe us? Just ask the locals.


Unwind in Wine Country
Ashley Kane, the editor and photographer of Brunch on Chestnut and current resident of San Francisco's Marina District, knows just what the doctor ordered. Hint: The doctor ordered wine.
"Wine Country is pretty much our second home," she said, referring to her, her boyfriend and their labradoodle Scout. "We make weekend visits quite frequently. I also love being able to drive over the bridge to Marin for lunch, or if we're feeling like a longer road trip – Carmel or Half Moon Bay. One of the many reasons I don't think I could ever part ways with the Bay Area is having easy access to some of my absolute favorite places in the world."
From fresh vino in Sonoma to the smaller towns dotting California's coast, the Bay Area was seemingly created in a lab by scientists in search of the perfect day trip.

Bocce Across the Bridge
In search of a haunt outside the city to hang your hat? Kara and Tracy of lifestyle blog Two and the City have you covered.
"There are so many quick getaways within an hour of the city," they said. "[Sausalito] is a cute seaside town just over the Golden Gate Bridge with amazing cafes and restaurants. Bar Bocce has a really cute outdoor patio right on the water with a bocce court and fire pits!"
Kelly Egan, San Francisco lifestyle blogger and mastermind behind A Side of Sweet, agreed. She detailed what her and her husband do when they need to get away.
"We either ride our bikes across the bridge to Sausalito or really get out of town by driving down to Santa Cruz," she said. "Santa Cruz is a fun beach town with great food, awesome biking and an overall relaxed and friendly vibe."
There was a time when Alcatraz offered its "guests" some solitude, but those days are over. If you need a little "me time" within the city, check out San Francisco's serene Japanese Tea Garden, the oldest public Japanese garden in the U.S. Located inside Golden Gate Park, the Japanese Tea Garden provides a beauty and tranquility any other spot in the city would be hard pressed to rival.
Feeling rejuvenated? Good, now it's time to head back into the city proper and explore everything California's foggy metropolis has to offer.
As airlines continue to roll out new cabin classes, we're making it our mission to help you navigate these changes. So, we're introducing the ability to search different cabin classes for each leg of your flight.
What's that, you may ask? Good question.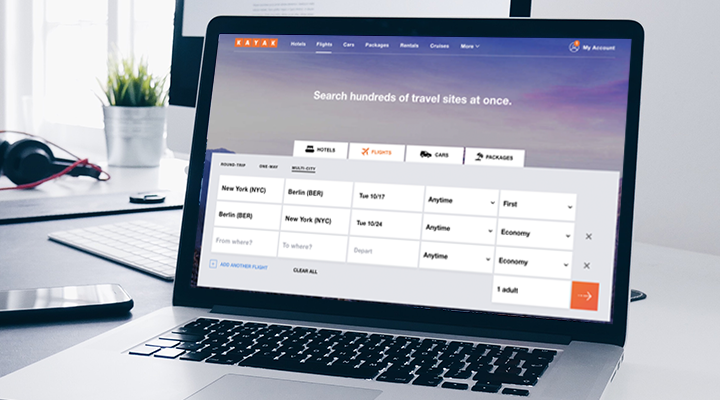 It works like this: say, you're booking a trip to Berlin. Because your flight to Germany is a redeye, you really want the comfort of First class (fully reclinable seats for the win). But, yikes, booking a round-trip first class flight drives your ticket price up to $10k. Not a good look. So, instead, you decide that while first class is a must going there, you'll settle for Economy class on the way home. Using KAYAK's mixed cabin search, you're now able to adjust your class for the return leg of your trip. Bingo: you spot a ticket for around $5k.
To start a search, from our Flights page select Multi-City (even if you're not visiting other cities). There, you'll be able to select the cabin class for each leg of your flight. Then, in the results, look for the "Mixed" tag above each price to see what classes you'll be flying. Simple as that.
By letting you further customize your travel search and mix up your cabin classes, it's another step we're taking to be sure you're armed with the information you need to make smarter travel decisions.  Virtual high fives all around.
For now, this is in desktop-only mode, but we'll be rolling out the ability on mobile shortly.  Prices are for example purposes and may vary.
Who said getting to know a city costs an arm and a leg?
Some of the best first dates cost nothing more than a cup of coffee, and sometimes falling in love with a city comes absolutely free.
Case in point: Traveling to Sydney, Australia. This city on the sea offers a wealth of fun and adventure for travelers suffering from skinny wallet syndrome.
Not sure where to start? Let the locals be your guide.

Where to walkabout
Silke Elzner of travel blog Happiness & Things knows Sydney has plenty of adventure for those seeking a bit of fresh air.
"I am not a very sporty person but I do like a good walk," she said. "This can be a walk around a new neighbourhood that I'm not very familiar with, or a visit to one of the museums, such as the Art Gallery of New South Wales. A walk along the coast is equally nice on a warm and sunny day, or just a few relaxing hours by the beach. I used to live on the Northern Beaches, and the beautiful beaches never lost their magic for me."
With Sydney taking home one of the spots on our 2017 Travel Hacker list of top-10 beach destinations, it's easy to see what she means. Michael Shen, the food fanatic behind Sydney food blog I'm Still Hungry, certainly does.
"I'm a big fan of day walks, and with Sydney surrounded by breathtaking natural beauty on all sides, there's no shortage of places to take a digital detox, breathe some fresh air and get that step count up," the Sydney foodie said. "A personal pick would be Sydney's world-famous Blue Mountains. It might be a bit of a touristy choice, but the clichés are cliché for a reason. With no shortage of walks to do here, you can just as easily mingle in with the tourists snapping away at the Three Sisters, or take on one of the more challenging – and thus less frequented but ultimately more rewarding – trails. Be sure to see Wentworth Falls, though – they're worth going into full tourist mode for."

Budget bites
All that walking is sure to work up your appetite. Have no fear – you can eat like royalty without breaking the bank.
"Brooklyn Hide bagels at 226 Commonwealth Street at Surry Hills, Sydney!" said Andrzej and Jolene Ejmont, bloggers at Wanderlust Storytellers. "Our kids Katie and Lily call them the healthy doughnuts. Well, not quite, but it is definitely a healthier option for sure!  And it is super cheap as well. Salivating here right now. Happy bageling!"
According to the mastermind behind I'm Still Hungry: "When it comes to cheap eats, Sydney doesn't skimp. If you're in the [central business district], four food courts rule them all: Dixon House, Eating World, Sussex Centre Food Court and Hunter Connection Food Court. Name a dish, and one of these food courts will have it. Lovers of Asian food will be in a particular kind of nirvana here, with some seriously authentic choices with which to experience decision paralysis."
Meanwhile, Silke likes a side of history with her meal.
"You can't get past a scrumptious quick bite from Harry's Café De Wheels when in Sydney," she said. "This place is a real institution! Their history dates back to the days of the depression when nearby Woolloomoolloo dockyard workers would flock to this little caravan that was parked right in front of the gates for a cheap meal. Most people will try one of the famous pies, such as Harry's Tiger, but personally I prefer the chilli dog. And while you munch away, make sure you check out the photos of celebrities that line the walls of the little stall."
Looking to take a load off once you fill up on good grub? Head to Sydney's Royal Botanic Garden. After you've reached your limit for immaculate greenery, saunter over to the world-famous Sydney Harbour to take in the sights. As we've said before, it's one of the best ways to enjoy the city's coastline.
Now it's time to take all that money you saved and plan your next travel adventure. You can thank us later.