Bummed that summer is over? Did you basically spend June – August at the office? Whether you're looking for the right destination to spend your October holiday, or simply want to find an affordable autumn escape, we can help. We've combed through our data to find out what's trending, what's affordable, and what's the best time to travel this fall. Read below for the tips, tricks and trends, then start searching.

10 Trending Global Fall Destinations
We combed our data to find the hottest destinations for Autumn. Plan an international getaway to these trending cities seeing the biggest increase in interest from travelers.
10 Trending European Fall Destinations
Haven't you heard? Airfare to Europe has dropped significantly this year. Start planning your Eurotrip with these trending destinations that are seeing an increase in traveler interest.
TRAVEL HACK: Is Portugal the new Iceland? This destination has been popping towards the top of nearly all our trending lists (like here, here and here). Make it your next destination to get there before the tourists catch on…
10 Domestic Fall Destinations under $300
Get away without clearing out your bank account. These destinations all have a median airfare of under $300 for a round-trip flight.

Before the holiday season starts in November (and all the travel math changes), we wanted to find out what's the least expensive time to travel this fall. Using our Travel Hacker Guide's most popular destinations for 2017, here's when you should head to these top cities.
Cheapest Fall Weekends to visit KAYAK's 10 Most Popular Destinations
TRAVEL HACK: See a trend here? You can score the best travel deals in September, especially later in the month on the third and fourth weekends.
Columbus Day Travel
Before planning your long weekend away, we figured out the best date combinations to maximize your potential for travel savings.
Least Expensive Travel Dates: For Columbus Day travel, if you can travel Saturday, October 7 to Tuesday, October 10, you'll see the cheapest rates with median airfare coming in around $219 for those travel dates.
Most Expensive Travel Dates: Traveling Friday, October 6 to Monday, October 9 is among one of the most expensive travel date combinations for Columbus Day weekend with median airfare hovering around $282.
As the leaves start to turn and that crisp air makes you reach for a sweater, it's definitely a good time to start mapping out your next escape. Pick apples, drink pumpkin spice flavored things, then plan your fall vacation.
Methodology
Trending Global Destinations & Trending Europe Destinations
KAYAK pulled internal data based on coach, round trip flights from the US. Searches were pulled between January 1, 2017 and June 8, 2017 for travel dates of September 5, 2017 to November 30, 2017. All searches were pulled from KAYAK's internal database.
Domestic Destinations under $300
KAYAK pulled median flight prices based on all coach, roundtrip flights from the US with search dates of January 1, 2017 and June 15, 2017 and travel dates of September 15, 2017 to November 11, 2017. All searches were pulled from KAYAK's internal database.
Cheapest Fall Weekends
KAYAK pulled median flight prices based on all coach, roundtrip flights from the US with search dates of January 1, 2017 to June 15, 2017 and travel dates of September 15, 2017 to November 11, 2017. All searches were pulled from KAYAK's internal database.
Columbus Day Travel
KAYAK pulled median flight prices based on all coach, roundtrip flights from the US with search dates between May 1, 2016 and October 10, 2016 with travel dates between October 6, 2016 and October 13, 2016. All searches were pulled from KAYAK's internal database.
Header Image Attribution: Songquan Deng/Shutterstock.com
Booking a hotel but frustrated that you can't seem to find the perfect one? Listen up because that's why we search hundreds of other hotel sites at once to show you what's available across the web. With our Hotel Search, you can easily filter down the information to find the perfect option for the trip you're planning.
Need a pet-friendly, boutique hotel with a pool? Is not having free breakfast and a gym your dealbreaker? With these quick steps, you'll be well on your way to finding exactly what you're looking for, in the area you want to stay, with a complete understanding of your total costs.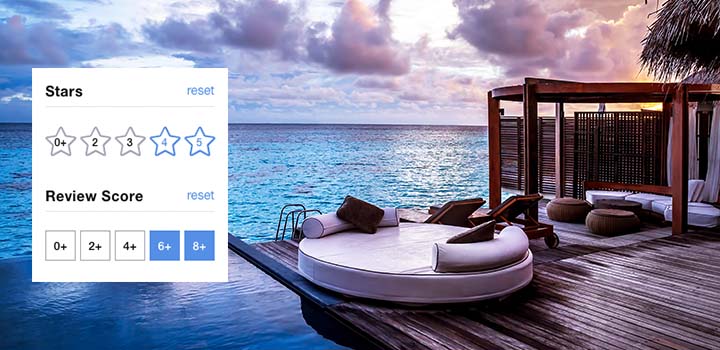 Step 1: Stars and Scores
Maybe you're a budget traveler, maybe a luxury traveler. Or perhaps you want as much luxury as possible while on a budget.
Select your Stars: We'll start with the basics. Select the minimum number of stars you want and we'll show you what's available.
Filter by verified reviews: Listen. We don't have millions of verified reviews on our site for nothing. Directly below the stars is the "Review score" filter. Using customer reviews, you can get insight into accommodations rated by the users that have stayed there. Some examples of what this allows you to see are:
You find two hotels that are both centrally located, have 4-stars and have similar rates. How do you choose which to stay at? Looking at the average reviews, one hotel has been rated "Excellent" while the other has been rated "Good." It sounds like your choice has been made for you.
On the flipside, if you're shelling out for a 5-star luxury resort, you definitely want to make sure past guests were happy with their experience. So, check that the beds were comfy, the food extraordinary and the pool refreshing before pressing the View Deal button.
Step 2: Prices and Taxes
Nothing puts a damper on the small victory of finding a great place to stay than clicking through to checkout, only to be surprised with hidden fees and unknown taxes.
Our drop-down menu (aka the hidden fees exposé) lets you choose how you want to see the costs while you browse. Select the "Total Stay + Taxes & Fees" option and you'll be shown the total price for your stay including extras like local taxes and hotel fees.
There's also a price bar available, so you don't have to sort through accommodations outside of your budget. Simply move the sliders to adjust the maximum and minimum price.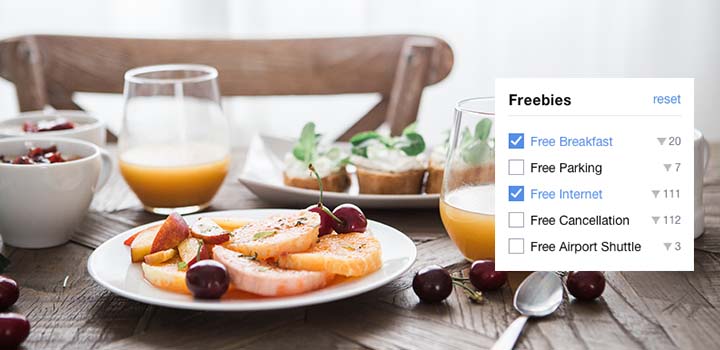 Step 3: Freebies and Filters
Who doesn't love free stuff? If you want a place to rest your head that also has a free parking space, WiFi on the house and a free breakfast, select which freebies you want to have. We'll show you the hotels that match.
Let's dig deeper. While many would rate price, quality and freebies among the most important elements when booking their hotel, just as many have more specific wants and needs. At the top of the column, click "More" and you'll be able to filter further by Amenities, Ambience and Property type. This means you can filter by hotels that are wheelchair accessible, eco-friendly, pet-friendly, you name it.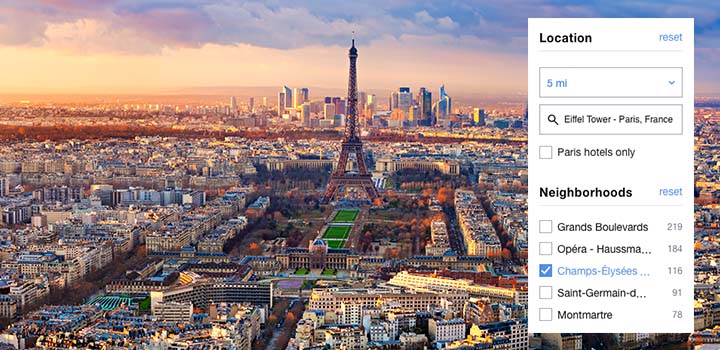 Step 4: Location, Location, Location
Find the part of the city that suits you best. Whether you've been there before, have done some research, or need proximity to somewhere specific, the Location and Neighborhood filters are your friend. Select from a city's best-known neighborhoods or add how far from the city center you're willing to stay.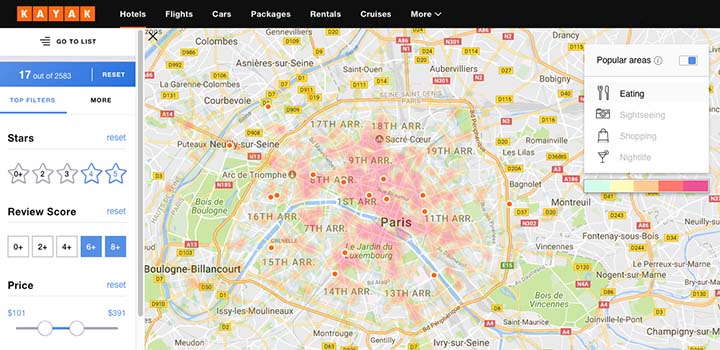 Step 5: Heat Maps
However, if you care more about what you do, rather than where you are, then do not pass Go. Head straight to Go To Map to open KAYAK Heat Maps.
The interactive map shows you all the hotels in the city (matched to any previous filters you've selected). With the Popular Areas section you can select your top interests like Eating, Sightseeing, Shopping or Nightlife. Immediately, the responsive map will show you the densest and hippest areas based on your choice through a heat imprint. The darker the red, the hotter the region; the hotter the region, the more it matches your tastes.
Finding the perfect hotel isn't a pipe dream. Get yourself ready for a great trip with KAYAK, so you can start your trip sure of the travel decisions you made.
You may remember that last month we launched hotel bookings on Amazon Alexa (high fives all around). Now that Amazon has released the Echo Show, which brings a visual element to voice-activated search, we've worked hard to adapt the KAYAK skill to this new tool.
As of today, when you use the KAYAK skill for Amazon Alexa on Echo Show, we'll not only talk through your available options but show them to you, as well. Part touch-screen, part voice assistant, the Echo Show is a 7-inch device that allows you to control what you see by voice or touch. Take what you love about Alexa and add a screen. Simple as that.
Say you're in the kitchen cooking dinner, thinking about the business trip you're going on next week to see a new client. Then you realize — #$%&, you forgot to book a hotel. Without breaking your chopping technique, you say, "Alexa, ask KAYAK to book a hotel room." KAYAK will respond with your available options and will display images on Echo Show for each one. You can navigate through KAYAK's recommendations by touch or by voice, spot the hotel that looks right for you, and book. All before the chicken goes in the oven.
How does it work? If you're familiar with our KAYAK skill for Amazon Alexa then you'll be a pro at using the Echo Show. But, for those of you who need a refresher:
Sync or create a free KAYAK account, enable the KAYAK skill in the Alexa app, and link your account.
Once your account is linked with Alexa, you can say something like: "Alexa, ask KAYAK to book me a hotel room in Boston from September 15-17."
The Echo Show will give you up to 10 bookable hotel options to choose from. Simply scroll through each option using your finger or ask "Alexa, select number 2" for more detailed information on that particular hotel. KAYAK will display price per night and the room availability on The Echo Show. Now, you're ready to book.
Simply say, "Alexa, book this hotel" using your KAYAK account to confirm the reservation. Shortly thereafter you'll receive a confirmation email from Booking.com or Priceline.com.
That's it. Now go forth and get a room.
As a reminder, the actual booking transaction takes place with one of our partners (right now the Echo Show bookable inventory comes from our sister companies Booking.com and Priceline.com). They will be the ones to process your payment and handle customer service.
Known for its history, art and — of course — cuisine, Italy is at the top of most travelers' must-visit lists. However, this also means it can get a bit overrun with tourists trying to get that perfect "look I'm holding up the Tower of Pisa" selfie. Insert eye roll.
Of course, there's no shame in the tourist game. There's good reason to visit those hotspots at least once in your lifetime. But if you're looking for an off-the-beaten experience in The Boot, here are 11 little-known places to travel to: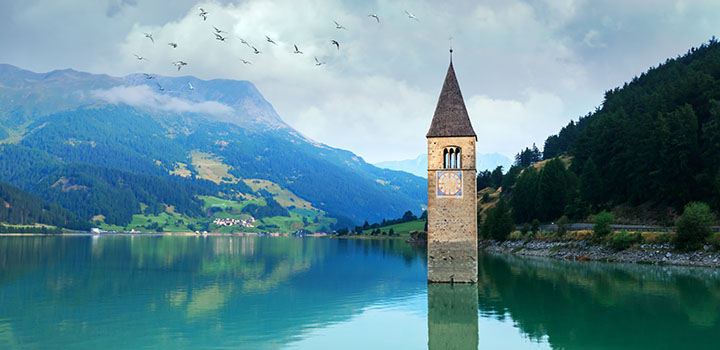 1. Lake Resia: Where Time Stands Still
The Lake of Resia is located in one of the most peaceful areas of Trentino-Alto Adige, an area situated in Northern Italy bordering Switzerland and Austria. Lake Resia is an artificial mountain lake and is characterized by the 16th-century, Romanesque bell tower that emerges from its depths. The bell tower is the only visible reminder of the now submerged village of Graun, which was relocated when the reservoir was built.
Kayak Insider Tip: Take advantage of the refreshing lake breeze for some summer kitesurfing or winter snow-kiting.
KAYAK Accommodation Tip: Stay at the Parkhotel Laurin from $108 per night.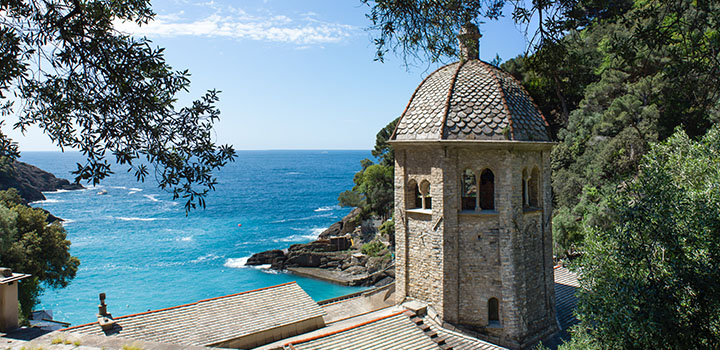 2. San Fruttuoso and the Christ of the Abyss
There's a good chance you've heard of Portofino before — the fishing village with the celebrity-endorsed resort. But most visitors here, famous or not, don't know that by hiking certain paths through the Monte di Portofino Regional Park you can reach an intimate and beautiful bay surrounded by lush Mediterranean vegetation. This hidden spot is home to the Abbey of San Fruttuoso. Under the waters of the bay stands the Christ of the Abyss, a statue erected underwater in memory of those who have dedicated their lives to the sea. Get ready to get wet as this icon can only be admired from beneath the water.
You can expect the walk to take about 90 minutes over mountainous terrain. If hiking these trails doesn't sound like your cup of tea, you can also reach San Fruttuoso by boat  from a few coastal villages, like the town of Camogli — worth the visit in its own right. Depending on when you choose to make the trip out to San Fruttuoso, you can relax on the beach and enjoy a lunch of local specialties, or sip a cocktail by the sea.
KAYAK Insider Tip: Don't miss the opportunity to visit the picturesque Il Pirata. Half dive bar, half museum, this restaurant is known for its past as a  hideout for pirates.
KAYAK Accommodation Tip: Stay at the Hotel La Camogliese from $66 per night.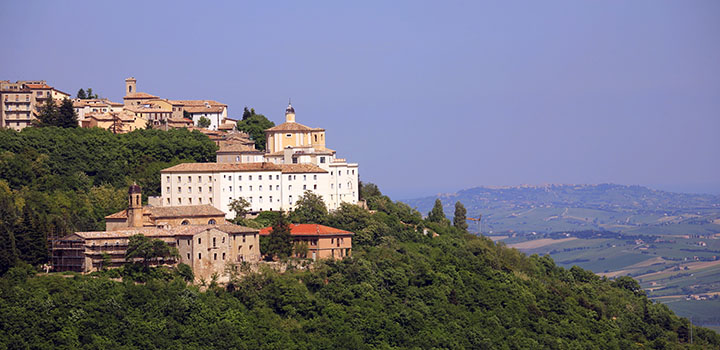 3. Cingoli: The Balcony of Marche
If an incredible landscape and dramatic horizon get your heart racing, then Cingoli is the place for you. This village perched atop a hill in the province of Macerata. It's known as the "Balcony of the Marche Region" and offers a superb panoramic view of the Adriatic and Cornero Mountains.
Kayak Insider Tip: As beautiful as the scenery is, sometimes you just need a good rush of adrenaline. Test your bravery by visiting  Cingoli Avventura adventure park, just a 15-minute drive from the village.
KAYAK Accommodation Tip: Spoil yourself at the La Quercia Country House B&B, featuring a spa and breakfast buffet, from $46 per night.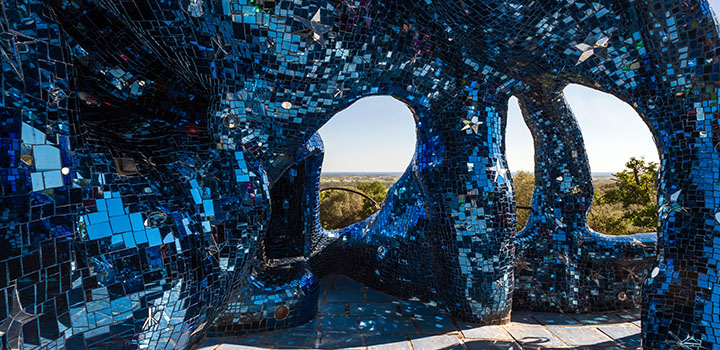 4. Il Giardino dei Tarocchi: The Major Arcana
Everyone has heard of, if not visited, Gaudi's Parc Güell in Barcelona. But very few have heard of Il Giardino dei Tarocchi (The Tarot Garden), a sculpture garden near Tuscany that draws inspiration from the works of Gaudi. Adorned with beautiful carvings depicting the 22 Major Arcana of the Tarot, the garden was born from the imagination of the artist Niki de Saint Phalle and was developed in collaboration with several major contemporary artists.
Kayak Insider Tip: Before or after visiting the garden, take the opportunity to relax on the magnificent Tuscan coastline.
KAYAK Accommodation Tip: Stay at the farmhouse-style Agriturismo Al Vecchio Portico, from $57 per night.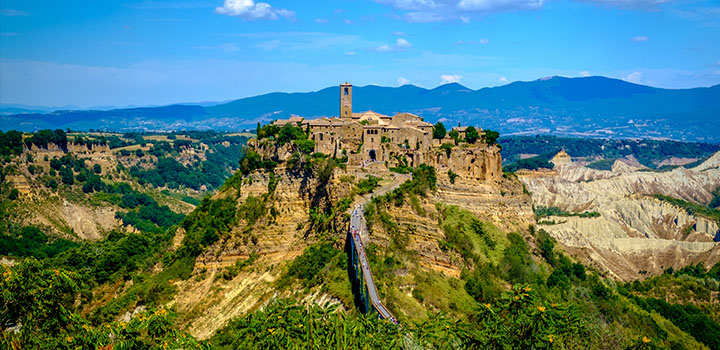 5. Civita di Bagnoregio: The Dying City
Known as "The Dying City" because of the erosion that threatens its existence, this medieval village is considered among the most beautiful in Italy.  We recommend this only for the serious adventurers as it is only reachable by foot. Civita di Bagnoregio sits on top of a cliff in the province of Viterbo. Once you reach the village, you can admire the picturesque architecture, walk the winding lanes and eat some incredible local delicacies.
If you're a fantasy fan, we suggest visiting during winter. The views of the village that emerge from the low-hanging cloud cover are otherworldly.
KAYAK Insider Tip: Take a 30 minute drive from Civita di Bagnoregio to Lake Bolsena, the largest lake of volcanic origin in Europe.
KAYAK Accommodation Tip:  Stay at the Hotel Columbus, from  $56 per night. Located in the town of Bolsena, you're just a short drive away from medieval streets and castles.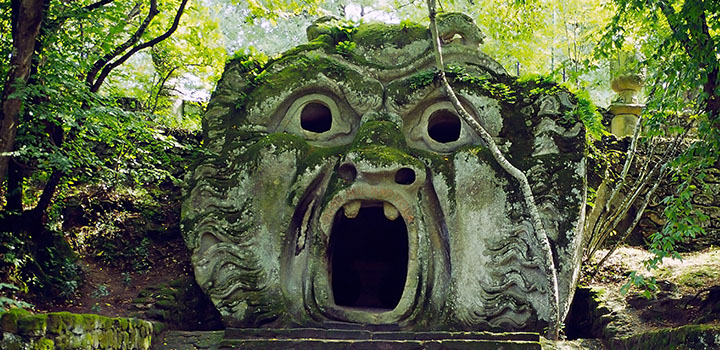 6. Bomarzo: The Park of Monsters
In just under 2 hours from Rome, you can reach Bomarzo Park, also known as the "Sacred Wood." The park features an abundance of basalt carvings and statues of mythical beasts and monsters. With works dating back to the sixteenth century, it lies within a 7-acre forest and hosts buildings inspired by classical architecture, such as the Leaning House. If you want to spend a day in nature while losing yourself in a maze of ancient surprises, Bomarzo is a place with a fantastical atmosphere to add to your must-see list.
KAYAK Insider Tip: The park does come with an entry cost of about $13 for adults. Renting a car is recommended as it is difficult to reach by public transportation.
KAYAK Accommodation Tip: Treat yourself at the Starhotel Michelangelo back in Rome, two blocks from Vatican City, starting at $156 per night.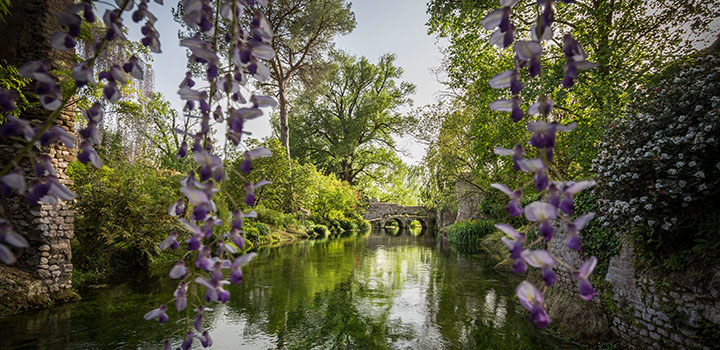 7. The Garden of Ninfa: The Inspiration for That Novel You've Been Working On
The Ninfa Garden is one of the finest private parks in Italy, yet is unknown to even most Italians. Those who have visited here are quick to describe the gardens as a paradise on earth, especially during the spring. It may come as no surprise that one group that has found inspiration for their works here are members of the literary world, such as Virginia Woolf and Truman Capote. This beautiful park is adorned with lush vegetation and includes the picturesque ruins of the now defunct medieval town of Ninfa.
KAYAK Insider Tip: The park is only open to the public during certain times of the year, so be sure to check the dates in advance.
KAYAK Accommodation Tip: Stay at Serpa Hotel Anzio from $71 per night.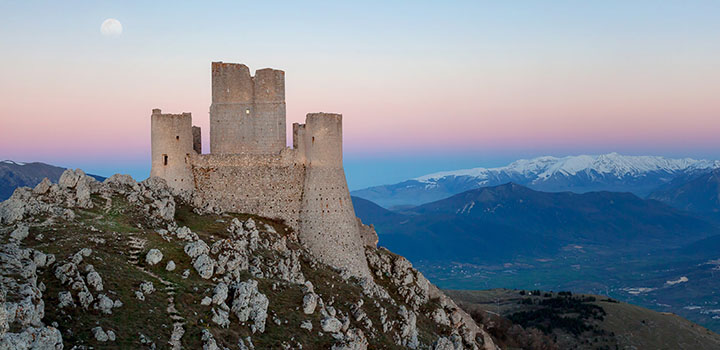 8. Rocca Calascio: A Stunning Medieval Landscape
Within the Gran Sasso National Park is Rocca Calascio, one of the highest fortresses in the whole of Italy — 4,790 feet high to be exact. The castle, perched on a mountain ridge, gives a 360-view over the valley of Tirino and the Navelli Uplands. Once you arrive, you may recognize the view from films such as Lady Hawke and The Name Of The Rose. The fortress was abandoned in the mid-twentieth century along with the ancient medieval village of Calascio below, but was renovated in the 80s and can now be visited for free.
KAYAK Insider Tip: If you're in the Abruzzo territory, make sure to take an excursion to the alpine meadow of Campo Imperatore, also known as "Little Tibet." It is an incredible sight any day of the year and located less than an hour's drive from Rocca Calascio.
KAYAK Accommodation Tip: The Maison Fleurie in Pescara is close to the sea, close to great food and shopping, and starts at only $46 per night.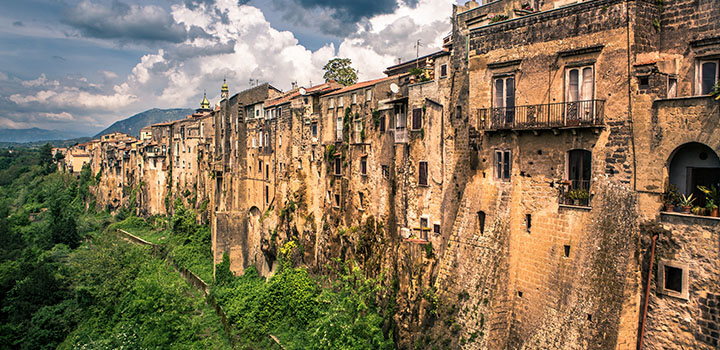 9. Sant'Agata de 'Goti: Between History and Mystery
In the commune of Benevento, there's a village that bears the nickname "The Pearl of Sannio," which, thanks to its peculiar beauty, is often used as a movie set for Italian films. Visit the perfectly preserved town and, after tasting the excellent wines of Aglianico and Falanghina, take a walk over the Martorano Bridge.
KAYAK Insider Tip: If you're visiting the area and have an interest in history, cue your best happy dance. Visit the Arch of Trajan and the 2nd century Roman Theatre for a taste of what the region has to offer.
KAYAK Accommodation Tip: Stay at the Attico Partenopeo B&B in Naples from $88 per night.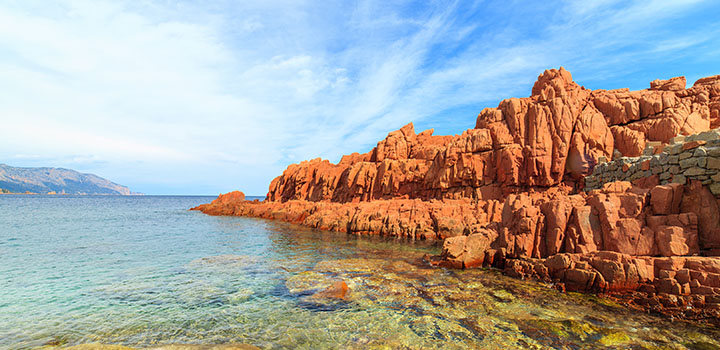 10. The Red Rocks of Arbatax: The Magic of Sardinia
Sardinia is a destination that everyone should visit at least once in their lifetime. While the classic beach resorts are popular for a reason, step off the beaten track and visit Ogliastra to admire the view of the red porphyry rocks. Located a short distance from the port of Arbatax, look out for them if you arrive by ferry — they're guaranteed to make you fall for Sardinia instantly.
KAYAK Insider Tip: If you you're looking for a contrast to the red, check out the annual Rocce Rosse Blues Festival that in its 25 years has featured artists like Bowie, Lou Reed and B.B. King.
KAYAK Accommodation Tip: Stay at the Arabastar Hotel from $57 per night.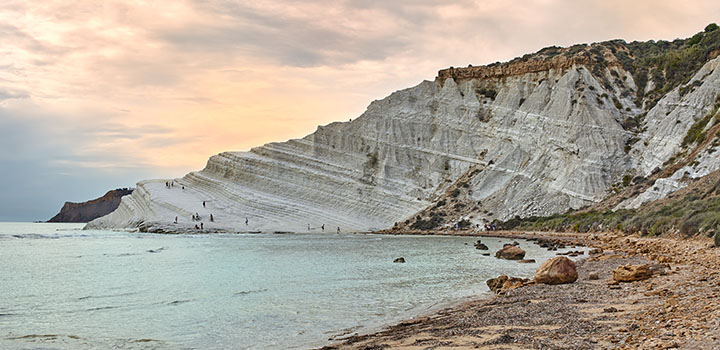 11. La Scala dei Turchi: The Pirate's Ladder
This place owes its name to its history as the landing place used by Turkish pirates, where they sought shelter after raiding the Italian countryside. Be sure to check out the wall of jagged limestone rock overlooking the sea and the beaches that slope into the Mediterranean.
KAYAK Insider Tip: Less than a 20-minute drive from the ladder, you'll find the incredible UNESCO World Heritage of the Valley of the Temples in Agrigento. The site is an archaeological marvel showcasing Greater Greece art and architecture.
KAYAK Accommodation Tip: Stay at the Hotel Kore in Sicily from $63 per night.
So, start your adventure into the lesser-known with any of these places guaranteed to take your breath away. And if you happen to posts a few #humblebrag photos, that's great too (just be sure to tag us so we can see).
Methodology: Hotel prices based on a double-occupancy room for check in: Friday, August 18 until check-out: Saturday, August 19, unless otherwise stated.  Prices, availability, and cancellation policies may vary.  Please check actual provider policies before making a reservation.
Header Image Attribution: Rolf E. Staerk/Shutterstock.com
Los Angeles is known for sun and fun, sure, but it's also home to some world-class eateries. Maybe it's the foodies who helped L.A. take home the #3 spots on our 2017 Travel Hacker lists for most popular destinations and most popular family destinations.
While you're sure to find gastronomical bliss anytime day or night in the City of Angels, it doesn't get more La-la-land than brunch.
If you're traveling to L.A. and in need of some poached eggs and mimosas ASAP, allow our locals to light the way.



Brunch bonanza
Willie Javier Sparks, the blogger behind SparksNStyle, doesn't mess around when it comes to brunch.
"My favorite thing to do on an off day in the city is go out for brunch with friends," he said. "That's such an L.A. thing."
That said, Ashley and Jenn of My Best L.A. Day may have him beat.
"We're lucky that L.A. is a breakfast town every day of the week, and so a day off always spells b-r-u-n-c-h for us," they said. "We'll start by hopping on our bikes and heading down to Gjusta, where we'll saddle up to the deli counter and order a cortado and the insanely delicious Risky Biscuit breakfast sandwich (sausage, fried egg, cheddar, harissa ketchup)."
It's difficult to throw a rock without hitting a Bloody Mary and plate of French toast in Los Angeles. The only question is whether you want down home or upscale dining.
If you can't make up your mind, why not try "Top Chef" contestant Alex Eusebio's new brunch menu at Cascabel? Brunch with a Mexican flair is muy bien.

Lunch, dinner and dessert, oh my!
Brunch may take the cake, but don't think Los Angelenos are fasting the rest of the day.
If you're looking for a tasty treat on a budget, look no further than that California favorite: In-N-Out Burger.
"If I need to eat on a budget, In-N-Out will always be an option!" Sparks said. "I love Animal Style Fries, which may be an extra buck but are worth it."
And where does Caroline Juen of blog Love & Loathing Los Angeles go when she's not trying to break the bank? You guessed it.
"In-N-Out!" she said. "But besides the obvious, I would go to Kogi Taqueria, Mariscos Jalisco, Sunny Blue, Sapp Coffee Shop, Prime Pizza – there are so many great affordable places to choose from in L.A. A great place to find a ton of affordable options in one place would be either Smorgasburg LA or First Fridays on Abbot Kinney where all kinds of food trucks line up and serve."
Meanwhile, Ashley and Jenn are partial to some more homegrown flavors.
"Mercado la Paloma, always," they said. "We first discovered this South L.A. market-like space back in graduate school at USC, and it's remained our go-to spot for the tastiest food on a budget. The community around the market is mostly Central-American and Mexican, and many of them longed for the local markets they left back home – so about 18 years ago, the local housing development set out to re-create that kind of space. There's a host of restaurants, a few nonprofit businesses, and some independent shops that bring arts and culture to the market. Chicken Itza, which serves Yucatecán dishes, is out of this world – and lately, we've been pretty obsessed with Azla, a vegan Ethiopian cafe that only uses local, organic produce."
Of course, sometimes you want to splurge.
"We love the creativity and innovation happening around pop-up dinners in L.A., so if we're going to splurge on a meal, this is usually the place to do it," they continued. "There's also something special about a communal table and sharing booze with a bunch of strangers – you always leave with new friends! Foodshop is always a neighborhood favorite for these kinds of semi-secret supper clubs, but there's honestly new ones appearing every month."
Ready to cap it all off with a snack sure to satisfy your sweet tooth?
Sparks recommended Jeni's Splendid Ice Creams or Salt & Straw if you're in the mood for inventive flavors. You also can't go wrong with an ice cream sandwich at the "adorable" Manhattan Beach Creamery, according to Ashley and Jenn.
Just try to leave some room for the next day. L.A.'s food scene is a marathon, not a sprint.


Header Image Attribution: Gemila/Shutterstock.com
With the Great North gearing up for summer's last long weekend (Labour Day on September 4th), we have some great news. The week leading up to Labour Day is the least expensive week of the summer for Canadians to travel.
What's so special about this week? Savvy travellers know that Labour Day weekend is a notoriously expensive travel weekend. With so many people working through the week so they can take advantage of a Monday off, the week of August 28th is prime vacation time. Our data confirms that the week of August 28th tracks median airfare that's approximately 17% cheaper than any other week of summer.
Wondering where you should go? Here are the top 10 wallet-friendly destinations to travel to for the week of August 28th.
10 Destinations Under $215
Washington, DC (WAS) Median airfare: $173
Victoria, BC (YYJ) Median airfare: $188
New York City (NYC) Median airfare: $191
Chicago (CHI) Median airfare: $191
Boston (BOS) Median airfare: $197
Montreal, QC (YMQ & YUL) Median airfare: $199
Philadelphia (PHL) Median airfare: $201
Dallas (DFW) Median airfare: $201
Toronto (YTO) Median airfare: $209
Calgary (YYC) Median airfare: $213
Book now to be sure you don't miss out on this excellent travel week.
Methodology: KAYAK pulled internal data based on coach, round trip flights with Canadian origin cities. Searches were pulled between January 1, 2017 and July 18, 2017 for travel dates between August 26, 2017 and September 3, 2017. To compare YOY search findings, KAYAK also pulled data for those searching for travel between January 1, 2016 and July 18, 2016 for travel between August 26, 2016 and September 3, 2016. All searches were pulled from KAYAK's internal database.
Remote and removed, Lhasa is one of the least-visited destinations in the world. However, those who adventure to experience the spiritual home of Tibetan Buddhism are forever changed when they leave it. And while the Tibet Autonomous Region can leave you feeling out of your comfort zone, every moment spent here is worthwhile.
Lhasa is one of the highest inhabited places in the world. It's about as close as you can get to touching the sky while remaining in civilization. In a literal sense, nine of the world's 14 highest mountains (all standing above 26,000 feet) are here in the Himalayas, including Mount Everest (named Qomolangma by the Tibetans).
In a more metaphorical sense, Lhasa translates as "Land of the Gods," and is the spiritual home of Tibetan Buddhism (making its proximity to the heavens rather fitting).
Lhasa | Getting There
If you arrive by plane from Nepal or China, the city looks like a white speck on a topographical map from above. For those who come by car — via the Friendship Highway from Nepal or by train from Xining in China — the city is like an oasis to someone lost in the desert.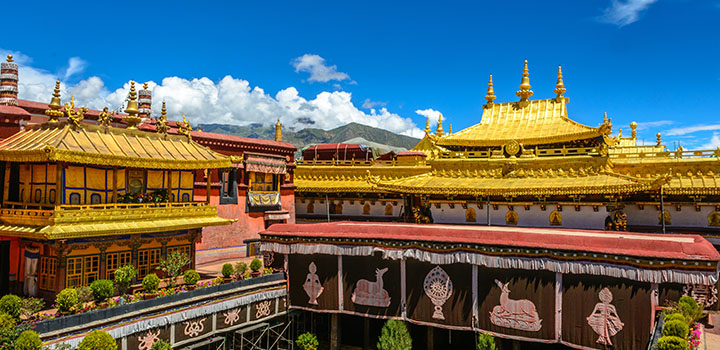 Lhasa | Day 1
Get a feel for the city
Two traits normally associated with Buddhism permeate the cityscape: patience and composure.
Start your day with a meal on the terraces of the House of Shambhala Hotel's restaurant, where you can observe the city from above. You'll notice Lhasa's strange juxtapositions: the glass and concrete façades of the main shopping streets, the heavily-armed Chinese soldiers, the bazaars, the flat-roofed buildings, and Tibetans spinning their prayer wheels in the midday sun.
After, head to the Potala Palace, which was the former winter residence of the 14th Dalai Lama. It's built into the mountainside, 430 feet above the city. Its red and white façade stands as a reminder of the politics that forced the Dalai Lama to flee in 1959, after the brutal suppression of Tibetan demonstrations for the freedom and independence of their country.
At the palace, you'll immediately notice the heavy smell of incense sticks and butter-lamps burning, as well as the incessant murmur of monks praying. Everywhere you'll see countless Buddhas in an array of different poses – every posture and accompanying hand gesture relating to a different story and meaning.

Observe Buddhist prayers
The best views of the Potala Palace are from the centrally located Barkhor Square, which also houses the golden-roofed Jokhang Temple (Tibetan Buddhism's most important sanctuary and place of pilgrimage).
You'll have some free time in the afternoon and it's worthwhile to find a quiet place to people-watch in the square. Observe the faithful praying before the main entrance of the temple. Take a deep breath.

Join a heated debate
After the serenity of Jokhang Temple, Sera Monastery comes as a bit of a shock. Even from afar you can hear a cacophony of Tibetan. In the inner courtyard of the main temple, about a hundred Buddhist monks sit in saffron-colored garments, arguing loudly, clapping their hands at each other and lunging with ferocity.
What seems to be a mix of hand-to-hand combat and verbal argument is, in reality, a form of debate practiced by the monks here. The physical and oral elements are sometimes performed seriously, sometimes while laughing, sometimes emphatically and sometimes aggressively. It creates a platform where opinions are allowed to live, fully imbued with the emotions attached to them.

Enjoy dinner in City Center
Spend the evening soaking up the atmosphere at one of the restaurants in the city center, somewhere around Barkhor Square. Try out the exceptional Makye Ame Tibetan Restaurant, which also offers fantastic views of the Jokhang Temple. Another legendary viewing spot is the Snowland Hotel, which offers great food and a rooftop terrace with possibly the best panorama of the old town.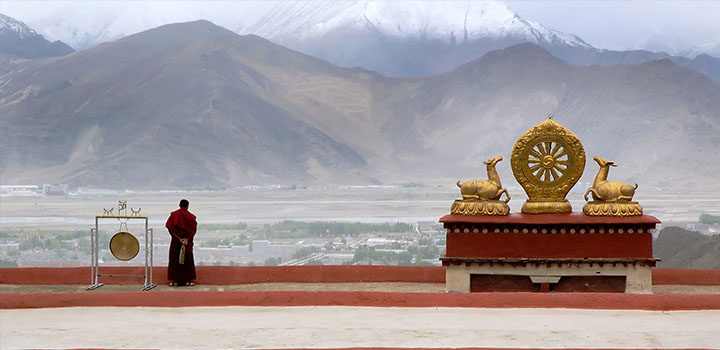 Lhasa | Day 2
Get moving
There's a lot to pack into your second day: a visit to Norbulingka Palace, the Dalai Lama's Summer Residences, the Tibet Museum and a drive out to the nearby Chagpori Rock Carvings.

Eat a light lunch
Eat a light meal at Father Vegetarian, a tiny restaurant where young cooks are tasked with preparing vegetarian variations of traditional Tibetan cuisine.

Take a journey for the body and mind
Visit Drepung, a monastery complex jam-packed with numerous manifestations and reincarnations of sacred Buddhist figures. From there, venture to see the Nietang Buddha 80 miles south-west of the city. The orange, blue and gold Nietang Buddha — which shines out from the cliff it is carved into — stands at a breathtaking 33 feet in height.

Eat a home-style meal
Head back to Lhasa for your next meal. Keeping with the eating-in-a-traditional-atmosphere theme, good food and a fantastic atmosphere can be found at the Tibetan Family Kitchen – rightly named for being literally in the host's own kitchen. If you are looking for something a little less rustic, Arirang Barbeque City offers an excellent and stylish Korean menu.

Namaste all night
While Tibet's spiritual center doesn't offer a wide range of yoga classes throughout the city in the evenings, you can still practice you asanas. Head to the Iridium Yoga Pilates Studio or St. Regis Lhasa Resorts for a guided practice. If you really want to get traditional, try knocking on the doors of Buddhist monasteries, but bring along two things: time and patience. Visitors are sometimes allowed to join in, but there is absolutely no guarantee.

What do you need when traveling to Lhasa?
Check travel warnings and restrictions before you go.
Apply for a Chinese visa.  Check our application instructions
here
.
Apply for a special permit to tour the Tibet Autonomous Region (also known as Tibet Travel Permit or Tibet Entry Permit). This can only be obtained through a travel agency accredited by the Tibetan Tourist Board.
Technically, travel permits are not issued to single travelers. Travelers will be required to travel as a group (at least five persons) which will be put together by the accredited travel agency if necessary.
A scanned copy of your passport and your Chinese visa, as well as information on your profession, is required to obtain the special permit. According to the Tibetan Tourist Board, the processing time is generally between five and seven working days.
Mountaineers, journalists, business travelers and people visiting family are subject to specific provisions.
Header Image Attribution: aaabbbccc/Shutterstock.com
The City of Angels is home to much more than just the glam and glitz of Hollywood, with some of the world's greatest weather high on the list. Maybe L.A.'s golden summers and mild winters are why it took home the #3 spot on two of our 2017 Travel Hacker lists: most popular destinations and most popular family destinations.
So how should you enjoy the sunshine when traveling to L.A.? We're glad you asked. Let some real Los Angelinos be your guides.

Sun day, fun day
"We're lucky in Los Angeles because the weather is beautiful most of the time," said Yvonne Condes and Sarah Auerswald of MOMSLA. "A favorite thing to do on an off day is go on a hike to the Hollywood sign. On the hike up, you'll meet locals on a day hike and happy tourists. Once you get to the top, you'll find incredible views of the city."
More fun in the sun is only a short ways outside the city, as well.
"Catalina Island is a short ferry ride away, or even shorter helicopter ride," the MOMSLA duo said. "Visitors can snorkel, swim, hike, shop, eat, visit museums or just hang out and enjoy the beautiful island."
Or maybe a drive up the coast is more your speed. If so, you're in good company.
"I go to Santa Barbara, which is only a one-and-a-half hour drive north of Los Angeles," said Stephanie Liu Hjelmeseth of blog Honey & Silk. "The coastal drive along the stunning shore and a fun afternoon wine tasting in the Funk Zone make for a perfect day a whole other world away."
Stephanie isn't the only Funk Zone fan.
"I love to drive up to Santa Barbara," said Caroline Juen of blog Love & Loathing Los Angeles. "I have lunch at my favorite spot – Brophy Bros. – in the marina, I'll do some wine tasting in the Funk Zone, then possibly stick around for the night at one of my favorite hotels in the area."
Of course, Caroline knows there's plenty to do in L.A. proper.
"No day in LA is ever the same, but some of my favorite things to do would be go to a Dodgers game, an outdoor movie screening, preferably at the Hollywood Forever Cemetery, or walk, eat and shop on Abbot Kinney Boulevard," she said.
Forecast: Relaxation
La-la-land also knows how to pamper visitors.
"I love to drive up the coast to Malibu to hop out and have lunch somewhere along the ocean, or I love a good spa day at the Beverly Wilshire Hotel, Four Seasons, or The Beverly Hills Hotel. Pool time post-massage is always a bonus," Caroline said.
Of course, she isn't the only one into sunny relaxation.
"We're all about tapping into L.A.'s beauty and all its green spaces, and getting in touch with nature is the most relaxing," said Ashley and Jenn of My Best L.A. Day. "After a stressful week, we often spend a Saturday morning hiking Los Liones Trail in the Pacific Palisades, and then visiting the Self-Realization Fellowship Lake Shrine, which is an oasis in L.A. This meditation garden and temple is one of the most relaxing places in the whole city!"
And if you really want to escape the city to take in the magic of Mother Nature, Palm Springs is less than two hours away.
"The majestic purple mountains, swaying palm trees, retro vibe and slower pace really make it an ideal weekend getaway," the ladies of My Best L.A. Day said. "There are so many quaint boutique hotels to choose from, but make sure it's a place that makes you feel all Ava Gardner. We love hiking Tahquitz Canyon, browsing mid-century modern furniture shops, grabbing cocktails at The Tropicale, and just lounging by the pool."
Too much to do in one day? Have no fear. There's always tomorrow, and odds are the forecast calls for sunshine.
Header Image Attribution: Andrew F. Kazmierski/Shutterstock.com
Prepare your retinas. For the first time in 99 years, a total solar eclipse will sweep across the continental United States on August 21. As the moon passes over the sun, day will (briefly) turn into night. Want the best view of this natural phenomenon? Fourteen states will be prime viewing spots that day. In preparation, people are flocking to get a glimpse of this rare solar event.
The following cities are not only in the eclipse's path but are also seeing a surge in interest for the days around the 21st, with hotel searches on the rise. Here's where weather buffs are headed to get the best view:

Hotel searches up 467%
The eclipse will first track its path over the US on Oregon's shore. The full eclipse will take place at approximately 10:15am PST. Grab brunch at Wildflower Grill and sit on their patio to experience the eclipse.


Hotel searches up 279%
One of the final US cities graced with prime viewing of the eclipse is Chucktown. Around 2:38pm EST, the town will go dark. Want to catch a glimpse? Special viewing glasses are available for just $1 at most official tourist centers.


Hotel searches up 273%
This outdoorsy destination is prime viewing for meteorological wonders. And the city is prepping for the eclipse. Events begin on the 19th in celebration of the moon's blocking of the sun.


Hotel searches up 234%
Just after 1pm CST, St. Louis can expect to get its taste of this rare sight. (There hasn't been a total solar eclipse in the city since 1442.) To see this historic event in style, check out the rooftop bar at Three Sixty, located at the top of the Hilton St. Louis at the Ballpark.


Hotel searches up 161%
Music City is down to party, solar-style. Bars and restaurants downtown are hosting their own viewing parties. If you're looking for something out in the open air, you can head to the Italian Lights Festival at the Bicentennial Capitol Mall. Admission is free and there will be plenty of food and music to enjoy.


Hotel searches up 133%
With Missouri in prime eclipse-watching real estate, Kansas City is ready to welcome travelers hoping to get a peek. Starting at 1:08pm CST, the moon will begin its path over the sun. Stay in KC but drive up to St. Joe, MO where observers will get the full-experience of a total eclipse. Then, be sure to grab some good ol' BBQ.


Hotel searches up 43%
Consider trendy Asheville your basecamp for eclipse-watching activities. Just a short drive away, the Smokey Mountains of Western NC will have one of the best views of the total eclipse. Then, head back to the city for a meal and cocktail with Spanish flair at Zambra, then head out for a creep-tastic ghost tour.

Wondering how to safely watch the eclipse? Check out these tips.

Methodology: KAYAK pulled internal data based on hotel searches across the U.S. Searches were pulled between January 1, 2017 and July 20, 2017 for travel dates of August 17, 2017 to August 22, 2017 (the solar eclipse takes place on August 21, 2017). To compare YOY findings, KAYAK also pulled data for those searching for hotels between January 1, 2016 and January 20, 2016 with dates of travel falling between August 17 and August 22. All searches were pulled from KAYAK's internal database.
Summer is almost over and that's OK with us. Why? Well, it's not because of pumpkin-spiced lattes (so basic). When temperatures start to drop and much of North America is bringing their flannel pajamas down from the attic, it's time to break out the surfboard. Fall produces some of the best barrels and swells, worldwide. Looking to hang ten? Here are the top surf destinations that'll let you catch waves from September until November.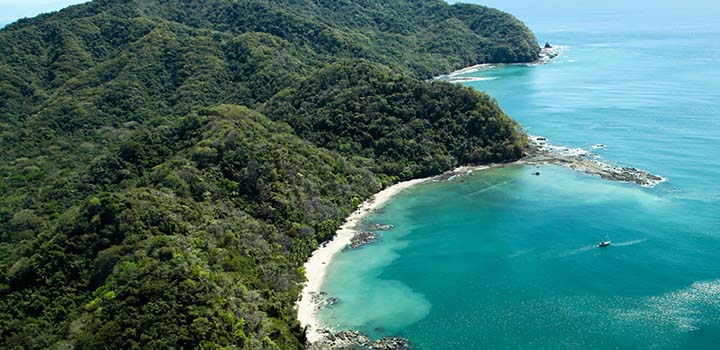 Costa Rica
Surf Fun for everyone
Costa Rica is sandwiched between the Caribbean and Pacific, blessing it with coastlines from two different oceans. Translation: a bounty of surf spots. There are too many to call out, but one of the best is Playa Hermosa. Set on the Central Pacific Coast about 3 miles south of Jaco, it's where surfers go to feast. Just beware of strong currents (and skip the swimming). Another worthy mention is the small town of Cabo Matapalo, situated on the tip of the Osa Peninsula in southern Costa Rica. Flanked by beaches on all sides, here the Pacific Ocean routinely produces large swells that guarantee fun at every skill level.
Hotels starting at $13/night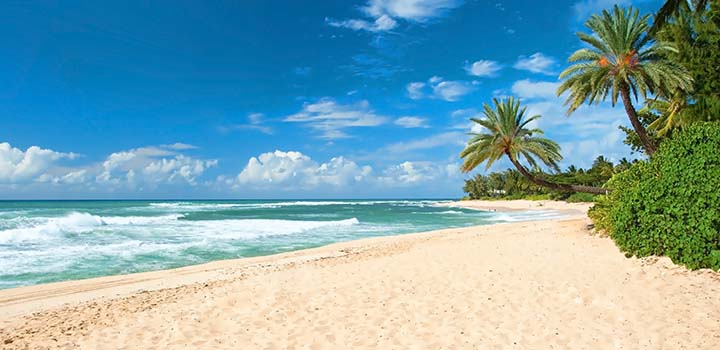 Hawaii
The birthplace of surfing
July and August are peak tourist season in Hawaii. It can make finding a solitary spot near impossible. By the time Autumn hits, however, hotel rates are lower and beaches emptier. Plus, the weather conditions are actually perfect for surfers, whether you're a seasoned pro or absolute beginner. Looking for the best Hawaiian surf spots? Check out Paia (Maui), Hanalei (Kauai) and, of course, Waikiki Beach (O'ahu).
Hotels starting at $140/night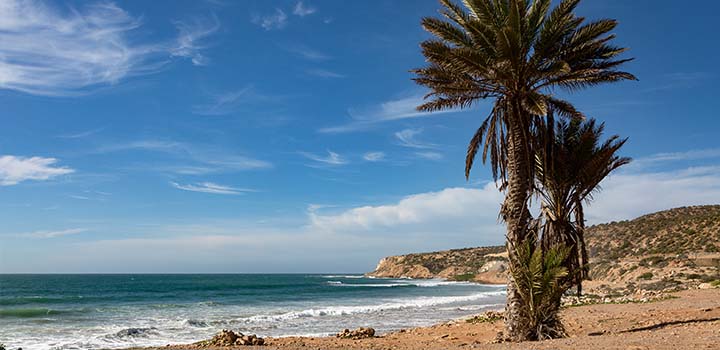 Taghazout, Morocco
Home of those perfect right-hand breaks
North of Agadir, the largest seaside resort in Morocco (where foreign tourists are attracted all-year-round due to the mild climate), lies Taghazout. This seaside town happens to be Morocco's best surf spot. Not only that, but it is said that Taghazout is blessed with the best right-hand breaks in the world. Plus, your per diem costs can be lower than most other surf spots. It's an ideal place to surf on a budget, escape the October chill and enjoy the welcoming, local culture in the evenings.
Hotels starting at $8/night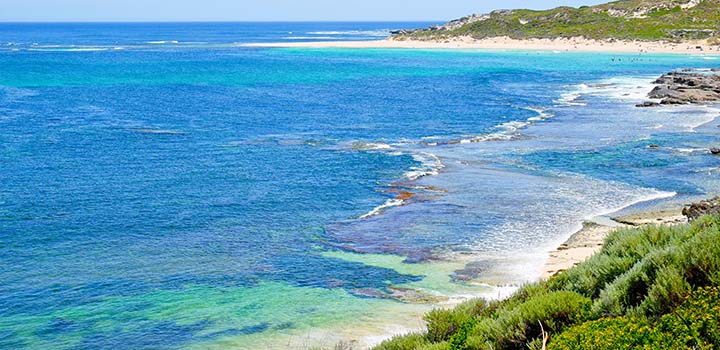 Australia
The "big wave" hotspot
Instead of sitting at home watching the diving temperatures frost up the window, turn your daydream surf vacation into a reality. Enter: Australia. Ranked alongside Hawaii, Margaret River's surf is internationally recognized as a "big wave" hotspot. Take your pick from more than 40 powerful reef breaks. Looking for a softer ride? There are plenty fun beach breaks closer to shore. For Perth's gnarliest waves, head to Trigg. Here sandbanks shift over rocky ledges to create a powerful surf. Going that extra mile to seek out the local surfing secrets will reward you with once-in-a-lifetime surf experiences. Head for the reef breaks of Esperance, the left-hand ledge at Gnaraloo or The Bluff in Geraldton.
Hotels starting at $14/night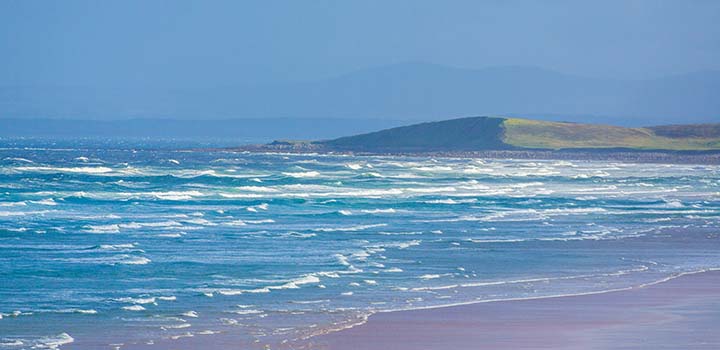 Bundoran, Ireland
Surfer's paradise in the Emerald Isle
Tourists have been visiting the Irish town of Bundoranor since 1777. If you're feeling real adventurous, you can call the town by its Gaelic name,  Bun Dobhráin (which means "the foot of the little water"). Despite its connection to the water, the town is a recent discovery in surf terms. The growing popularity of Bun Dobhráin's surfing has extended the tourist season from the usual summer holidays to all-year-round with surfers arriving all over the world as Autumn begins. The Gulf Stream pushes warmer tides north in September, bringing great surf conditions to this stretch of coast. 
Hotels starting at $87/night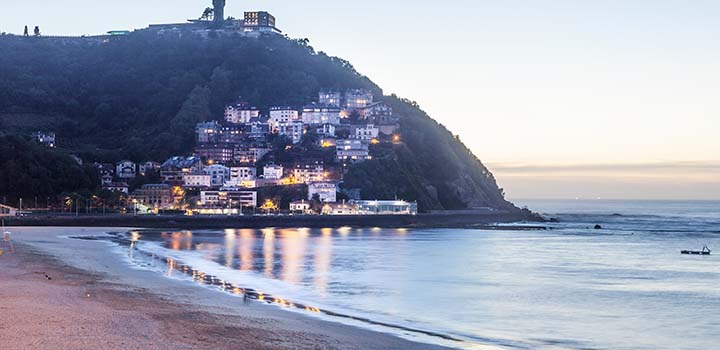 Basque Country, Spain
Big waves & surf competitions
For a surf holiday by the Atlantic Ocean, you don't necessarily have to be able to speak French, Spanish or Euskara (Basque). The common language on this stretch of coast is the board. The area offers summertime-rolls all through Autumn. In San Sebastián you will find two beaches with spectacular surf breaks: Playa de Gros and Playa de la Concha. Once the summer ends, both these sports are far less crowded than high season. From here, you can also cross the border to France and surf Biarritz. This elegant French seaside town is thought to be the surfing birthplace of Europe when it started here in the 1950s. You might want to check out Les Cavaliers, a large sandy beach, where waves break both left and right and wave height can get up to 10 feet. The Plage de la Madrague is on the same stretch of coast and, if you've worked up an appetite after hanging ten all day, offers a variety of restaurants.
Hotels starting at $13/night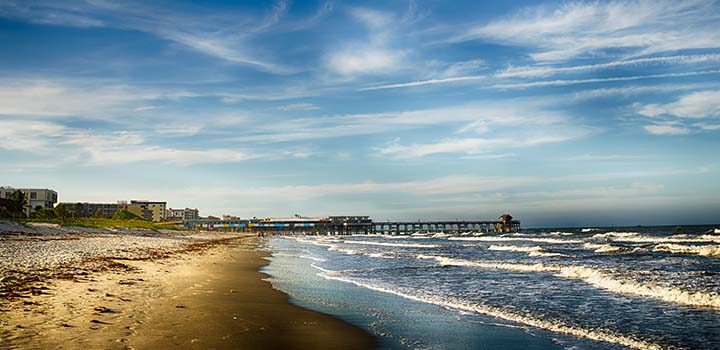 Florida
The sunny side of surfing
Can you really keep surfing in November? Heck yeah. And the sunshine state is the place to be. For a true East Coast surfing experience, check out Cocoa Beach. It's home to surfer Kelly Slater (11 world titles). But why wait out Cocoa Beach until November? It's all about the swell. In July, the consistency is as low as 9%, whereas October sees a massive increase (to 46% according to magicseaweed.com) and a high of 48% in November. Don't miss out on New Smyrna Beach, just south of Daytona Beach. This somewhat insular beach community could be Florida's most surf-centric town. So prepare yourself for the locals. Or join them. The New Smyrna Inlet has very consistent surf year round, meaning you might extend your one-week surf vacation to a for-life commitment.
Hotels starting at $67/night


Methodology: The flight prices (including taxes and fees, excluding baggage fees) are for one round-trip economy seat and were based on the lowest price found on a flight to the destination listed by a user with a US origin in the last 72 hours as of August 3, 2017. The hotel prices (not including taxes and fees) are per night per room for double occupancy for the above and were found on kayak.com on August 3, 2017, for travel on August 3-4, 2017. Prices and availability may vary.
Want to get away for a while but still have work to do? A workcation may be in order. And while we think everyone should take time to step away from their daily duties, we realize that sometimes you're not able — or willing — to go off the clock. Whether you're an entrepreneur, freelancer, side-hustler, business traveler or simply in need of a change of scenery, these hotels get the job done.
We found 8 hotels that tout benefits like swanky lounges, private conference rooms, high-speed public Wi-fi and other amenities that will help you settle in and get stuff done. Plus, each are located in vibrant cities so you can ditch your device and explore for a few hours.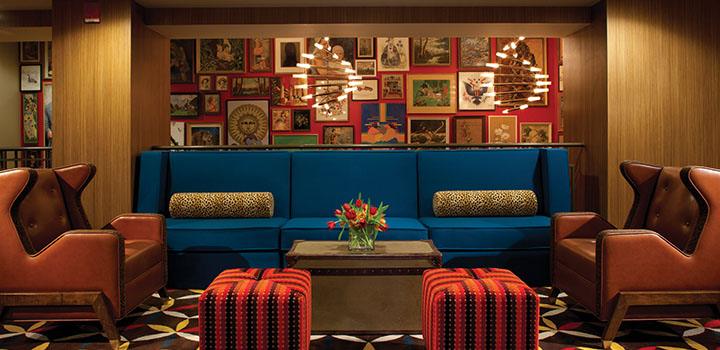 Hotel Lincoln, Chicago, IL
This retro-cool hotel in the north side of Chicago has an inviting lounge, free high speed internet, quiet spaces and an on-site coffee shop. Also, it's business centers are open to guests 24 hours/day, in case you need to steal away for a few hours while the family sleeps in.
Rooms from $128/night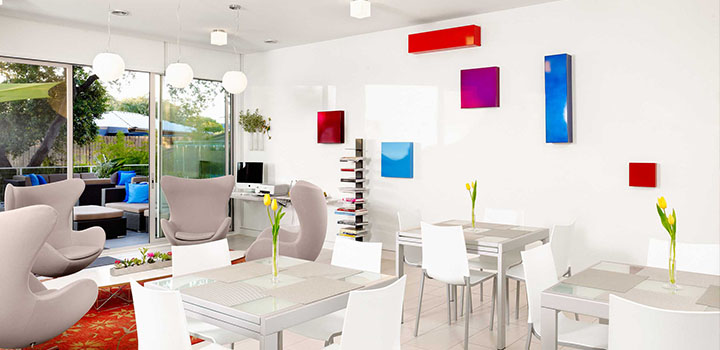 Kimber Modern, Austin, TX
If you like to work in style, the Kimber Modern is your contemporary oasis. Its common area has self-service coffee machines and Italian sodas, Arne Jacobsen chairs, an Eames coffee table,  and a la carte breakfast options. You'll also find the hotel's Virtual Concierge, a computer with printer that's free for guests to use. Sliding doors lead right to a terrace in case you need a fresh air break (or a place to pace as you dial into a conference call). Plus, throughout the hotel's public areas you'll also benefit from complimentary WiFi.
Rooms from $332/night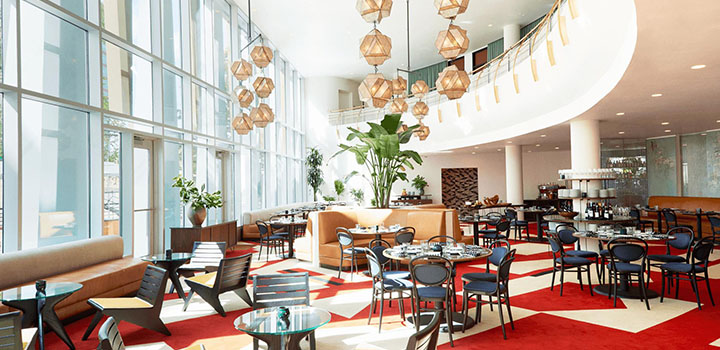 The Durham Hotel, Durham, NC
Newly renovated in mid-century finishings, the Durham is an awesome escape in the middle of the Bull City. With high-speed in-room WiFi, you can settle in to answer emails and tweak spreadsheets, before venturing outside for a bit of sightseeing and shopping. Head around the corner to Chet Miller, offering local goods and independent novelties. Then, walk to the Bull City Burger and Brewery for some fresh eats and hops. Answer those late-night messages on the hotel rooftop bar, sipping a creatively crafted cocktail.
Rooms from $189/night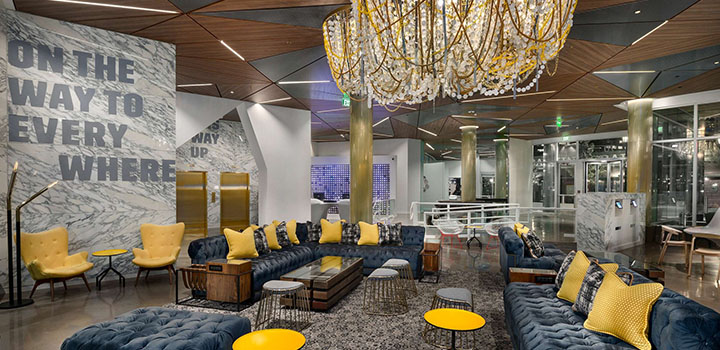 The Envoy Hotel, Boston, MA
At the Envoy, you're right in Boston's historic Seaport, a growing community home to major corporations and small shops, alike. Rooms are equipped with workstations and WiFi so you can get right down to business without changing out of your pajamas. In need of some creative inspiration? Get your contemporary art fix within walking distance at ICA Boston. Need to book an office away from the office? The Envoy is a 9-minute walk from WeWork's coworking space on Melcher Street.
Rooms from $274/night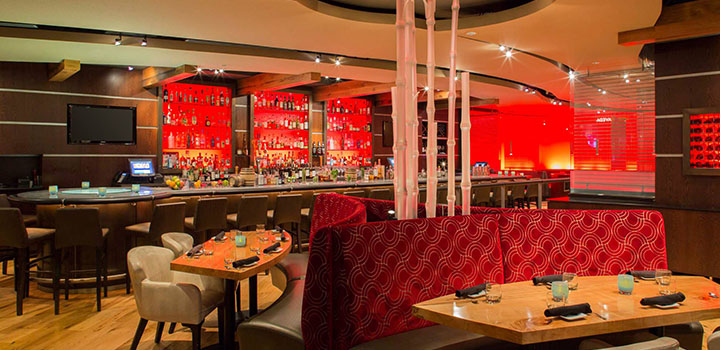 Loews Hotel 1000, Seattle, WA
Bring the whole family (Fido, included) when you stay in Seattle's swanky Loews Hotel. Both pet- and kid-friendly, it's like you never left home (except there's no dishes to do or laundry to fold). Besides having free WiFi in all guest rooms, it's lounge also provides ample space to sit, relax, and get to work.
Rooms from $262/night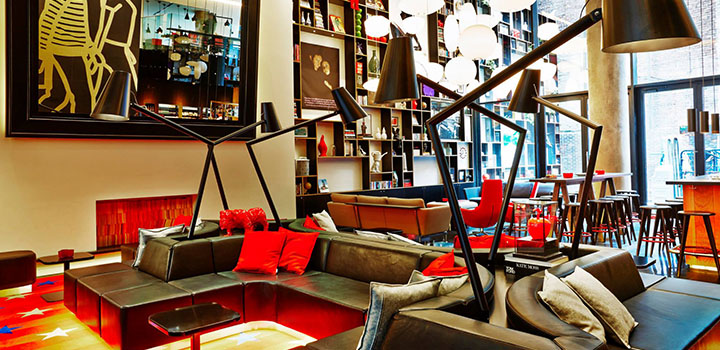 citizenM New York, NYC, NY
Right in the heart of NYC's busiest corner — Times Square — is your workcation oasis. Room at the citizenM feature soundproof walls, blackout shades and WiFi streaming. That way, you can block out the frenzy of the city while you get down to business. Being in the heart of Manhattan also means you're within easy commuting distance of clients, agencies, partners or whoever else you might need to meet. After your busy day, retire to the hotel's exclusive rooftop bar, reserved just for guests. View the city that never sleeps from 21 stories up and congratulate yourself on a job well done.
Rooms from $270/night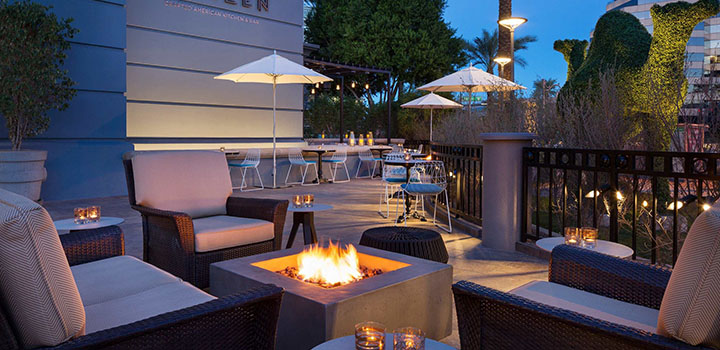 The Camby, Phoenix, AZ
Stay at The Camby and you may never want to leave. Outfitted with spacious rooms and beautiful decor, consider this hotel a place to get inspired. Plus, with complimentary WiFi access in all common areas, you can even change your scenery without breaking your productivity streak. The hotel contains plenty of dining options from it's rooftop to its swanky restaurant. Guests can also rent meeting rooms in case you need to bring the board together to start decision making. Tired of conference calling? Just grab the fam and head into the city to explore and get some much-needed together time.
Rooms from $202/night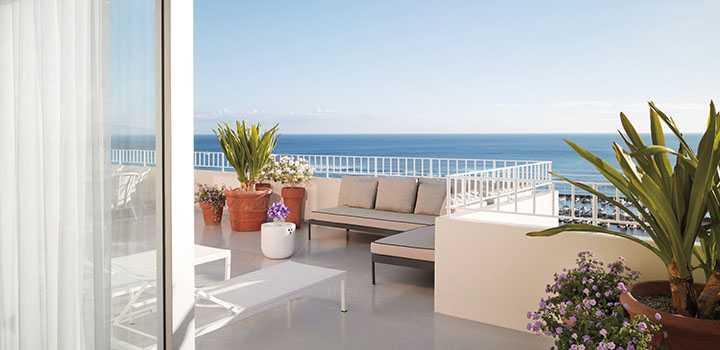 The Modern, Honolulu, HI
If you have to work when visiting the paradise that is Hawaii, you're in good hands at The Modern. Spacious rooms with ocean views and free WiFi let you take in the natural beauty of the island while still powering through page 50 of your presentation. Need to take a break? Let your travelmates know you're retiring to "The Study"… a bar hidden behind a wall of books serving up luxurious literary cocktails like the Catch 22 or Huckle Berry Fin.
Rooms from $252/night


Methodology: Hotel prices (not including taxes and fees) are per night per room for double occupancy for the above and were found on kayak.com on August 1, 2017, for travel on August 1-2, 2017. Prices and availability may vary.