We started 2015 off with a bang, unleashing the KAYAK 2015 Travel Hacker Guide which proved to be a helpful tool for travelers. So we thought, why end the fun there? This time around, we're infusing all of our Travel Hacker Data with a dose of summer. Travel enthusiasts the Summer Travel Hacker Guide has arrived just in time for you to plan your perfect summer getaway.
We've curated four brand new Top 10 lists: Top 10 Trending Summer Destinations, Top 10 European Summer Destinations, Top 10 Summer Deal Destinations, and Top 10 Summer Road Trips. We're bringing you the insider info on price, top hotels, and hacker tips for each destination. We've also reprised our Global Travel Tips section and as a bonus, we're giving you the Top 40 Trending Summer Hotels globally.
Adventure and experiences are hot this summer. The island of Hawai'i is our #1 Trending Summer Destination, with almost a 50% increase in searches versus last summer to The Big Island. In addition to a lot of interest in Europe (making up half the list), we're also seeing increased demand to cities playing host to major summer events. Check out the full list in the Summer Travel Hacker Guide.
With the weak Euro, many European spots are more affordable and flight searches for the continent are up 7% this summer vs. last. In fact, cities that use the Euro fill all ten spots in the top destinations list. Paris is our #1 European Summer Destination and the City of Light shines especially bright when the banks of the Seine become a Parisian beach paradise. Head over to the full list for tips and tricks on what to do in the most popular European cities.
Some exotic destinations seem to be offering up deals this summer. Tel Aviv tops our Summer Deal Destinations list, with a 22% decrease in airfare versus last summer. August is actually the most affordable time to travel with median airfare at $926 – and with the kids still on summer break, pack your sunscreen and paddles and join in on the Matkot fun on one of the many picturesque beaches in this cosmopolitan city. This could also be a great summer for that African adventure you've always wanted to take with airfare to Johannesburg down 15%. See the full list of where airfare has fallen when the temperatures rise.
Wind in your hair, sun on your back and nothing but the open road – what's more summer-y than that? And with gas prices lower than they've typically been, this could be the perfect summer to hit the road. We've curated the Top 10 most popular cities for car rentals and paired them with a nearby road trip destination – time to break out of the confines of the big city and explore the roads less traveled.
As a bonus feature we scanned our Travel Hacker Data for the hotel properties that are seeing the greatest increase in search compared to last summer. These 25 properties span the globe so you're sure to find exactly what you're looking for to stay — and look — cool this summer.
Our Global data was so popular last time around, we decided we couldn't envision a Travel Hacker Guide without it. It's making a second appearance displaying the same evergreen insights and bringing our summer guide the perspective it needs including, when to book and when to depart.
Here's to our first-ever Summer Travel Hacker — giving you the information you need to travel smarter this summer.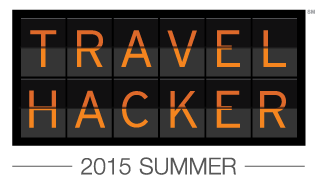 Header Image – @istock.com/stellalevi