Feast your eyes on the new KAYAK 2015 Travel Hacker Guide – an interactive guide to planning your travel this year. The data scientists here at KAYAK have been busy crunching numbers to analyze our one billion+ annual searches to arm you with the 'hacks' you need to travel smarter in 2015. Wondering what day to book to get the best deal? When to leave? Where to go? We've got you covered.
In addition to interactive maps and data-driven tips, we've curated four Top 10 Lists: Top 10 Most Popular destinations, Top 10 Trending destinations, Top 10 Deal destinations and Top 10 Trending Beach destinations – to show you where people are traveling to the most, which destinations have become more affordable and which cities and beaches are likely to be the next big thing. For each destination we share the scoop on airfare, top hotels and a 'Hacker Tip' to further guide your travel plans. The guide also features the global 4-1-1 on when to book and when to travel by region. Regardless of where you choose to start, our Travel Hacker Guide will be a great resource all year long.
New York once again tops our Top 10 Most Popular Destination list – what else did you expect from the city that never sleeps? See the full list and learn about some of the less-obvious attractions that keep people coming back.
Milan, Italy is our #1 Trending Destination with a whopping 105% increase in click share versus last year. The 2015 World Expo and new canal-side bars and restaurants are helping lead a youthful renaissance in the Italian city. For the full list of cities those in-the-know will be humble-bragging about visiting this year, check out all of the trending destinations.
While always in-style, Milan is clearly having a moment. The city also took the top spot in our Top 10 Deal Destinations with a 13% drop in airfare versus last year. February is the most affordable time to travel with median airfare at $692, so take your airfare savings and buy something you really need, like Prada shoes. Check out the data on our other nine Deal Destinations and check out our tips on ways to save while you're there.
Top Trending Beach Destinations
If arctic temperatures have you dreaming of hitting the sunshine and sand fear not, we've pulled together the Top 10 Trending Beach Destinations. Grenada rose to the top with a 31% increase in click share versus last year. The Spice Island boasts white-sand beaches and an underwater sculpture park. Still not convinced? See the full list for more daydream material.
For a broader perspective, our Global section delivers regional guidance on when to book, when to depart and return, and about how much you can expect to spend.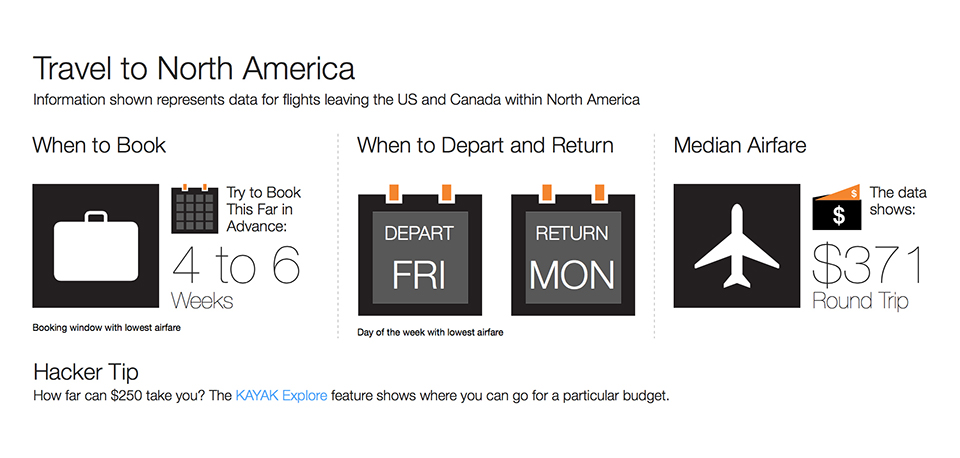 And because we want to live in a world full of smart travelers, we're expanding our insights beyond the Travel Hacker Guide. Keep checking the KAYAK Travel Hacker Blog for a steady flow of travel tips and trends to get you where you need (or want) to go in 2015 and beyond.