Beautiful beaches, a buzzing nightlife, historic neighborhoods and incredible food. That's what you get when you go to San Juan. Though 2017's Hurricane Maria devastated the island, its perseverance is reflected in its capital city. With 2019 seeing a 113% search increase compared with last year, it's clear San Juan is making a comeback. And now's absolutely the right time to go — especially if you're armed with our San Juan city guide. So, vamos.
What's In This Guide
Plan Your Trip
Flights & Hotels
Check out personalized insights from your home airport to San Juan, such as median airfare, when to book a flight and what qualifies as a good deal.
When to visit
While the most popular time to travel there is during the winter (mid-December to mid-April), it's also when you'll find travel to the city significantly more expensive (not to mention crowded). So despite popular practice, the best time to visit is from mid-April to June. This is at the end of the busy winter season and just before the summer rains begin. Temperatures range between 82-85F, so you can hit the sand without roasting. If you're looking for a reason to go to San Juan, some of its most popular festivals are:
SoFO Culinary Week (June)

San Sebastian Street Festival (January)

Le Lo Lai Festival (October)

Casals Festival (February – March)
How to get to the city from the airport
Luis Munoz Marin International Airport (SJU) is the most popular entry point for visitors to San Juan and is about 15 minutes outside the city. The best way to reach the center of town is by taxi or bus. The price for a taxi starts between $10-19 (depending on your destination in San Juan). You'll also need to add about $3-5 in fees (airport fee, gas surcharge, luggage fee) depending on how many people and bags are being transported. You can take the bus, however, for only $1.50. The #53 bus/Route 53 is the one you'll want as it goes direct from SJU to Isla Verde, the beaches and many hotels.
Good to know
All major attractions are open now in Puerto Rico. Museums, restaurants, beaches — you name it. There are very minimal traces of the hurricane season remaining throughout the city.

In San Juan, taxis and the #53 bus are affordable and convenient options to get around the city. However, if you are planning on journeying outside the city, it's worth renting a car.  And because Puerto Rico is part of the US, all of the road signs will be familiar. Car rentals are available inside the airport and throughout the city.

Puerto Rico, while known for its beaches, actually has a very diverse ecosystem. El Yunque National Rainforest is a popular spot for locals and tourists alike to appreciate the natural beauty of the island.

Don't be afraid to get to know the locals. Puerto Ricans have an international reputation for being warm and friendly. They're always willing to give some local insight, teach you a few phrases or make recommendations.

Safety Tips: Though it's on the rebound, San Juan still has pockets where travelers should exercise caution at night. In Old San Juan, the neighborhood known as La Perla (near El Morro) should be avoided after hours, as should most of Puerta de Tierra (beyond the hotels). Also, don't go for a midnight swim — the beaches are dark and unprotected at night, making your risque behavior, risky. In general, simply practice safety as you would in most cities: keep your valuables at home and don't carry a bunch of cash on you.
 Price
$$
Visiting San Juan is comparable to destinations like Fort Lauderdale or Guadalajara. Median airfare ranges from $256 in May to $447 in December, with November through March having higher airfare than April through September. With the US dollar as its currency, you won't need to exchange money. And follow similar practices to the States: tipping a customary 15-20% is expected.

Booking Advice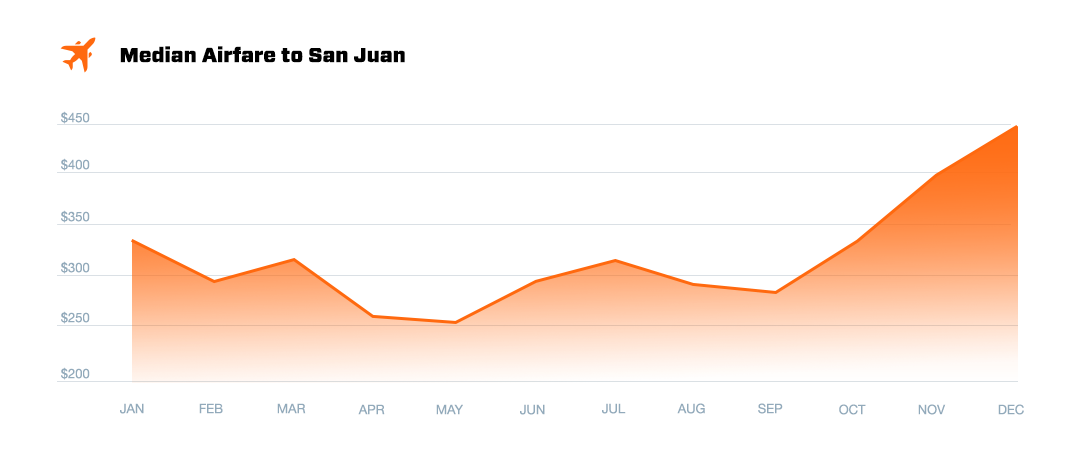 Based on median airfare, if you're looking to find a flight deal — May sees the lowest median airfare ($256). December is generally the most expensive time to visit (median airfare $447) — given the holidays (where Puerto Ricans go all out with festivals) and the fact that Northerners are flying south for the winter. We also found that booking at least 1 month ahead could get you some of the best deals on flights (median airfare: $306).
*Median airfare by month is based on travel dates 06/01/2016 – 05/31/18 and search dates 01/01/17 – 12/31/18. All coach, round-trip flights originating in the US or Canada and landing at SJU during this search period were considered. Our when to book recommendation was based on median airfare as a function of months before departure for travel dates 06/01/2016 – 05/31/18 and search dates 01/01/17 – 12/31/18.
Local Lingo
Brush off your Spanish phrasebook, as you'll want to know the basics. But to sound like a local, here are a few key phrases.
Qué tal? (kay tahl): What's up?/How's it going?
Boricua. (bore-ee-quwah): Puerto Rican (a name for the local people)
Wepa. (way-pah): An exclamation signifying happiness.
Acho/Chacho. (ah-cho/cha-cho): Short for "muchacho," but usually used between thoughts (similar to how we say "Well…" in English). When posed as a question, can mean "What's up?"
Chavos. (cha-vohs): Money
Mano! (mah-no): used as an exclamation, like saying "hey, bro!"
Ni pa. (nee-pah): No way.
Tú sabes. (too sah-beys): You know.
Where to Go & What to Do
Note: Check out this map to see the city's neighborhoods.
San Juan is divided into two main areas: Old San Juan and New San Juan. True to their names, the former features historic buildings, museums and cobblestone streets while the latter is rife with luxury beachside resorts, vibrant nightlife and modern amenities. See both sides of the city on your trip and decide for yourself which San Juan you prefer.
Old San Juan
With its rich history, beauty, and location, Old San Juan's charm has helped it become one of the most popular destinations in the Caribbean. Located on the peninsula that separates the Atlantic Ocean and San Juan Bay, the city is encircled by the old wall that was once used as a defense against attackers. The city has many beautiful churches, promenades, gardens and plazas in addition to its more modern commercial side that includes galleries, theaters, bars and restaurants. If you plan on visiting El Morro, the old fort, be sure to bring a kite. Outside its walls, you'll see families gathering on windy days to brighten the sky with their flying colors. Or, you can head to the end of Cristo Street and stop in the Parque de Las Palomas to feed the pigeons — hundreds of them. For your own eats, head to Barrachina for local dishes like the seafood mofongo. Or, you can drink al fresco at… Al Fresco. This rooftop wine bar serves delicious cocktails with seriously cool views. For something to nosh on, visit Verda Masa for tapas-like dishes that use Mediterranean, French and Caribbean influences. For nightlife, look no further than La Factoria. This legendary dance club and music venue hosts live salsa on Monday nights and is where you can sample inventive cocktails like a lavender mule or Lion's Tale. Ranked among the Top 50 bars in the world, it's popular among the city's artists and musicians. It's also where the music video for a certain Spanish dance club hit with a catchy chorus was filmed.
New San Juan
New San Juan area is a great combination of energetic city life and a tropical beach paradise.  It's made up of about 6 distinct neighborhoods, each with their own flavor.
Condado
This neighborhood is the most popular vacation destination among tourists in New San Juan.  The cosmopolitan area offers trendy food options, vibrant nightlife and luxurious beachfront accommodations. There are plenty of high-end boutiques lined right up to the beautiful Condado Beach. Situated between the Atlantic Ocean and the Condado Lagoon, this is where you can find the Window of the Sea Park (Ventana al Mar). Visitors can enjoy views of the Atlantic Ocean while taking in the relaxing scenery.  One of the central streets of Condado is Avenida Ashford, which gives off a Miami Beach-vibe with its modern, luxury properties and vibrant nightlife. Check out Oceano for cocktails with a view — this beachfront mansion is the perfect spot to spend a night.
Ocean Park
Offering a relaxed, casual atmosphere, Ocean Park in San Juan has more affordable beachfront accommodations than other neighborhoods. It's a great place to try your hand at water sports like kite-sailing and surfing. Check out 15 Knots for information on lessons and rentals. Ocean Park has plenty of small boutique hotels and guest houses that are within steps from the beach. But if you're looking for more activity, head to Calle Loiza. Here you can stop at OM Studio for a blowout and shop at Tereques La Tiendita. Refresh after a day on the sand with a stop at Cocobanana for its signature drink: a combo of coconut milk, black sugar, bananas and toasted almonds. At night, keep it casual and creative with a pizza at LOIZA 2050, which serves up pies on crusts made from coconut and pumpkin, in additional to traditional ingredients.
Miramar
Miramar is an upscale residential neighborhood and home to the island's famous, high-tech Convention Center. Here, there are two marinas and the neighborhood is connected to Old San Juan via a bayside promenade. Those looking to take in some art can make a stop at Casa Aboy, a 1900s home made into a photography gallery. Stop at the Caribbean Cinemas to catch a flick, from new releases to art films to live ballet and opera performances. If you find yourself up late at night with a hankering for some tasty arroz, Los Pinos is open 24/7.
Isla Verde
Isla Verde is the beach district of San Juan and is best known for two things: beautiful beaches and luxury hotels. Look here if you're interested in finding an all-inclusive hotel deal. East of where the main beach ends, Pine Grove Beach is a favorite among the locals. But if it's surfing you're after, continue east of Pine Grove to find where the waves begin to break. Get into culture at the Museo de Arte de Puerto Rico, which is home to works from the 17th century to the present.
Hato Rey
Hato Rey is largely formed by the city's financial district. Travelers can find skyscrapers, a federal complex, as well as businesses and banking offices. The area is shaped by the Puerto Rico Coliseum, a venue that has hosted big names in music, comedy and dance. It's also where the Tren Urbano is being constructed (so watch for traffic).
Rio Piedras
Rio Piedras is home to the beautiful University of Puerto Rico and the distinctive Roosevelt Bell Tower, a tribute to Theodore Roosevelt who donated funds for the construction of the school.  Here you'll also find the lush UPR Botanical Gardens. Stop at the Rio Piedras Marketplace where you can purchase locally grown, fresh produce in addition to quaint shops and eateries.  
More Things to Do
Join a block party
La Placita de Santurce is the center of nightlife in San Juan. Located in a historic market plaza, you can go here late at night for drinks, food and an all-out salsa party. It's here where you get to experience the heart and energy of the Puerto Rican people.
Kayak in the Bioluminescent Bay
Kayak in the bay at night so you can see the phytoplankton light up. The best bio bay is the Mosquito Bay in Vieques, which is in the southern part of the island. To get here, you can take the ferry. It costs $4 round trip and departs three or four times a day.
Spend a morning/afternoon at Casa Bacardi
Learn about the company's history, take a mixology class, tour the Bacardi distillery and enjoy a cocktail on the open pavilion that offers a 360-degree view of Old San Juan.
Enjoy gourmet coffee
If you're not into rum, head to one of San Juan's gourmet coffee shops. A notable one is the Hacienda Pomarrosa, which stands at the top of a curvy mountain road. Reserve a tour to learn more about how the coffee is grown and roasted while taking in the panoramic views of the Puerto Rican countryside.  
Hike the trails of El Yunque National Rainforest
Take advantage of the miles of hiking trails throughout northeast Puerto Rico. Travelers are able to swim under waterfalls, enjoy the natural wildlife and visit the Yokahu Observation Tower where you'll find 360 views of the lush rainforest.
Roadtrip the panoramic route
This unique road trip takes you to the most spectacular views of rural Puerto Rico, passing barbecues, waterfalls and coffee plantations on the way.
Visit the 17th-century forts
Old San Juan is still surrounded by protective stone walls and citadels that defended the city against attacks from the 16th to the 19th centuries. Noteworthy sites include the Castillo de San Felipe del Morro (El Morro) and the Castillo de San Cristóbal. The views over the Atlantic are incomparable to any other from the island.
Explore the island's caves
Cueva Ventana is easy to get to by car and is about a 15-minute hike to the cave. The floors of the cave are slippery, so wear shoes with a good grip. Plus, pack your water bottles. The price of admission now includes flashlights, but get there early — the last tour leaves at 2pm.
Ole – hat boutique
Get yourself a custom-made hat on the spot at this family-owned hat boutique in Old San Juan. You'll also find local art, shoes and baskets for purchase.
Go to Perla for dinner
The distinctive shell is surrounded by a reflecting food and is decorated using hand-blown glass lamps that light up the ceiling.  It is located adjacent to La Concha hotel, which suffered water damage after rain slipped through the cracks going 140 mph during the hurricane, but made a quick recovery in just 14 days.
Top 10 Most Instagrammable Places in San Juan
Condado Beach

Streets of Old San Juan

La Mina Falls, El Yunque National Rainforest

Castillo San Felipe del Morro

Cabo Rojo Lighthouse

Rincon Beach at sunset

Fort San Cristobal

The Pier by the Old City Walls

Vieques Bioluminescent Bay

Gardens in Old San Juan
Set the Mood
San Juan is the backdrop of some of cinema's sultriest films. Get a taste of the city before you experience the real thing by watching these films.
Mi Aventura en Puerto Rico (1977)

La Gran Fiesta (1985)

The Rum Diary (2011)

Pirates of the Caribbean: On Stranger Tides (2011)

Looking for Maria Sanchez (2013)

Cows Wearing Glasses (2014)

La Granja (2015)

Before the Rooster Crows (2016)

La Granja (2015)
Feeling that San Juan vibe? Here's a playlist of tunes for planning your trip, taking a long walk around the city, or getting ready for a night out.