There are a lot of reasons to travel solo. Getting to plan an itinerary full of things only you want to do, not having to wait around for that friend whose morning routine includes hitting the snooze button 14 times, and there's no one to judge you for ordering two entrees. But let's face it, sometimes you do want a partner in crime to adventure with in a new city.
If you're not great at striking up unsolicited conversation with strangers, we teamed up with Tinder to do the heavy lifting for you. You swipe to meet people in your hometown, so why not use it on the road? Tinder's Passport feature even lets you set your destination in the app so you can start chatting with locals and fellow travelers. Now you have travel tips (and a few potential new friends) lined up before you even land.
But where should you put this solo travel hack to work? We dug into our data to find the destinations where the most people are flying solo.
Bergen, Norway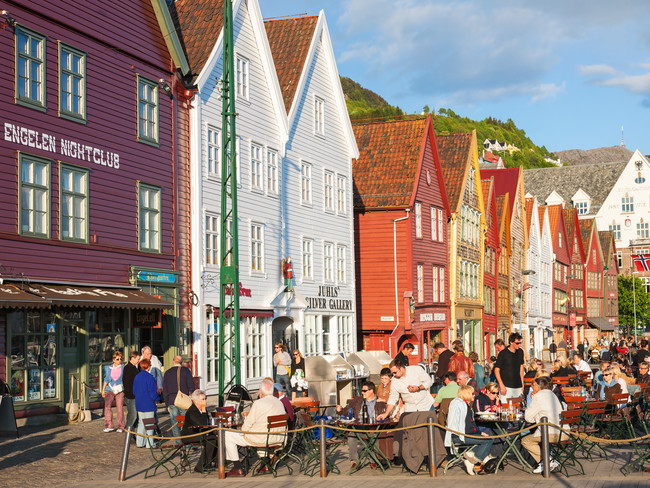 Why go solo: Consistently topping lists of the happiest countries in the world, there are plenty of reasons to visit Norway. Get a taste of the country by heading to Bergen, where 88% of searches are for solo travelers.
Getting there: Fly into Bergen Airport and take the Airport Bus to the city center in around 30 minutes. Buy a ticket online to save time.
Date idea: Meet for coffee at one of the city's cute cafes – coffee culture here is huge. Once caffeinated, head to the harbor for a fjord cruise. Want to keep the date going? Dine on fresh seafood for dinner.
Tinder pro tip: Put your best self forward: Turn on Smart Photos and let Tinder do the work by choosing the photo that potential matches Swipe Right™ on the most.
Opening line: "Where can I find the best cup of coffee?"
Split, Croatia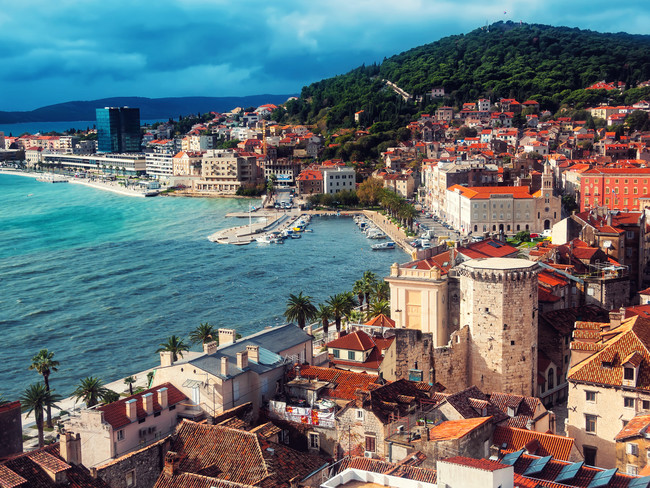 Why go solo: With so much to do in this waterfront city, getting a group to decide on one activity is near impossible. Relax on the beach or a day of sightseeing? The solution – go solo. In fact, over 86% of KAYAK flight searches to Split are for solo travel.
Getting there: Fly into Split Airport and take the airport bus to the city center in 30 minutes. If you have more time (or want to compare costs), consider flying into Croatia's largest International Airport in Zagreb and taking the train to Split. It will take around 7 hours, but allow you to see two cities.
Date idea: Raise a glass of local wine at a waterfront restaurant on the Riva before wandering through the city's Old Town where you'll stumble across vendors selling handicrafts and souvenirs.
Tinder pro tip: Think ahead by making connections before you arrive at your destination with the Passport feature and make plans while you're waiting in the TSA line.
Best opening line: "I lost a glass slipper at Diocletian's Palace, could you help me find it?"
Casablanca, Morocco
Why go solo: When you think about traveling to Morocco, Marrakesh may be top of mind. But according to our data, solo travelers have their eye on another city. – Casablanca. In fact, 86% of travelers are flying solo.
Getting there: Fly into Casablanca Mohammed V International Airport and reach the city center by train or taxi in 45 minutes.
Date idea: Get lost on purpose wandering through the medina, taking in the sights and smells while shopping for authentic souvenirs. If your date is a local, they can teach you how to haggle. Afterward, take a breather with a stroll through Casablanca's largest open space, Parc de La Ligue Arabe.
Tinder pro tip: State your intentions: Update your bio and let your potential matches know you're traveling and want to know where the cool local spots are.
Opening line: "Of all the matches, in all of Tinder, in all the world, you walked into my DMs."
Panama City, Panama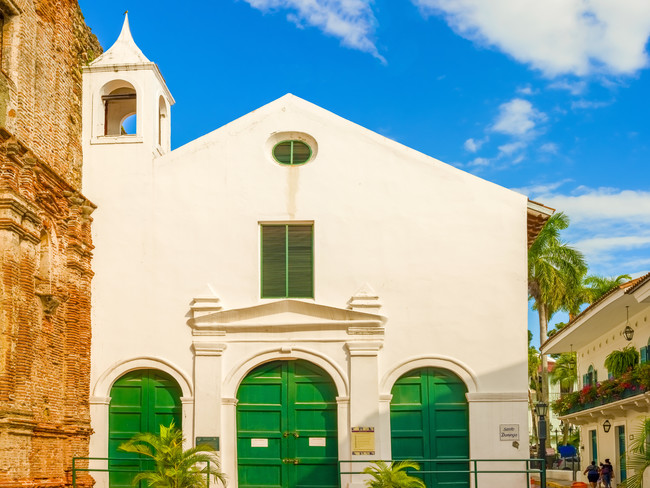 Why go solo: This Central America city is both urban metropolis and tropical getaway. Which may be why it's a popular choice among solo travelers – 85% of Panama City flight searches are travelers going solo.
Getting there: Fly into Tocumen Airport and easily get to Panama City by taxi or ride-share app. You can also take the Pineapple Shuttle, which travels between the airport and a number of city hostels three times a day for $9.
Date idea: Head to the Metropolitan Natural Park – a wildlife reserve within the city where you can see toucans, sloths and other Panama locals. Later, dine on local Panamanian cuisine or wander the city's fish market where you can try ready-to-eat favorites like fresh ceviche.
Tinder pro tip: Share your matches profiles with friends from back home and get their opinion before you meet up to make sure you don't have vacation goggles.
Opening line: A simple sloth waving GIF is all you need.
Trondheim, Norway
Why go solo: Trondheim is a city made for traveling at a leisurely clip, which is only one of the reasons why solo travelers may enjoy the freedom to explore at their own pace. So it's not too surprising that 85% of travelers to Trondheim are going solo.
Getting there: Fly into Trondheim Airport and reach the city center by train in around 35 minutes.
Date idea: Stroll the Bakklandet neighborhood famous for wooden warehouses, art galleries, design shops, coffee houses and restaurants. Check out Dromedar Kaffebar Bakklandet for their African coffees.
Tinder pro tip: Go the distance by expanding your search parameters and see who lies beyond the Trondheim city lines. Who knows? Maybe you'll find a new adventure in Oslo.
Opening line: "Is it true Trondheim is the friendliest city in Norway?"
George Town, Cayman Islands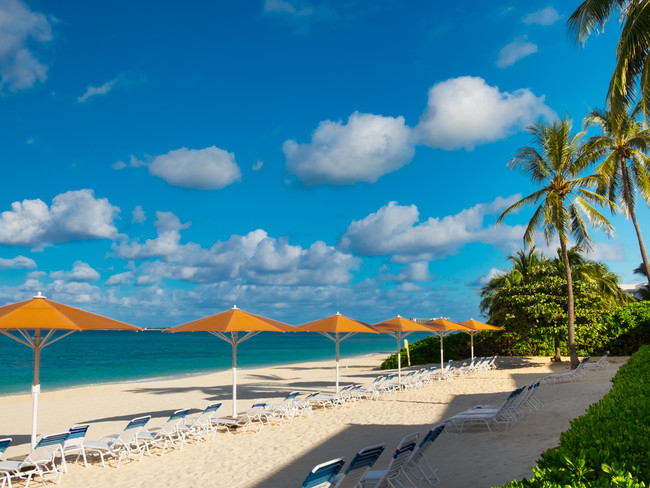 Why go solo: While you may be surprised to see the Cayman Islands on this list, it's true – 84% of flight searches to George Town are solo travelers. Sometimes a beach vacation (and limited human contact) is just what the doctor ordered. And when you realize you miss human connection, there's Tinder.
Getting there: Fly into Grand Cayman (Owen Roberts International Airport) and grab a taxi to George Town in minutes. Agree on the fare before getting into the cab or ask to see the official rate sheet set by the government.
Date idea: Visit the Cayman Turtle Center to swim with turtles in a lagoon full of colorful marine life, walk around in the flight aviary where Cayman parrots fly freely around you and go for a swim in Breakers Lagoon.
Tinder pro tip: The more pics the better — if you're thinking about meeting up at the Turtle Center, one or four photos with animals can't hurt.
Opening line: "Which way to the beach?"
Nice, France
Why go solo: While Paris is a perennially popular destination, we're seeing tons of solo travel interest to another French city. According to our data, 84% of travelers heading to Nice are visiting solo. (Smart move if you don't want to share your wine.)
Getting there: Fly into Nice-Cote d'Azur Airport located just west of the city. You can take an Airport Express bus from the airport for less than $10. Just buy a ticket from the bus desk at the airport. If you decide to take a taxi, be sure to take advantage of the flat rate (32€).
Date idea: Wander the Promenade des Anglais taking in sweeping views of the Mediterranean sea. Afterward, head to Musee Matisse to admire one of the largest collections of his work. Cap off the afternoon with a glass of local rosé.
Tinder pro tip: Include a question in your Tinder bio to spark conversation. Favorite cheese or go-to wine, perhaps. That way, you have something in common and some local recommendations.
Opening line: "Red or white?" That way you'll know if you're suited to split a bottle, or better yet, will just have to order two.
Palma de Mallorca, Spain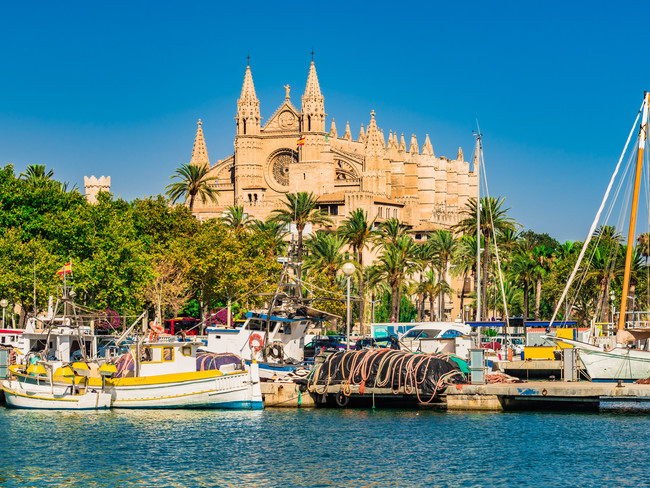 Why go solo: Nothing says 'treat yourself' quite like a solo trip to Mallorca. And the 84% of solo travelers searching flights to Mallorca agree.
Getting there: Fly into Barcelona – Josep Tarradellas Barcelona-El Prat Airport – and take a small plane or 3-hour ferry ride to the island. Rent a car to explore the city at your own pace.
Date idea: Palma is rich with culture and history dating back as far as 3000 BC. Spend the day touring the medieval architecture of the island. For more modern culture, peep the contemporary art at Es Baluard.
Tinder pro tip: Include a couple of the things you want to see and do right in your Tinder bio to find people who are up for a day at the aquarium before you even start chatting.
Opening line: "Wanna snorkel?"
Amsterdam, Netherlands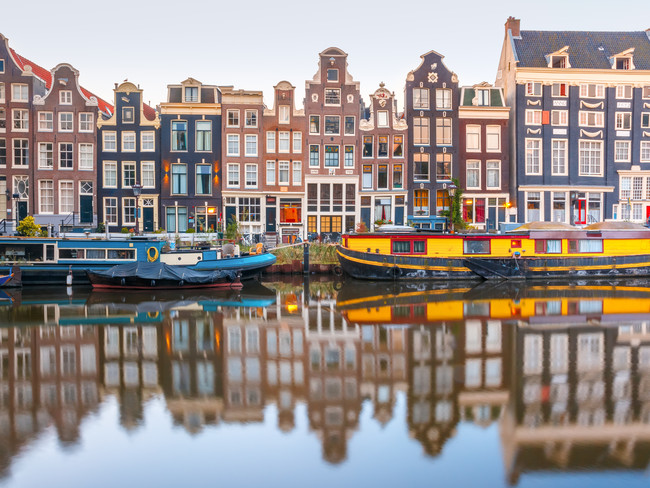 Why go solo: Amsterdam is a solo travel staple for a reason. It's extremely walkable with tons to experience in close proximity to public transportation and lively accommodations. So even when you go solo, you'll hardly be alone. In fact, 82% of KAYAK flight searches to Amsterdam are for solo travel.
Getting there: Fly into Amsterdam Airport Schiphol and take the train directly from the airport to the city center in 15-20 minutes. Trains are easily accessed right from the airport's arrival plaza and you can buy a ticket online to save time.
Date idea: Meet by the canals before renting a tandem bicycle to explore the city. Spend the afternoon wandering through the Van Gogh Museum. Pack a picnic and eat outdoors at one of the city's gorgeous urban parks. You can reach Westerpark from the Van Gogh museum by bike in around 15 minutes. If you haven't tired of your companion just yet, a sunset boat ride on the canal may be just the thing.
Tinder pro tip: Everyone wants to see your face so skip the hat and sunglasses in your profile photo and get seen.
Opening line: "Want to split a stroopwafel?" (Skip the classic "Are you from the Netherlands? Because Amsterdammmm")
Cancun, Mexico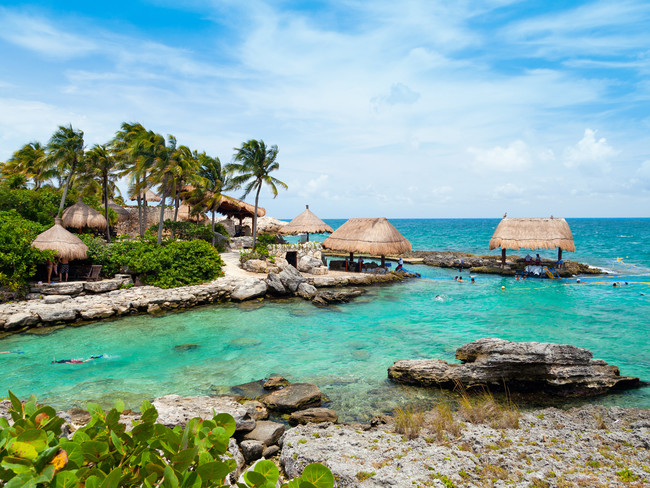 Why go solo: What was once known as Spring Break central is actually so much more. In fact, 82% of travelers heading to Cancun are ditching their crew and flying solo.
How to get there: Fly into Cancun International Airport. Find a hotel that includes airport transfer (filter your hotel search to easily find one) or book an airport transfer in advance.
Date idea: Hit the beach. Spend the morning snorkeling at the Cancun Underwater Museum – where you can glide between ethereal underwater works of art – and the afternoon lounging on the sand.
Tinder pro tip: Add your favorite vacation song as your Spotify Anthem to spark conversation and find like-minded travelers to enjoy Cancun's nightlife.
Opening line: "First round of tequila shots is on me."
This guide was written in partnership with Tinder.

Methodology:
We considered flight searches conducted on the US KAYAK site from March 2019 – August 2019 for travel September 1, 2019 through December 31, 2019.