From what to eat to how to order, avoid looking like a tourist when you travel with our 25 tips to dining like a local around the world.
Whether you're venturing across the globe to Tokyo or taking a quick weekend trip to Chicago, these tips and tricks will ensure your ordering etiquette is on point and your noodle-slurping prowess is top-notch.
You'll be ready to put them to use at one of our 25 hidden-gem restaurants worth traveling for in no time.
Dubai, United Arab Emirates
Buying alcohol in Dubai? Make sure to get a permit first. Non-Muslim visitors over the age of 21 can score a free one-month license at select local liquor stores.
Mexico City, Mexico
Observe the local tradition of sobremesa – the cherished act of lingering after meal. And it can go on for hours.
Chicago, Illinois
Never put ketchup on a hot dog. Order it "dragged through the garden" – think yellow mustard, white onions, tomatoes, peppers sweet relish, celery salt and a dill pickle – and you'll blend right in.
Miami, Florida
If you don't eat a Cuban sandwich, you're not doing it right. But don't say you had a better one in Tampa. The two cities have been locked in a battle over the sandwich's origin for years.

Berlin, Germany
Sitting at the "Stammtisch" is a big deal. It's the table reserved for family, staff and regulars. There's typically a sign, so don't sit there unless you're invited.
Amsterdam, Netherlands
Know the difference between a cafe and a coffee shop. They're really not the same. One is more about coffee beans and the other is more about, well, leaves.
London, England
Afternoon tea happens at home. High tea is enjoyed at a restaurant. But both happen around 4pm daily. And that's the tea.
Sydney, Australia
Hotel often means pub. They'll offer you a pint, but don't try to sleep there. Unless, of course, you're staying at The Lord Nelson Brewery Hotel – Sydney's oldest hotel (it's been around since 1841) is also home to Australia's oldest pub brewery. We'll raise a pint to that.
Vancouver, BC
Canadian bacon isn't a thing. It's called "back bacon." But if you want regular bacon, it's still called bacon.

Madrid, Spain
Locals eat lunch around 3pm and dinner around 9pm – if you're wondering why you couldn't make that dinner reservation for 6:30. Enjoy a larger, more filling lunch to fill you up – paella, anyone? – and a lighter dinner later.
Cancun, Mexico
Good tequila is made for sipping. Most connoisseurs say "good" tequila is 100% agave.
San Francisco, California
Science agrees: Sourdough tastes better in San Francisco. It's all thanks to lactobacilus sanfranciscensis – a special bacteria discovered in the city.
Honolulu, Hawaii
Ordering a side of poi? This smooth purple paste is made from a root vegetable called taro. While it has the consistency of pudding, it's meant to be eaten with your fingers. So skip the utensils and embrace this traditional dish in local fashion.

Tokyo, Japan
Slurping noodles makes them taste even better. Plus, it's actually considered polite.
Las Vegas, Nevada
Drinks are typically offered for free in casinos as long as you're playing, but don't forget to tip. It's customary to tip $1-$2 per drink.
Munich, Germany
Whenever you order a stein, cheers with the bottom of the glass and make a lot of eye contact.
Orlando, Florida
Want lean meat? Go for gator. The chicken-like meat is high-protein and low-fat.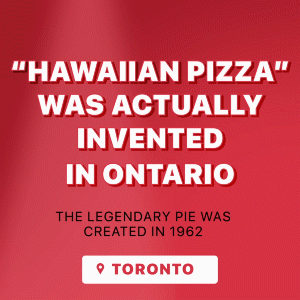 Toronto, Ontario
Hawaiian pizza was actually invented in Ontario; the legendary pie was created in 1962. It's been 57 years and the pineapple-on-pizza debate is hotter than ever.
New York, New York
Never order a fresh bagel toasted. But bagels that have been sitting in the case all day, go ahead and toast away.
Dublin, Ireland
Order beer in rounds. Everyone takes a turn ordering for the whole group. Sláinte!
Barcelona, Spain
Did you even travel to Barcelona if you don't eat tapas? Just remember, tapas are not one type of food. They're a way of enjoying food. There's even a Spanish verb that means "to eat tapa" – tapear.

Los Angeles, California
LA is the unofficial donut capital of the world – in fact, there are nearly 1,500 donut shops in the city alone (that's more than any other US city). So whether you opt for the trendy glitter frosted or one stuffed with fresh fruit, donuts are an iconic staple in this SoCal city. There are no holes in this logic.
Frankfurt, Germany
Asking for tap water in Germany is considered super weird. If you want to dine like a local, go with some mineralwasser.
Boston, Massachusetts
Boston doesn't have happy hour drink specials, so double up on the happy hour food. Cheap sampler platters will always be better than cheap beer in our opinion.
Fort Lauderdale, Florida
Hop on a water taxi to find the best seafood. The "Venice of America" touts canals full of bars, restaurants and fisheries.
Now that you know how to dine in 25 of our favorite foodie cities, get our take on where to dine – we teamed up with OpenTable to find the top hidden-gem restaurants in each.