You might have heard that two one-way flights can save you time and money. But let's be honest, finding that perfect match of flights can be a time suck and doesn't *always* result in the savings you hoped.
Enter KAYAK's Hacker Fares. We do the work for you, showing you one-way flight combos right in your search results, only when and where it can actually save you time or money.
Still not sure if a Hacker Fare is right for you? Here's everything you need to know to make the decision for yourself.
Search for flights using Hacker Fares
What's a Hacker Fare?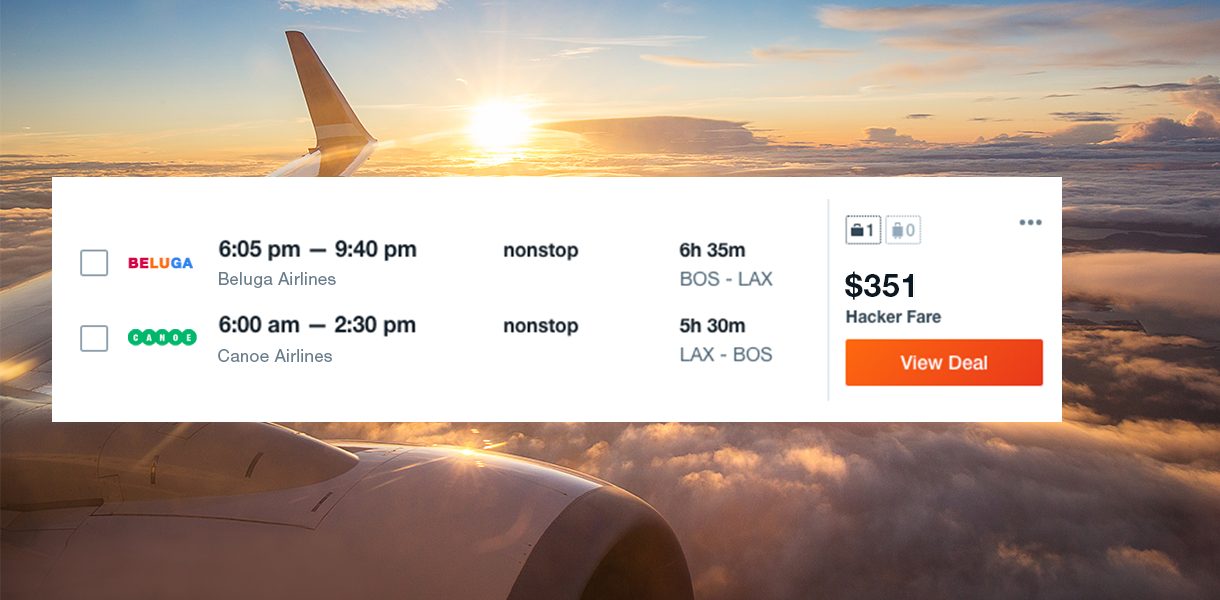 Instead of making you book one round-trip ticket from a single airline, KAYAK plays airfare matchmaker by finding two one-way tickets that together make a round-trip flight. Sometimes that means you might take a different airline home than the one you took to your destination. Other times, it's the same airline, but they have you in the system as two one-ways.
Either way, you'll get there and back while usually paying less than you would if it were a regular round-trip flight.
Why does KAYAK do this? We think you should have options when it comes to travel, even if that means breaking the mold a bit.
How do you book a Hacker Fare on KAYAK?
After searching for a flight, you'll see "Hacker Fare" clearly identified under the price. Simply select the "View Deal" button to start the process. Just be sure that prices for both tickets are available before booking. To do this, simply open each booking page in a new tab and double-check the price and availability. Book and you're good to go. You can even forward your bookings to trips@kayak.com and we'll start building an itinerary for you in KAYAK Trips.
Things to remember
Hacker Fares can save you a significant amount of cash, but there are a few things to keep in mind.
Airports
In cities with multiple airports, sometimes the most affordable combination of flights may arrive at and depart from different airports. When this is the case, we will highlight the airports in your search results to give you a heads up. But always be sure to double check the location listed on your reservations before you leave for the airport, and pay special attention when airports may have similar codes. For example, Toronto Pearson International is YYZ and Toronto's Billy Bishop Airport is YTZ.

Baggage fees
If you're booking a Hacker Fare that uses different airlines, make sure to consider your baggage situation. While the airline flying to your destination may allow for a free carry-on, the ticket for your return flight may not. Lucky for you, there's an easy fix for this: use our Fee assistant when you search to factor in all baggage costs
Filter by Hacker Fares
You can easily filter your search results to show Hacker Fares. If you're not seeing them, just make sure the box under our Flight Quality filter is checked when you search for flights. If they're still not showing up, there just may not be Hacker Fare options for that particular route. But rest easy, the results you are seeing are the best prices.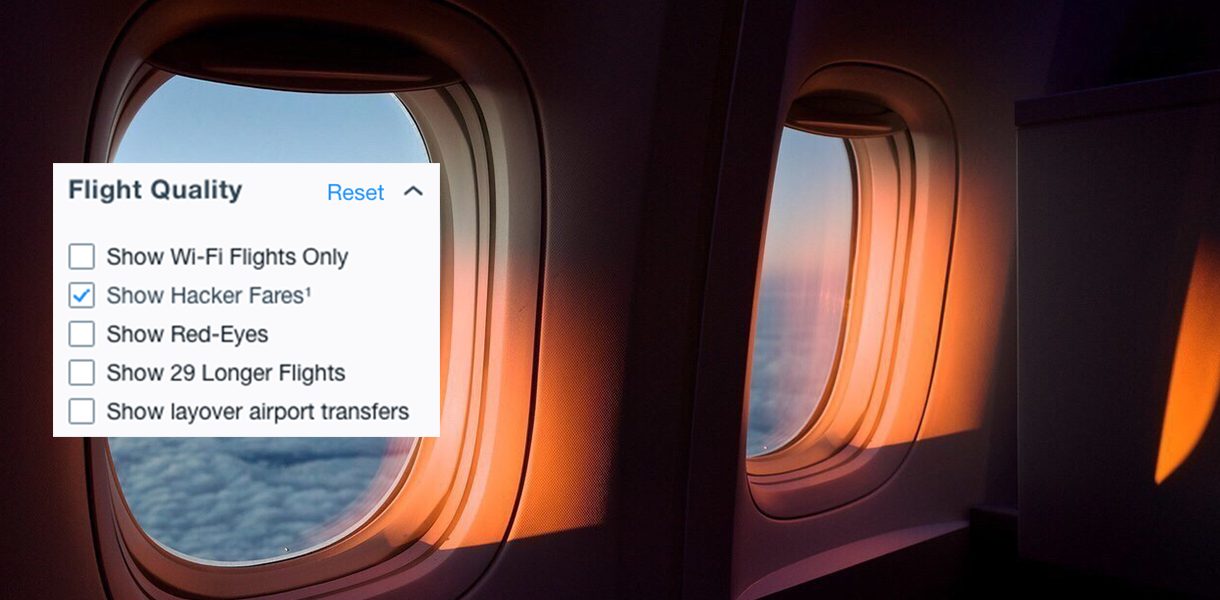 Multi-city travel
If your booking a multi-city trip that will have you flying into and out of multiple cities over an extended period of time, be sure to have proof of onward journey accessible when going through border control. For example, if your multi-city trip starts with a one-way ticket to Paris, and you're continuing on around Europe from there before another one-way flight taking you back stateside, you may want to keep your return flight reservation handy to show you have a flight back on the books.
Introducing Hacker Stays
Because we realized how much money travelers were saving with Hacker Fares, we decided to try it with hotels too. Now, you can find "Hacker Stays" on select hotel options. Basically, this is when we find two great deals from separate providers for the exact same hotel during the dates of your stay.
For example, if XYZ.com has a special rate on the first two days of your stay, but ZYX.com has an even cheaper rate for the following days of your trip, we'll combine them. Then, you book with both sites and receive separate confirmations, even though it all adds up to one stay.
The only caveat is that booking this way may require a room change during your trip. To help avoid having to switch rooms on vacation, you can always let the front desk know at check-in that you've booked two consecutive stays. (They can usually work things out for you.)