Looking for a vacation spot that's affordable, yet effortlessly cool? Look no further than Mexico City — our #1 Trending Destination for 2019. With a 73% increase in KAYAK searches, more and more travelers are discovering the charms of this colorful and cultural hot spot.
Whether you're in it for the flavorful cuisine found in four-star restaurants and streetside stalls alike, the vibrant music and nightlife, or the favorable exchange rate and affordable flights (the average price for a round-trip flight from the U.S. is $268), there's no time like the present to see it all for yourself.
Read on for everything you should know before planning a trip to Mexico City. From when to book to how to get around to what to do, we have the info you need to travel with confidence.
What's in This Guide
Plan Your Trip
Booking Advice
Local Lingo
Where to Go & What to Do
10 Instagrammable Spots
Set the Mood
Plan Your Trip
Flights & Hotels
Check out personalized insights from your home airport to Mexico City, such as median airfare, when to book a flight and what qualifies as a good deal.
When to visit
There's no bad time to visit Mexico City with year-round temperatures averaging 75 degrees and plenty to fill your calendar each month. But depending on what's important to you, there are some months that may be better than others. If cost is a concern, travel during winter (with the exception of December, which sees a surge in interest) — average temperatures are still in the 50s so no need to pack your winter coat.
The rainy season runs from June to September, but later in the fall is the sweet spot between low prices, great weather and some of the coolest experiences. Travel at the start of the November to take part in the Day of the Dead festivities if you can, or keep an eye on the dates for Cerveza Mexico, an annual beer fest in fall, which showcases craft breweries from all over the country.
How to get to the city from the airport
Benito Juárez International Airport, more commonly referred to as Mexico City International Airport (MXC), is the most popular entry point for visitors and is located about 8 miles east of central Mexico City. Travel time can vary based on traffic, but there are a few quick and convenient ways to make the trip. The Metro is cheap and may even be faster than a taxi or rideshare, especially during rush hour. (However, you may not be allowed on with large luggage.) The metro station Terminal Aerea is served by Line 5, running from Pantitlán to Politécnico, and is represented by the color yellow. The station is located just a few minutes walk from Terminal 1.
For the quickest and easiest commute, use rideshare. Uber operates in Mexico City and can be called when you're ready to head outside from baggage claim. Provide the driver with your terminal and door number and they'll meet you curbside. Fares start around MX$85 (less than $5). Metered taxis are also available, but if you don't speak Spanish and want a bit more security, avoid hailing cabs and instead find one at designated taxi stands or through the popular Easy Taxi app.
Good to know
Uber is your best bet for getting around. Uber is more affordable than regular taxis and more easy to navigate for non-Spanish speakers. Many drivers won't speak much English, but with Uber they will have your destination and information available to them through the app, all rides are tracked and payment is handled electronically. However you choose to get around, avoid travel at rush hour if you can since traffic can be extreme.
On your first day, take out more cash than you think you'll need at the ATM to avoid paying multiple fees. Cash is king in Mexico City and you'll need it for most transactions. Plus, it's one of the rare circumstances where exchanging your spare pesos back to USD at the airport will actually benefit you in terms of the exchange rate.
Drink plenty of (bottled) water. Mexico City is 7,200 feet above sea level and the high altitude can take some adjustment. Hydrating is one of the best ways to counteract the effects. But, as you've probably heard or seen comically portrayed in movies, drinking from the tap may make you sick, so sticking to bottled water is your best bet.
Make dinner reservations a few days in advance (or weeks in advance for more popular restaurants), but always leave room for street food.
Price
$
On the ground costs in Mexico City are extremely affordable. On average from the US, round-trip flights can be less than $300. The currency is the peso and the exchange rate is favorable — one U.S. dollar is equal to almost 20 pesos. Tipping around 10-15% at restaurants and bars is customary (just leave money on the table or bar), but tipping is not expected for street food or when riding in metered taxis.
Local Lingo
While knowing some Spanish can be helpful, Mexican Spanish features some slang you may not be familiar with. Here are some words that may come in handy.
Güey (Pronounced and sometimes spelled "wey"): Mate, dude or any reference to a person without using their name. If you only remember one term, this is it.
Carnal: Close friend
Chela/Cheve: Beer
¿Mande?: What did you say?/Pardon me. Used when you'd like someone to repeat something you didn't hear or understand the first time.
Chido: Cool/Awesome
Fresa: Literally means "strawberry," but in Mexican Spanish it can also be used to describe someone as stuck up or snobby.
¡Aguas!': Be careful/Watch out
¿Qué onda?: What's up?
Booking Advice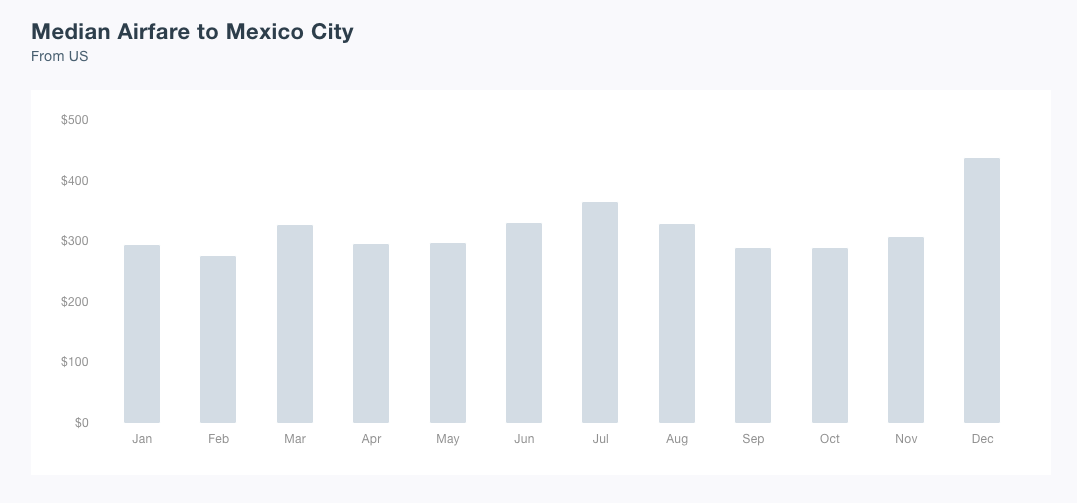 Based on median airfare, if you're looking to find a flight deal, here's what you need to know: February sees the lowest median airfare from the U.S. ($278) and December is generally the most expensive time to visit (median airfare $439) because of the holidays. We found that booking 6 months ahead could get you some of the best deals on flights (median airfare: $319). Prices may go up slightly after that, but there are also some deals to be had for last-minute travel if you book one month ahead (median airfare: $320).
*Median airfare by month is based on travel dates 03/01/2018 – 02/28/19 and search dates 10/25/2017 – 10/24/2018. All coach, round-trip flights originating in the U.S. during this search period were considered. Our when to book recommendation was based on median airfare as a function of months before departure for travel dates 03/01/2018 – 02/28/19 and search dates 10/25/2017 – 10/24/2018.
Where to Go & What to Do
Note: Check out this map to see the city's neighborhoods.
Mexico City is BIG. It's larger than New York City — in fact, it's the 6th largest city in the world. But don't let the size deter you. Getting oriented is easier than it may seem, especially when you take it neighborhood by neighborhood. There are two main roads. The first, Insurgentes, runs north to south through many of the city's different neighborhoods including Condesa, Roma and Coyoacan, among others. The second, Reformas, runs diagonally — southwest to northeast — taking you through Zona Rosa and El Centro. When you break it down by neighborhood, it's a lot easier to comprehend.
El Centro
Also referred to as Centro Historico, this is Mexico City's downtown and where you'll find the main square and one of the city's most well-known landmarks, the Zocalo. Any first-time visitor should make it a point to spend a bit of time in this historic center, even though it can get crowded. Snap photos of the Palacio de Bellas Artes with its yellow and orange roof. For the best angles, head to the Sears building across the street and up to the 8th-floor cafe, Finca Don Porfirio. If you need a break from the crowds, head to Alameda Central, an urban park where you can people watch and enjoy some fresh air.
Zona Rosa
Located west of the city center, Zona Rosa is energetic and lively and a popular neighborhood with travelers, especially for those looking to take advantage of the nightlife. From clubs to karaoke bars, Zona Rosa (also known as "the Pink Zone") has what you're looking for. With a large LGBTQ+ community, Zona Rosa is also where you'll catch the Pride Parade in June.
Roma
With an award-nominated film named for (and set in) the neighborhood, Roma is getting more attention as of late. It's bordered by Zona Rosa and El Centro, but it sets itself apart as an artsy enclave with a cool hipster vibe. Here you'll find trendy bars and art galleries set amid neoclassical architecture and pretty tree-lined streets. Snap photos in front of street art, buy handmade souvenirs from the artists themselves and enjoy a handcrafted cocktail at bars like Aurora Roma or Licoreria Limantour.
Condesa
Like it's neighbor Roma, Condesa has a chill bohemian attitude. Art deco architecture and colorful street art allow for photo ops at every turn. For local flavor, wander through Parque Mexico where you'll catch friendly locals, music, performances and a number of well-behaved dogs partaking in obedience school. While in Condesa, dining on tacos and mezcal is a must. Tacos Hola serves up stewed tacos made in clay pots, while Taqueria El Greco offers arabe-style tacos served on pita. Both have been around for more than 40 years.
Coyoacan
A quieter neighborhood than some of the others, Coyoacan is home to some of the city's most iconic art and museums. Once home to Frida Kahlo, you can visit her house from the 1950s — La Casa Azul (The Blue House) — and explore the Museum of Frida Kahlo. Take time to wander through Mercado de Coyoacan, a Mexican market where you'll find local handicrafts alongside groceries. You may find the prices better here than at markets in some of the more touristy areas of the city.
Polanco
This upscale area boasts premier shops and internationally known restaurants — but that doesn't mean it's short on culture. Check out the artwork of 20th-century Mexican artist David Alfaro Siqueiros at the Sala de Arte Publico Siqueiros or visit the Soumaya Museum (in a very recognizable shimmering silver building) for glimpses of art by Picasso, Renoir, Dali and Van Gogh. While you're there, window shop (or splurge) at the shops along Avenida Presidente Masaryk — known as Mexico's Champs-Elysees. Book lovers should not miss Libreria El Pendulo — an elaborate two-story bookstore featuring a cafe where you can grab a coffee after you browse.
More Things to Do
Float down the city's canals
Visit the UNESCO World Heritage Site Xochimilco, where you can float through canals aboard trajinera boats. You'll pass boats holding mariachi bands playing music and a small island known as the Island of Dolls, where the former owner once hung dolls from trees to chase away evil spirits.
Start the day with a traditional breakfast
Indulge in the most important meal of the day at Fonda Margarita. Try the frijoles negro con huevos (black beans and eggs) and you won't be disappointed. Go early to beat the crowds.
Shop one of the most famous local flea markets
Each Sunday just 10 blocks from the city center, you'll find La Lagunilla Market, a traditional market where you can browse antiques, clothing, jewelry and anything else you can imagine. Grab a michelada (Mexican beer mixed with fresh lime, Tobasco and Worcestershire sauces) and browse the winding stalls for the perfect souvenir.
Watch a film from the water
Once a month, the Chapultepec forest hosts Lanchacinema, a movie screening on the lake with the best seats found aboard boats for 2, 4 or 6 people. When boats run out, you can still watch from the terrace. Admission is free.
Have dessert first
Head to El Moro Churerria in Roma for the sweet Mexican treat. Once inside, watch the confection being made and enjoy the very instagrammable interior of blue and white tile, bright lighting and long tables.
Get a 360-degree city view
Head to the 44-story Torre Latinoamericana, the tallest building in El Centro. The top floor features an observation deck for 360-degree vies of the city. There's also a restaurant one floor down, where you can grab a bite while peeping the impressive view.
Dance the night away
Spend the evening at Salon San Luis in the Roma neighborhood, where you can listen to live music and try your hand (and feet) at salsa and merengue in a classic Mexican salon popular with locals.
Top 10 Most Instagrammable Places in Mexico City
Casa Gilardi
Palacio de Bellas Artes
La Casa Azul
Coyoacán's street art
Xochimilco
Gran Hotel Ciudad de Mexico
Morisco Kiosk, Santa María de la Ribera
Ciudad Universitaria's Espacio Escúltorico
Casa Luis Barragán
Bosque de Chapultepec
Set the Mood
Mexico City is the backdrop for an eclectic group of films, from award winners to an animated children's flick. Get a taste of the city before you experience the real thing by watching these films.
Roma (2018)
Gueros (2014)
Nosotros Los Nobles (2013)
Frida (2002)
Y Tu Mamá También (2001)
Romeo + Juliet (1996)
The Chipmunk Adventure (1987)
The Magnificent Seven (1960)
Feeling that Mexico City vibe? Here's a playlist of tunes for planning your trip, taking a long walk around the city, or getting ready for a night out. Listen Local: Mexico City