So you really want to visit Atlantis (and rub elbows with one trident-wielding king in particular). While we can't set up a meet-cute with Arthur Curry, we have the next best thing. Here are 4 places where aquatic adventure is only a flight away.
The Maldives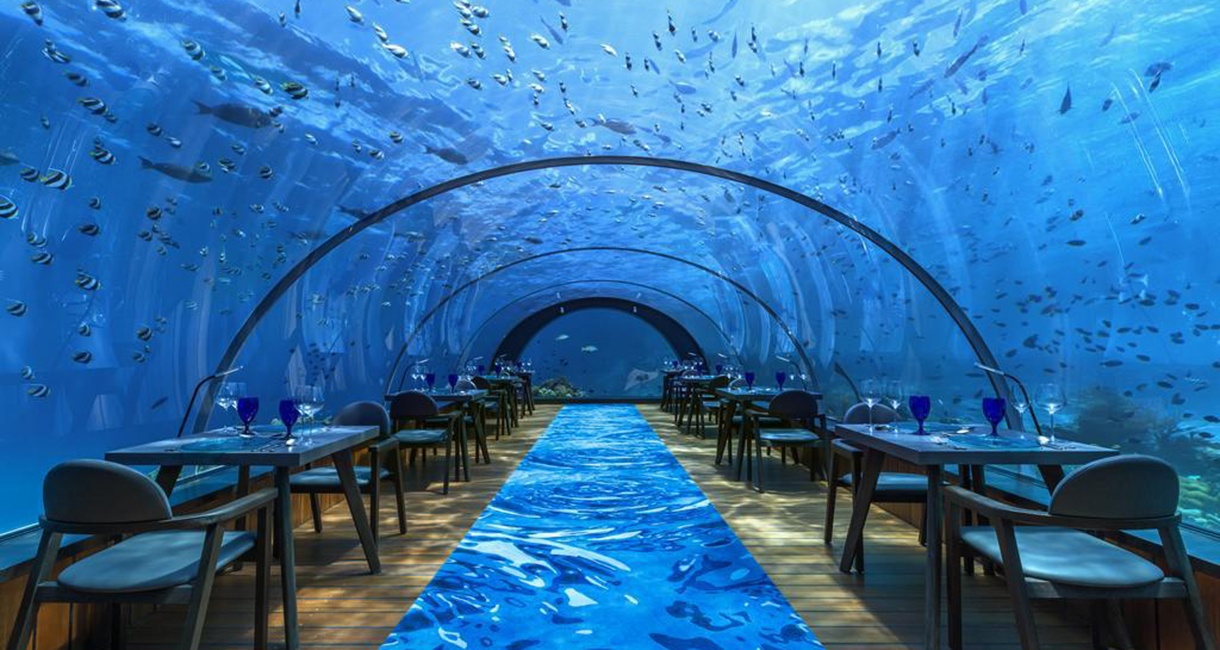 The Maldives are hot right now. And while temperatures stay in the mid-80s into January, we're not just talking about the weather. The popularity of this tropical destination is on the rise, and, as a bonus, there are plenty of opportunities to test out whether or not you can telepathically communicate with marine life.
After a day spent sunning on the shore, take your pick from a number of luxe underwater dining experiences. 5.8, locating inside Hurawalhi Island Resort is the world's largest all-glass undersea restaurant and gets its name comes from its distance from the surface – 5.8 meters, or nearly 20 feet. Another option is Sea at the Anantara Kihavah Maldives Villas, where you can check out the world's first underwater wine cellar before dining surrounded by sea creatures and tropical fish. If you're in the mood for a night out, head to Subsix at Niyama Private Islands, where you can keep the party going after dinner at the Underwater Glow Party on Wednesdays and Saturdays.
If you've recently hit the lottery or are up for a splurge, spend an unforgettable night underwater in The Muraka undersea villa at Conrad Maldives Rangali Island. The recently opened two-level residence goes for $50k a night.
And if you party a little too much, not to worry. Recover in style (and below sea level) at the world's only underwater spa at Huvafen Fushi.
Dubai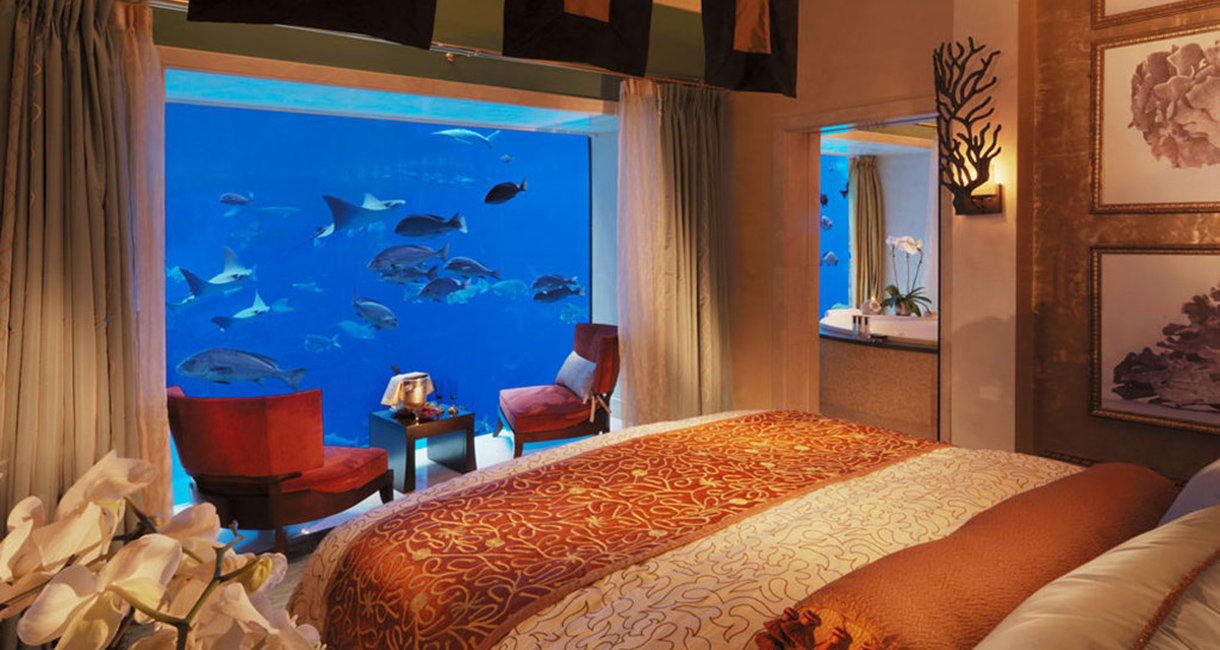 Dubai is topping the travel list of many looking for luxury, which means a number of underwater opportunities fit for an Atlantean king. While the Burj Khalifa is a sky-high must see, there are also some incredible views below sea level. Atlantis The Palm offers up two underwater suites, Poseidon and Neptune, with floor to ceiling underwater views.
Also at The Palm, the Atlantis-themed Lost Chambers Aquarium offers up diverse marine life as you wander the labyrinth of glass tunnels and chambers. And it doesn't end there. There are plans for additional underwater hotels in the works for Dubai, including one modeled after the canals of Venice.
Florida Keys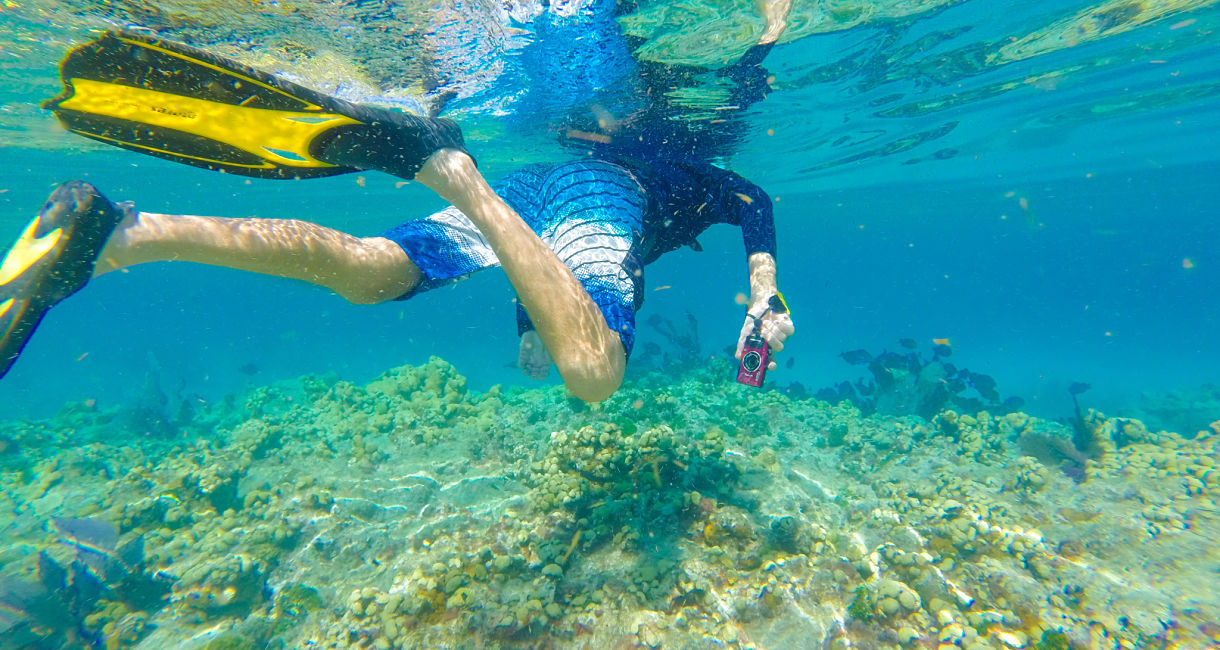 If you want to master the oceans a bit closer to home, we got you. You don't have to look far for laid-back nautical charm in the Florida Keys, but there's plenty to do under the sea as well.
While some underwater resorts may be pricey endeavors, that's not the case in Key Largo. Plan a weekend at Jules' Undersea Lodge for an aquatic overnight that won't break the bank. The only catch is that you have to dive to access the lodge. Gear is provided in the cost and if you're not SCUBA certified, you can get a Discover SCUBA Diving certification on-site for $95. Packages include underwater pizza delivery and breakfast. You can also skip the overnight and visit for just the pizza.
For more underwater excursions, head to Key Largo's John Pennekamp Coral Reef State Park, the first undersea park in the US. Snorkel or scuba amid tropical vegetation and marine life, or take a glass-bottom boat tour to check out some of the shallow reefs. Visit the nearby Florida Keys National Marine Sanctuary and selfie with a nine-foot bronze statue — one of the Keys' most popular underwater photo ops. It rests in shallow water, so you won't need diving equipment to get the shot.
For an even more unique aquatic experience, travel in July for the Lower Keys Underwater Music Festival, when hundreds of divers and snorkelers don costumes and rock out to music pumped underwater. The annual event promotes the protection of the area's coral reefs
Tanzania
When the weight of uniting the seven kingdoms gets to be too much, you just need to get off the grid for a while. Or, if you're like us, you don't need an excuse. The Manta Resort on Pemba Island in Tanzania is just that — a remote escape where you can disconnect (and get a pretty epic tan). Splurge on the Underwater Room, which is accessible only by boat 820 feet from the shore. The multi-story accommodation starts on a landing deck, prime for sunbathing and stargazing. Then, travel below deck to a 360-degree view of the ocean from your bedroom. During the day, snorkel around your private retreat before enjoying happy hour in your ocean oasis.
Looking for more Underwater Worlds? Use KAYAK Explore to find your next under-the-sea excursion filtered by budget.