Everyone knows the bustling streets of Manhattan and the hipster vibes of Brooklyn, but the NYC borough of Queens is finally having it's time in the spotlight. In fact, in recent years it's become a top travel destination. And what you'll quickly find, is that the Queens of your reality is so much bolder, brighter and diverse than the Queens depicted on the screen. A hub of art, food, festivals and music — see what this vibrant city neighborhood has to offer.
To get to Queens, you'll need to fly into one of New York's major hubs. For 3 years in a row, the city has remained our #2 most popular destination from over 1.5 billion annual searches. And with tennis's biggest tournament in the US coming to its boroughs, this guide will help you navigate one of NYC's under-the-radar cultural hubs.
What's In This Guide
Plan Your Trip
Flights & Hotels
Check out personalized insights from your home airport to JFK or LGA, such as median airfare, when to book a flight and what qualifies as a good deal.
When to visit
The best time to visit Queens is from September to October when the temperature is relatively mild (averaging around 68-57 degrees), and median airfare takes a tip after summer ($236-247). However, if you're more concerned with your per diem costs, we found that
How to get to the city from the airport
Queens is home to 2 of New York's major airports. The first is LaGuardia (LGA), located in northern Queens. It's only about a 10-minute drive from LGA to the heart of Queens. Because of the short distance, hailing a cab from the airport would be the easiest, but taking the the subway or public bus by purchasing a MetroCard will be significantly more cost-efficient. With the purchase of a new MetroCard, one-way rides with rides coming out to only $2.75. The Q70 bus ($2.75) can take you directly to Jackson Heights from LGA. The other major airport in Queens is John F. Kennedy (JFK), which is located on the southern side of the borough. This can be a bit of a longer taxi ride, depending on where you're going (up to 45 minutes). But if you'd prefer public transportation, the AirTrain makes it easy and cheap to travel to and from the airport. It's connected to MTA NYC Transit subways, buses and the Long Island Rail Road. Going to/from Queens, connect at the MTA NYC Transit J/Z Subway (J Nassau Street Local subway or Z Nassau Street Express subway) or the E train at the Jamaica Station.
Good to know
Queens is the biggest and most diverse borough of New York City. This diversity has created amazing opportunities for the neighborhoods to flourish. Creating a cultural melting pot has brought in all sorts of ethnic foods, like Astoria's famous Greek restaurants and Flushing's unparalleled Chinatown. The Queens community beams with pride, shown through their number of cultural events throughout the borough like the weekly Latin festivals.

Make sure you pack comfortable walking shoes and a reliable map because New Yorkers know how to walk and figure out public transport. A vast majority of locals don't own cars because of how easily accessible everything is by foot or by subway.

No one associates "beach" with NYC, but Rockaway Beach in Queens has become a favorite summertime getaway. Those looking to soak up the sun and enjoy fun food and drink on the boardwalk flock here on the weekends. And now, it's more accessible than ever with

the ferry line

connecting the beach with other parts of NYC.
Price
$$$
Visiting Queens is comparable to San Jose, California in terms of spending. For any sort of service — cabs, waiters, bellhops — it is customary to tip 15-20% (but can be between 20-30% for excellent service). An easy way to cut down on costs would be figuring out the public transportation systems to get around, rather than hailing a taxi or ride-sharing service.    
The Perfect Saturday
Start your jam-packed day in Queens in Astoria. Their unbeatable brunch spots are high in demand, so we'd recommend leaving yourself some time to wait out the lines (which are worth it).  To walk off a hearty breakfast, head over to the Museum of the Moving Image to learn about the evolution of filmmaking through digital media and art exhibitions. Then, head over to Jackson Heights for lunch. There are over 135 languages spoken in Jackson Heights alone which is reflected in its plethora of authentic food options. The neighborhood is mostly inhabited by immigrants from Asia and Latin America, but you can find a restaurant for virtually any cultural tradition. Try some of the famous Indian cuisine or Peruvian spices as you walk through the bustling streets of the neighborhood. From there, head over to Flushing and soak in all that Flushing Meadows Corona Park has to offer. As a previous site of the World's Fair and the fourth largest park in NYC, there is never a shortage of fun outdoor activities like visiting the Queens Zoo or the Queens Botanical Garden. Discover some of the best Asian cuisine you can find in the states by hitting Flushing's Chinatown for dinner. The area is one of the largest Asian neighborhoods outside Asia itself. Revel in the neon signage and a plethora of Chinese and Korean restaurants and boutiques, or head into downtown Flushing to the New World Shopping Center for some eats. If you're not too stuffed, end the night bar/pub hopping, Queens style.
Booking Advice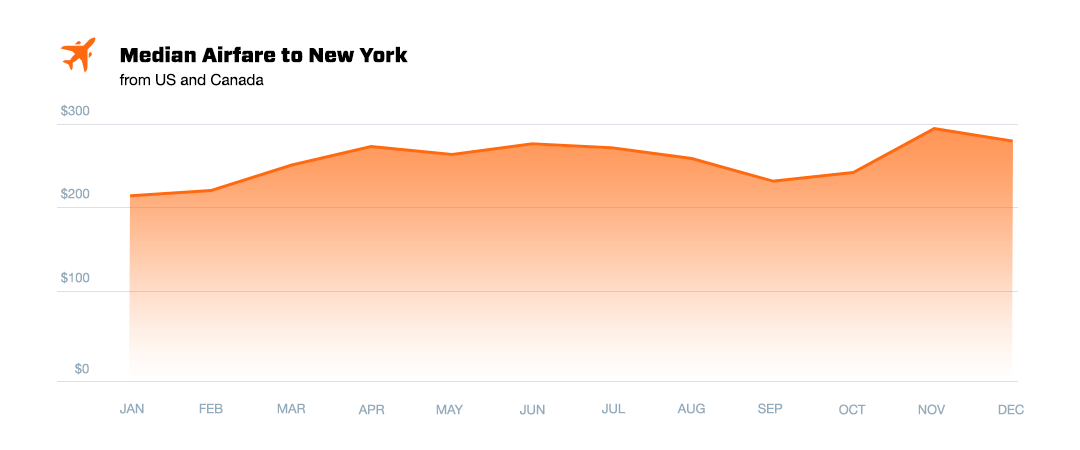 Based on median airfare, if you're looking to find a flight deal — January sees the lowest median airfare at $217 (but prepare yourself for the cold). November and December are generally the most expensive months to visit — thanks to the city's famous Macy's Thanksgiving Day Parade and holiday-inspired festivities. We also found that booking at least 3 months ahead could get you some of the best deals on flights (median airfare: $209).
*Median airfare by month is based on travel dates 11/01/16-10/31/17 and search dates 10/25/2016 – 10/24/2017. All coach, round-trip flights originating in the US or Canada and landing at NRT during this search period were considered. Our when to book recommendation was based on median airfare as a function of months before departure for travel dates 11/01/16-10/31/17 and search dates 10/25/2016 – 10/24/2017.
Local Lingo
Yes, they speak English in Queens, but NYC has quite a different way of talking than the rest of the States.  Here are some examples of New York lingo that will have you sounding like a local.
Pie: Pizza, pizza and more pizza. While the rest of the country thinks of a variety of baked desserts, pie means one thing in Queens and one thing only: Pizza. That said, New Yorkers "grab a slice" of pizza, they don't *buy* one.
The City: If you hear people talk about "the City," you may be thinking "But we're already in a city." Anywhere in the tri-state, "the City" refers to Manhattan.
Bodega: A corner store that offers virtually anything you could ever need.
Schmear: A large amount of cream cheese on a bagel. You're not getting the full New York experience until you get a bagel with a schmear and lox.
L-I-C: Locals never refer to Long Island City's full name because in New York, there's just no time. The trendy neighborhood in Queens is commonly referred to as LIC.
Time Out: Otherwise known as Time Out New York, the bible for all boroughs. This magazine is your guide for what's going on in the city on that day.
Shlep: To haul or carry something and be really annoyed doing so.
Stoop: The stairs leading up to an apartment building. You'll find some locals hanging out there to kill time or wait for their Uber.
Where to Go & What to Do
Note: Check out this map to see the city's neighborhoods.
The borough of Queens can be dated all the way back to when the British settled in America. It was actually named in honor of Queen Catherine of Braganza. In the 1800s, Queens began urbanizing rapidly, and the development of the Long Island Rail Road in the 1900s and the opening of the Queensboro Bridge made Queens more accessible than ever. Commuting into Manhattan was suddenly very convenient, which created explosive growth throughout the borough. This has continued exponentially over the last 30 years. Now, Queens is the second-most populous of the 5 New York City boroughs, housing over 2.3 million residents.
*Note: In the interest of time (ours and yours) we are focusing on only 4 of the borough's 60 neighborhoods (which balloons to more than 80 if you consider some of the areas within those neighborhoods). So, this is only a snapshot of all the amazing things to do in the city. Did we leave your favorite place off our list? Snap a pic, post a tip and use #KAYAKTravelHacker on Instagram for us to find it. You may score a feature on our blog or social media.
Astoria
Astoria is one of the most diverse neighborhoods in Queens. You could easily spend your entire visit here. The neighborhood is located right on the East RIver and offers spectacular views of the Manhattan skyline. It's home to places like Astoria Park, where visitors and locals alike can take in the views while having a picnic by the water, go for a dip in Astoria Pool, or enjoy the outdoor movies in the park during the summer. Astoria is also known for its museums — a noteworthy one is the Museum of the Moving Image, which gives visitors an interactive opportunity to learn about the history of film and digital media industries. But above all, Astoria takes food very seriously. Indie shops and cafes dominate Steinway Street. While there is never a shortage of drool-worthy brunch places (hello, Thirsty Koala), the neighborhood also offers some of the best Greek food in the city (looking at you, Telly's Taverna). Astoria is also known for having several over-the-top dessert places like Mom's where you can find creative milkshakes and Chip New York City for their awesome cookies. Astoria is also home to the popular Queens beer gardens, making it an easy place to kick back and relax like a local.    
Long Island City
Long Island City is the closest neighborhood in Queens to Manhattan. In fact, many LIC hotels offer a free shuttle service into Manhattan for visitor's convenience. The neighborhood was once an industrial zone and is now undergoing a revolution into a flourishing residential, arts and tourism sector. So it's becoming the perfect getaway for foodies and museum lovers alike. In fact, LIC is now home to a branch of the MoMa PS1, which is a great place to check out some revolutionary modern art. The neighborhood is also home to Gantry Plaza State Park, which offers the best views of Manhattan and features the famous Pepsi-Cola sign. Another activity unique to Long Island City is taking scenic walk over the Queensboro Bridge to midtown Manhattan.        
Flushing
There is so much to say about Flushing. Diverse, energetic and flourishing, it is home to some of the best commercial shopping hubs, a variety of ethnic communities, and some of the best authentic Asian cuisine you can find in the States. Flushing is the total package with 2/3 of Flushing inhabitants identifying as immigrants. In fact, the Chinese-immigrant population of Flushing has increased beyond that of even Manhattan's famous Chinatown neighborhood, so definitely check out some of the foodie gems throughout the neighborhood, like the Golden Mall. In addition to the outstanding food, Flushing is home of some of the best can't-miss spots in Queens, including Citi Field. The longtime home of the Mets is a quick 15-minute subway ride from midtown Manhattan on the 7. Queens has also been the host of two World's Fairs, which leads us to another gem of Flushing: the Queens Botanical Garden. Visitors can stroll through the gardens for free, visit the art exhibits, and especially during the fall, visitors can enjoy the beer and wine garden, lawn games, and local food vendors during the garden's Harvest Fest. Or you can visit the Flushing Meadows-Corona Park, where you'll find the home of the spaceships used in the Men in Black movies. Other oddities located in the park include two time capsules which are to be opened in the 6000s and the extensive Panorama of the City of New York, which is the largest architectural model of the city. But the park's most important feature is the USTA Billie Jean King National Tennis Center. This is where the US Open is hosted every year. So pack your rackets.
Jackson Heights
It's easy accessibility to midtown Manhattan and pre-war architecture has created a new, vibrant wave of tourists and inhabitants alike to Jackson Heights. The neighborhood's electric diversity has turned it into a haven for foodie travelers, offering some of the best Asian and Latin American cuisine in the country. Kitchen 79 encompases the experience of dining in Jackson Heights with some authentic Thai food. On the other hand, if you want a taste of Colombian cuisine, check out Cositas Ricas. From fruity Colombian drinks to spicy Indian food to stuffed Tibetan dumplings (just to name a few), you'll have every flavor covered. Take a stroll down 74th Street to get a taste of the various cultures, where visitors can purchase Hindi literature or prayer rugs from Southeast Asia.  
Top 10 Most 'Grammable Places in Queens
The Unisphere – Flushing Meadows Corona Park

Welling Court mural project

Pepsi Cola Sign at Gantry Plaza State Park

Hunter's Point South Park

Long Island City Piers

Flushing's Chinatown signs

Francis Lewis Park

Queens Botanical Garden

PS1 in Long Island City

Astoria Park
Set the Mood
Queens is the backdrop of some of the most popular films in the industry. Get a taste of the city before you experience the real thing by watching these movies.
Coming to America (1988)

Queens Logic (1991)

Men in Black (1997)

Spider-Man (2002)

The Switch (2010)

The Other Guys (2010)

Batman: Arkham City (2011)

The Adjustment Bureau (2011)

Oblivion (2013)

In Jackson Heights (2015)
Feeling that New Yawk vibe? Here's a playlist of tunes for planning your trip, taking a long walk around the city, or getting ready for a night out.