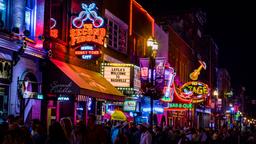 Find train tickets to Nashville
The price shown for each trip will be the average for all passengers, including any infants.
Top tips for finding Nashville train tickets
It is important to remember that the station in Nashville is not an Amtrak station but rather a Greyhound Bus station. That said, the station still offers several amenities for passengers. There are restrooms available here for passengers plus there are food and beverage options available inside the station that serve breakfast, lunch, and dinner. You will also find charging stations for your phones in the waiting area of the station as well as an ATM.
When you travel on Amtrak to Nashville by train, there is a fairly generous luggage allowance for passengers. While you can take up to four checked bags aboard an Amtrak train, it is important to note that there is no checked baggage service available at the station in Nashville. As such, if you are traveling here, it is probably best to limit your baggage to the two carry-on bags you can bring onboard an Amtrak train.
When you purchase train tickets to Nashville and travel by train on Amtrak, you can bring a small dog or cat with you aboard the train. The pet must ride in an approved pet container and the weight of the container and the pet combined must not be more than 20 pounds. The pet must remain in the pet container during the entirety of your trip.
Since there are no trains to Nashville, it is important to note that when you travel to the city at least part of your journey will be aboard a connecting bus. Some cities where train service may end and bus service will begin include Birmingham, Alabama, St. Louis Missouri, and Indianapolis, Indiana. The buses offered on the trip from these three cities to Nashville are part of the Amtrak fleet and as such, you will not need to transfer to another company for service during the duration of your journey from your departure city to Nashville.
Nashville's most searched train station on KAYAK is Nashville Greyhound Bus Station. It is located 1 mile from the city center.
FAQs when traveling to Nashville by train
What is the most popular train station in Nashville?
Once I arrive at the station in Nashville, are there any public transportation options to get me to locations around the Nashville area?
If I want to rent a car after my train to Nashville, are there any rental car companies that have a location at the station?
If I want a hotel that is close to the station in Nashville to stay at after my trip, are there any good options?
If I need to get to the Nashville Airport (BNA) after my train to Nashville, what is the best way to make the trip?