With the Big Game just around the corner, you can't do anything without being reminded that for one Sunday in February, all eyes will be on the field. Whether your team is throwing around the pigskin or you're really hoping for a repeat performance by Left Shark, the game will have your full attention at kick-off.
Because we're all about the numbers, we wanted to find out who will have more fans cheering from the stands in Santa Clara on February 7th. We started by looking at flight searches conducted on January 24th after each team clinched their Big Game bid. We tracked flight searches originating from each teams' home airport (Charlotte Douglas International and Denver International) and touching down in the Bay Area between 2/2 and 2/7 and compared them with flight searches conducted the week before, using all the same details. Some pretty impressive travel trends emerged and that got us thinking: can team loyalty be measured in flight searches? (Spoiler: we think so.)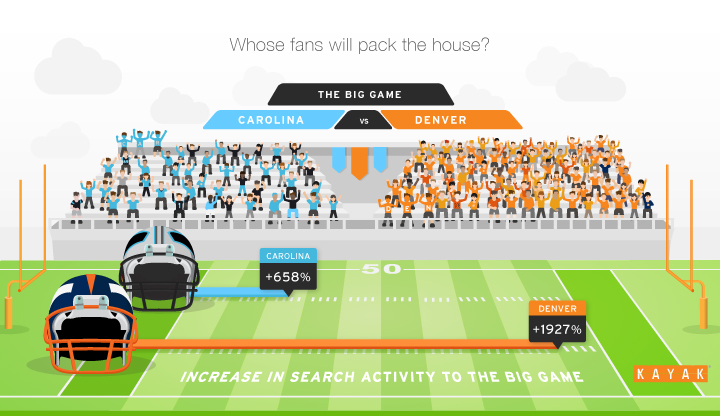 Denver fans took dedication to a new level, with a whopping 1927% increase in searches the night of the the conference championship versus the week prior. Team pride is certainly fueling those fast search fingers but a shorter flight and cheaper airfare may help pack the stands in Denver's favor. Meanwhile, Carolina devotees still caused an impressive 658% bump in search traffic after their team took the conference title. But Carolina still has some serious search ground to make up. And with the game less than two weeks away, now's not the time to take a cat nap, there's a ring to be won!
Whether your face paint is navy-and-orange or blue-black-and-silver, we have some solid tips to help you make the right travel decisions before the Big Game.
Fly in on off-peak days: Based on last year's data, the median airfare was highest for Friday travel. In fact, the median airfare dropped 70% for travelers flying into the ground zero of football on the Thursday before the Big Game, and 80% for those flying in on Saturday (compared to Friday's rates).
Stay outside city limits: Blew your budget with game tickets but still need a place to rest? While median hotel rates have certainly super-sized in Santa Clara, you can still  find budget-friendly options in nearby San Francisco and Oakland. The median cost for a night's stay in Santa Clara sits at $399*, while San Fran is slightly lower at $373 and Oakland packs an admirable $283 punch.
Book now, not later: While travel prices are surely set to soar in the coming days before the Big Game, the earlier you can book that flight, the better. A recent search on KAYAK revealed that you can still find flights from Denver to San Jose (Santa Clara's closest airport) for as low as $435** – if you're leaving from Charlotte, you can expect to see airfare starting around $530.
We still have ways to find you super travel deals for the Big Game. Start searching on KAYAK to find your best flight, hotel and car rental options, whether you're sitting in the VIP box or cheering from a tailgate.
*For travel between Feb 2, 2016 and Feb 12, 2016 based on searches between 01/17-01/24
**Based on searches conducted on KAYAK on 1/25 for flights departing on 2/5 and returning on 2/8.