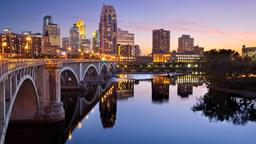 Find train tickets to Minneapolis
The price shown for each trip will be the average for all passengers, including any infants.
Top tips for finding Minneapolis train tickets
The Amtrak to Minneapolis arrives and departs from the Saint Paul-Minneapolis Union Depot. It is located in downtown, or Lowertown, of Saint Paul on Kellogg Boulevard. It is close to Mears Park and the Mississippi River. The station connects to the St. Paul skyway system, an enclosed and heated/air-conditioned walkway that takes you around the heart of the city. From the train station, you'll be just 18min from popular tourist destinations, such as Target Field and the Mall of America.
While you're waiting on your train to Minneapolis (MSP), you can explore Union Depot. Tours are offered daily for visitors. The station also has a waiting area where you can watch TV or take part in special events such as a yoga class. If you want to do some shopping, the station has a couple of boutique shops, such as Bee Line Honey. Buy a few souvenirs or do some browsing while you wait. If you're hungry, there is a restaurant and bar where you can grab a bite or sip on a cocktail. On a sunny day, you can relax in the Union Depot's picnic area. Near the picnic tables, there are a couple of cameras for better viewing of the trains, making this a good place to take the kids to keep them occupied and let them burn off some energy.
You'll travel on Amtrak's Empire Builder on your train to Minneapolis (MSP) or the Twin Cities. Onboard the Empire Builder, you'll have access to a variety of amenities and services, such as a dining car, an observation car, and sleep cars. If you're interested in fine dining, you can reserve a dining spot with your train conductor. The Empire Builder goes from Chicago to Portland/Seattle. It stops in numerous cities along the way, including Milwaukee, WI, East Glacier Park, MT, Fargo, ND, and Shelby, MT.
On the train to Minneapolis (MSP), you'll enjoy seeing many cities and landmarks. Depending upon your route, you might catch a glimpse of the Mississippi River, Glacier National Park, the North Dakota frontier, and Spokane Valley. Go to the observation car, also known as the sightseer lounge, to get better views of farmlands and forests. This car has floor-to-ceiling windows, which allow for unobstructed views.
Minneapolis's most searched train station on KAYAK is Minneapolis St. Paul. It is located 4 miles from the city center.
FAQs when traveling to Minneapolis by train
What is the most popular train station in Minneapolis?
Which train companies travel to Minneapolis?
How long is the train journey to Minneapolis from the closest popular cities?
How can I get to my hotel from Union Depot?
Is there a rental car agency at St. Paul/Minneapolis Union Depot?
Are there any other Amtrak stations nearby?
Can I store my luggage at the St. Paul/Minneapolis Union Depot?