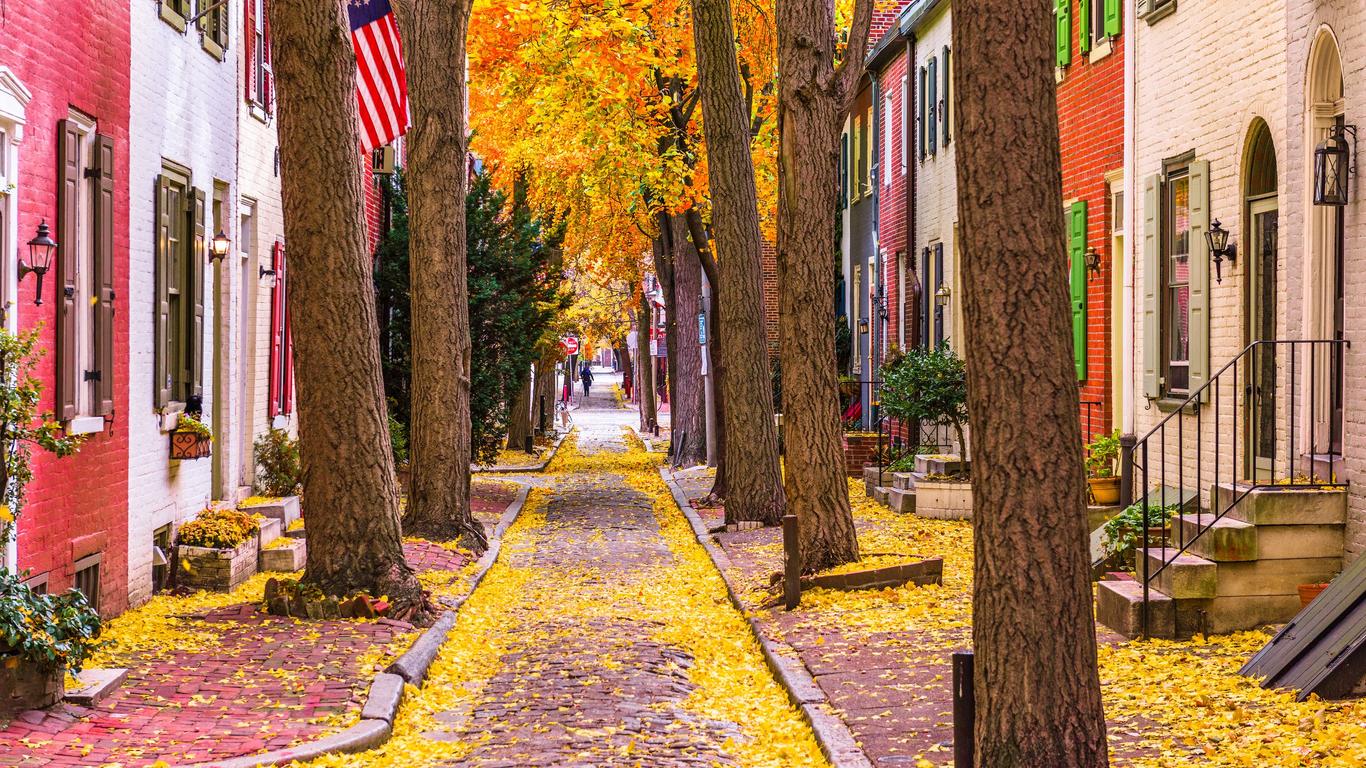 Trains from Boston to Philadelphia offer travel classes depending on seating and privileges. First-class seating is available exclusively on Acela from Boston to Philadelphia, and customers get complimentary at-seat meal service, access to station lounges, faster trips, and wider seats. Business class features reserved one-by-two seating, conference tables, reclining seats, extra legroom, adjustable tray tables, and fewer stops. Coach class costs less, and it offers reserved seating where travelers can get upper-level seats with great views of the route.
Taking a train from Boston to Philadelphia is a great way of viewing the beautiful scenery between the two cities. A train gets you in the heart of Philadelphia, saving you the hassle of commuting from the station to the city. Coach class tickets cost a lot less than flights along the route. When taking a train from Boston to Philadelphia, travelers do not have to worry about traffic or arriving at the station a few hours before departure time for security checks. You can still get to the station one hour or thirty minutes before the scheduled time and still catch your ride.
The train station of departure for the trains from Boston to Philadelphia is Boston South Station. It houses elevators, restrooms, and ticket sales offices for disabled passengers. There are vending machines, Quik-Trak kiosks, and ATMs. Travelers can wait at the Metropolitan Lounge before their journeys. There are washrooms at the Grand Concourse. Travelers will find several commercial bus services to get them to their preferred destinations.
Amtrak from Boston to Philadelphia allows checked luggage for all passengers. All passengers are limited to two carry-on items and two personal items. Travelers can also bring two extra bags, which are charged per piece of luggage. Personal baggage has to weigh under 26 pounds and at most measure 14*11*7 inches. Checked luggage has to be under 50 pounds and be smaller than 28*22*14 inches. Bags over the size and weight limit have to be repacked to fit the required standard. Bags have to be tagged with their holder's name and items. Passengers can only store bags in their designated compartments, overhead racks, or under the seat but never on an empty seat.
25% of our users found round-trip train tickets from Boston to Philadelphia for $122 or less.
You will generally catch the best train deals if you travel in the evening.
The cheapest train from Boston to Philadelphia was found 84 days before departure, on average.
Book Amtrak tickets from Boston to Philadelphia (round-trip)
Search by stops
Search by train company
Book Amtrak tickets from Boston to Philadelphia (one-way)
Search by stops
Search by train company