You're going to love Cartagena
Nestled on the spectacular Caribbean coast in northern Colombia, Cartagena is a magical blend of historic fortifications, elegant courtyards, fine dining and glittering nightlife.
Cartagena is great for beach & nightlife.
Hacker Tip
During the day, head to the Getsemani neighborhood close to the Old Town. Grab a coffee at a bohemian cafe before taking in the colorful street art inspired by local culture and history.
5th
largest city in Colombia
3302.84
Colombian Peso equals $1 USD
Check out the Cartagena city guide
Getting to Cartagena
The airport is less than 4 miles from the old town and a taxi may be your best bet. Give your destination address to the official taxi stand at the airport and they'll give you a voucher for your ride, which will have the price printed on it.
Median airfare by month
$448
Median airfare from US to Cartagena in January
Median airfare by time before departure
$467
Median airfare 1 month before departure date
Search flights to Cartagena
Staying in Cartagena
Stay in the Old Town to experience the city's culture. The walled city is also incredibly charming with colorful buildings and historic architecture, plus, you'll be walking distance to tons of sites, restaurants and nightlife.
Median hotel rate by month
$152
Median January hotel rate
Median hotel rate by night
$124
Median Sunday hotel rate
Trending Cartagena hotels
See all Cartagena hotels
When in Cartagena
Must-see in Cartagena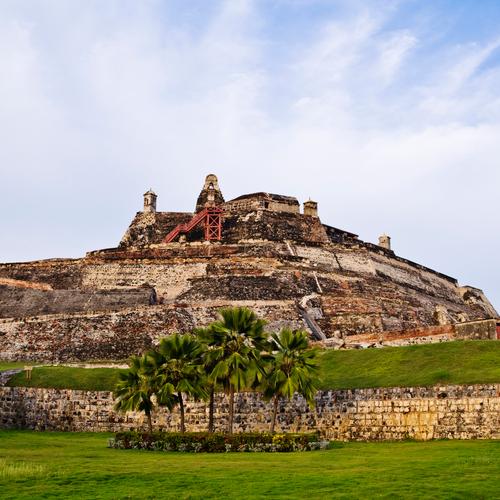 Castillo San Felipe de Barajas
Convento de Santa Cruz de la Popa
Palacio de la Inquisición
Playa Blanca
Weather in Cartagena
79°
Average temperature in January
Eating in Cartagena
What should you order while you're in Cartagena?
While the dish didn't originate there, ceviche is a popular dish on the coast of Colombia. But the Colombian version is slightly different from other varieties. It's made with all types of cooked shellfish and dressed with lime juice, mayo, hot sauce, ketchup and cilantro.
What you'll expect to pay (USD)
10%
Standard tip for good service
methodology