You're going to love Nuuk
It may sit on the world's largest island, but this capital city's population is quite small. With it's clear skies, pretty colorful houses and picturesque fjord, the small town vibe is magical.
Nuuk is great for nature & relaxation.
Hacker Tip
Traveling in the winter? The northern lights will no question be top of your list, and Greenland is one of the few places where you can actually see them right from the city center. Although, it's never a bad idea to get away from city lights for the full experience.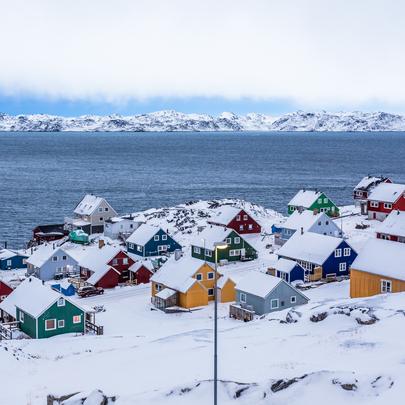 West Greenlandic
language
Largest
city in Greenland
6.71
Danish Krone equals $1 USD
Getting to Nuuk
Your best bet would be to fly into Copenhagen or Reykjavik and connect to Greenland from there. If you connect through Reykjavik, you can catch a flight directly into Nuuk.
Median airfare by month
$1720
Median airfare from US to Nuuk in January
Median airfare by time before departure
$2706
Median airfare 1 month before departure date
Staying in Nuuk
When staying in Nuuk, you have a variety of lodging options. Hotels and hostels reign supreme in this quaint city. Be aware that WiFi is expensive, and may not be included in your stay.
Median hotel rate by month
$242
Median January hotel rate
Median hotel rate by night
$287
Median Sunday hotel rate
See all Nuuk hotels
When in Nuuk
Weather in Nuuk
18°
Average temperature in January
Eating in Nuuk
What should you order while you're in Nuuk?
Traditional Greenlandic cuisine may make those new to the culture do a double-take. It's common to see whale, seal and reindeer on a menu, but you'll also find plenty or more common seafood dishes like mussels, shrimp and smoked fish.
What you'll expect to pay (USD)
$65-100
Nice dinner for 2
Not expected, but appreciated
Standard tip for good service
methodology