You're going to love Athens
There aren't many places in the world that can claim as much historical importance as Athens. The cradle of democracy. Home to the first theater. A center of philosophy. Athens has a lot to live up to, and it does so brilliantly.
Athens is great for sightseeing, history, culture & food.
Hacker Tip
While there are so many temples worth your time, the Temple of Poseidon is often less busy than some of the others. It also boasts one of the best sunset views in the country, so be sure to plan your trip accordingly.
Check out the Athens city guide
Getting to Athens
Fly into Athens International Airport and take Metro Line 3 from the airport to Syntagma station in Athens center in about 40 minutes.
Median airfare by month
$696
Median airfare from US to Athens in January
Median airfare by time before departure
$981
Median airfare 1 month before departure date
Search flights to Athens
Staying in Athens
If it's your first time in Athens, Syntagma is central and makes a good home base for exploring other areas. If you prefer to stay in a more local neighborhood, we like Koukaki, which will also give you easy access to the Acropolis.
Median hotel rate by month
$105
Median January hotel rate
Median hotel rate by night
$77
Median Sunday hotel rate
See all Athens hotels
When in Athens
Must-see in Athens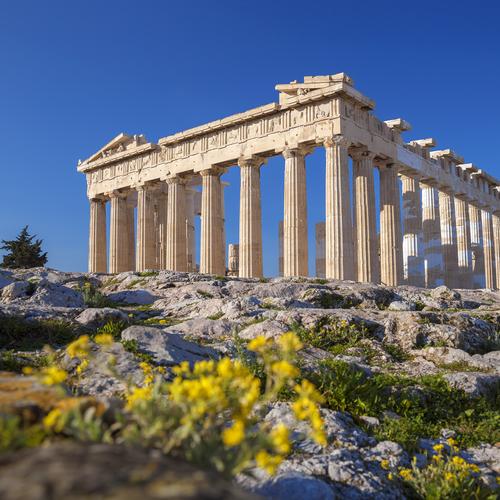 Acropolis
Monastiraki
Syntagma Square
Mount Lycabettus
Weather in Athens
50°
Average temperature in January
Eating in Athens
What should you order while you're in Athens?
Local taverna menus are designed to be ordered for the table and shared, which is why portions may be larger than you expect. If you're dining solo, or just want a light snack, consider grabbing a bite at a local wine bar.
What you'll expect to pay (USD)
5-10%
Standard tip for good service
See all Athens restaurants
methodology