You're going to love Saint Thomas
Travel passport-free to a paradise of beaches, seafood, snorkeling and golf. And while people are catching on, it's still not as popular as some other Caribbean spots, which means fewer tourists.
Saint Thomas is great for beach, relaxation & history.
Hacker Tip
Climb the 99 Steps (there are actually 103, but who's counting?) built from the remnants of Danish tall ships. At the top, catch the view from the summit of Government Hill.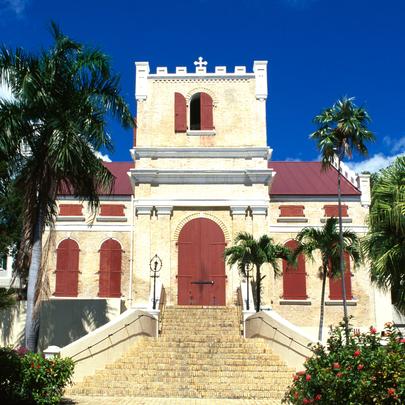 2nd
largest island of US Virgin Islands
Getting to Saint Thomas
After landing at Cyril E. King Airport, you'll need a taxi or airport transfer to your hotel. If you go the taxi route, make sure the taxi is officially licensed and confirm the rate before you get in.
Median airfare by month
$416
Median airfare from US to Saint Thomas in January
Median airfare by time before departure
$396
Median airfare 1 month before departure date
Search flights to Saint Thomas
Staying in Saint Thomas
St. Thomas has something for every type of traveler. Whether luxury resort with spa and on-site casino is more your speed, or you'd prefer a more lowkey stay, St. Thomas has a range of resorts, hotels and vacation rentals.
Median hotel rate by month
$303
Median January hotel rate
Median hotel rate by night
$301
Median Sunday hotel rate
Trending Saint Thomas hotels
See all Saint Thomas hotels
When in Saint Thomas
Must-see in Saint Thomas
Blackbeard's Castle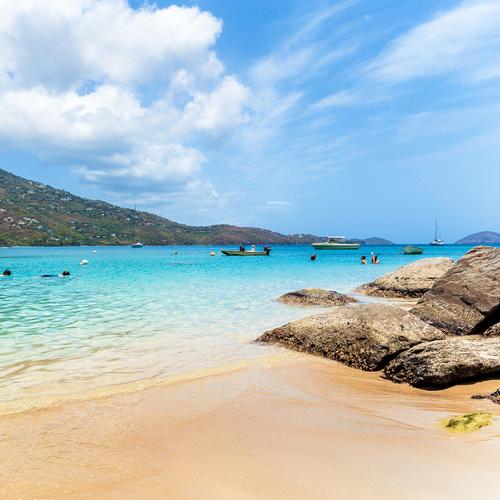 Magens Bay
Lindquist Beach
99 Steps
Weather in Saint Thomas
77°
Average temperature in January
Eating in Saint Thomas
What should you order while you're in Saint Thomas?
Don't let the name fool you, fungi are not mushrooms here. This Caribbean-style polenta dish is a staple throughout the Caribbean and it's a must try as a side for fish or on its own.
What you'll expect to pay (USD)
$100-160
Nice dinner for 2
15-20%
Standard tip for good service
methodology