You're going to love Essaouira
From the family-friendly beach to the easy-to-navigate medina Essaouira is a slower paced laidback alternative to nearby Marrakesh.
Essaouira is great for culture, shopping & art.
Hacker Tip
If you were a bit overwhelmed by the medina in Marrakesh Essaouira may be the perfect alternative. It's a bit more relaxed and easier to navigate but still has all the souqs and sites you could want.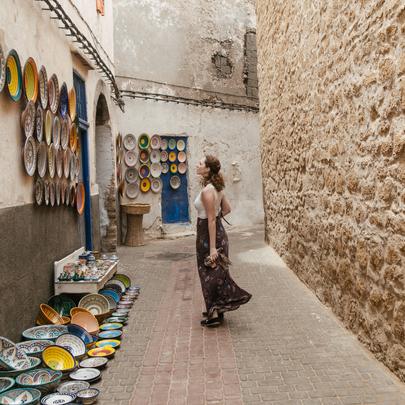 46th
largest city in Morocco
9.47
Moroccan Dirham equals $1 USD
Getting to Essaouira
To get to Essaouira you'll fly into Marrakesh – so if you've never been you may as well spend some time in both. You can travel between the 2 cities by bus. It's a 3-hour ride and will cost you less than $10 each way.
Median airfare by month
$652
Median airfare from US to Essaouira in January
Median airfare by time before departure
$834
Median airfare 1 month before departure date
Search flights to Essaouira
Staying in Essaouira
Spend at least part of your time staying in a traditional riad within the medina. There are also nice hotels outside of the medina that offer swimming pools or onsite hammam (Turkish bathhouse).
Median hotel rate by month
$68
Median January hotel rate
Median hotel rate by night
$89
Median Sunday hotel rate
Trending Essaouira hotels
See all Essaouira hotels
When in Essaouira
Weather in Essaouira
59°
Average temperature in January
Eating in Essaouira
What should you order while you're in Essaouira?
While couscous is a dish you may be familiar with, trying it in Morocco is a must. However, Moroccans typically save the dish for Fridays. If you're looking for a truly local dining experience, peeping the dish on a menu other times during the week is a solid way to tell.
What you'll expect to pay (USD)
7-10%
Standard tip for good service
methodology