You're going to love Hua Hin
The resort town of Hua Hin on the Gulf of Thailand is a perfect place to escape from the bustling city and take in the famous beaches and natural tropical landscape of Thailand.
Hua Hin is great for beach, nightlife & food.
Hacker Tip
Less than a 3-hour drive from Bangkok Hua Hin is an attractive mix of lively city and beach resort. After a day on the sand don't miss the Hua Hin night market with its savory food stalls.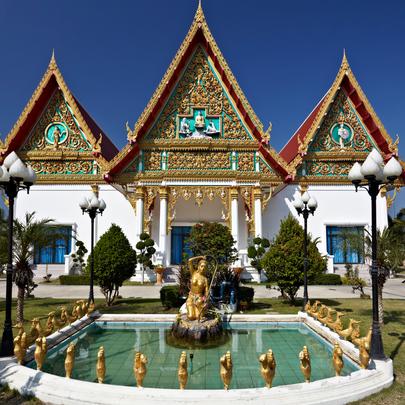 55th
largest city in Thailand
Check out the Hua Hin city guide
Getting to Hua Hin
Fly into Bangkok (and stay a while – why not you're already there!). When you're ready to make the trip to Hua Hin the train is a convenient option. The Southern Railway Line runs between Bangkok to Hua Hin and takes between 4-5 hours.
Median airfare by month
$768
Median airfare from US to Hua Hin in January
Median airfare by time before departure
$768
Median airfare 1 month before departure date
Staying in Hua Hin
While Central Hua Hin puts you in the middle of the action if you're hoping to go more off the beaten path consider Khao Takiab. This nearby fishing village is a perfect beach spot for relaxation. It's also close to Wat Khao Takiap a temple where you'll often spot local monkeys.
Median hotel rate by month
$88
Median January hotel rate
Median hotel rate by night
$95
Median Sunday hotel rate
See all Hua Hin hotels
When in Hua Hin
Must-see in Hua Hin
Mrigadayavan Palace
Wat Huay Mongkol
Hua Hin Railway Station
Wat Khao Takiab
Weather in Hua Hin
75°
Average temperature in January
Eating in Hua Hin
What should you order while you're in Hua Hin?
Pad Thai has become popular globally, but you haven't realllllyyy experienced it until you've tasted it in Thailand. Rice noodles are flavored with sugar, tamarind, vinegar, lime juice and fish sauce, and you'll find it in restaurants and street carts alike.
What you'll expect to pay (USD)
10-15%
Standard tip for good service
methodology