You're going to love Puerto Varas
Puerto Varas is a picturesque town on the shores of Lago Llanquihue in south central Chile. Overlooked by the snow-capped volcanoes of Calbuco and Osorno, it is a favorite destination for independent travelers and lovers of adventure sports.
Puerto Varas is great for nature & adventure.
Hacker Tip
Head to Alerce Andino National Park to immerse yourself in the nature of the area. Visit the ancient Fitzroya trees in the Las Chaicas area of the park where they're almost 3000 years old. You'll also find amazing views and photo ops across the suspension bridge on the Lake Sargazo trail.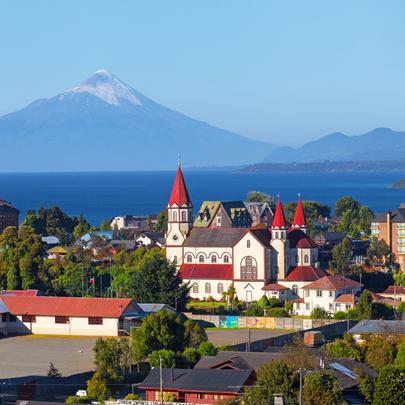 101st
largest city in Chile
775.28
Chilean Peso equals $1 USD
Check out the Puerto Varas city guide
Getting to Puerto Varas
The nearest airport is El Tepual in Puerto Montt which is less than 20 miles from town. There are regular flights from Santiago so making it a 2-for-1 trip is an attractive option.
Median airfare by month
$1291
Median airfare from US to Puerto Varas in January
Median airfare by time before departure
$1250
Median airfare 1 month before departure date
Search flights to Puerto Varas
Staying in Puerto Varas
From boutique hotels to casino resorts there's something for every type of traveler – but with gorgeous views on offer you may want to request a lakefront view.
Median hotel rate by month
$65
Median January hotel rate
Median hotel rate by night
$61
Median Sunday hotel rate
Trending Puerto Varas hotels
See all Puerto Varas hotels
When in Puerto Varas
Weather in Puerto Varas
59°
Average temperature in January
Eating in Puerto Varas
What should you order while you're in Puerto Varas?
Because the city was founded by German immigrants, Puerto Varas is an unexpected blend of Chilean and German culture. Try kuchen, traditional German cake, but made in Chile with fruit such as apples, strawberries or murtas.
What you'll expect to pay (USD)
Included in the bill
Standard tip for good service
methodology