You're going to love Santa Maria
While the beach is an attractive reason to visit the sunset horseback ride will be the experience you won't soon forget.
Santa Maria is great for beach, nature, relaxation & adventure.
Hacker Tip
If you're thinking about a trip to the Azores or Canary Islands consider an added stop in Cape Verde. Santa Maria on the island of Sal has pretty beaches wildlife and opportunities to get active. Head to the aptly-named Kite Beach for a popular spot for kitesurfing.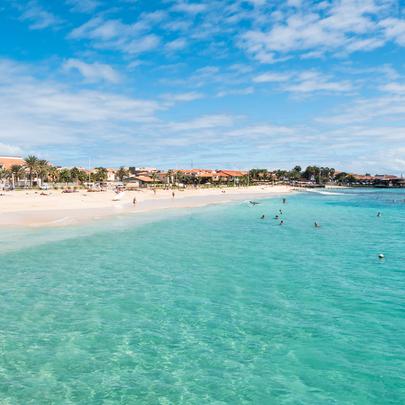 3rd
largest city in Cape Verde
98.91
Cape Verdean Escudo equals $1 USD
Getting to Santa Maria
There are plenty of affordable direct flight options from Europe which makes this city a great add-on as a relaxing beach vacay to your next Europtrip. Once you land on Sal the taxi ride to Santa Maria is less than 20 minutes.
Median airfare by month
$804
Median airfare from US to Santa Maria in January
Median airfare by time before departure
$1014
Median airfare 1 month before departure date
Search flights to Santa Maria
Staying in Santa Maria
Take your pick from luxury resorts or smaller hotels that are walking distance from the beach.
Median hotel rate by month
$151
Median January hotel rate
Median hotel rate by night
$189
Median Sunday hotel rate
Trending Santa Maria hotels
See all Santa Maria hotels
When in Santa Maria
Weather in Santa Maria
70°
Average temperature in January
Eating in Santa Maria
What should you order while you're in Santa Maria?
Cachupa is the national dish of Cape Verde, but there are slight variations across each island. When in Santa Maria, you won't want to miss this hearty stew of fish or meat slow-cooked with corn, beans, cassava and sweet potato.
What you'll expect to pay (USD)
5-10%
Standard tip for good service
methodology