You're going to love Tbilisi
One of the oldest cities in Europe Tbilisi is full of history and culture. While flights may be pricey everything else is relatively cheap – from delicious Georgian food to city attractions – plus historic sights are free.
Tbilisi is great for sightseeing & culture.
Hacker Tip
Wander the Dry Bridge Market around Dedaena Park to shop eclectic wares from antiques to vintage Soviet paraphernalia. While it's open daily you'll get the best selection of vendors on the weekend.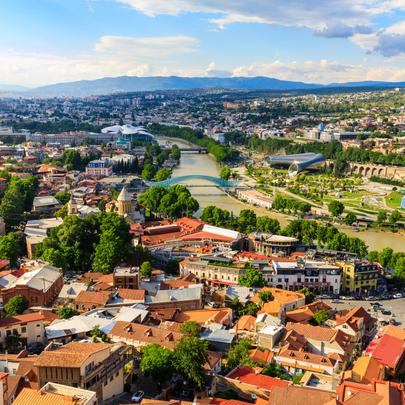 Getting to Tbilisi
There are direct flights to the Tbilisi airport from many international destinations including tons of connections from Paris so making it a two-for-one vacation can be a savvy play. The airport is only a short and sweet 10 miles to the city center.
Median airfare by month
$688
Median airfare from US to Tbilisi in January
Median airfare by time before departure
$892
Median airfare 1 month before departure date
Search flights to Tbilisi
Staying in Tbilisi
Stay in the Avlabari neighborhood. It's close to the Old Town but the prices may be lower and it has a more local feel. There's also a train station that connects you to Avlabari the Kakheti and Yerevan region.
Median hotel rate by month
$66
Median January hotel rate
Median hotel rate by night
$60
Median Sunday hotel rate
See all Tbilisi hotels
When in Tbilisi
Must-see in Tbilisi
Mtatsminda Pantheon
Weather in Tbilisi
34°
Average temperature in January
Eating in Tbilisi
What should you order while you're in Tbilisi?
When in Georgia, don't miss trying khinkali, which are similar to Chinese soup dumplings. To eat, grab the dumpling by its doughy tip, bite the other side and slurp out the juices.
What you'll expect to pay (USD)
Included in the bill
Standard tip for good service
methodology