You're Going to Love Ölüdeniz
Ölüdeniz is a popular Mediterranean tourist city along Turkey's Lycian coast. Many visitors enjoy hiking along the landscape's rugged mountains, viewing ancient ruins, and enjoying the vibrant waterfront nightlife scene.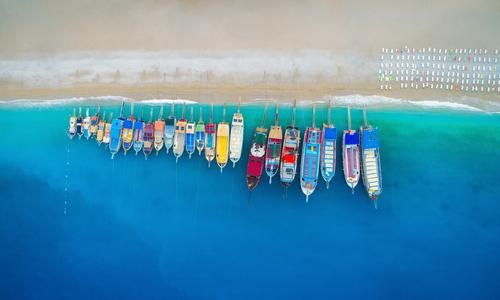 Top 5 Reasons to Visit Ölüdeniz
1. Blue Lagoon
Here you can relax and float in this Dead Sea lagoon, protected within the Ölüdeniz National Park.
2. Butterfly Valley
This valley hosts thousands of monarch butterflies every year during their migration route in late spring. There are also many hikes and waterfalls here for visitors.
3. Kayaköy
The ancient ghost town ruins of Kayaköy are beautifully preserved for tourists and many local artists who flock to its quiet countryside location in the summer months.
4. Saklikent Gorge
In the summer months, this gorge is a popular destination due to its ample shade, cooler temperatures, and hiking opportunities.
5. Dalyan
Take a river boat tour from Ölüdeniz, passing through sea turtle-filled waters, to the Lycian rock tombs built into the side of a towering cliff.
What to do in Ölüdeniz
1. Ölüdeniz Plaji: Dive into a Gorgeous Blue Mediterranean Lagoon
A magnet for locals and tourists alike, Ölüdeniz Plaji is the resort's main beach and, as town beaches in the Mediterranean go, it's an absolute stunner. Ölüdeniz Plaji is famous for its pure, turquoise and aquamarine waters which exert an irresistible pull on visitors. It may not be a sandy beach, but when the Turkish sun bakes the city, there's nothing as satisfying as diving into the warm waters of the lagoon. Thus, when you get to Ölüdeniz, you'll soon find yourself splashing around.
2. Babadağ Daği: A Paragliding Paradise
Babadağ Dağı is around two miles east of Ölüdeniz, but nobody who visits can miss it. Known to the Greeks and Romans as Mount Cragus, this mountain towers almost 2,000 meters over the resort, and it's a major leisure destination. Those who feel energetic can climb to the summit for majestic views, while anyone with a yen for extreme adventures can take advantage of the mountain's exceptional paragliding opportunities. Either way, you're guaranteed incredible views.
3. Mavi Lagün: No One has the Blues at this Lagoon
Literally translated as the "Blue Lagoon", Mavi Lagün is separated from the wider Mediterranean by a narrow peninsula, and has some of the most incredibly blue waters in the world (hence the name). Ringed by beach resorts, seafood restaurants, and stretches of unspoiled coast, the lagoon is a fine place to sunbathe, snorkel and swim, rent paddle boats, or pull up a lounger and soak up some ways. There's safe swimming for kids and sublime scenery, as well as wall-to-wall sunshine for most of the year.
4. Ölüdeniz Tabiat Parki: Beaches, Peace, and Blissful Seclusion
Ölüdeniz Tabiat Parkı stretches along the western seafront and the lagoon shore. It's a beautifully preserved, peaceful nature reserve within walking distance of the town's main shopping and dining strip. Unlike the main beach, access to the park comes with a small fee, but most visitors agree that the cost is well worth it, if only to protect its sense of isolation and natural perfection against the more conventional tourist delights of the city to the east.
5. Kelebekler Vadisi: A Valley of Natural Delights
Located a few miles south of Ölüdeniz along the coastal highway, Kelebekler Vadisi translates to "Butterfly Valley" in English, and is an incredible natural attraction. As the name hints, our winged insect friends are the stars here, with more than 80 species calling the valley their home. But even if you don't care about butterflies, the spectacular waterfall, beach, and relaxed, bohemian vibe of the environmentally-aware community creates an enticing, enjoyable destination. It's truly like stepping back into a world before pollution and development, where nature and people live in harmony.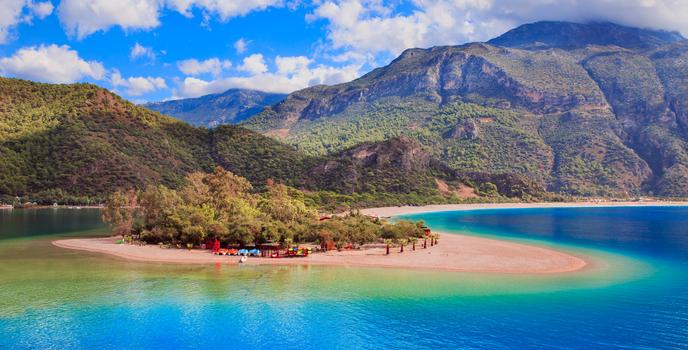 When to Visit Ölüdeniz
The best time to visit Ölüdeniz is from May to June, or from October to November when there are less tourists, the weather temperature is moderate, and the prices for daily tours into the surrounding towns are cheaper.
How to Get to Ölüdeniz
Plane
Dalaman International Airport (DLM) is the most common way travelers enter the city, located 1.5 hours to the north. Visitors can then rent their own personal car or travel by bus to reach Ölüdeniz.
Car
Drive the iconic Lycian coastline from Antalya on the D400, making the journey in just four hours.
Bus
Bus companies like METRO Turizm, Pamukkale, or Kamil Koc offer regular lines from other big Turkish cities including Izmir, Antalya, and Istanbul. A one-way ticket from Istanbul costs around ₺100.
Airlines serving Ölüdeniz
Show more
Where to Stay in Ölüdeniz
The Flora Palm Resort in the English-tourist district of Hisarönü offers several outdoor pools and close access to Ölüdeniz Beach. The Telmossos Hotel is an all inclusive resort-style accommodation that also serves liquor.
Popular Neighborhoods in Ölüdeniz
Hisarönü - here you will find the highest concentration of hotels, bars, and restaurant options. Due to the high volume of British tourists, this area is also very English-language friendly.
Fethiye - a slightly bigger city to the North, this area has every type of landscape from marshlands to white sand beaches, bustling urban centers to quiet mountain-top verandas.
Kabak - this area removed from the main tourist thoroughfare is a popular hippie-like camping center attracting a younger crowd of visitors.
Where to stay in popular areas of Ölüdeniz
Most booked hotels in Ölüdeniz
How to Get Around Ölüdeniz
Public Transportation
The most common way to travel is by local minibus. These buses will take you between the many spread out rural towns for ₺2.50 a ride, which can be paid in cash to the driver upon entering the bus.
Taxi
There are many taxis within this region. Tariffs start at ₺4, and can cost around ₺15-20 for a ride between the towns of Hisarönü and Ölüdeniz city center.
Car
Rent a car, quad, or motorbike from the districts of Hisarönü or Fethiye for between ₺80-150 a day.
The Cost of Living in Ölüdeniz
Shopping Streets
There are many outdoor shopping stalls selling beach wear clothing, tourist trinkets, and local food along the waterfront in Ölüdeniz and the main street in Hisarönü. The biggest indoor air-conditioned shopping mall is Erasta in nearby Fethiye.
Groceries and Other
AZDA and Bim supermarkets are the two largest food shopping stores. A dozen eggs costs ₺6.
Where to Eat in Ölüdeniz
The best place to eat is Buzz Beach Bar on the waterfront, serving freshly caught fish, Turkish cold plates, and mixed drinks at affordable prices. A typical meal with drinks costs ₺50.