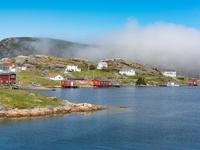 Where to stay in Arnold's Cove?
Our Heatmaps tool will help you find the perfect place to stay in Arnold's Cove by showing you how close hotel options are to major activities
1
9.6 Excellent (146 reviews)
Located in Arnold's Cove, The Killick Inn & Suites is within a 15-minute drive of Avalon Peninsula and Trinity Bay. Featured amenities include a business center, dry cleaning/laundry services, and luggage storage. Planning an event in Arnold's Cove? This apartment has facilities measuring 300 square feet (28 square meters), including conference space. Free self parking is available onsite.
10.0 Excellent
Pros: Lovely. new facility and great views!
Cons: No restaurants in a reasonable distance. Not an issue if you are prepared, as the facilities have all you need to eat in!
10.0 Excellent
Pros: Basically a one bedroom apartment with laundry facilities in the room. Full kitchen. Comfortable bed and heavenly shower. Very nicely decorated too. The host was so responsive and replied very quickly to our questions, including a referral for a breakfast spot on the road.
9.2 Excellent
Pros: Hosts, Laundry facilities, separate sitting area, decor.
Cons: Beds
10.0 Excellent
Pros: Room was fantastic - large, clean and had so many amenities. Loved the in room laundry!
Cons: The view pictures are a bit exaggerated. The ocean was there but not what one expects...the end of a plain harbour.
10.0 Excellent
Pros: Very quaint property, well equipped kitchen, very clean accommodations, easy check in and very informative staff. Great place to stay and would definitely recommend.
Cons: Nothing everything was great
10.0 Excellent
Pros: Excellent suite with everything you could ask for. Very clean and spacious. Fully equipped kitchen and an outside deck with a barbecue. Even had a full size washer and dryer in the washroom closet.
10.0 Excellent
Pros: This inn had all the amenities, barbeque, beautiful view on the balcony, very quiet at night and was like a home away from home. It was also very modern and had plenty of towels for use. The beds were extremely comfortable. If in the area we would definitely stay here again.
9.6 Excellent
Pros: The owner was most helpful regarding what to see in the area. The room was fantastic, and extremely clean
9.6 Excellent
Pros: Nice having an apartment. Nice cleaners and very clean, new place. Spend extra to get on the top floor with a little balcony. Toiletries included, as was coffee and dish soap, salt and pepper. The view is nice and fun to watch the tide. Tastefully furnished. Very comfortable and basic cooking utensils were included.
Cons: I wish it had a king bed. But there is at least queen if you go for the one with balcony. It would be great to have a few cooking essentials left there, as olive oil or spray. Certainly not the fault of the hotel, but not any good places to eat that drivable. The owners did such a great job with the inn, that I'd love for them to have a nice restaurant!
8.8 Excellent
Pros: Place was really nice spacious well done
Cons: It would be nice to have shampoo provided, everything else was. TV channels kind of pointless. Only a few available. Bed was super uncomfortable. Cheap sheets. Oddly cuz si much else was fantastic
2
8.2 Excellent (39 reviews)
Arnold's Cove Inn is located in Arnold's Cove. It features a restaurant, bar and free Wi-Fi access throughout. Clarenville is 40 minutes' drive away. Each of the rooms comes with a refrigerator, air conditioning and a flat-screen TV with cable channels. The studio enjoys a well-equipped kitchen for the preparation of meals. Linens and towels are included. Arnold's Cove Inn provides free on-site parking. It is 2 km from Bourdeux Hiking Trail, while Bull Arm is at a distance of 8 km.
7.9 Good
Pros: Very comfortable beds, spotless, both an inside and outside door.
Cons: Your directions placed this in 2 spots it was NOT. One was in a totally different town, an hour away. We had to call the property to find it. Too few outlet. Continental breakfast was minimal.
10.0 Excellent
Pros: The staff was amazing and friendly. Rooms were exceptionally clean. Loved how close it was to Garden Cove/Woody Island.
9.6 Excellent
Pros: It was in a good location to break up our drive from Fortune to St.John's. Staff bent over backwards to serve dinner even though dining room was ready to close. Free laundry facilities were very much appreciated. Breakfast was great for getting us back on the road in the morning.
Cons: Met our needs. We were not expecting a fancy place, and it isn't. But for what we needed it was fine.
6.7 Good
Pros: The waitress at the restaurant was very friendly and helpful. Because we had to leave early the following day before the restaurant was open, she told us that we could help ourselves with some coffee/cereal/fruits which were included in the accommodation.
Cons: There was a slight problem with checking in.
10.0 Excellent
Pros: I don't remember what it was like when I was last there 15 years ago but it have been renovated since then and looks great. The staff is wonderful and my mother said the food was really good(I'm vegan so I couldn't eat from the restaurant but had a packet of oatmeal from the breakfast table.) It is located right off the highway. Very clean and each room has an inside and outside entrance. Would recommend.
Cons: No complaints from me.
8.8 Excellent
Pros: Our room looked pretty newly renovated, nice new floor, furniture, bathroom. I must admit, I wasn't expecting that when we've arrived.
Cons: The restaurant and breakfast area would need some renovation too. Maybe that's the next step.
9.6 Excellent
Pros: Clean, spacious and friendly staff -
Cons: Had problems locating the facility -
9.2 Excellent
Pros: Close to town
Cons: Bathroom very small
All hotels in Arnold's Cove