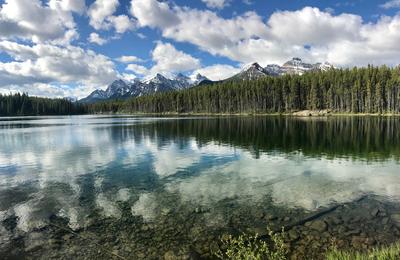 Where to stay in Hythe?
Our Heatmaps tool will help you find the perfect place to stay in Hythe by showing you how close hotel options are to major activities
1
9.0 Excellent (20 reviews)
With a stay at Grand Marshal Inn in Hythe, you'll be within a 15-minute walk of Hythe Community Center and Alliance Community Fellowship. Featured amenities include multilingual staff and luggage storage. Free self parking is available onsite.
10.0 Excellent
Pros: Loved Everything....was so clean and the staff was excellent. Will definitely come back when we are out this way again ☺️
Cons: There was nothing I didn't like.
8.0 Excellent
Pros: This was a repeat visit, and once again, we found the room very clean and well appointed. A comfortable bed provided a good nights rest. We checked in during the evening, and the night clerk was very helpful in getting us settled. Both my Wife and I would certainly stay again when in the area.
8.3 Excellent
Pros: Very quiet
Cons: A little confused about the booking. Not sure why.
8.0 Excellent
Pros: beds were very comfortable. Staff friendly and helpful. Quiet in spite of being adjacent to the highway. Restaurant staff were pleasant and the food was good.
Cons: A clock of some sort in the room would have been nice. Also a hair dryer and more counter space around the sink. Instructions on how to use the TV would have been helpful. An extra chair and/or table would also add to the usefulness of the room. Restaurant staff could have been increased due to a weekend race being held. Price of both the room and food in the restaurant a little high for this location and the amenities in the rooms.
9.3 Excellent
Pros: Very clean and extremely pleasant staff. Food was good.
Cons: No coffee pot in room. Also no hair dryer or iron in room
9.5 Excellent
Pros: The hospitality from the staff was amazing. Friendly and helpful, the staff made the stay exceptional. The hotel itself was clean and had all the amenities we were looking for.
Cons: They were lacking in snacks. Would have liked to have been able to get a snack in the evening.
10.0 Excellent
Pros: We were at a wedding and it was walking distance
Cons: Everything was good
6.8 Good
Cons: Toilet was loose Tub drain very slow
8.0 Excellent
Pros: Room was clean and quiet. Bed was comfortable. Bagged lunch was generous and tasty. Restaurant food was okay, a bit slow but it wasn't too bad.
Cons: Continental breakfast was not as described. Very little food, outdated yogurt and unpalatable fruit.
5.0 Okay
Pros: Good food
Cons: The wifi is horrible cant be used most times
2
With a stay at Side Trax Inn in Beaverlodge, you'll be within a 15-minute walk of Harry Hanning Memorial Park and Beaverlodge Community Center. Featured amenities include a 24-hour business center, dry cleaning/laundry services, and a 24-hour front desk. Free self parking is available onsite.
5.8 Okay
Cons: the room was pretty worn out, lots of old stains, not clean at all, even simple things like towels were awful and we had to use our own the price was about average or slightly higher than the other places we stayed in, which didn't help the expectations
4.3 Okay
Pros: The guy at the front desk was friendly enough
Cons: Room was not at all as advertised. No coffee machine at all. Tv was not "60inches" There were several liquor bottles and clothing items under both beds. The floors were not at all vacuumed and the drawers were full of crumbs and dirt. The fridge was filthy. We paid for 2 nights stay and went to check out the next morning since the place was so yucky, and there was nobody at the office. Waited 15 minutes ringing the bell and no one came. So we packed up our stuff and left anyways and stayed with family the second night.
7.0 Good
Cons: Bed was hard...floor needs carpet cleaned..
9.5 Excellent
Pros: Comfortable, quiet, clean and the staff were very friendly and helpful.
Cons: No coffee in room
8.8 Excellent
Pros: Quiet. No one bothered us
Cons: Heating lol
7.5 Good
Pros: The front desk lady was nice and wonderful. Did her best to accommodate a late check in bad weather.
Cons: The bed was not at all comfortable, the pillows were flat, I suggest a spare set in the closet. The blankets were thin and we froze most of the night. They need thicker blankets, or more blankets in the room all year round. The power went out some time in the night because of excessive rain but no one tried to compensate or even bring it to our attention. So we pretty much didn't have access to anything for our small overnight/ morning stay. I know it was an act of god but it also bad business to not do something about it. We were there for a funeral and had no way to get ready for it.
5.0 Okay
Cons: No coffeemaker, gyproc fallind out of the ceiling.
8.0 Excellent
Pros: Great price Good room nice bathroom
Cons: Could hear bathroom notice flushing from other rooms
7.5 Good
Pros: Room was clean. Bathroom was renovated.
Cons: Three of us stayed in a double queen, they only had 2 towels available. Beds were a very hard with minimal pillows.
With a stay at Beaverlodge Motor Inn in Beaverlodge, you'll be within a 15-minute walk of Beaverlodge Community Center and Harry Hanning Memorial Park. Free self parking is available onsite.