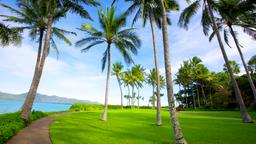 Hotels near Hayman Island airport
Search hundreds of travel sites at once for Hayman Island airport hotels
Best hotels near Hayman Island airport
Based on 165 reviews
All
Families
Couples
Groups
Solo travelers
Business travelers
Cleanliness
9.4
Comfort
9.5
Location
9.6
Overall
10.0
Services
9.3
Cleanliness
9.1
Comfort
9.3
Location
9.3
Services
9.2
Staff
8.5
Cleanliness
9.5
Comfort
9.6
Location
9.7
Overall
10.0
Services
9.4
Cleanliness
8.9
Comfort
10.0
Location
9.6
Services
9.3
Staff
9.3
Cleanliness
9.6
Comfort
9.6
Location
9.6
Services
9.2
Staff
7.9
Cleanliness
10.0
Comfort
10.0
Location
9.4
Services
10.0
Staff
9.4
---
Pros:
"How incredible. What an experience. How lucky are we to live in such a beautiful country?" We kept repeating these phrases throughout our stay on Hayman. It was truly exceptional, and I cannot wait to share it with family and friends as lockdowns lift across the country. - The diversity in dining experiences was great. - The down to earth, friendly nature of all the staff we interacted with were the best part of our stay on Hayman. - The natural beauty of Hayman Island is something everyone must experience.
Cons:
Our stay was perfect from the time we got onto the boat to the time we landed back on Hamilton.
Cons:
Need 3 big hot spas on a deck by the sea
Pros:
Staff were exceptional. Loved Annie and Claire. But every single one was beyond helpful.
Pros:
We were surprised by the temperature of the heated pool in July. It was very warm and comfortable. There are only three restaurants, but all provide good quality food. It would be better if there are more asian food in the buffet and breakfast.
Cons:
The ceiling of the shower was leaking and the black mould spots show that the leaking has been there for a while. The mould spots are not good for health, and should not been there in such high quality hotel.
Went for a birthday weekend! The service and rooms were great, definitely worth the trip!
Based on 1,032 reviews
All
Families with older children
Families with young children
Families
Young couples
Couples
Groups
Solo travelers
Business travelers
Cleanliness
8.1
Comfort
8.2
Facilities
5.2
Food
8.2
Location
9.0
Cleanliness
2.0
Comfort
4.0
Facilities
4.0
Location
8.0
Overall
4.0
Cleanliness
7.1
Facilities
3.0
Food
6.5
Location
8.4
Overall
7.5
Cleanliness
7.8
Comfort
8.0
Location
8.9
Services
7.7
Staff
7.6
Cleanliness
8.0
Facilities
10.0
Food
10.0
Location
9.2
Overall
8.2
Cleanliness
8.2
Comfort
8.3
Location
9.1
Overall
7.3
Services
8.0
Cleanliness
8.3
Comfort
8.2
Facilities
4.0
Location
9.0
Overall
4.0
Cleanliness
8.6
Comfort
9.1
Location
9.4
Services
8.8
Staff
9.3
Cleanliness
8.1
Comfort
8.3
Location
9.4
Services
7.7
Staff
8.5
---
Pros:
My husband and I travelled to Daydream Island for our honeymoon, we had an amazing time during our stay. The staff are very friendly, we were greeted by staff as soon as we step foot on the island and the staff gave us a brief introduction of the island and the types of activities available. After we checked in our luggage is already placed in our room. We stayed in the Ocean view room and the room was quite spacious and the view was stunning. There are lots of wildlife on the Island, despite of that the resort is well maintained. During our stay, we managed to snorkel in the Living Reef, feed stingrays and fish with the guidance of marine biologists. The marine biologists were all very knowledgeable, especially Daelyn, he was also very engaging and answered all our questions regarding the creatures found in the Reef. We also went for snorkelling and kayaking along Lovers Cove, this was a memorable experience. The food was amazing, they have breakfast buffet every day and the Inkstone restaurant served very delicious dishes during dinner. There are also great variety of drinks and cocktails offered from midmorning till late. The staff at the tour and information desks are very helpful as well, during our stay some water sport has to be cancelled due to poor weather conditions, they helped us to organise alternative activities and refunds. Apart from that Bridget at the Gift Shop has been a great help to us, on our first day, she has given us lots of tips on what activities to participate in and a brief history of the Island and Resort. Overall, the Daydream Island has exceeded my husband and I's expectation and we would be coming back in the future.
Cons:
It might be a good idea to incorporate more activities in the Island, especially during days when water sports are cancelled due to poor weather. My husband and I are thinking the Resort could offer cocktail making classes, teaching people to make one of the special cocktail offered on the Island, or wild animal feeding experiences. Another suggestion would be social dancing classes or water aerobics in the swimming pools.
Cons:
where do I begin? between the poo absolutely everywhere to the disrespectful and rude staff I'm not sure which was worse. The breakfast needs to be included because you wouldn't pay for it. The most disappointing night of our holiday. What a let down to the Whitsundays. I would rate this worse then bad. We were meant to stay for two nights and cancelled to stay 1 it was that bad. Waste of time and money.
Pros:
Great place to have a weekend getaway, watching the sunset from lovers cove with a bottle of wine was a highlight. Good food available and enjoy the sunny days by the pool with a cocktail watching the wallabies/kangaroos
Cons:
It's pretty slow paced so not the place to go if you're looking for excitement. Food and beverage on the island is a bit pricey so be prepared to spend the money.
Pros:
Loved the facilities, food and fact that we were among about 50 people staying there.
Cons:
Play areas for children
Pros:
The main building is great, as is the pool and live marine pool. Simply beautiful. Loved the hobby cat, stand up paddle board and kayak. Staff were lovely and very helpful.
Cons:
The room was great, only disappointment was that the veranda was so small we were unable to have chairs on the deck to sit on to enjoy the view. Food was hit and miss, at each of the 3 dining areas open there was one meal that was very lacking and one where we got a refund as it wasn't cooked properly. I'd say the biggest issue was that after a couple of the water activities there wasn't enough to do. I would have liked to see live music at night and some additional entertainment to bring people together. I can understand it is quiet at the moment but this would put me off going again or recommending Daydream.
Pros:
Beautiful location - low moral - staff, not very welcoming or forthcoming
Cons:
Staff performance extremely low Food very average and expensive for quality
Pros:
So gorgeous and peaceful
Cons:
This blond haired waitress named Zoe was so rude every time she served us other than that every other person was supper nice and welcoming !
Extremely slow service, not attentive. Mixed up our reservation and we had to explain ourselves for 5 days. Half of the bars were closed. No activities.
Had 2 nights here was really disappointed to be told to download the app for restaurant menus etc . Picked out what we wanted for dinner went to the restaurant then only to be told sorry we changed that menu today its now the same as the other restaurant?? Won A voucher for 1kg chicken wings at bingo went to claim a few hours later only to be asked when did you get this as the kitchen is closed and we don't do these . Ordered a mocktail with orange , pineapple and passionfruit only to be told sorry we don't have any passion fruit available . Buffet breakfast was ok except for the crows flying in squawking above people and flying in the steal the peanut butter off the buffet , staff didn't seem too concerned by it . I had a lovely omelette the first morning , second morning went to order the same omelette only to be told they had no ham left for the omelettes. Such a beautiful Island but not a lot of activity going on unless you want to pay for it .
We stayed at daydream island resort for 5 nights. During our stay, it was good in total. Food should be improved. Taste was average not that delicious.
We had the most wonderful time celebrating our 25th wedding anniversary staying at Daydream Island. Staff are just lovely, our room was so clean, bed was so comfortable as well, always a plus in staying away . Resturant food was also very delicious, my favourite would be the Inkstone. A must is to go check the "Lovers Cove area" a beverage while watching the sunset. ⭐⭐⭐⭐⭐
The pool was icy and for a holiday with young kids in the southern winter, a heated pool to a decent temp would have made all the difference. Meals on the island lacked healthy options for Kids, it felt like nuggets, fish and chips and pasta were on rotation. Other than that staff were friendly and the kids club was great.
We stayed over a week as a family of 4 with two toddlers. It was not by choice we stayed that long but lack of alternate options available on the islands. Def cap your stay to 4 days Max! We spent over $250 to eat modestly every day on top of room resort charges, expensive transfers and a week without decent coffee was rough! The pools and facilities are immaculate in large hotel rooms I'd say are more 3.5-4 star. The bars, eateries and reception are manned by unqualified cheap labour that are overworked incredibly. It was apparent and it was discussed how we would see the same girls and guys working from breakfast to dinner exhausted back to back days. The young room service girls work hard but really were inferior with requests needing to be made for the floors to be cleaned... apparently this is a VIP service one cleaner told me! We had to ask for basic things like mini bar to be restocked, follow up on requests when they said they'd call us back at reception and even went as far to lie when I asked why my room was not cleaned at 4pm (reception said the standard time was between 2-5!?) When it was cleaned around 11 most other days by my request moving forward. The resort itself is really beautiful, has so much potential but really lacks atmosphere of music, ambience and grandeur. The staff are actually rude they don't greet you in the premises as they pass you on the resort.. which you get a sense of instantly by the unfriendly reception desk. The unsanitary birds in side the food areas are disgusting. The birds and crows pry on your food INSIDE the food hall while you LINE UP to get into the hall and then line up again to get food sometimes for incredibly long periods for mediocre foods at breakfast... it rotates pancakes or waffles on either day with nothing new or tasty on any other occasion. The beverages was only replenished after several requests, there is only like 4 staff manning a giant buffet hall so you have to get your own cutlery a
This place is great, everything you need in an Island holiday. The living reef that goes around the resort is just perfect, staff are friendly even though they work long hours and most days. The restaurants are ok, a little overpriced for what you get but not bad to handle for a few days.
The weather is wonderful, and then activities great, pools great, but no day spa, and no massage! otherwise, all good.
We had such a wonderful time. Couldn't recommend it more!
Island was very well organised and wildlife was beautiful espescially the stingrays and the staff were absolutley amazing in helping with all enquiries despite the loss of wifi and systems for a few days due to a telstra outage further tours were great and food was excellent definetely reccomend and staff were again kind and friendly
Our stay was great however the cleanliness near the pool area and garden area is not well maintained. Kangaroo's faeces are massively everywhere and not being cleaned as it is already smelly and some were just dried up. Even outside there restaurant, faeces can be seen in the grass area and it's not nice to see when you are in the middle of eating your food.
The good- complimentary kayaks and paddle boards were great! We liked the aquarium at breakfast too. Also had a ping pong table which we loved. The bad- we paid for an ocean view room and we're given a garden view room. We mentioned this and we're told the room we had was classed as ocean view even though we couldn't see the ocean. We were then told we could get an actual ocean view room but would have to pay for the upgrade. Took roughly 30 mins to order a drink from the swim up bar every day. 1 person working the bar is not enough. No sand anywhere. Just hard dead white coral everywhere! Definitely will not return and definitely will not recommend to anyone we know unless we don't like them.
Garden required major trimming rendered our ground floor balcony unusable.... Book directly with the restaurants on the website not directly with reception for lunch and dinner reservations.
We had a lovely stay here. They upgraded us for free for our honeymoon and we had a fantastic view from our room. All restaurants and facilities were wondrrful.
Came to the resort for our honeymoon. Our room wasn't ready until well in to the evening on our first day. We had no hot water in the room and checked with reception who said it was because the island had 500 guests and maybe everyone was using it all at once. No hot water the next day either and went back down to reception who said they would have maintenance come round and look at it. They never came. When housekeeping came around we asked them also and they made a call but still no one came. It wasn't until later that night we spoke again to reception and had a nice man change our room for us which was really nice of him, but by this point it had been 2 days of swimming and qld heat without the ability to have a shower. Some workers were amazing, others left you waiting at the restaurants for 45 mins without even a water poured. Food service is quick but when we went to pay, we were stuck behind two mates asking for a split bill and the girl couldn't work out how to charge them separately for 30mins. She couldn't work out the maths. The pool and facilities are beautiful. Great for kids and will definitely come back in the future. I feel that there weren't enough staff on and they felt junior and all seemed foreign so were very casual in their approach. Like I said I would definitely stay there again and it's very beautiful but they should really work on their staffing situation as it was the low point of our honeymoon.
great place and staff
2 Positives, The Discovery Centre and food at Infinity restaurant. Everything else is way below standard! There are severe teething issues and lack of communication between the different divisions of the resort. Staff had either no knowledge or half pieces of information about the different aspects of the resort. There was also no information in the rooms about the resort or island and the amenities provided. The supposed spa was a converted hotel room and was lacking ambience and service. Also, I had called a couple of weeks in advance to book the ferry transfer from Hamilton Island to Daydream and to include a roll away bed only to find out that neither had been arranged when I arrived. I had to rebook the ferry service at Hamilton Island. In addition, our suitcases were misplaced and the staff insisted on blaming the ferry service although we had seen that the suitcases had been unloaded from the ferry to the island! They refused to listen to us until we asked to speak to the resort manager. It turns out the suitcases were on the island in another room! The resort manager was very helpful to be fair and reassured us that they would find the suitcases. The food at both Graze and Inkstone were below standard and too expensive for the quality of food. The Infinity restaurant which is an Asian fusion restaurant was the saving grace and was good. My parents' room had no TV or telephone service. The Wifi throughout the resort was horrendous.
Pros:
The island itself is very pretty. It's close to the mainland, and would be an easy visit by ferry. There are pools and animals for children to look at. Staff was friendly. Food at Mermaids was actually very good!
Cons:
The horrible filthy facilities. Bathrooms were mostly "out of order" or overflowing with waste, and those were the ones meant for restaurant use! The lobby facilities were equally as bad. An "out of order" pool, the one with the swim up bar, was disgusting as well, but you had to walk by it to get anywhere at that end of the property. A side note- $150 for moorings are way more than Hamilton, and of course you don't get the power and water. Makes for an easy choice if stopping by private vessel.
Pros:
Loved the location, natural environment, rooms well appointed, fairly laid back environment, many of the staff were dedicated and trying their best.
Cons:
Common areas not well maintained, severely under staffed for the peak period, not enough food options or available dining locations, most activities booked out, not much attention to detail, staff a bit disenchanted and disinterested in customer's experience (until it turns into a complaint).
FAQs when booking a hotel near Hayman Island airport
How much is a cheap hotel near Hayman Island airport?
How much is a cheap hotel near Hayman Island airport for tonight?
How can I find hotels near Hayman Island airport?
Where to stay in Hayman Island?
Our map will help you find the perfect place to stay close to Hayman Island airport by showing you the exact location of each hotel.