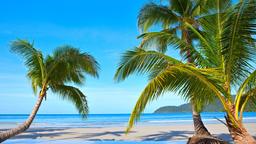 Hotels near Munda airport
Search hundreds of travel sites at once for Munda airport hotels
Best hotels near Munda airport
Based on 11 reviews
All
Families
Couples
Solo travelers
Business travelers
Cleanliness
8.5
Comfort
8.0
Location
8.5
Overall
10.0
Services
8.0
Cleanliness
7.5
Comfort
8.8
Location
8.8
Services
7.5
Staff
8.8
Cleanliness
8.8
Comfort
7.5
Location
8.8
Services
7.5
Staff
10.0
Cleanliness
8.8
Comfort
7.9
Location
8.3
Services
8.3
Staff
9.6
Cleanliness
9.2
Comfort
8.3
Location
7.5
Services
9.2
Staff
10.0
---
Pros:
Staff were very helpful. The room was clean and bright. Kitchen was well equipped. We stayed 4 days. Swam in the water just up the road.
Cons:
Shared bathroom needs some updating
Pros:
Great location away from town not too far to walk and set amongst beautiful gardens
Cons:
Roosters crowing very early in morning
Pros:
Nice place to stay close to the waterfront, out of town but just a short 5min walk if you want to go in.
Cons:
Should have coffee/tea/milk/sugar as a standard. Bathroom facilities were fine with so few guests but if it was a full house it would be an issue
Pros:
Nice relaxed home stay, has a great kitchen to cook up a basic dinner rather than eating out all the time
Pros:
Location. Kitch and large veranda.
Cons:
There was a pillow with unpleasant smell.
Pros:
Rooms were very clean, and there was a fan provided which made sleeping possible.
Cons:
No food provided as the owner was out of town. This meant walking into town for all meals. The 20 crowing roosters in the morning made sleeping fairly difficult. It just felt inconvenient.
I was in Munda for jumping and found this fantastic title guesthouse a ten minute walk from the town middle and Dive Munda. Staff is truly inviting and the community kitchen is exceptionally clean additionally very huge. I stayed in a single room but I think they are all doubles. This is the perfect spot to urge absent from all the noisy and just appreciate the marvelous ocean view from their jetty. Will return! I highly recommended this hotel to my family and friends. Thanks a lot.
Pros:
The guest house is in a great location, just 10 minutes walk from the centre of Munda. It gives you a lovely opportunity to walk and chat with the very friendly locals. The living space and kitchen are very spacious. If you are adventurous in the kitchen it has all the gadgets and modern devices needed. If you just want to relax the veranda is a wonderful location to sit, read a book and relax.
Pros:
Everyone was very nice to me. Was so happy to have stayed here. What a great place to enjoy being in Munda. The home was an excellent price, accommodation, service, and location for me. Plenty of fun things to do nearby.
Based on 6 reviews
All
Couples
Groups
Solo travelers
Business travelers
Cleanliness
8.3
Comfort
7.5
Location
9.2
Services
7.9
Staff
8.3
Cleanliness
10.0
Comfort
7.5
Location
7.5
Services
10.0
Staff
10.0
Cleanliness
10.0
Comfort
10.0
Location
10.0
Services
10.0
Staff
10.0
Cleanliness
7.5
Comfort
6.9
Location
9.4
Services
6.9
Staff
7.5
Cleanliness
8.8
Comfort
8.8
Location
10.0
Services
8.8
Staff
8.8
---
Cons:
Need better Wi-Fi access
Pros:
The food, the staff, the atmosphere were all incredible. Billy, our tour guide was extremely flexible and was very informative when touring. This place is truly magical, it is safe, and the definition of paradise. I would recommend this to any adventurer looking for something pure and raw.
FAQs when booking a hotel near Munda airport
How much is a cheap hotel near Munda airport?
How much is a cheap hotel near Munda airport for tonight?
How can I find hotels near Munda airport?
Where to stay in Munda?
Our map will help you find the perfect place to stay close to Munda airport by showing you the exact location of each hotel.