"Finding a cheap flight is a pain in the…," said no KAYAK user ever. To illustrate how you'll find the best price on the flight you want, we've put together the following four scenarios.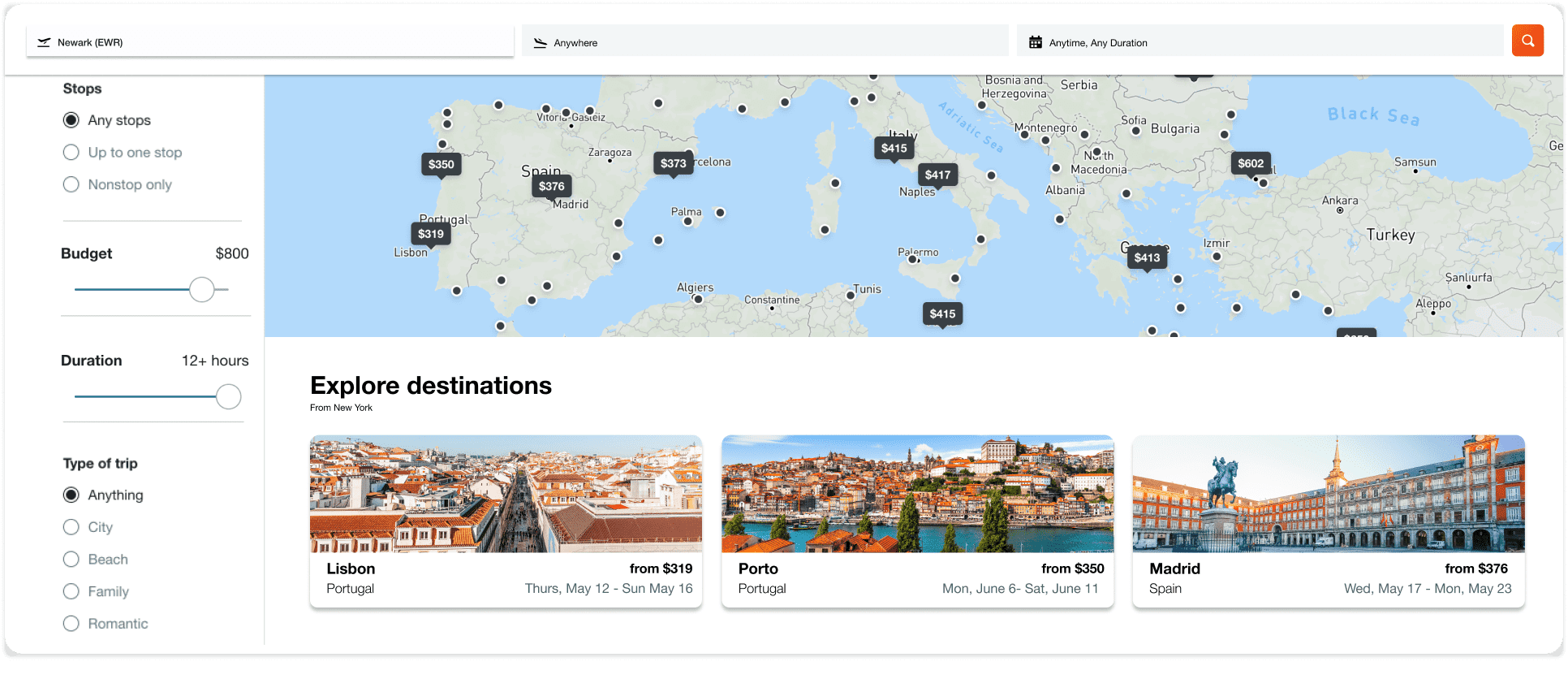 Scenario 1: You want the cheapest flight and it really doesn't matter where you're going.
With KAYAK Explore, finding the cheapest flight is simple. Just choose a departure airport, travel dates and/or a maximum budget and within seconds, you'll see a map of everywhere you can fly to on your budget (or less). Want to take it a step further? Factor in total taxes and fees by toggling from "Per person + taxes & fees" to "Total + taxes & fees" under the "Price" filter found on the app. Learn more about Explore here.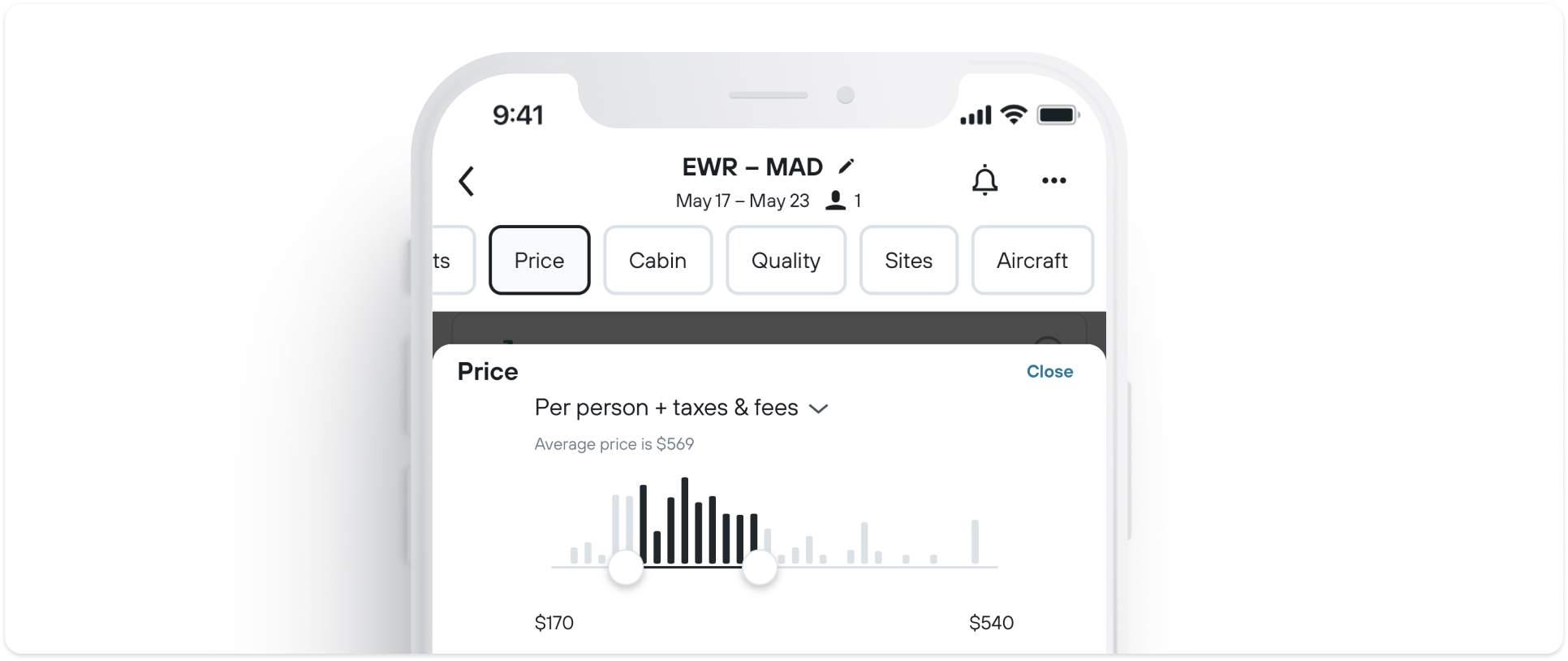 Scenario 2: You know *where* you want to go, it just doesn't really matter *when* you go.
If there's one key tip to finding the cheapest flight, it's being flexible. We know that's not always as easy as it sounds — at least not until KAYAK entered your life. Start with KAYAK Flights to enter your search details. Then, check the "Add nearby airports" option when entering your departing and/or arrival destinations. From there, you can enter certain dates with 1-3 day flexibility, search by day of the week, or by the entire month." This will show you an organized view of all your travel date options with the least expensive flights highlighted in green.
Find one you want to book or play around with the dates for more options. Consider the price/date grid to be one giant filter: you can select and deselect dates that don't work for you. Also, play with filters like flight duration and preferred airline to further narrow your search, so you're sure you're getting the exact flight you want.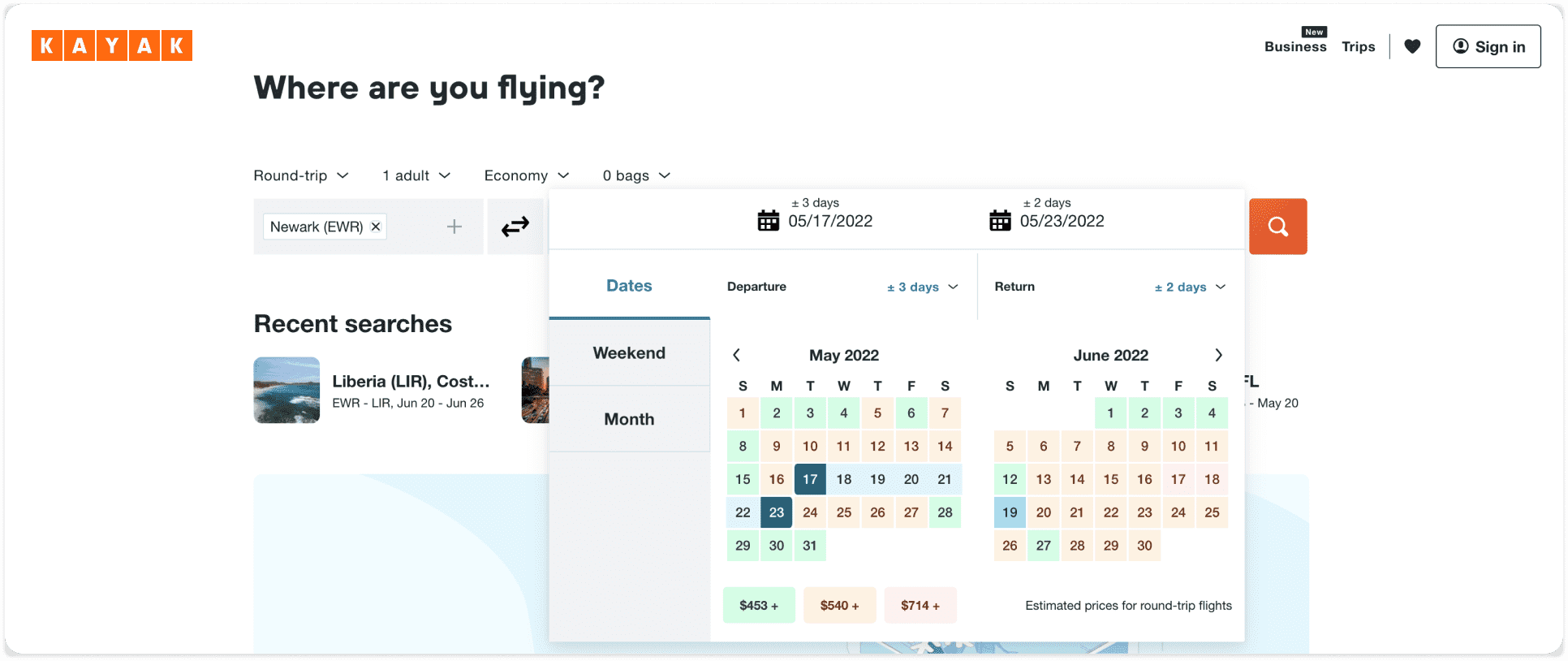 Scenario 3: You can't be bothered searching for flights, you just want to know when there's a deal available.
The KAYAK Price Alert feature is your personal travel deal scout. To create a new alert, there are several ways in. If you know what flight or hotel you want to watch, simply sign in to KAYAK, head to your account and under notifications, you'll see your current Price Alerts. From there, you can create a Price Alert for a flight or stay. Enter in the information for your flight or hotel and set to receive notifications on whatever days you wish. You can also set flight Price Alerts even if you don't know your travel dates or destinations. Select "Flexible" or "Top 25 Cities" to create alerts for a general time period or for KAYAK's most popular destinations.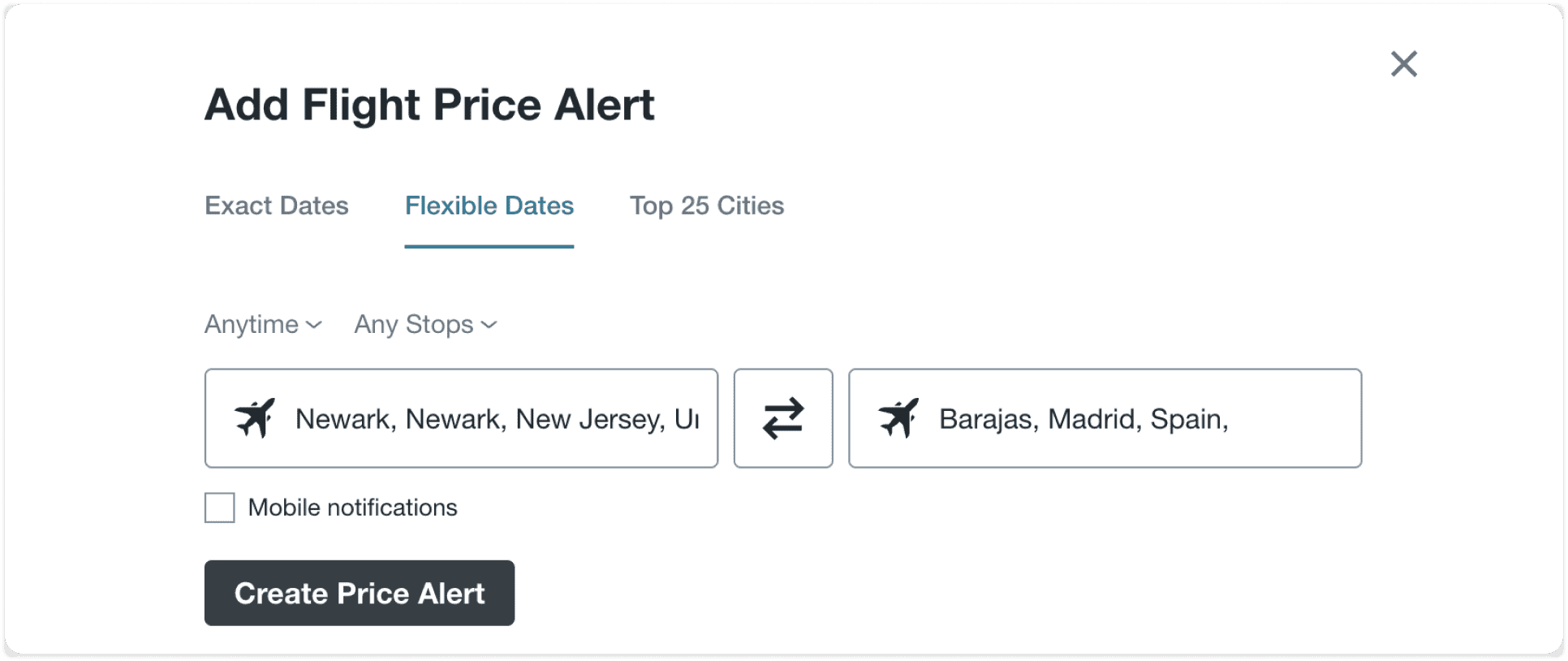 Hotel Price Alerts are a bit different. You can select a particular city or a specific hotel. Enter your intended travel dates, then set a maximum price you'd like to spend. You can opt to receive weekly or daily updates. Then, just press "Create Price Alert" and you're ready to go.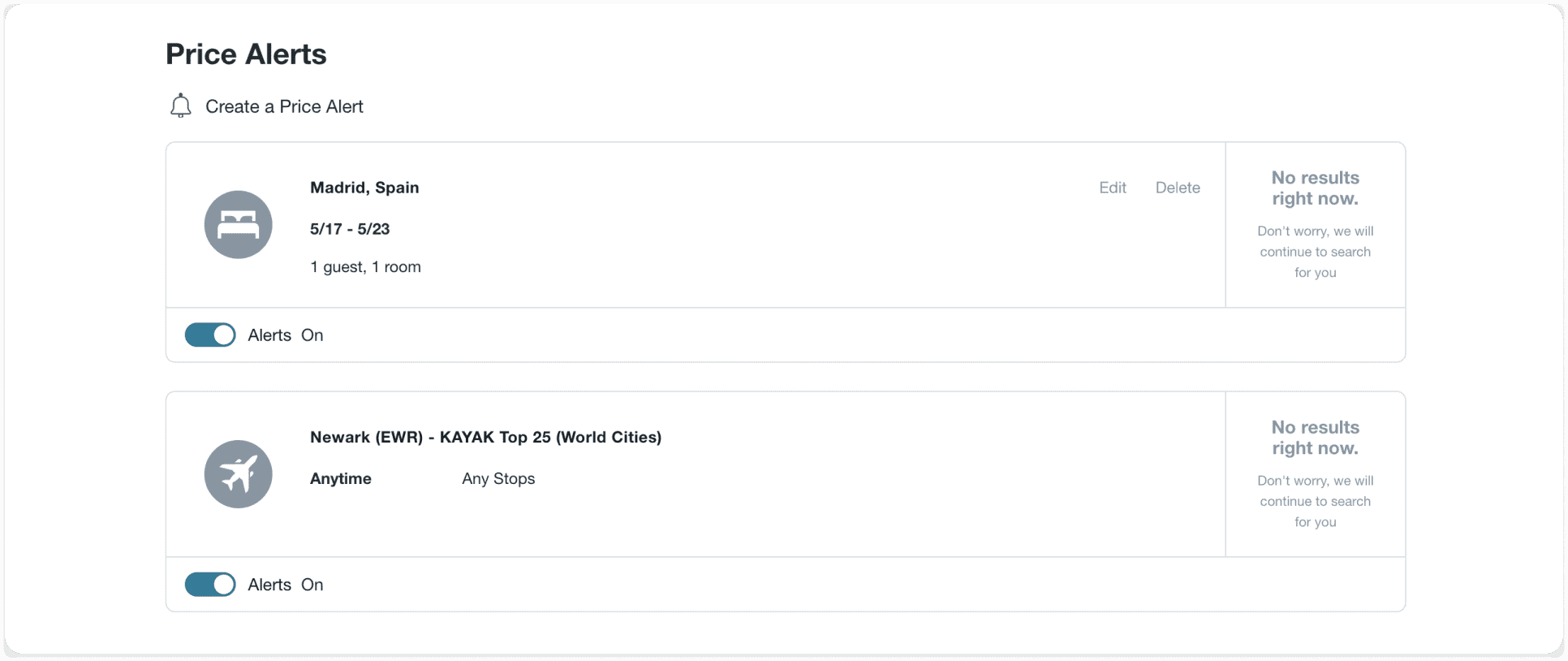 You can also set Price Alerts by creating a Watchlist or saving a search. How do you do this? We've got your answers here.
Scenario 4: You're not sure if you should book now or later.
So you're all set to buy your ticket, but there's that nagging fear – what if the price suddenly drops tomorrow? Should you wait? But then, what if the fare goes up? Lucky for you, there's KAYAK Price Freeze and Price Forecast. These tools can help you make educated decisions on when to book and give you more ways to save.
Price Freeze gives you the option to "freeze" your flight search results for a small fee. Price Forecast gives you a recommendation about whether or not the flight price will go up or down in the next seven days based on our data.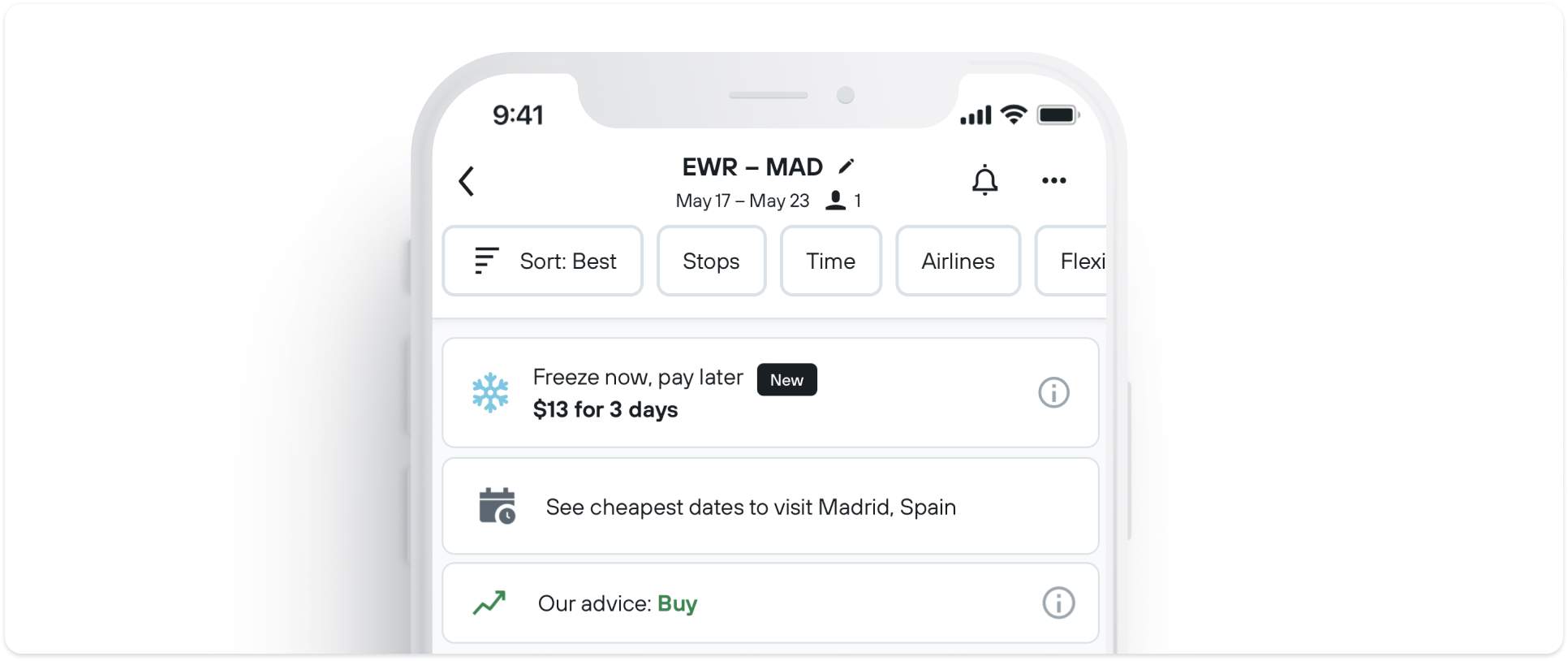 For desktop users: Whenever you make a flight search be sure to check the top left corner once the results have loaded. You'll see a graph plus a message saying BUY or WATCH. If it's a good time to buy, grab your tickets while they're hot. If not, cool your jets and wait for the price to go down (and create a Price Alert to know when they do)
For app users: Our Price Forecast tool will appear just above your search results once they've fully loaded – from there, you can click on the bar that says "Our advice" which will reveal our data. This page will give you the reasoning behind our advice, our estimated price graph and an option to start a Price Alert if now isn't the time to buy.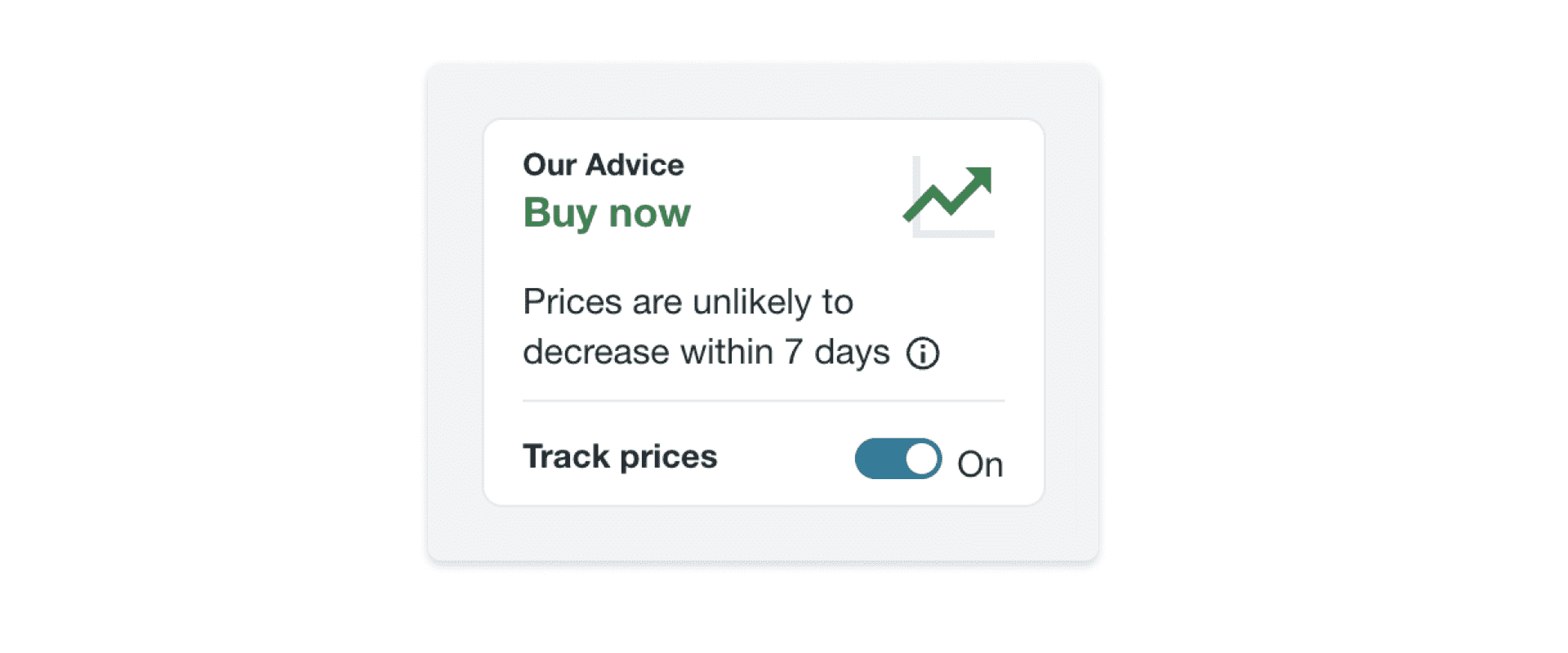 With all these features under your belt, you're well prepared to find the best deals on travel. Now go forth and book that vacation.