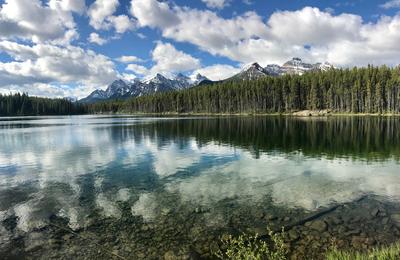 Where to stay in Vermilion?
Our Heatmaps tool will help you find the perfect place to stay in Vermilion by showing you how close hotel options are to major activities
1
9.0 Excellent (339 reviews)
Pomeroy Inn & Suites Vermilion is bringing a level of hospitality previously unseen in the area. We feature unique touch points to exceed guests expectations and truly make your trip more enjoyable and hassle-free. We understand that being away from home is not always easy. Our unbeatable array of amenities includes: Free Hot Deluxe Breakfast Free WiFi Internet throughout the hotel Pillow-top Mattress by Hypnos, Eden Linens and Duvet 43 Flat screen TVs with premium channel selections Keurig coffee stations with selection of Starbucks coffee Pool, hot tub & waterslide 24 hour Pomeroy Pantry Everything you need while on the road complete with the little touches of home, is what you will find at the Pomeroy Inn & Suites in Vermilion, Alberta. We look forward to welcoming you soon!
9.5 Excellent
Pros: large 1 bedroom suite with full kitchen, also loved the fireplace and 2 tvs excellent hot breakfast
Cons: curtains would not close to block out evening sun noisy vents were flapping in high wind all night hallway outside room not cleaned on fourth floor-same pieces of paper there for 3 days
10.0 Excellent
Pros: The breakfast was excellent every day. The hotel was very close to the venue and easily located once we got into town. The rooms were very quite, clean and had everything we needed.
Cons: Nothing, everything was excellent.
10.0 Excellent
Pros: We were in time for customer appreciation night with pizza and wings. Very friendly and efficient reception staff and friendly chambermaids"
Cons: NOTHING
8.3 Excellent
Pros: Breakfast was really nice, the rooms were beautiful and the bed very comfortable
Cons: My only complaint is the noise, the people above us had small children and they were dragging the chairs across the floor early in the morning and the sound transferred through quite loudly
6.8 Good
Pros: It was a nice hotel & a convenient location for us.
Cons: Both mornings we were really looking forward to the (apple cinnamon)waffles advertised. The first morning they ran out of all waffle mix & we waited 45 minutes for new batter to come out; the next morning they only offered the (multigrain)plain waffles. The breakfast area continually ran out of utensils and bacon/sausage. They seemed to be understaffed for the hotel being fully booked. When we're paying 1/3 more for a hotel than we normally would for all the same amenities and "breakfast included" option most everywhere else we travel, we would have expected supplies to be there when we came down to eat. We also needed to have our cards rescanned 4X(between my husband and myself)before we were able to be let into the pool area, the front desk personnel eventually came to use a master key to get us in. All in all, these things cost us time and frustration while planning out our day.
8.3 Excellent
Pros: Friendly staff at the check in - the wide open breakfast area was nice to have; it was nice and cool in there too.
Cons: Had a king suite; said that it would sleep 4 people. The hide a bed was a single mattress; so we had to have a cot brought up.
9.3 Excellent
Pros: Rooms were modern, there was a guest appreciation night when we went (free pizza, wings, beer, pop), easy access off highway, near gas station and BPs, and good breakfast.
Cons: Terrible pillows - the big poofy looking ones that are rock hard so you neck is at a fun angle all night. Would be nice to have a selection (poofy to flatter) ones to choose from.
8.3 Excellent
Pros: The cleaning in rooms.
Cons: The breakfast... All the bread were in bags and we have to take it with our hands. The coffee wasn't good, the juices neither. They don't provide trays and coffee spoons (?)
10.0 Excellent
Pros: Easy access, clean and modern, pool and hot tub, great breakfast
2
8.0 Excellent (113 reviews)
Welcome to the Super 8 Vermilion. We are conveniently located off Yellowhead Highway 16, near restaurants, shopping, and area attractions. We offer an on site Pool/Waterslide/Hot tub and fitness room. All rooms offer high speed internet, in room coffee, microwave, fridge, and hair dryers. In the morning we offer a Super Start breakfast to send you on your way. 100 Percent Smoke Free Facility
9.5 Excellent
Pros: Bed are to die for. Pillows were amazing!
10.0 Excellent
Pros: Bed comfy. No noise.
8.0 Excellent
Pros: The beds were soft and comfy!Overall, a pleasant stay!
Cons: No pool working and the ice machine was down.
10.0 Excellent
Pros: Everything but the pool was not operational
8.8 Excellent
Pros: Every thing was nice staff were very friendly rooms were very clean. Only issue is the hot tub and pool are out of order and have been for a few years but we were not told that when we booked
Cons: No pool and hot tub as advertised
9.5 Excellent
Pros: Clean, quiet and comfortable. Nick's restaurant had great breakfasts and dinners.
Cons: Nothing.
6.8 Good
Cons: Could have been cleaner.
9.5 Excellent
Pros: It was clean and the beds were very comfortable. The staff were lovely and friendly.
Cons: The pool and hot tub were out of order as well as the breakfast could use. improvement. A waffle machine would be a very good investment for this hotel.
9.3 Excellent
Pros: The bed was fabulous and the jacuzzi in room was great! The breakfast was good and we loved the Keurig coffee maker:)
Cons: We were very disappointed when we saw the pool u see construction. The pool, water slide and spa were the reasons we chose Super 8. However, the remainder of the experience was really great.
9.5 Excellent
Pros: Having a couch to sit on and an armchair is great. Some places have no sitting area.
Cons: Nothing all excellent.lovely room
3
8.0 Excellent (61 reviews)
Welcoming staff and affordable accommodations make the Days Inn Vermilion hotel in Alberta, Canada an ideal rest stop and extended stay destination. Located off Highway 41, this lodging facility is 61 km from Lloydminster, minutes from Lakeland College and offers easy access to many local businesses including Rock Solid, Southview Trucking, Cortex Business Solutions, and Baddock's Power Products. This smoke free facility is newly renovated and offers guest laundry, well-equipped fitness room, complimentary light breakfast and an onsite restaurant. Each guest room includes complimentary wireless Internet, HDTV, microwave and mini fridge. A business center and meeting facilities are also available.
5.8 Okay
Cons: Found the beds hard, it also seemed to be off the beaten path and not very visible. I drive around the building twice because I was surprised it was actually the one.
7.5 Good
Pros: Clean room
Cons: Breakfast was not good
10.0 Excellent
Pros: Love that it is downtown
Cons: The furnace was pretty loud
10.0 Excellent
Pros: Breakfast was good. Location was good.
Cons: Restaurant closed for renovations
8.8 Excellent
Pros: Clean room, good location
Cons: The rooms were not as large or as modern as most Wyndham hotels. The bathroom was tiny.
7.0 Good
Cons: Used to have a nice breakfast now waste of time
10.0 Excellent
Pros: the staff were so helpful and the room was very clean
10.0 Excellent
Pros: Breakfast was very good.
Cons: I had to borrow some cutlery from the bar. I was disappointed that they gave me plastic cutlery. I try to minimize my footprint on the environment, and this could have been avoided. If the bar didn't have access to the kitchenware, this should be amended for future guests.
10.0 Excellent
Pros: Comfy bed, reasonably quiet
Cons: Bathroom not very accommadating for handicap. Door opens partially to enter. Takes a little manuevering with walker
7.5 Good
Pros: quite clean and spacious room
Cons: The Breakfast rooms were too small and the food was not enough and too small little choices especially with too many children around, clearly the hotel was not prepared and I had to look for breakfast outside the hotel