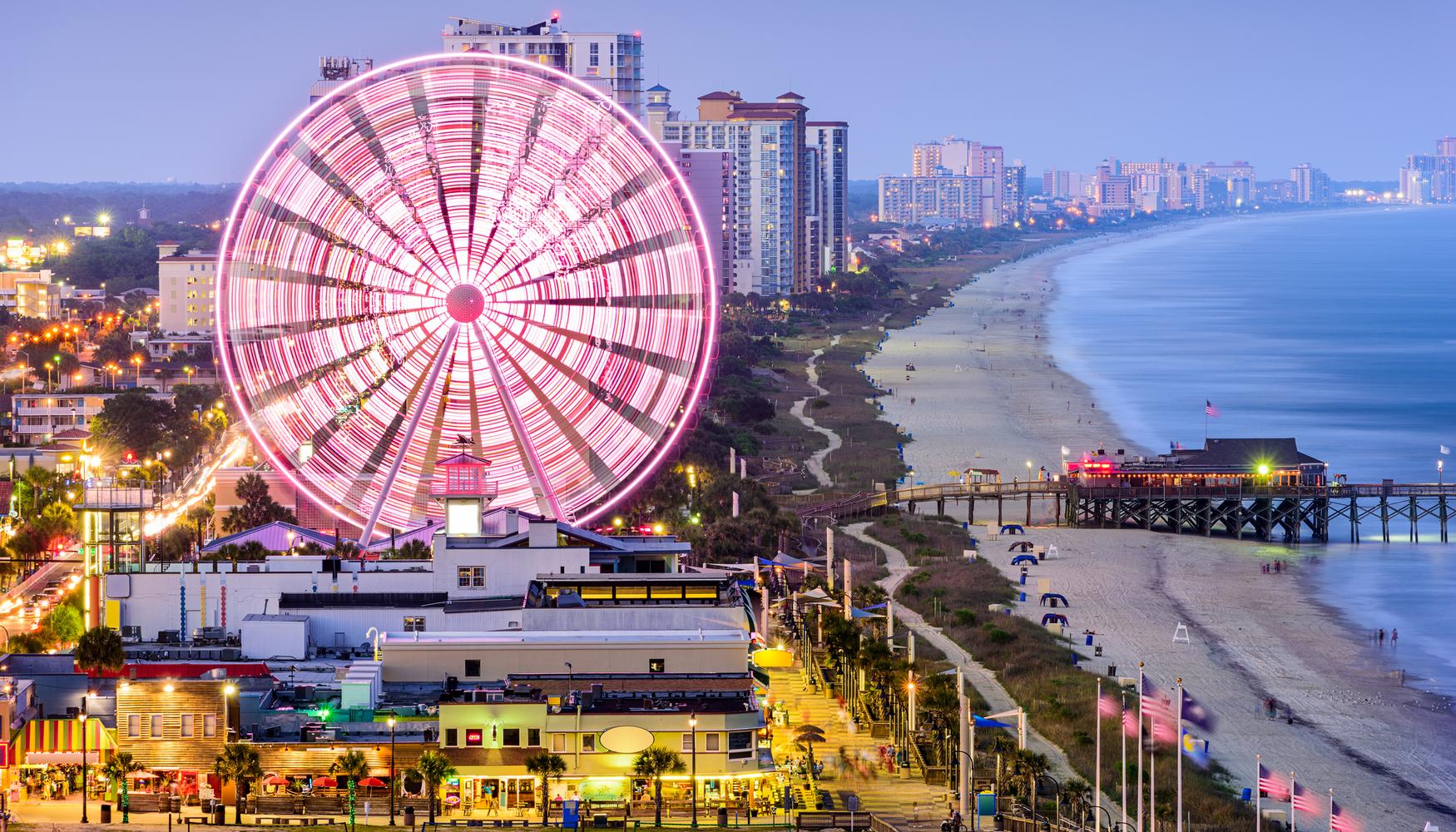 Myrtle Beach vacation information
| | |
| --- | --- |
| Top vacation (Flight+Hotel) | $293 |
| Family vacation (Flight+Hotel) | $294 |
| Romantic vacation (Flight+Hotel) | $191 |
| Luxury vacation (Flight+Hotel) | $362 |
| Budget vacation (Flight+Hotel) | $254 |
Why should you book a vacation package to Myrtle Beach?
When you add up the cost of accommodation, getting around, dining out, ordering drinks, paying green fees and club hire, or visiting attractions like Family Kingdom Amusement Park, vacations in Myrtle Beach can become pretty expensive.
With package vacations to Myrtle Beach, you can cut the cost of enjoying South Carolina's premier beach resort. You can bundle together hotels, vehicle hire and flights, and have plenty to spare to make the most of your break.
When should you book a vacation package to Myrtle Beach?
Peak tourist season in Myrtle Beach is between June and August, when city dwellers flock to the coast of the Carolinas and hotel prices tend to spike. To avoid these premiums, fall breaks can provide good weather and space to relax. Try October, when Oktoberfest and Taste of Town hit the Boardwalk.
Where should you stay in Myrtle Beach during your vacation?
For any vacation type in Myrtle Beach:
The Boardwalk Beach Resort has wide appeal, and should suit families, solo travelers and couples alike. It's next to the beach, has a fitness center and spa and a lazy river in the indoor pool, so relaxing is easy. Myrtle Beach International Airport is around 15 mins away by taxi.
The Patricia Grand by Oceana Resort Hotel is another versatile Myrtle Beach option, with great beach access and proximity to the Boardwalk, with suites for couples and families to enjoy. The airport is around 4 miles away, so transfers are very quick.
For family vacations in Myrtle Beach:
Sea Mist has been around since 1954, and offers a great range of amenities for families, being really close to Family Kingdom and the beach, along with some challenging mini golf courses. Again, with the airport 4 miles away, transfers don't take long.
Families will adore the Seacrest Oceanfront Resort. Also close to Family Kingdom and the sea, this hotel actually has a children's water park on-site and caters for young visitors in style. Shuttles are available to the airport, which is a couple of miles away.
For romantic vacations in Myrtle Beach:
Royale Palms is the perfect setting for a romantic Myrtle Beach break. It offers private condo apartments close to some of the resort's best music and shopping venues - and gorgeous sea views are routine. The airport is around 5 miles away via Robert M. Grissom Parkway.
The Kingston Plantation Condos also offer secluded apartments that couples will appreciate, with poolside bars and dining options, a fitness center and tennis courts. Conveniently located near the heart of the resort, it offers a free airport shuttle.
For luxury vacations in Myrtle Beach:
The North Beach Plantation Hotel is Myrtle Beach's premier luxury establishment. Close to some superb wineries it offers serviced condos, all-inclusive golf packages and a gourmet steak and sushi restaurant. And its shuttle takes guests wherever they need to go, including the airport.
Luxury is the focus at the Hilton Myrtle Beach Resort, offering a beachfront restaurant, high speed wi-fi, and the services of both the Royale Day Spa and the Hilton Golf Academy. The five mile drive from Myrtle Beach International takes around 15 mins.
For budget vacations in Myrtle Beach:
The Westgate Myrtle Beach Oceanfront offers a dash of luxury, but with bargain prices. Boasting beautiful beach views and close to amusement parks, mini golf courses and the resort's nightlife hubs, it's a comfortable low cost alternative. Taxis from the airport shouldn't take more than 10 mins.
The Bay Watch Resort is affordable and welcoming, offering special deals for local water parks and featuring a huge pool deck with ocean views, along with casual cafes, a sports bar and grill and a lively beach bar. The best way to get there from the airport is via the Myrtle Beach Airport Shuttle, while taxis will take 10-15 mins.
Other popular destinations