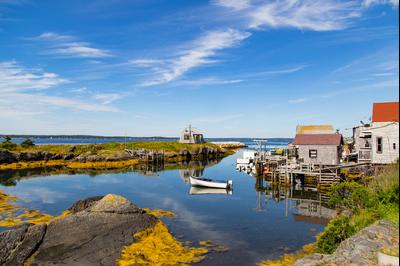 Where to stay in Shelburne?
Our Heatmaps tool will help you find the perfect place to stay in Shelburne by showing you how close hotel options are to major activities
1
9.6 Excellent (160 reviews)
This bed and breakfast is located in a historic home on the harbour in Shelburne's Historic Dock Street District. Guests receive complimentary biscuits and mints in their room. Free Wi-Fi and a TV with cable channels are in all rooms at Cooper's Inn. Each room is decorated with traditional furniture and have an en suite bathroom. Guests are served a hot breakfast every morning in the breakfast room. The entire inn is non-smoking. Shelburne County Museum is a 3-minute walk from Cooper's Inn. The Osprey Arts Centre is a 7-minute walk away.
10.0 Excellent
Pros: The opportunity to socialize with the other guests at the cocktail hour.
Cons: I feel it is the norm to expect a bar of soap for the shower and bath. There was also no shampoo. I think guests need a heads up to bring a bar of soap and shampoo. For safety reasons you shouldn't bring the glass container with liquid soap into the shower.
10.0 Excellent
Pros: beautiful place, tastefully styled. Pat and David welcome their guests with a handwritten note and treat them with a delicious breakfast. They provide lots of helpful information about the area. The get together in the garden at 5 p.m. is a super nice idea, too. You can even watch hummingbirds...
10.0 Excellent
Pros: Right from the get go, Pat and David were extraordinary hosts. Pat was able to get us a reservation at a local food hotspot that had previously been full up. The social in the gardens with the NS wine was delightful, good company all around. Breakfast was nothing less than superb. Fantastic fish cakes! Thank you both for making our stay a memorable one. Awesome place!
Cons: Not a single thing!
10.0 Excellent
Pros: This is a B &B that sits on the famous Shelburne boardwalk on Dock Street. The accommodations brings with it historical charm and comfort. Incredible views of Shelburne Harbor and the Atlantic Ocean. It has a wonderful courtyard where you can meet the guests and share stories or just enjoy the beautiful gardens full of hummingbirds. The hosts Pat and Dave were very charming and accommodating. You will never be disappointed in the cozy little piece of history. Highly recommended.
Cons: There wasn't one thing that I didn't like in the Coopers Inn
10.0 Excellent
Pros: Little extras, good breakfast selection, convenient location, Bert the cat.
Cons: Not keen on the muffins.
10.0 Excellent
Pros: The location is great, on the waterfront with a lovely courtyard garden where drinks are served at 5pm for guests. Very comfortable bed and room. Great touches like the Cooper Bear left on beds for guests to take away. Lots of thoughtful touches for visitors. Breakfast was also excellent with choice of dishes freshly prepared and beautifully presented. David and Pat were gracious and friendly hosts. Loved it. Also in historic Shelburne one of my favourite places in Nova Scotia.
Cons: The WiFi connection was not great but then it does mean you read more.
10.0 Excellent
Pros: Unbelievable friendly and warmhearted owners. Thank you Dir your hospitality. We will always remember
Cons: Everything was wonderful.....
8.8 Excellent
Pros: This is a delightful Inn with very welcoming hosts. The breakfast is unbeatable, as is the location.
10.0 Excellent
Pros: Best breakfast of a 10 day trip. Awesome!
9.3 Excellent
Pros: Personal touches by hosts
2
8.2 Excellent (117 reviews)
Located in Shelburne, MacKenzie's Motel & Cottages is within a 5-minute drive of Boxing Rock Brewing Co and Ross-Thomson House and Store Museum. The front desk is staffed during limited hours. Free self parking is available onsite.
10.0 Excellent
Pros: Friendly staff , accommodating, cleanliness, pool was great and staff gave us pool towels , overall great stay
10.0 Excellent
Pros: We booked short notice as my daughter was admitted to hospital and they were so accommodating. Great stay
Cons: Enjoyed it all
9.3 Excellent
Pros: When we arrived, I signed in and now realize I was charged again when the payment was already made when the room was booked. Please arrange for a refund.
Cons: Everything else was fine, but double paying is most distressing.
8.0 Excellent
Pros: Comfortable bed and excellent breakfast.
Cons: Empty ash tray on the deck that was left full from previous folks I'm assuming .
6.3 Good
Pros: Beds were comfortable. Location was convenient. Lots of space in cottage.
Cons: The cottage wasn't cleaned well. There were cobwebs and spiders found throughout. The portable AC unit wasn't able to keep up with the heat at all. We went to bed each night at 29 degrees Celsius with two small children - so it didn't go well. The cottage we had only had a stand up shower, not so convenient with small children. We asked to have reservation changed to better accommodate our family of four and they did, but this wasn't the best option for us. Short of leaving the property there wasn't much else we could do once already there. Also, extremely expensive for what we got. For the price we paid I don't expect a portable AC unit ... I expect to go to sleep comfortably each night.
8.3 Excellent
Pros: Pool was nice to have available
Cons: Can't say anything negative, excellent stay.
9.5 Excellent
Pros: Good location but did not try the breakfast
Cons: No air conditioning or ceiling fans. Very hot rooms.
5.8 Okay
Pros: Bed was comfortable
Cons: Shower was for very small people
10.0 Excellent
Pros: Amazing classy hosts, true Nova Scotia kindness and hospitality without being intrusive.
Cons: There was absolutely nothing I did not like
8.8 Excellent
Pros: Very well maintained older style motel. Rooms are not large but bed was comfortable and shower was good. Nice fridge with small freezer and a microwave. A/C worked well. TV/Cable worked well. Has a free breakfast but we did not make use of it. Stayed here while running the NS Marathon in Barrington Passage; approx 30 minute drive. Worked very well for us.
Cons: It is an older style property and the rooms are on the small side. May not work for someone who is looking for a modern hotel room. But worked just fine for us.
3
8.1 Excellent (174 reviews)
With a stay at Wildwood Motel in Shelburne, you'll be within a 5-minute drive of Islands Provincial Park and Ross-Thomson House and Store Museum. The front desk is staffed during limited hours. Free self parking is available onsite.
8.3 Excellent
Pros: The motel was very clean, checking in was quick, breakfast was just like I was use to at home...wonderful brown, and white bread, bagel for toasting, muffins, juice, hard boiled eggs, coffee.
8.8 Excellent
Pros: Convenient overnight on way to destination. Friendly staff.
Cons: Somewhat dated in & out, but charming nonetheless
8.3 Excellent
Pros: The Wildwood was clean & comfortable. It's on a quiet side street but has easy access to restaurants and the highway.
10.0 Excellent
Pros: Ok could have been a little more food but what was there was good
Cons: Wake up call an error was made called me 2 hours early otherwise everything good.
8.0 Excellent
Pros: I've stayed at the Wildwood on numerous occasions in the past. I like it for its proximity to downtown and the fact that it's off the main drag. Minutes to the shopping centre and close to a number of good restaurants, i.e. Charlotte Lane Cafe, Luong's.
Cons: What I noticed is that the motel is looking "tired" . Shingles are starting to lift and curl on the roofs and the eaves-troughs are in dire need of a cleaning. The windows and screens need some TLC as well. However, I was more than satisfied with the cleanliness of the room.
8.3 Excellent
Pros: Staff was very friendly
8.0 Excellent
Pros: Nice country setting. Relaxing to listen to chirping birds in morning. Close to scenic rapids and large ship building company in area. Rooms were nice and parking right in front of room. Just a small town nearby but found a TIM HORTONS closeby, Mcdonalds. Would stay again if in area.
Cons: Liked everything
7.0 Good
Pros: It was a little outdated but overall very clean and very quiet.
6.8 Good
Pros: It was quiet, it had microwave, fridge with small freezer, coffee maker. Bedding was clean, sufficient towels. Had toiletries and hair dryer Free self serve continental breakfast with decent selection. Staff were pleasant.
Cons: Window locks didnt appear secure. Lots of dead insects between the windows. Out door chairs in non smoking area were dirty and rusty ruined my pants. Alot of mosquitoes. Not enough blankets for the bed. Poor lighting inside. Desk chair was heavily stained.
8.0 Excellent
Pros: Arrived and the AC was working, check in was easy and the room was ready. Goes a long way. Parking lot was well marked, it was quiet and staff were friendly.
Cons: Had a small co.munication problem, but it got worked out in the long run.
8.0 Excellent
Pros: The breakfast was great. The only concern in the bathroom was the hot water tap. Had to turn it very hard to stop dripping.
Cons: The only problem was the tap in bathroom. Concerned that you can waste water. Needs to be fixed with new taps.