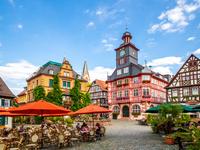 How much does a hotel in Büdingen (Hesse) cost?
Best prices found by KAYAK users in the past 24 hours.
Where to stay in Büdingen (Hesse)?
Our Heatmaps tool will help you find the perfect place to stay in Büdingen (Hesse) by showing you how close hotel options are to major activities
Best rooms in Büdingen (Hesse)
1
8.9 Excellent (188 reviews)
When you stay at Hotel Saline in Buedingen, you'll be 10 minutes by car from Ronneburg Castle.
8.3 Excellent
Pros: The location is perfectly within easy walking distance from train station and into old town. The breakfast buffet is more than generous for the price and there is a terrific cafe (Naumanns) right around the corner. Rooms are cozy and Büdingen is as charming as one can imagine. Lots of dining options in town. I favor Zum Stern al Giardino for dinner and Hexenstubbe for a mid-day snack. Hotel staff is efficient. Very quiet at night.
Cons: I would love a wash cloth in the bathroom but most European hotels don't provide those.
10.0 Excellent
Cons: Clearly historic exterior with new and modern interior. Large room, beautiful bathroom. Excellent breakfast. First class all the way!
9.6 Excellent
Pros: The location, cleanliness, room spaciousness was superb. The breakfast was GREAT!!
Cons: The staff was not very available should I have had an emergency. As it was, I didn't require further support EXCEPT, my free WiFi did not work. I was able to locate the front desk woman, but she did not know what to do and I suspect she didn't have a contact person to address. I was left with the feeling of "Oh Well". Luckily, my iPhone Hotspot worked although that is not what I prefer to use.
10.0 Excellent
Pros: Technology for check-in and room lighting. Nice, clean, different in a good way. Breakfast was excellent. Staff was very helpful even though we spoke barely any German.
Cons: No suggestions -- can not wait to return
10.0 Excellent
Pros: The room was big and the beds really comfortable. I liked that you were able to hang out in the lounge in the evening having something to drink. The whole hotel was beautiful and I liked the art and the decorations. Staff was friendly and efficient. The breakfast was excellent!! We will be back,
7.5 Good
Pros: Perfect
Cons: One semifriendly (almost unpolite) staff member
2
8.8 Excellent (737 reviews)
When you stay at Schlosshotel Büdingen in Buedingen, you'll be 12 minutes by car from Ronneburg Castle.
9.5 Excellent
Cons: Office was closed when we arrived but luckily a friend picked up our room key before the office closed. We arrived around 5 pm on a Sunday.
8.3 Excellent
Pros: Schloss Büdingen is an ancient castle in the town of the same name. It's picturesque, easy to access, and has free parking on-site. There is excellent and free Wi-Fi coverage on the entire property. Rooms are spotless, with comfortable beds and television. Breakfast is included with your room, and it's typically German: Cold cuts, cheese, yogurt, soft-boiled eggs, bread and rolls, coffee and juice. The staff is very friendly and helpful. Restaurants and pubs in the Altstadt (Old Town) area of Büdingen are just a short walk from the castle.
Cons: Being a very old structure (almost 1000 years) Schloss Büdingen presents challenges for those used to modern amenities and accomodations. Floors are uneven, steps are steep, and there is no air conditioning (which is rarely needed anyway). There are no elevators, of course. These are not really deficiencies, simply characteristics one must accept in exchange for being able to stay in such a historic place.
10.0 Excellent
Pros: The location is exceptional, and very quiet.
10.0 Excellent
Pros: We expected a room but had a suite of rooms. I thought it might be a bit seedy; it is a castle after all. But everything was lovely. Make sure to pay for a tour of the castle: our guide was an historian with a charming sense of humor.
8.3 Excellent
Pros: Being in a castle setting.
Cons: The kitchen/living area was very small. The bathroom was great, but the shower/bathtub was hard to figure out.
9.6 Excellent
Pros: Well, it's an authentic 13th century castle converted into a hotel not in a big city tourist trap.
All hotels in Büdingen (Hesse)