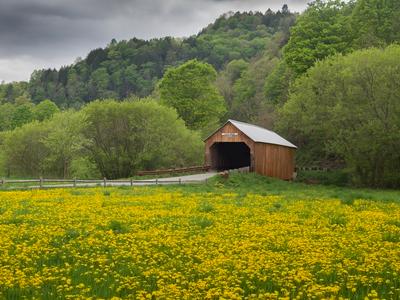 Where to stay in Perkinsville?
Our Heatmaps tool will help you find the perfect place to stay in Perkinsville by showing you how close hotel options are to major activities
1
9.5 Excellent (76 reviews)
With a stay at The Inn at Weathersfield in Perkinsville, you'll be within a 15-minute drive of Mt Ascutney State Park and Eureka Schoolhouse. Featured amenities include luggage storage, a library, and refrigerator in a common area. Free self parking is available onsite.
10.0 Excellent
Pros: Beautiful old building furnished to high standard
8.0 Excellent
Pros: The inn is a beautiful old building. The rooms are very comfortable and clean and the food was excellent. The staff is very pleasant and helpful once you get their attention. Parking is free and plentiful next to the building. There are large roaring fires to warm the common areas.
Cons: The room was very noisy and we could hear every conversation, cough, and sneeze from the neighbouring rooms which made our room feel less than private. Plus the noise from the restaurant/ bar area was pretty loud late into the evening. We had a very hard time getting the staff to seat us for dinner both nights even though we had reservations. We sat for over thirty minutes past our reservation time and were only seated after asking many times. The rooms are clean, but the inn asks the guests to give tips to pay the housecleaners for this service. I would think the inn could afford to pay the housekeepers a decent wage with the room rates that they charge without having to resort to leaving envelopes asking for more. Maybe they should pay their housekeepers better for their hard work rather than asking guests for tips.
9.3 Excellent
Pros: Friendly staff, beautiful location, interesting hotel.
Cons: Was not informed beforehand that there was no AC in the room (some rooms do have AC).
10.0 Excellent
Pros: The atmosphere was inviting and cozy. It was everything you envision when you think "Vermont B&B". From the homemade fig jam, complimentary homemade granola bars and the pottery made by the chef's wife, our experience here was more than we could have imagined.
10.0 Excellent
Pros: THE INN KEEPERS MAKE CERTAIN YOU HAVE EVERY COMFORT. THE FOOD IS OUTSTANDING
10.0 Excellent
Pros: Our stay at the Inn at Weathersfield was exceptional. The food was absolutely delicious, the accommodations could not have been nicer, and the staff took care of us so well. We will definitely be coming back.
Cons: N/A
9.3 Excellent
Pros: Richard was my host and he went out of his way to accommodate me with an early breakfast. Great egg and bacon sandwich.
Cons: Was there Monday and their bar and restaurant were closed.
2
8.5 Excellent (305 reviews)
Conveniently located near Okemo and Bromley Mountain ResortsLocated off I-91 at exit 7, just a short drive to Okemo Mountain, our hotel is a bastion of comfort and convenience for all guests whether they're traveling for business or leisure. For families on vacation our Springfield, VT hotel's accommodations are near great local attractions including the Green Mountain Railroad Depot and the Vermont Country Store in Rockingham. Ideal for our adult travelers the Harpoon Brewery is down the road, so stop by to taste some of the finest Vermont beer. Corporate patrons appreciate our Springfield, VT hotel's convenient meeting room facilities which can host up to 80 guests, perfect for your next business conference or even a party or shower. Our sales and service professionals are available to help make your event a success. In addition, the 24-hour Business Center with high-speed Internet access provides you with all you need to do some out-of-office work. During your stay at our Holiday Inn Express® Springfield hotel, make sure you take advantage of all the little extras we offer like the heated salt-water indoor pool, a game room with a pool table, and arcade games. If you like to continue your workout routine even while on vacation or business then take advantage of our Fitness Center, which is well-equipped with free weights and a variety of cardiovascular machines.
7.5 Good
Pros: room was clean and the staff was nice and helpful!
Cons: wish they had a jacuzzi !
8.3 Excellent
Pros: Location
Cons: Room smelled musty.
4.3 Okay
Pros: Personnel were pleasant and professional.
Cons: The Saturday of the "big storm" was very unpleasant. Breakfast was terrible as the real bacon was gone by Friday and the "kitchen staff" (one person) predicted there would be no bacon because of all the little boys raiding the buffet on Friday morning. The turkey sausages were like shoe leather. There was no availability of extra food for the day when all of us were snowed in and it required a walk to the gas station on the other side of the highway for lunch and dinner. I was not warned that service for AT&T cell phones was not available and the attempts to get wireless service on my phone were unsuccessful in spite of staff assistance. This was the week-end of the playoff football games and staff told me that "corporate" required them to keep the radio on in the background while the TV was showing the game. I will never stay at a Holiday Inn again. Adding insult to injury, when I checked out I learned that my rate went from $99 on the first night to $174 a night for the subsequent nights.
9.5 Excellent
Pros: Front desk person , Tim, was fantastic !!!! Very fast and efficient check in.
Cons: Need an elevator in both sides of building. Carrying heavy bags up and down stairs on arthritic knees was painful.
10.0 Excellent
Pros: The service an staff was on point room was clean
10.0 Excellent
Pros: Neat, Clean, and comfortable
8.0 Excellent
Pros: Close to interstate. Had a pool. Coffee in rooms and decent breakfast.
Cons: Bed was a little hard. No hot tub. Pool towels were very small. Price was a little steep for the amendaties but was the only decent hotel around the area.
6.3 Good
Pros: Breakfast was average with hot and cold options. Few fresh options.
Cons: Remote location from town - few transportation options if you don't have your own car.
8.8 Excellent
Pros: Location was just where I needed it. The pool was clean and enjoyable. Pizza and salad at the restaurant / bar was delicious, and service was good. Overall appearance of the hotel and rooms was good.
Cons: My room key stopped working twice, and I had to keep going down to the front desk to get one that worked. There was only one laundry machine (so it was under strong demand) and at first it didn't take my money correctly. A service man came promptly and fixed it, but ideally there wouldn't be a problem in the first place, especially since there was a line waiting to use it.
8.3 Excellent
Pros: Staff were awesome!
Cons: Breakfast was less than desirable, the Gym equipment was non functioning
9.5 Excellent
Cons: Breakfast needs to be earlier for ski season
10.0 Excellent
Pros: Heather checked me in and helped me with every need!
3
8.2 Excellent (134 reviews)
Located in Springfield, Hartness House Inn is in the business district, within a 10-minute drive of Eureka Schoolhouse and Baltimore Covered Bridge. Featured amenities include a business center, complimentary newspapers in the lobby, and luggage storage. Free self parking is available onsite.
5.5 Okay
Pros: The atmosphere was great. Friendly staff.
Cons: Breakfast was not very good. I was expecting a little more.
10.0 Excellent
Pros: The ambiance and friendliness and helpfulness of the staff - delightful!
8.8 Excellent
Pros: Unique quiet property
Cons: Room lacked character compared to the inn itself. No pics or decorations. Also no info about the place/area in room.
9.5 Excellent
Pros: We spent a memorable weekend at the facility. The friendliness and hospitality in all sections was outstanding. The main house which dates back to the early 1900s provides a wonderful comforted upper class experience of that era. Looking forward to go again.
3.8 Mediocre
Pros: Well-maintained. Hardly any guests, so quiet. The hotel seems to be more of a weekend and party venue rather than a B&B.
Cons: In the room, no glasses, no telephone, not enough electric plugs, lighting or TV channels (only 1) and uncomfortable beds. The hotel had too short check-in (3-5pm), no staff afterwards and a tiny poor breakfast. The town of Springfield has no real restaurant or attractions.
10.0 Excellent
Pros: The room and bed were comfortable. The staff was very friendly and helpful. We love exploring the hotel and frowns soaking in all of the history. We grew up in the area and always heard about the Hartness House from our parents attending events but never really knew anything about the history. Thank you!
Cons: There was nothing we didn't like.
9.5 Excellent
Pros: This big old house is an architectural gem. The bed was comfortable, the room very clean. The breakfast was spartan, but adequate. The lone staff member was very pleasant and efficient.
Cons: The room could have used a desk and desk light. The lighting was not conducive to doing any work. I brought my own shampoo and conditioner, which was good, because there did not seem to be any and I did not want to bother the lone staff member, who had already gone home
9.5 Excellent
Pros: They promised a continental breakfast . . . but laid out much more. Nice. The historic mansion was delightful. Our room was really nice. The desk staff were very helpful.
Cons: The only nice rooms at the inn seemed to be in the historic mansion itself. That's where we stayed. The units attached to the back of the mansion had a tacky motel feel. A Motel 6 would be a better choice.
7.5 Good
Pros: Beautiful bed & breakfast and the breakfast was good!
Cons: The website said there was a tavern but, it was not available.
6.3 Good
Pros: Nice inn
Cons: Lack of upkeep on outside grounds