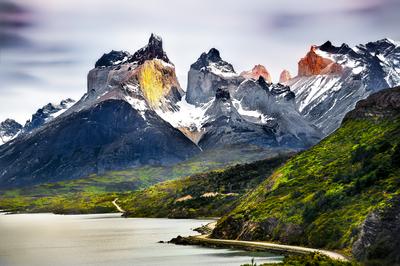 Where to stay in Puerto Bandera?
Our Heatmaps tool will help you find the perfect place to stay in Puerto Bandera by showing you how close hotel options are to major activities
1
9.5 Excellent (16 reviews)
With a stay at Adventure Domes in Perito Moreno, you'll be on a lake, just steps from Brazo Rico. Featured amenities include multilingual staff, coffee/tea in a common area, and a water dispenser. Free self parking is available onsite.
8.3 Excellent
Pros: This was one of the best experiences during our 3 week trip. It's not the cheapest stay but wait until you reach the camp. The 40 min. drive from the meeting point, taken care of by the host, is already a patagonian safari on its own and was really amazing! You choose this camp because you want to be close to nature, have a sort of camping experience, but still sleep in a good bed and take a warm shower. Go for a walk on the peninsula, it's very very nice! The central dome is the perfect spot to relax, have a drink or heat up by the stove. Above that everything is well organised by the very nice and helpful hosts Billy & Leandro, who made this the amazing experience it is. So the price is very much worth it!
Cons: We thought the lunchbox was a bit expensive. 1 not so big sandwich, a cereal bar, a piece of fruit and some candy for US $25. We understand the camp is quite remote from supermarkets, but for this price we were expecting a second sandwich for example or another healthy snack instead of the candy.
8.8 Excellent
Pros: Lunch and Dinner met expectations. Breakfast could be a little more substantial Staff and communication was outstanding
10.0 Excellent
Pros: Nicodico and staff are amazing! They are very attentive and kind, making you feel welcomed from the moment you arrive. The hospitality was excellent and the atmosphere was memorable! Great food and conversations by the fire pit. It is a great way to take you back to simple , enjoyable living amongst nature and immerse yourself in the Patagonia beauty!
10.0 Excellent
Pros: We had an incredible experience at Adventure Domes. The meals, the other guests, the hosts, and the views were all incredible. Billy gave us great recommendations too! Highly recommend!
Cons: Everything was great.
10.0 Excellent
Pros: Fantastic location! A REAL adventure getting to the domes! Loved the domes and the drive to it!
Cons: Nothing
9.3 Excellent
Pros: The staff are friendly and accessible at all times, working hard to ensure we had a good stay. This is a beautifully peaceful campsite with some great dinners and Christmas was especially great. The setup allows for a great social atmosphere and it was perfect with kids. The hot water bottles on a cold night were heaven sent.
Cons: The breakfast needs a rethink, the scrambled eggs were delicious but there needs to be more fresh fruit. Take your own and it is happy days.
9.3 Excellent
Pros: The setting at a special -kinda remote- location with great glacier views is very special. The staff tries to make the most of your stay by offering great service and wonderful food. The beds in the domes are comfortable. It can get chilly outside due to the winds, but the temperature in the domes are fine (especially with the nightly hot water jugs that warms the bed)
10.0 Excellent
Pros: This was an extreme experience! Extremely remote - beautifully secluded and in the heart of nature. Extremely great location - incredible walking trails and view of the Perito Moreno Glacier. Extremely good food - cooked over a camp fire type kitchen and delicious! Excellent service - the staff was extremely attentive and friendly. It was also extremely and unusually cold when we were there (a little tough for us coming from Puerto Rico!). We had nice hot water bottles waiting for us in the beds when we retired to our domes, which lasted all night. The trails inside the camp were soft and easy to walk even at night, good for accessing the bathrooms, (which were nice and clean). A rabbit comfortably munched the grass right in front of dome one morning. The manager Nikko was wonderful and eager to hear our feedback and any suggestions. It's definitely a camping experience with a touch of luxury!
Cons: We had a hard time finding this on booking.com - it should be listed under El Calafate. I don't know why booking does not put it front and center, especially for a nature experience. Remember, the bathrooms are a short walk and a little cold in the middle of the night!
All hotels in Puerto Bandera