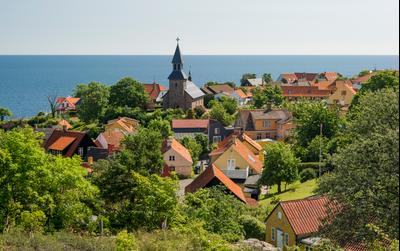 Where to stay in Tisvildeleje?
Our Heatmaps tool will help you find the perfect place to stay in Tisvildeleje by showing you how close hotel options are to major activities
1
8.4 Excellent (153 reviews)
With a stay at Helenekilde Badehotel in Tisvildeleje, you'll be on the beach, just a 2-minute walk from Tisvildeleje Beach and 10 minutes by foot from Troldeskoven. The front desk is staffed during limited hours. Free self parking is available onsite.
8.0 Excellent
Pros: Location!!
Cons: Food was mediocre, staff was young and not very accomodating except the lady at front desk ...she was wonderful! Rooms are basic for the price!
10.0 Excellent
Pros: Beautifully presented hotel in an amazing hotel. Very friendly staff
Cons: Nothing
8.3 Excellent
Pros: Beautiful hotel overlooking the sea
Cons: Limited places to sit in the hotel if the weather is bad. Rooms quite small.
6.3 Good
Pros: Food was great but service slow.
Cons: Standard room was very basic
3.8 Mediocre
Pros: The view
Cons: The room lacked facilities and there was no menu . The food offered was not to our taste , no menu to choose from.
7.5 Good
Pros: This hotel is in a fabulous position overlooking the sea with beaches down below. We had a small room with small balcony overlooking the car park. The restaurant is terraced outside giving guests wonderful views across the sea to islands and Sweden. It was a three course dinner with no choices, and tables were booked weeks earlier. After a lot of persuasion we were accommodated having tried to requested a table when we checked into the hotel. The hotel check-in was a fiasco. We waited 20/30 minutes whilst they tried to find our booking. Rooms are small and require an update, as does the hotel. It was a pity the hotel staff were not more friendly because the restaurant staff were great. When checking out we found that they had already taken the monies from our card, being the only hotel out of 5 hotels to do this. The views were great but the hotel itself, and breakfast, were disappointing for the price. We had some fabulous breakfasts in Denmark at 5 much cheaper hotels.
Cons: Check-in was a fiasco - they could not find our reservation even with my photocopy of the booking. Also, it is very unwelcoming to be told that you can not book a table for dinner as these were booked weeks earlier. Why can't all hotels contact their customers via email or 'booking agent' (offered by booking.com) to ask if they would like a table reserving. Some hotels are very good but this one certainly was not. Overall the hotel itself was disappointing.
8.0 Excellent
Pros: The hotel's location is fantastic - beautiful view overlooking the ocean. The space is beautiful, and the staff was friendly, although they were not knowledgeable about the local restaurants when we asked for suggestions. The room was comfortable, and we really wished we had spent more money for the ocean view side of the hotel! The town it's in and surrounding area are great, too.
Cons: The room was quite spartan - there wasn't much in it, and it looked a bit worn. The main issue was the room was quite hot, and they did not have a fan to offer us to use.
8.0 Excellent
Cons: The rom was really small and with view over garbage.
9.3 Excellent
Pros: Really gorgeous hotel right on the beach overlooking the sea. Filled with classic Danish furniture, seaside charm, amazing food and beautiful books - we could have stayed much longer!
9.3 Excellent
Pros: We has two amazing nights at helenekilde and that was mainly thanks to super friendly staff and the amazing location and down to earth atmosphere at the hotel. Food and drink was very nice too.
Cons: Our room was very small and the bathroom too. However we were lucky and had amazing weather, so it didn't bother too much, as we spent most of the time outside on the beautiful loggia and Terrasse. However in general, I think the size of the room/bathroom is too small for the price. We could hardly open our 2 suitcases or place anything in the bathroom.
2
With a stay at Tisvildeleje Strandhotel, you'll be centrally located in Tisvildeleje, within a 10-minute walk of Tisvildeleje Beach and Troldeskoven. The front desk is staffed during limited hours. This hotel has 3 meeting rooms available for events.
7.5 Good
Pros: Very cosy/hygge atmosphere, brilliant location in town and close to the beach
Cons: Rooms smell odd - not bad just odd/earthy, and rooms are also tiny
5.5 Okay
Pros: the area
Cons: for the money (not cheap) the room was way way way too small..no place to hang anything at all. the bathroom har no shelves at all
6.3 Good
Pros: Nice room yet small, we were happy we had booked a superior one some regular ones are tiny. Close to the shops.
Cons: The reception, restaurant, bar, lounges were closed on that day after 6 pm which killed the trip: instead of enjoying a nice evening, we were only able to enjoy our small no TV rooms. This should have been communicated at booking and the price should have been reduced because at 1500kr per room it is a very bad quality price ratio.
10.0 Excellent
Pros: It's a hidden gem! Beautiful interior and a real holiday feeling
7.5 Good
Pros: Average continental breakfast, but excellent location.
Cons: Rooms are small, but nice lounge and outside deck area.
3
Danhostel Tisvildeleje forms part of the Sankt Helene Holiday Centre, with free Wi-Fi in public areas, a playground and a miniature golf course. Helsingør and the bridge to Helsingborg in Sweden is a 35-minute drive away. Rooms are light and airy with sleeping lofts, and come with a TV and private bathroom. Cottages come with a coffee machine and have shared bathroom and kitchen facilities. The on-site Restaurant Sofie offers an à la carte summer menu with a variety of dishes, while at other times of the year a set menu is offered on most days. Packed lunches are available from Café Helene. Copenhagen can be reached by trains leaving from a station just 500 metres from the site.
8.8 Excellent
Pros: A really placeful place in the countryside. Cabins are really spacious and well maintained.
5.8 Okay
Pros: Location is really niсe, 15 min walk from the center, isolated with hedgegrows . The staff is friendly in general. Playgrounds are nice.
Cons: 1) This hostel is not for arachnophobic. I have removed 5 sizable spiders from the room, when we moved in. (On the flip side - you can trust that ecology is good, since such carnivores proliferate) 2) Hostel put priority on large groups. We have used shared kitchen facility for a few days, then we had to move to another one, without notice, because a large "klub" booked our kitchen exclusively for a weekend. Hope such things don't happen with reservations.
8.0 Excellent
Pros: Large spacious room, very quiet.
Cons: Confusion with St Helena hostel, difficulty in finding it, and locals could not help.
6.8 Good
Pros: Original hut style cabins .. great for kids ..
Cons: No fridge in hut, have to pay excessively for bed linen and towels £30
7.5 Good
Pros: Basic accomodation for a good price. Free parking, breakfast can be added. Rooms ok as well as the beds. Clean. Not in the city but not to far to walk. Nice beaches around- walking about 20 min to the nearest. Nice restaurants in the village.
Cons: It is very basic but a good option for people with kids, however no or limited internet access.
4.3 Okay
Pros: The nature.
Cons: The cabin was dirty, full of spider nets and dead insects, mattresses were full of crumbs.
4.5 Okay
Pros: The staff was helpful
Cons: The bed awful
8.3 Excellent
Pros: It was perfect value for the price. Located walking distance from our event. Clean and comfortable
Cons: We would have liked a real double bed in the family room.
9.3 Excellent
Pros: Nice location, friendly and helpful staff. We stayed in a room for 4, which was well designed. Could not have been more pleased..
All hotels in Tisvildeleje