Canada turned 150 years young this year. And, to celebrate, it seems that Canadian travelers headed… out of the country.
While we encourage all people to explore the world, sometimes that exploration should begin at home. Lucky for Canadian — and US — travelers, the Great North has it all. 
Plus, given the low loonie, it's more wallet-friendly for Canadians to adventure at home and gives Americans a chance to save money on travel.
From the northern lights and grand canyons to lush vineyards and historic castles, get a taste of the wonders of the world right at home. See our picks for 11 bucket-list travel experiences you can get right in Canada.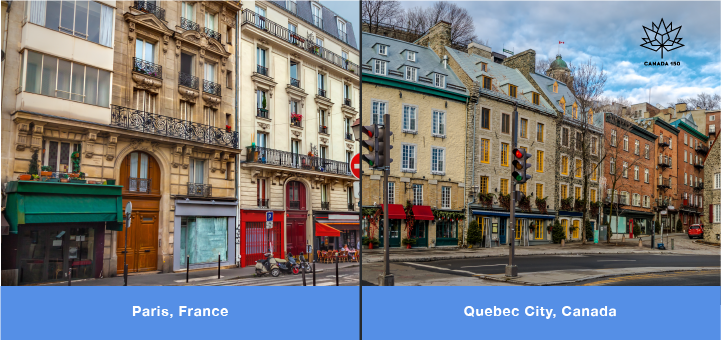 European Style
Instead of… Paris, France, Go to… Quebec City, Quebec
Cobblestone streets. Boulangeries. Charming flea markets and antique sellers. La langue d'amour. It's not Paris, it's Quebec City. This French-speaking town on the St. Laurence River has everything you love about France, without the hefty price tag. The Hotel Manoir Victoria is the city's most popular 4-star hotel on KAYAK, and a recent search found nightly rates starting at $109/night ($133 CAD/night). While a stay at Paris's most popular 4-star hotel, the pristine La Maison Champs Elysees, starts at $245/night ($299 CAD/night) for the same dates.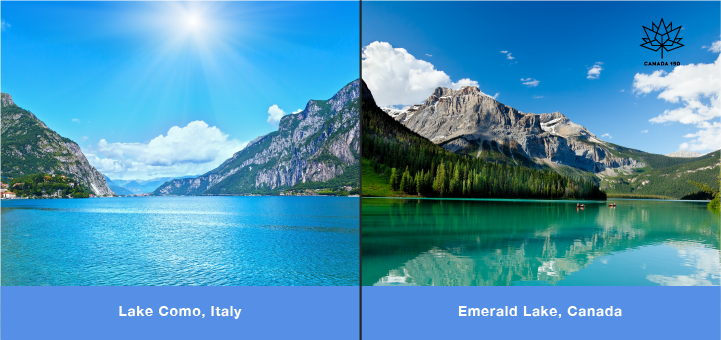 Lake Escapes
Instead of… Lake Como, Italy, Head to… Emerald Lake, Yoho National Park, British Columbia
In the summertime, when the livin' is easy, nothing makes it easier than not having to pay a premium to fly to Italy. Canada's Emerald lake has all the scenic beauty of Lake Como at half the price. We found median airfare from Toronto to Calgary (YYZ – YYC) for just about $307 ($374 CAD). Flying from Toronto to Milan? The median airfare soars to about $801 ($976 CAD) for similar dates. We'd rather save the money and splurge on an obnoxiously fancy beach outfit (#swag).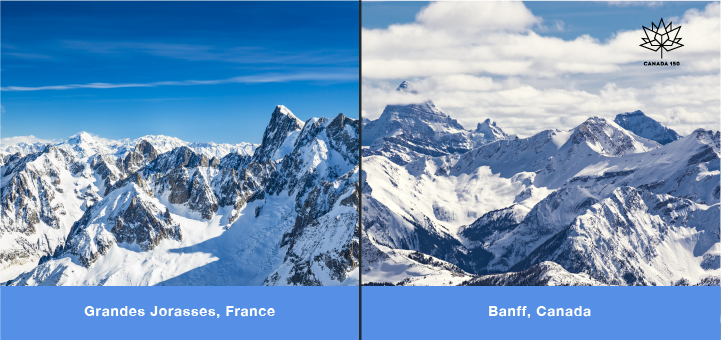 Skiing
Instead of… Grandes Jorasses, France, Head to… Banff, Alberta
While skiing down Mont Blanc is pretty baller, the mountains around Banff have some of the best slopes in the world. Take a page out of the playbook of top skiers and snowboarders, and head to Banff's Sunshine Village or Lake Louise. For what you save on the plane ticket and per diem costs, we bet you can squeeze in a few extra runs down the mountain (or a few rounds of cocktails at the lodge– you do you).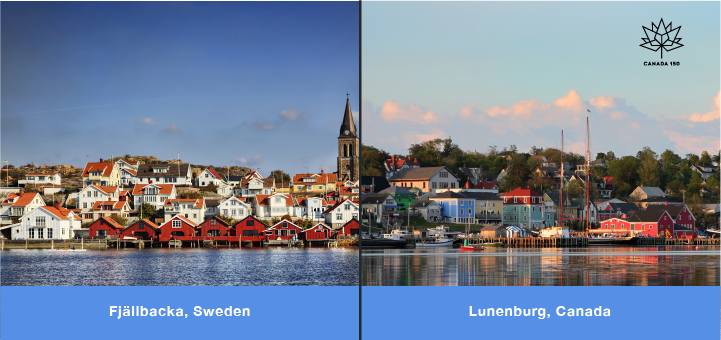 Fishing Villages
Instead of… Fjallbacka, Sweden, Go to… Lunenburg, Nova Scotia
While there's no dearth of quaint little towns in Canada, the city of Lunenburg will have you feeling like you've been transported to a small Scandinavian village. The benefit to this, of course, is being able to walk historic streets and eat delicacies like herring (pickled not fermented) without spending $300 more on your flight. We found median airfare from Vancouver to Halifax for around $570 ($690 CAD). The median airfare from Van City to Gottenberg, Sweden? A cool $878 ($1,059 CAD).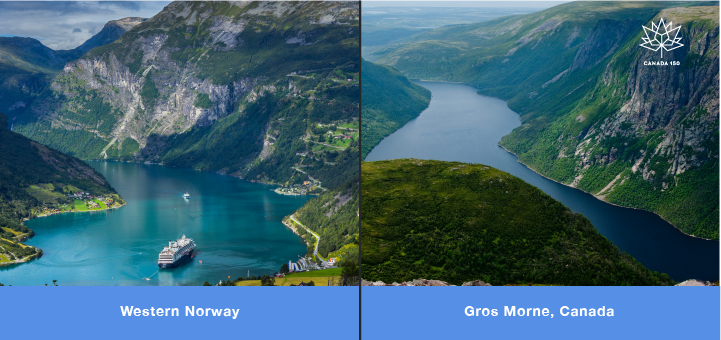 Fjords
Instead of… Norway, Head to… Gros Morne, Newfoundland
To be frank, Canada is hella pretty. Good news is, in celebration of the 150th anniversary all national parks boast free admission this year. Instead of paying for a ticket to see the fjords of Norway, head to Gros Morne National Park. It's a 30-minute drive from Deer Lake Airport and there are plenty of hotel options nearby.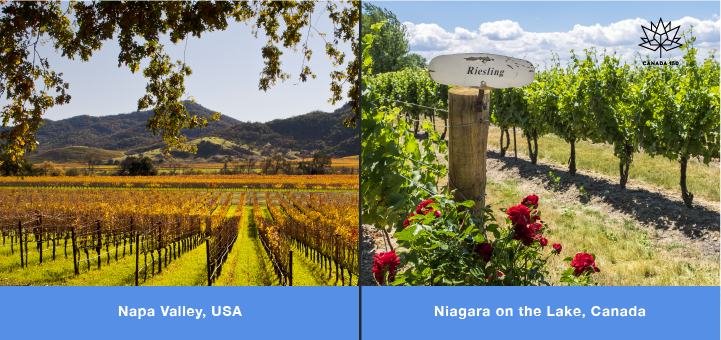 Wine
Instead of… Napa Valley, Go to… Niagara on the Lake, Ontario
For the intrepid oenophile, Niagara on the Lake is already a known destination. But for the rest of us spritzer-swilling plebes, it's a lesser known place to explore some of the region's finest wines. A stay at Niagara on the Lake's most popular hotel, the 4-star White Oaks Resort & Spa, was recently found starting at $128/night ($156 CAD/night). So skip spending more on Sonoma, where its most popular 4-star hotel — The Lodge at Sonoma — starts at $270/night ($329 CAD/night).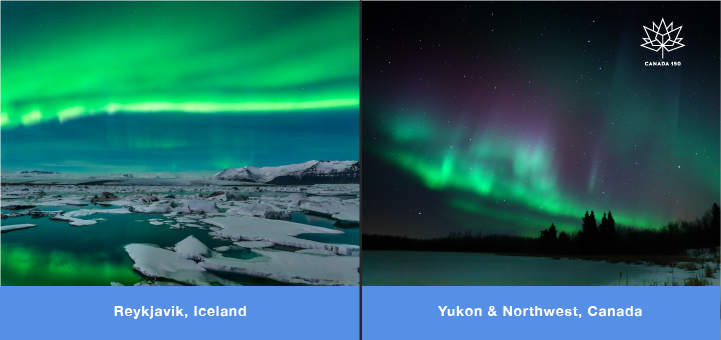 Northern Lights
Instead of… Iceland, Go to… Yukon and Northwest Territories
Sure, trendy Reykjavik is the hot place to be, but if it's the Northern Lights you're after, Canada has plenty of destinations ready to wow you. Try Whitehorse, Yukon or Yellowknife, NT, which has direct flights from Ottawa and Edmonton. Stay in town and look for a Northern Lighthouse to get the best view.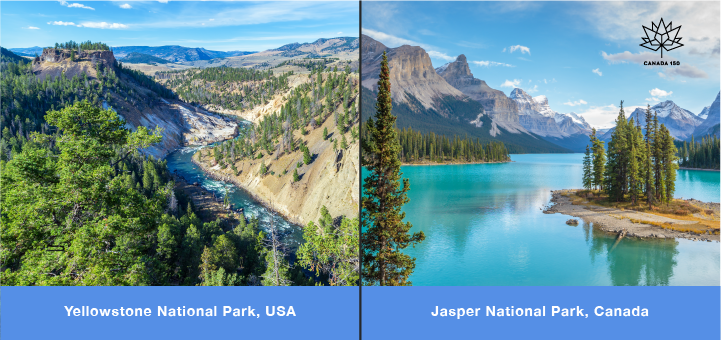 Hiking Trails
Instead of… Yellowstone National Park, Wyoming, Head to… Jasper National Park, Alberta
From the rolling Canadian Rockies to the Saskatchewan prairies, you can find just about any type of terrain to explore. Avoid the summer crowds at sites like Yellowstone, and instead check out Jasper National Park outside of Edmonton or Banff National Park in Calgary. Also, the Panorama Ridge is an amazing hike just under 2 hours from Vancouver off the Sea-to-Sky highway. Experience a breathtaking view of some of the region's top peaks including Mt. Garibaldi and Mt. Price.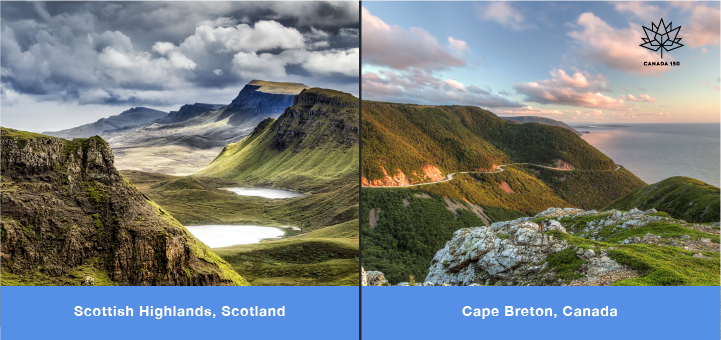 Highlands
Instead of… Scotland, Head to… Cape Breton, Nova Scotia
Did you know that Nova Scotia is Latin for "New Scotland"? Of course you did. Even still, instead of flying across the Atlantic to take in the epic highlands of Caledonia, find all of that at home by exploring the Cabot and Sunrise trails along the island's edge. Then, head to Halifax for a dose of history and nightlife.

Cheese
Instead of… Normandy, France, Head to… Montreal, Quebec
The influence of the French is felt throughout the Quebec province, especially in its cuisine. Instead of booking a flight to Normandy, home of Camembert, you can sample some of the finest cheeses right in the heart of the province. Stop at Fromagerie Atwater — at the Atwater Market in Montreal — for 850 varieties of cheese including many sourced from local makers. Otherwise, you can always rent a car and drive the Quebec's Cheese Trail.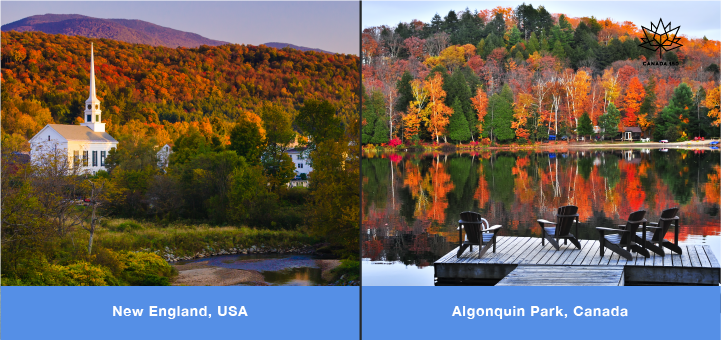 Fall Foliage
Instead of… New England, Head to… Algonquin Park, Ontario
Ready for leaf-peeping? Instead of driving along the crowded thoroughfares of New England, take advantage of the trails in Algonquin Park. Located just outside of North Bay, Ontario, you can pitch a tent and stay under the stars enjoying the crisp autumn air.
So, happy birthday, Canada. You don't look a day over 149.
Need more inspiration? To find out where else you can go in Canada, try our Explore tool to see everywhere you can fly to on your budget.
Header Image Attribution: Nalidsa/Shutterstock.com
Methodology: Prices are correct as of Friday, September 15 7:00 pm UTC. Prices based on a double-occupancy room for check in: Friday, September 15 until check-out: Saturday, September 16, unless otherwise stated. Cancellation and payment policies vary by property. Please check actual property policies before making a reservation. Median airfare based on search dates 2017/03/01-2017/08/07 and travel dates 2017/09/04-2017/10/01 for each indicated route. Prices and availability subject to change.