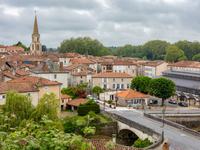 Where to stay in Saint-Paul-Lizonne?
Our Heatmaps tool will help you find the perfect place to stay in Saint-Paul-Lizonne by showing you how close hotel options are to major activities
1
9.5 Excellent (74 reviews)
10.0 Excellent
Pros: We had an excellent stay at Le Chalet De Luxe. Rooms were clean and well furnished with all the comforts you would expect from a hotel even! The bed was super comfortable, bathroom was well laid out and had good water pressure for a hot shower/bath! Tea and coffee + kettle in the room, bathrobes from the white company! Breakfast was included w the room and was a good selection of tea/coffee, croissants, bagguettes, cold cuts, cereal, juice. Really no complaints. The host was very friendly and accommodating. Had great recommendations of what to do and see around the area. Would stay again and would not hesitate to recommend to anyone.
Cons: There were some moths in the bathroom which must have snuck in through the windows or something prior to our arrival. But they didn't bother us much.
10.0 Excellent
Pros: Ample parking and the rooms were immaculate. Hosts were very helpful with recommending local amenities and the bathroom was great
Cons: Slightly off the beaten track so a bit tricky to find initially. Wifi was quite patchy and dropped out when trying to make a call.
10.0 Excellent
Pros: Wonderful accommodation and hosts, could not fault it.
Cons: Nothing.
10.0 Excellent
Pros: Colin & Julie were excellent hosts. Very friendly and accommodating. Restaurant closed in the evenings but we pre-arranged with Julie to provide a cold platter for us. Great selection of cold meats, cheese, bread, melon. Much better than the usual evening meal in a hotel. Breakfast was first class Continental. Would highly recommend to others and will certainly stay again if we are travelling through the area in the future. An added bonus was the clear night and the sky filled with millions of stars - something we never see at home with all the light pollution.
Cons: Nothing!
10.0 Excellent
Pros: The whole place was beautiful, rooms very individual and comfortable, friendly warm welcome with great information about surrounding area. The breakfast was great, the owners were very attentive but left you to relax. Just what our family needed.
Cons: Nothing!
10.0 Excellent
Pros: Beautiful location, slightly outside the village, lovely garden and pool. The rooms were beautiful and the hosts were welcoming and helpful
Cons: Nothing
2
9.4 Excellent (54 reviews)
8.8 Excellent
Pros: Warm and welcoming couple who were really helpful. Nice rural location near to a town with a decent restaurant, which they kindly booked. There are basic eating facilities in the room eg microwave, utensils and fridge, a comfy lounge and outside seating area - good if one wanted to snack. Delicious fresh pasties and bread for breakfast and good strong coffee! Lovely fresh linen and soft towels.Tea, coffee and water provided - and milk left in fridge - very welcome.
Cons: At this time of year the room was a little chilly - even with the electric heating on. The electric fire was helpful but would be noisy if left on. Slept well on what felt like a very springy mattress - perhaps would benefit from a mattress topper.
10.0 Excellent
Pros: Everything! the hosts were lovely, breakfast excellent as was the accommodation, thank you.
8.3 Excellent
Pros: Awfully nice people, beautiful surrounding, comfortable enough for a short stay, perfect breakfast.
10.0 Excellent
Pros: The hosts were very helpful and friendly, offering us some useful advice as we were buying a holiday home nearby. Great breakfast. Cosy little set-up. They even booked us a table at the local restaurant, and provided a lovely tasty supper on arrival after a long journey.
9.6 Excellent
Pros: We spend a lot of time just relaxing at the pool and enjoying the view. It is a such a lovely landscape. The hosts are very friendly and always willing to help. Every morning Victor served us a nice breakfast, what a good way to start the day. The comfortable apartment is situated on the ground floor and has direct entrance the terrace and pool area. And of course there is Diva, the household cat! We totally recommend this place.
Cons: -
10.0 Excellent
Pros: Andrea and Victor were the nicest most hospitable hosts who couldn't be more helpful and really care about ensuring you have the best stay. The room was very large, cool despite the very hot temperature outside and you have the pool and terrace to yourselves. The location is fairly remote but was perfect for us as we were joining a group staying at a hotel on the same road.
Cons: Nothing
10.0 Excellent
Pros: Lovely couple. Everything was just perfect. Hopefully see you again soon.
Cons: Nothing
10.0 Excellent
Pros: Victor and Andrea are the nicest, friendliest people you are ever likely to meet. They did everything to make our stay a pleasure. Sitting on the decking area next to the swimming pool, overlooking the valley with a nice cup of tea and coffee was out of this world. Thankyou Victor and Andrea. Sheila and Les.
Cons: Nothing.
10.0 Excellent
Pros: We had a wonderful stay here. Great welcome, large room, private access, next to the pool, plenty outdoor seating, good breakfast... we will be back.
10.0 Excellent
Pros: Everything was of a high standard and the hosts went out of their way to ensure our stay went well. Delightful hosts, comfortable accomodation and excellent breakfast. Also lovely location. Would thoroughly recommend.
All hotels in Saint-Paul-Lizonne