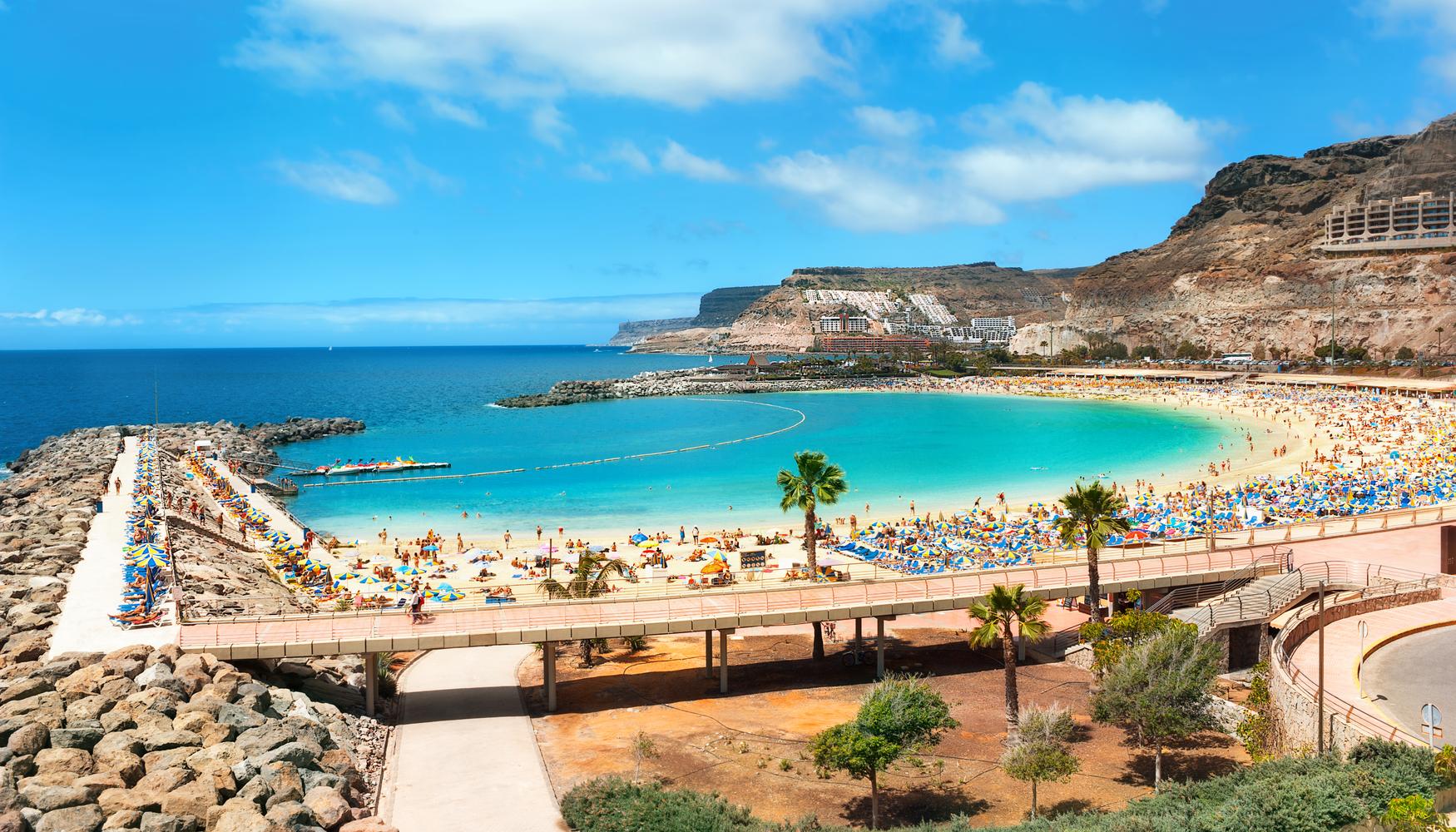 Why should you book a vacation package to Gran Canaria?
Gran Canaria, a haven of natural beauty, has astonishingly varied landscapes ranging from verdant ravines and lush slopes of almond and pine trees to the mountainous interior and southern desert terrain. You can wander nature trails and go camping, or sunbathe and play beach volleyball on the white sandy beaches of this picturesque island off the northwestern coast of Africa.
A package holiday is recommended because it guarantees excellent accommodation. It is a cheaper option which saves money that you put towards other expenses such as car hire.
When should you book a vacation package to Gran Canaria?
It's best to visit the island between June and September. At this time of the year, the sun is warm and conditions are ideal for swimming, sunbathing, and snorkeling.
Where should you stay in Gran Canaria during your vacation?
For any vacation type in Gran Canaria:
If you want great value for money then the Hotel Riu Palmeras / Bung Riu Palmitos and its spacious rooms is definitely one to consider. The 2 level bungalows have terraces and tiled roofs. Sip a drink in the lagoon-style outdoor pool, or visit the buffet restaurant for a hearty meal. The hotel is only 1 hour away via GC-60 from Gran Canaria Airport.
An establishment that values privacy is the Salobre Hotel & Resort. Its rooms are upscale with spacious sitting areas fitted with minibars. The terraces or private balconies have golf course views while the suites have private rooftop terraces complete with hot tubs which you can have all to yourself. It's 1 hour via GC-65 from the airport.
For family vacations in Gran Canaria:
Kids love the Hotel Cordial Mogan Playa and its children's park with swings and bouncy castles. Parents are delighted by the suites with room service available. Other amenities include a buffet restaurant, a fine-dining restaurant, a disco, and a playground. It's 39 miles via GC-1 from the airport.
A family-friendly resort, the Gloria Palace Royal Hotel & Spa has inviting rooms, furnished balconies with sea-views plus marble floors. You can treat your family to a buffet at the refined a la carte restaurant with its beach views. The hotel is 36.1-miles via GC-1 and GC-65 from the airport.
For romantic vacations in Gran Canaria:
If you're looking for a romantic getaway, then the Bohemia Suites & Spa with its high-end rooms is the perfect romantic retreat. The interiors boast a stylish modern decor while the upscale suites have freestanding tubs. There is an elegant rooftop restaurant where you can have romantic dinners, and a Thai or Balinese influenced spa. The airport is 20.1 miles away on the GC-60.
Another establishment ideal for romantic vacations is the Hotel Riu Palace Meloneras. Its refined rooms have balconies and whirlpool tubs or hot tubs. Dinner is served in a buffet restaurant and there's also a Spanish fusion restaurant. It's 28.1 miles via GC-60 from the airport.
For luxury vacations in Gran Canaria:
A premier luxury retreat, the Seaside Grand Hotel Residencia*****GL is a colonial-style hotel with rooms that offer a garden and pool views and whirlpool tubs. There are 2 outdoor pools, a breakfast buffet, and a piano bar. The journey to the airport is 21.7 miles via GC-60.
A plush hotel, the Radisson Blu Resort, Gran Canaria has chic rooms fitted with marble floors. Superior rooms have whirlpool tubs, kitchens, and Nespresso machines. It is 21.8 miles via GC-65 to the airport.
For budget vacations in Gran Canaria:
Hotel Atlanta has welcoming rooms with free Wi-Fi and satellite TV. There's a rooftop lounge equipped with sun loungers and a continental breakfast is served daily. It's 22 minutes via GC-1 from the airport.
Servatur Terrazamar & Sun Suite is a 1-bedroom apartment complex with sea views, living rooms, and kitchens plus pull-out sofas. It has an outdoor pool and a poolside bar as well as a tennis court. The airport is just 34 minutes away via GC-1.
Other destinations in Spain